This post may contain
affiliate links
that at no additional cost to you, I may earn a small commission from.
Danner is an enormously popular boot company. Based in Oregon, they were founded by Charles Danner in 1932 in Chippewa Falls, Wisconsin —same place the Chippewa was founded — but they moved to Oregon a few years later and eventually became best known for their super sought after hiking shoes.
But they've also expanded into nicer, dressier leather boots, which a lot of people have asked me to review. The most popular (at least from my rudimentary assessment of Google search volume) is their Jack II Boot and I decided to go with the brogued version just for something different. The boot's also available in plain toe, non-brogued varieties but the construction is the same on all the Jack II boots. So let's take a closer look.
[Love these boots? Get the best price on Amazon here, or grab the non-brogued version here.]
First Glance
Kind of similar to brogued Chuck Taylors
Toe cap
Very flat sole, low rise
Full grain leather
The first thing I thought when I saw these boots was that they're surprisingly similar to Chuck Taylor sneakers. They both have a round toe, toecap, open lacing, flat laces, the Jack IIs are about the same height as hi-tops, and they're very low slung: the shoe is about 4.5 inches tall and the sole is almost as flat as the flat-as-a-board Chucks.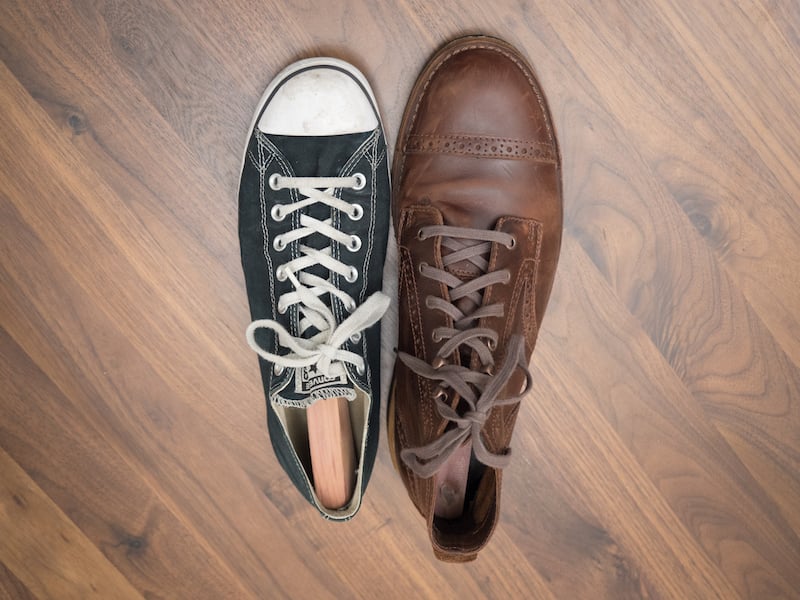 Now, I'm actually into this flatter sole. I'm obviously a big fan of boots, but my least favorite quality is the fact that they typically have a heel height of over an inch. That's not so great for ankle mobility, especially if you're the kind of guy who likes lifting weights or playing sport. This isn't the case with the Jack II: the heel is under half an inch and while, sure, it doesn't look very boot-y, I found it to be a welcome change.
So the profile, laces, and overall shape are reminiscent of sneakers. But what's not like a sneaker is the broguing pattern and, of course, this leather.
Danner Jack II Boot Leather
Full grain leather
Made by Horween
Discoloration happened super fast
This boot is made from full grain leather, so it's made from the top layer of the animal's hide. (Full grain is often contrasted with top grain leather, though the differences aren't quite as stark as you might think.) This leather comes from Horween Leather Company, which is probably the most beloved tannery in the United States.
I had trouble getting much more information out of Danner. I spoke to two people there but they couldn't tell me anything about how this leather was tanned or what its name was, all they could say is that this is their "premium leather" and that it goes through "quite the selection process."
I call B.S., this leather is not that great. Here's what the toe break looked like after literally twenty minutes of wear.
https://www.instagram.com/p/Bo47cyXnSRF/
Look at that discoloration! And as time went on, the leather quickly accrued more marks and scrapes than I was comfortable with, as you can see in the other photos in this post. Danner is meant to be all about tough footwear but these shoes couldn't really manage regular city walking.
Danner Jack II Leather Care
Danner recommends their "Boot Dressing"
Has no solvents or propellants
Buff with horsehair brush
Now, as for taking care of this leather, Danner has their own leather conditioner called Boot Dressing, and it's available in a clear Boot Dressing, black, and brown. Intended only for use on full grain leather, they say that this product "is water-resistant and allows for breathability," but they're pretty cagey about the actual ingredients. They'd only tell me it has no solvents or propellants and to apply it every month or two.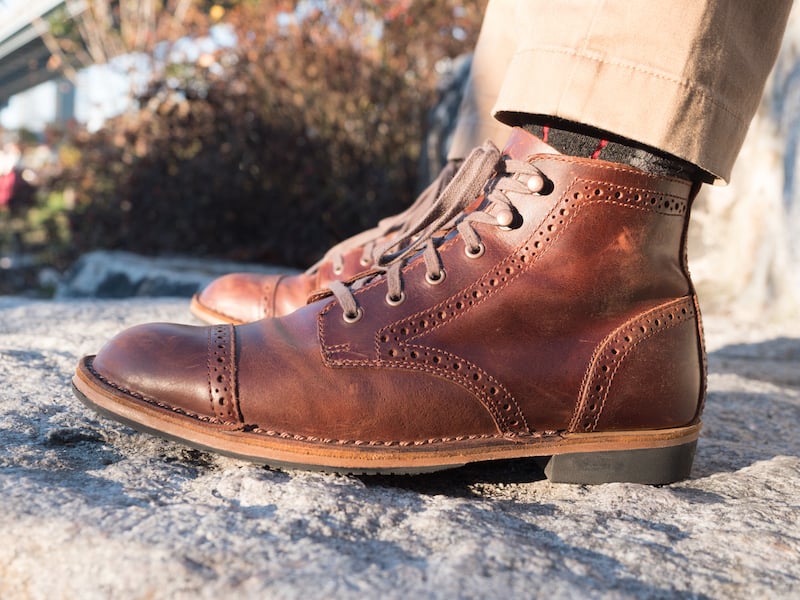 My advice? Get the brown Boot Dressing. That'll go a long way toward covering up or mitigating the discoloration that may occur. After all, this discoloration was just my experience with the boot, but my experience wasn't so great.
It's also recommended to use a horsehair brush, which might help to control discoloration as well because when you're buffing and scrubbing and brushing quickly, that can heat up the oils and waxes inside the leather, move them around, and help to smooth out these sorts of issues.
Danner Jack II Boot Sole
Stitchdown construction
No midsole
Very flexible and lightweight
Sole started peeling quickly
So this is not your classic Goodyear welted shoe. The outsole is rubber, it has a fiberglass shank, and there is no midsole. Danner calls this a "270-stitch construction" which made me think it was a 270-degree Goodyear welt, but it's actually just a stitchdown. They call it 270-stitch because there are literally 270 stitches attaching the upper to the sole.
But there's a problem: after one week, the sole started peeling at the toe.
So, it's a stitchdown with no midsole, meaning it's not that waterproof — just because this is Danner doesn't mean they're very outdoorsy shoes.
The upside of this sole, though, is that it's very flexible and very lightweight, which I really liked. Plus, the shock absorption is surprisingly good for something with such a thin sole, probably because in addition to the rubber heel it has a polyurethane footbed.
Danner Jack II Boot Fit & Sizing
True to size
Described as "EE" width
Very flexible
Good shock absorption
Flat sole, almost sneaker-like
These run from sizes 7 to 13 and I found they fit true to size: while most of my boots are a size 11, these were an 11.5. (I'm about an 11.75 on a Brannock device.)
What's really weird is they're only available in EE width, which I honestly didn't realize when I bought them or when I was wearing them. I'm a D ("normal") width and I had zero issues with the fit. I think that the width is probably closer to an "E" and I also think the shoe's construction has a lot to do with why it didn't feel too wide: there simply isn't a lot of leather or a thick sole in which I need a lot of support. The boot isn't heavy and it's pretty flexible, so it didn't matter that much that it wasn't perfectly form fitting.
On that note, these shoes are damn comfortable. They're lightweight and flexible and have that relatively flat sole, making for a much more sneaker like experience than I was expecting. Once again, it doesn't feel particularly "boot-y," so you may find that to be a con, but I really enjoyed walking around in these.
[Never sure about your shoe size? Take a look at my Ultimate Guide to How Boots Should Fit!]
Danner Jack II Boot Price
These cost between $210 and $230, and with tax I paid $240 for a pair. That's about what I'd expect to pay for Horween leather boots — it would be weird if they were any more expensive — but given how damn fast these boots aged, I gotta say I was still disappointed.
[Just want inexpensive, lightweight, flexible leather boots? Then grab these boots at the best price on on Amazon here, or grab the non-brogued version here.]
Danner Jack II Boot Pros & Cons
Pros
Lightweight
Flexible
Good shock absorption
Low heel
Decent grip
Inexpensive
Cons
Leather creased a lot
Sole peeling
Not Goodyear welted
Not water resistant
Unusual aesthetic
Here's the thing with these shoes: they're not water resistant and they aged really quickly. But they're relatively cheap, they're lightweight, they're flexible, and the grip and shock absorption work well. If you need leather boots for under $250 I've seen worse, but then again if you want good leather boots in that price range I'd just go with a pair of Thursdays.