This post may contain
affiliate links
that at no additional cost to you, I may earn a small commission from.
Danner is an enormously popular boot company. Based in Oregon, they were founded by Charles Danner in 1932 in Chippewa Falls, Wisconsin — the same place that Chippewa boots was launched — but they moved to Oregon a few years later and eventually became best known for their hiking shoes.
But as far as more classic, Americana-type heritage footwear, they've made a splash in the industry with their Bull Run boots, which really echo the hardy, tough guy moc toes that are a fixture in the U.S. boot scene and can be found in competing brands like Thorogood and Red Wing. The model sits right in the sweet spot between work boot and fashion boot — I grabbed a pair to see what they have to offer.
[Like these boots? Buy 'em on Amazon here.]
Danner Bull Run Aesthetics
Similar to Red Wing moc toe

Soft

wedge sole
Electrical shock resistant sole
I'll just say it: these look a lot like Red Wing moc toes. They have a lot of differences (which I'll get into in next week's comparison), but they're both 6 inches tall, they share this similar blocky silhouette — they're certainly not Alden Indys or even a little bit dressy — they're both unlined, and they have both have a lovely, soft wedge sole.
But the shoe also has a lot in common with Thorogood's moc toe because it is closer to a real work boot than the Red Wing. It's fashionable, yes, but the Bull Run is made with an oil and slip resistant sole that meets OSHA safety standards and can withstand electrical currents. It's also pretty lightweight, it's made with stitchdown construction (as opposed to a Goodyear welt, more on that below) and the leather is quite velvety and smooth because it's shaved down prior to stitching. Let's take a closer look at it.
[See my complete review of the Red Wing Moc Toe here!]
Danner Bull Run Leather
Full grain, oil tanned leather
1.5 millimeters thick
Velvety to the touch
This is made from full grain leather, so it's made from the top layer of the anima's hide, and it's oil tanned, so it doesn't have quite the luster of chrome-tanned leather like you'll see in slightly dressier boots like the Wolverine 1000 Mile. At about 1.5 millimeters thick, it's a little thinner than the leather you'll see on most tougher work boots, but it does make for leather that molds more easily to the shape of the foot.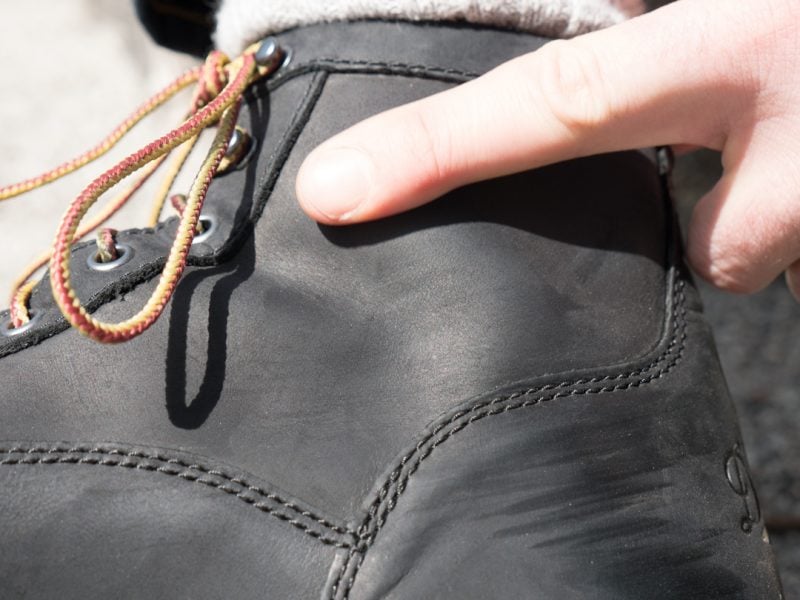 Danner couldn't say where it comes from because their leather doesn't come from anywhere specific. They could only tell me that it comes from the Cattle Ranching Associations of America — an organization I couldn't find online, they might have meant the United States Cattlemen's Association — and Danner said that while their leather pretty much all comes from the United States, some of it's imported. The direct quote from the representative I spoke to was, "We have too big a demand for it to be coming from one spot." So I guess it's a bit of a mystery, but I do like this leather.
I'm a big fan of oil tanned leather (my favorite pair would be Dayton's Service Boot) it doesn't have like the luster of some chrome tanned stuff but in general it's really hardy and it doesn't need much care. Compared to other oil tanned leathers, Danner's offering is a lot softer, with almost a nubuck-like feel to it. It's velvety to the touch, but it's still tough leather and for a work boot like this I wouldn't expect much less.
Danner Bull Run Leather Care
Again, oil tanned leather doesn't need very much care, and especially when it's black leather like the pair I grabbed, you can get away with not caring for it very much at all.
But if you take leather care seriously, Danner is such a gigantic company they actually have their own boot care products that they formulated for these very boots.
Their Boot Care Conditioner is the go to for keeping the leather moist, and there's an extra use that some might find usefulL a lot of people have difficulty breaking in their Bull Runs, so the rep I spoke to recommended using the conditioner when they're new that it'll soften the leather and help it to more easily form around your foot.
Then they've got their Boot Dressing, which contains polish and a conditioner, but it's intended for waterproofing. It adds a layer of protection to the outside of the leather and helps to wick water away.
Unfortunately, Danner is pretty cagey about the ingredients of these products. All I could learn is that they have no solvents or propellants and that they should be applied every month or two. If you'd rather use products where you know the precise ingredients, they told me mink oil works fine as well.
[Compare these boots with the famous Thorogood moc toe!]
Danner Bull Run Sole
Lightweight

,

soft

wedge outsole
Great shock absorption
Steel shank
OrthoLite footbed
Stitchdown construction
This outsole is the lightweight wedge outsole. It's pretty work friendly: it's oil and slip resistant, and they sell it as providing "cushioning, lightweight support, traction, and won't track debris." They also say it's great for concrete and wood, but not for daily use on asphalt, if that matters to you.
I will say this for the sole: it is soft. The shock absorption is amazing, it's super cushy, and it feels great to walk around in.
The people I spoke to at Danner called this "a pretty bare bones shoe": it's unlined, and it doesn't have much of a midsole to speak of. There's the outsole, then there's a really thin rubber cushion midsole, there's a steel shank, and the footbed is made from OrthoLite, a kind of open-cell polyurethane that helps with heat dissipation and air circulation.
Now, this is not a Goodyear welt, it is a stitchdown construction, so the leather has been sewn right into the outsole. Relative to a Goodyear welt — broadly considered the gold standard in hardy boots — that means it's harder to resole, although some argue that it's more stable. Danner can resole these boots for you but it costs about $130. Yyou might be able to find a cobbler who will be able to do it, it's just less of a guarantee.
[Learn more in this article comparing Goodyear Welt vs Stitchdown vs Blake Stitch!]
Danner Bull Run Fit & Sizing
Comes in D and EE widths
Really

soft

sole
Good arch support
Good shock absorption
These come in D and EE widths in sizes 8 through 15 and they fit true to size: I got 11.5. It's a little roomy and I probably would have been fine with an 11, but as is I'd say the Bull Run fits true to size for both D and E widths.
Like I said, the sole is really soft. Whether or not that's a "good" thing depends on your preference: it doesn't clomp as nicely as some work boots and it sometimes doesn't feel quite as stable but it is supportive, the arch feels good, the shock absorption's good. I don't have much to complain about with comfort, although I do need to emphasize that while I didn't experience a break in, online reviews almost universally emphasize one — so you should probably expect a tricky break in.
Danner Bull Run Price
These boots usually cost between $180 and $200.
And that's exactly what I could expect them to be. It's more or less the same cost as a pair of Thorogood moc toes, and it's a hundred dollars less than the competing moc toe from Red Wing.
[Get the best price on Danner Bull Runs on Amazon here!]
[Get my Schott Leather Jacket here.]
Danner Bull Run Pros & Cons
Pros
Inexpensive
Nice leather

Lightweight

Work friendly
Cons
Squishy, slightly unstable sole
Hard to resole
Not fully made in US
May have a tough break in
The Takeaway
These are probably my favorite moc toes that cost under $200. They're comfortable — the soft sole is a nice bridge between sneaker and boot — they look great, and they're inexpensive.
The main downsides are that they're kind of tough to resole, the sole isn't as stable as something harder, and the break in is legendary. If you can sign up for that, these are a fine buy.