There are 3 great boot options to slay the Dean Winchester-look and his Supernatural style. By the time you've finished this article, we're pretty sure you will want to know them.
Don your skinny jeans and leather jacket, and we will find out what boots Dean Winchester prefers to wear. And why.
What kind of boots does Dean Winchester wear?
On the smash-hit TV drama series, Supernatural, actor Jensen Ackles plays Dean Winchester, elder brother of Sam Winchester, portrayed by Jared Padalecki.
It's difficult to get an idea of what's being worn on the feet — and any accessories, such as Dean's silver ring — because logos on clothing gets hidden. The reason for this is that TV companies want to prevent any legal problems with the manufacturers. (That's why the plain t-shirt and generic shirts are such seemingly popular outfits in TV land.)
Clearly, you need something tough if you wish to take on monsters and ghouls on a regular basis. Accordingly, the boots Dean and Sam wear are solid footwear that are among the toughest money can buy. If you are at all a Supernatural fan, you will have lusted after the same boots as the Winchester brothers.
Image via Frisky Tuna, available under Creative Commons License.
Why Does Dean Winchester Wear Logging Boots?
So if you want to find out what boots does Dean wear on the set of Supernatural, you have come to the perfect place. We have uncovered the exact brand that Dean wears.
Dean's most worn boots are the Chippewa eight-inch logger boots.
And unfortunately, they're not made anymore. Chippewa ended their heritage line of boots due to low sales, but there are a couple of places that might have your size left in an old pair, maybe:
Dean Winchester wears other brands sometimes, but he is generally associated with the Chippewa brand. What's distinctive about Dean Winchester's boots is their heel. It's the type of heel that's the hallmark of the logger style boot.
What kind of boot does Dean Winchester wear normally?
Logger boots
8 inches tall
High, tapered heel
Dean Winchester, one of the central protagonists in Supernatural, favors logger style boots for the most part, along with his brother, Sam Winchester. Sam and Dean share a passion for the same kind of boots season after season.
What the Winchester brothers, Sam and Dean, are seen wearing are loggers. You can spot logger boots a mile off due to their tall uppers and heel. Typically, the heel tapers off toward the back, which is unusual in other boot styles and is known, appropriately, as a "logger heel" or "woodsman heel." Also, a logger has an eight-inch shaft to provide extra ankle and leg muscle support. Other boots are normally fitted with a six-inch shaft.
Dean Winchester's pick: The Chippewa Eight-inch Loggers
Supercharged thanks to Dean Winchester of Supernatural and his affinity for the brand, there are sound reasons for this choice.
Firstly, the Chippewas feature a two-inch back tapered heel.
Secondly, they have removable orthotics for boot wearers who need some extra support for their arches.
Thirdly, the sole is constructed of heavily treaded rubber construction, which is almost guaranteed to last for years.
Finally, for a boot that routinely retails less than $200, it is quite the stellar package for durability and style.
Chippewa Brand Overview
Because we have extensive knowledge of everything boot-related, it is easy to comment confidently on what country clothes and boots Dean is wearing. We even did a full video review on Chippewa's Service Boots, a shorter model, when they were widely available. Dean's boots are Chippewa loggers for sure, a simple pics search on Google will confirm we are on the right track when we post about the boots Dean Winchester is habitually wearing.
Chippewa was founded in 1901 in Wisconsin. They used to make heritage-style boots, but today focus more on work boots and Western boots. They do not have an online store; you have to settle for finding them from retailers.
As bootmakers go in the USA, Chippewa has a lengthy and enviable history. They have a well-earned reputation for their ruggedness and durability; handy when monster crushing is on your to-do list.
[Related: The Best USA-Made Boot Brands]
Rock the Dean Winchester look for less
If you don't need a close match for Dean's boots or if the Chippewas are still sold out, we'll showcase a few other options that are pretty similar. The Chippewas are the most common ones Dean Winchester wears. However, the alternatives are a good compromise and have the same Supernatural style and fashion sense about them.
6 Other Logger Boot Options
Here are our top picks of the Sam and Dean footwear collection. We've established logger boots are 8 inches tall, have plain or cap toes, have full grain leather uppers, and are constructed with Goodyear welts to help with water resistance and longevity. Here we have distilled more top logger brands for you.
Thursday Boot Co is well-known for selling high-quality boots at great low prices: the majority of their Goodyear welted footwear, astoundingly, are under $200. These ones are $285, but for good reason, as there are two big differences from their cheaper boots: the Loggers are 8 inches tall (so they use more leather) and they're made in the United States.
The Thursday Boot Logger boot is classy enough to wear with jeans and chinos and is a bit more versatile than other boots on this list, as its silhouette is less chunky and bulbous than many others. But they still have an aggressive commando lug sole, tall uppers, and are made with thick leather.
Thursday is also well-known for making boots that require less break-in time because they use soft materials like EVA in the insole.
Benefits
Commando lug sole.
Out-of-the-box comfort from the EVA in the midsole.
Great price.
2. Runner Up: Danner Men's Flashpoint II Boot
Another beautiful 8-inch tall boot, Danner's model is one that's designed for seriously grueling conditions: firefighters, smokejumpers, and sure, stomping demon heads will all come easily in this beast of a boot. Fully made in the United States (well, with imported components) it's NFPA 1977:2016 certified, fire resistant, the leather is resistant to punctures, water, and fire, and it's made with glorious stitchdown construction for comfort and resoleability.
Although it's a monstrous boot, the comfort and shock absorption is on point thanks to its polyurethane insole, but if that's not your flavor you can remove it for any kind of insole your particular foot requires.
Not interested in the big, 10-inch shaft? Check out Danner's Rain Forest for a more subdued take.
Danner Flashpoint II Benefits
Fire, water, and puncture resistant
Resoleable
Made in the USA
3. Best Premium Logger Boot: Nicks Ranger
A true institution in the world of American footwear, Nicks has spent decades building an unshakeable reputation for toughness. This is no budget boot; starting at $530, this is an investment piece, but like a great leather jacket it's something that will be with you for decades and look all the better for it as it ages.
Crafted with heavy duty (7.5- to 8-ounce) leather from Wisconsin's Seidel Tannery, the Ranger is a workhorse that's made with multiple layers of vegetable tanned leather that will conform to the shape of your foot over time and create a boot that feels custom made to your foot. This bad boy is perfect for farmers, ranchers, construction workers, and anyone who wants to feel indestructible in their footwear.
Nicks Ranger Boot Benefits
Made in America
Tough construction
Resoleable
is, well, a lot of things: it's waterproof, comes with a safety toe, and has Vibram's famous Fire & Ice outsole for optimal performance in any temperature. Even though it's waterproof (thanks to its waterproof membrane) it's nonetheless resoleable, a rare combination that makes for maximum durability in your footwear. Add all that to the shock absorbing polyreuthane footbed and antimicrobial treatment to reduce foot stink and you've got a Supernaturally high performance boot.
Benefits
Hollow fiber insulation
Anti-fatigue technology
30-day refund guarantee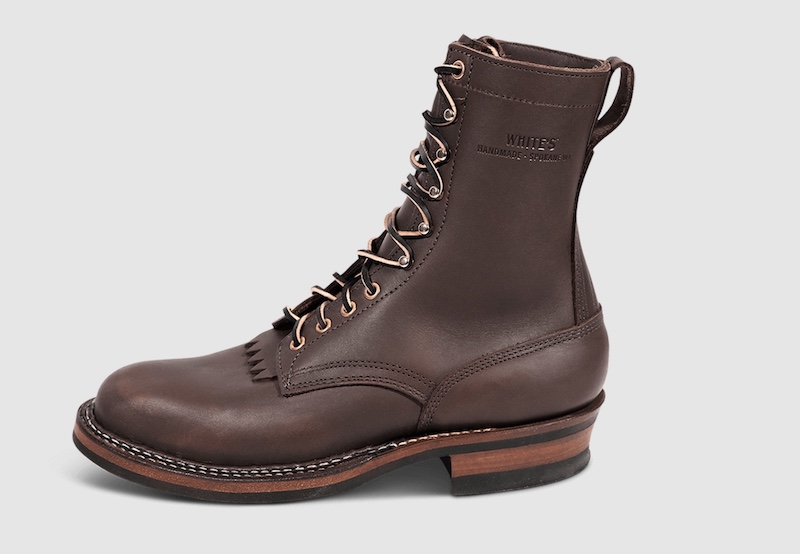 5. Best Hand Sewn Logger Boot: White's Farmer/Rancher
White's is a brand that's usually said in the same breath as Nicks: they're both made in the Pacific Northwest, both in a similar price bracket, and both deserve their rabid fanbase. If you're looking for an 8-inch tall boot that will last for decades while looking just as comfortable under a pair of chinos at the bar as they will under torn jeans on a jobsite, the Farmer/Rancher is a great pick. While you'll have to wait a while for the boot to be made, it's completely customizable and hand made to an incredible degree: it's lasted, welted, and bottomed all by hand, meaning a ton of labor and years of skill go into your footwear.
Made with a thick leather midsole and water resistant leather, this boot can endure the punishments of any day-to-day work, but what might be the highlight of the boot is the patented Arch-Ease last. This provides a particularly stable and supportive base that any consider the epitome of comfort.
White's Farmer/Rancher Benefits
Hand lasted, welted, and bottomed
Made in the USA with US components
Water resistant and resoleable
via kmgsquidoo, available under Creative Commons License.
Sam Winchester Boots
While we're here, the boots used by actor Jensen Ackles as Sam Winchester garner just as much attention as Dean's, so it makes sense to comment on his boots of choice.
If you have your eye not on Dean's boots but his brother's, you need to get the Blundstone 550.
The Blundstone 585
Unlike the bulky 8-inch boots preferred by Dean, Sam usually wears slip on Chelsea-style work boots from the famous Australian company Blundstone. Not as sleek as some dressier Chelsea boots, Blundstones have a more stout look that's well suited for casual wear and rugged shirts and jackets.
They are now famous in large part, thanks to Sam Winchester and his role in Supernatural. The best part? While you may have noticed that the options for Dean's boots are all over $250 (and some are over $500), Blundstones aren't made with the kind of rebuildable construction and ultra thick leather that Dean prefers, making the Blundstones an inexpensive option at about $210.
via Big Damn Hero on Flickr, available under Creative Commons License.
Conclusion
No one will judge you for being inspired by Dean and Sam Winchester's styling.
It oozes toughness and masculinity. The elder Winchester's go-to pair is the Chippewa eight-inch high loggers and while they are indeed off the market, we think we've offered some solid options at several price ranges depending on how long you want your boots to last.
Like his shirts and jacket, Sam's style is more distinctive than Dean's, and he more regularly wears his Blundstone 585s.
Teamed up with the right jackets, you are sure to draw favorable comments on your boot choice. Both are super tough and will literally go anywhere — though Sam's will last longer and withstand more water.
Featured image via Big Damn Hero on Flickr, available under Creative Commons License.
Frequently Asked Questions
Which jackets do the Winchester boys like to wear?
The pair never seem to stick with the same type of jacket. There's no one 'Winchester wear' look, but Carhartt's work coat is often seen.
What type of jacket does Mr Dean Winchester like?
Dean's jacket taste is ever-changing. Though he does seem to favor short leather jackets.
Did I see Dean wear a Dickies shirt?
Yes, he has a thing for unbuttoned Dickies work shirts.
Who wears military jackets on Supernatural?
That would be the elder Winchester, who's quite the fan of the military look. He also wears a military watch.
What jeans does Jensen Ackles wear on Supernatural?
He often wears straight-leg Lucky Brand 361 Vintage jeans.