If you've made it this far, you're probably suspecting it and I'm here to confirm: Schott makes the American leather jacket
Irving Schott and his brother Jack, sons of Russian immigrants, started the company on New York City's Lower East Side in 1913. The company swears that Irving was the first man to ever put a zipper on a jacket. The company became very famous when they released the Perfecto jacket, which timeless badasses Marlon Brando and James Dean wore in their movies, but they went on to make bomber jackets for the U.S. army in World War 2 and today everything is still made by hand in New Jersey, often on the same machines used in 1913, where Schott employs over 100 sewing operators, leather cutters, shipping operators, and so on.
The jacket I went with is the slim, the simple, the clean, the ultra versatile (deep breath) Waxed Natural Pebbled Cowhide Café Leather Jacket 530.
It's simply the leather jacket. It doesn't matter who you are, what you wear with it, or how cool you are — this jacket just goes with everything.
Schott made their first café racer in 1956 and this design became mainstream in the 1960s, they say it's because soldiers who had come home from World War 2 needed a streamlined, minimalist jacket to ride their motorbikes shorter distances. They weren't zooming down highways at high speeds; they were racing between cafés and pubs, and didn't need bulky, protective jackets.
I've been wearing this jacket for over a year. Here's what I think.
Schott Café Racer Jacket: First Glance
Very clean, slim look
Two zippered hand warmer pockets, zippers on wrist and chest pocket
Mandarin style café collar
Bi-swing back panel and underarm gussets
If you know me (I mean it's OK if you don't, we're on the internet) then you know I like uncomplicated, time-tested, high quality men's fashion, and no wardrobe is complete without a leather jacket. And Schott is the best of the best.
This jacket is supremely uncomplicated: it's such a clean, clean look. Here's a tip: if a leather jacket doesn't have seams along the chest, if it's one piece of leather from the shoulder to the trim at the waist, then you've got a higher quality, better looking jacket that isn't made from scraps. It's the very first thing to look for when checking out a leather jacket. Obviously, Schott meets that benchmark.
With the details, you've got two zippered, hand warmer pockets on the sides and a zippered pocket on the left side of the chest — all with chain pulls— plus zippers on the wrist that open up the cuffs. At first I thought the cuffs were just for show, but I've found them really useful for making sure my watch doesn't catch on my cuff and tear the lining, which has happened with my other jackets.
The zippers are all made with nickel, so they're not too shiny and they shouldn't tarnish over time either.
The collar is a mandarin style cafe collar, which doesn't flip up like the similar 141 model, which has more buckles and bells and whistles. The 530 model is, again, a much cleaner look.
The inside of the jacket is lined with surprisingly uncool red checkered flannel — the brown version is mostly tan and beige — and polyester lines the sleeves. The jacket also has one surprisingly deep inside pocket that's secured with a handy button clasp, so I have no issue worrying about losing my wallet in there if I've taken the jacket off at some point or if I'm stuffing it into a bag. (Let's not forget that's one of the many great things about leather jackets: you can beat it up and stuff it into a wrinkly bundle and it'll still look great as soon as you're ready to wear it.)
Perhaps the most unusual important feature to note is on the back: under the arms are a bi-swing back panel with gussets, which help to provide more mobility. Technically, they're there so you can reach the handlebars of your motorcycle while retaining that sleek-but-not-stretched look, and that's a really important thing to note: this jacket does indeed have a slim silhouette, originally intended to help to prevent billowing material when riding a motorbike, which results in a modern fit that fits in well in 21st century Manhattan.
Schott's Leather
Made in America with American hides
Full aniline, drum dyed, hand cut, chrome tanned, cowhide leather
Stretchier than vegetable tanned leather
Pebbly appearance
Light wax coating for weather resistance
Here are the terms they use to describe their leather, here we go:
Full Aniline, drum dyed, hand cut, drummed, chrome-tanned, cowhide leather from plump & spongy hides, made with an oil and aniline finish that gives a rustic old look and a soft "hand".
A little glossary for those who didn't go to leather school:
Aniline: A type of leather dyed with soluble dyes that help the hide to retain its natural surface.
Drum dying: A process in which leather is immersed in dye and tumbled in a rotating drum, ensuring maximum dye penetration.
Chrome tanning: Leather is either vegetable tanned or chrome tanned, though 90% of the world's leather is chrome tanned. It's when leather is made with chromium and it's fast to make, easy to dye, and stretchier than vegetable tanned leather, which you're a bit more likely to see on boots.
This is 1.3 to 1.5mm cowhide, lightly waxed for weather resistance, and made from American cows. Cowhide isn't steerhide, mind you, which is more muted. It's also not horsehide, which is more shiny. With cowhide you see more of the grain of the animal, and in Schott's case it's lightly pebbled, a natural texture where you see the imperfections of the skin.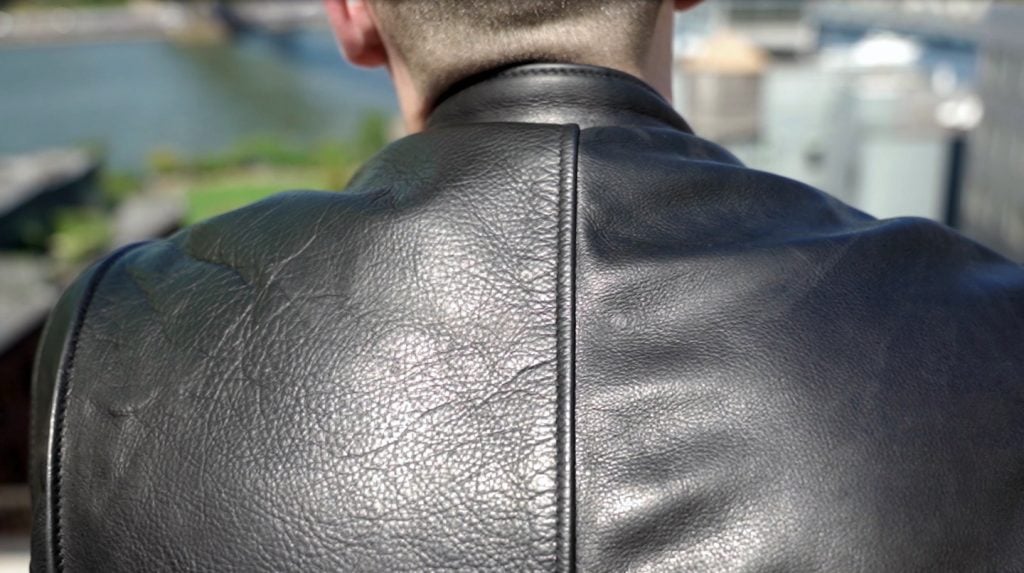 In fact, one of my favorite aspects of this leather is that it's so clearly from an animal: it's imperfect. It's asymmetrical. It's wrinkly in some spots, pebbly in others, and smoother in others still.
This leather does have a soft, luxurious feel, but it's not too soft. I had a sheepskin jacket for a few years, but it was simply too soft to go the distance. It didn't come with the durability or the sheen you tend to expect with cowhide leather jackets. Schott's is darn tough but has a luxurious feel to it; it really hits the sweet spot in what I want in a leather jacket.
[Related: The 5 Best Hoodies On the Market]
Schott Leather Jacket Care
I get that it's a leather jacket: the point is that you don't have to think about care too much, you don't really need to wash it, when it's dirty you can wipe it down with a rag, I get it. But you do want to condition the leather every now and then; this is skin, after all, and it ages best when it's moisturized regularly.
For that, Schott seems to have an agreement with Otter Wax, so they recommend Otter Wax's Leather Oil, which
utilizes a base of oleic-rich safflower oil and fortified with Vitamin-E
I always want to err on the side of what the company tells me to use, so use Otter Wax's Leather Oil — once a year should be enough to ensure your leather lasts for decades to come. Just make sure you give it a quick clean beforehand: a wet rag is fine but I use Cobbler's Choice Leather Spot Cleaner on any built up dirt or stains. (It's kind of what I have lying around, though. Any leather cleaner will do.)
[Further reading: How to Care For Your Leather Jacket]
Schott Café Racer Jacket Fit & Sizing
Fits tighter than most; streamlined look
No underarm footballs
Large fits my 46″ chest
Stretches a little with wear
For the sizing, this is similar to the Model 141 I mentioned earlier but it has a slimmer fit, no buckles on the sides, and the collar is more flush and simple. But we're talking about fit, here: my Café Racer was designed to fit tighter than most in order to create that classic, bold, streamlined look. It's close to the body and the arms are cut tight, making for a slim fitting jacket.
The large fit my 45-inch chest, and while it's more or less broken in out of the box, like a pair of boots it will stretch a little and form to the shape of your body after you buy it. When I first got this jacket I almost went with an XL because I couldn't zip up the front, but the clerks at Schott's Lower East Side store laughed at me and told me that if I did, I'd be back in a year complaining about the sizing. They were right, of course: within a few weeks the jacket had stretched to fit me perfectly.
That said, people sometimes tell me I should have sized down, but the fact is that this is simply a slim-fitting jacket: it fits slim. It's meant to be close to the body, not baggy. Make sure you're expecting that when you decide on this jacket.
Schott Café Racer Jacket Price
When it was first released in 1956, this was called a "Leather Racing Shirt" and cost the grand old price of $28.95.
But alas, inflation is a thing, and today it costs $935. That's the lowest price you'll find anywhere, whether you're shopping on Schott's site or on Nordstrom.
Now, that's on the high end of the food chain. I get it. It's a big pill to swallow. (Am I mixing metaphors?)
Here's the thing: I used to live in China and had more than one leather jacket made for me at their markets. I once got a leather jacket in Australia for under $200. None of those jackets are with me today. The leather was subpar and the construction was formless and forgettable.
A leather jacket is simply something you need to splurge on because every man should have one. It can be worn with anything, and if you get the right brand it'll be with you for literal decades. Do you really want to spend a third of the money on a jacket that will last a sixth of a Schott jacket's lifespan and look 0.1% as good?
Honestly, it's not actually that expensive, given it's made in the US and it's top notch quality. Plenty of companies with iconic leather jackets, like Armani's, cost well over a thousand bucks and don't feel anywhere near as tough.
I can't tell you if the price is justifiable to you, but I'm immeasurably happy I made the purchase.
Schott Café Racer Jacket Pros & Cons
Pros
Tough, supple, durable, waxy, thick, beautiful leather
Modern fit, old fashioned yet slim, yet not too slim
Bi-swing back panels and underarm gussets provide extra mobility
Zippers are heavy duty and high quality
Hand pockets and inside pocket are big enough to actually store something
A good balance of heavy and substantial, but not burdensome like a Chromexcel jacket
Cons
Not everyone loves the look of the flannel lining
Technically it's made in the USA with imported materials not simply "made in USA" as it once was
Some find the fit boxy, and it's not friendly on huskier physiques
The zippered hand warmer pockets can cause abrasion on the hands
Not ideal for really cold temperatures: the lining is not heavy duty, it's not insulated, it's not a puffy, beefy jacket
Motorcycle riders attest: it's not actually for riding motorcycles, it's more of a motorcycle style jacket
If you want softness, lightness, and flexibility, Schott's leather jacket might not be for you. If you want ruggedness, authenticity, functionality, and an inimitable piece of American history, then you should look no further.
This is the leather jacket. The quality is legendary, it'll last you decades, and seriously: in the world of leather jackets, this isn't a bad price. It's the kind of jacket that goes just as well with a ratty t-shirt and joggers as does with a button down and dressy jeans. It's the same jacket you want to take out on a date as the one in which you want to get into a fistfight with a movie villain.
It's way more versatile than Schott's other jackets, many of which are so over the top and ostentatious that you can only get away with them if you're literally on a motorbike in the 1970s. That's why I mean it when I say that the Café Racer is the jacket that any guy can wear and look amazing in, even if you're as uncool as me.