Even if you don't know a ton about boots, you probably know two names: Dr. Martens, the classic punk boot of choice for young guys, and Red Wing, maker of pricier, Americana-style boots that are regularly worn by celebrities like Drake, Ryan Gosling, and Bradley Cooper.
Basically, Dr. Martens are among the most popular boots for under 200 dollars, Red Wings are among the most popular boots for over 200 dollars, and if you're considering Docs or you already own a pair, there's a decent chance you're wondering as to what the next tier of boots can offer you. Should you consider getting something pricier than your trusty Dr. Martens? Are Red Wings worth the extra?
This article is to answer that question. What are the potential advantages of each product and how do the leather, sole, fit, and price differ? Let's take a quick look, what I like to call "first glance" at these boots, and then get deeper. Here are the sections:
Red Wing vs Dr. Martens First Glance
Doc

Martens

' leather is thinner and glossier
Red Wing has shinier nickel eyelets
Docs mostly single stitched, Red Wing mostly triple/double stitched
Docs have bright yellow stitching on PVC welt
Red Wings more 'foot-shaped'
The main two products I'm comparing today are the most popular boots from each respective company: the Red Wing Iron Ranger and the Doc Martens 1460.
One more time: these are the models I've selected because they're the go-to boots from each brand. Dr. Martens themselves calls these very 1460 Docs I bought "the original Dr. Martens boot." That's why I'm not using the more expensive made in England Dr. Martens — this is the Doc marten now. And it's made in Asia, probably Thailand.
The Iron Ranger, meanwhile, is Red Wing's most popular boot and it's made in Minnesota. I've also taken some pictures here of the 1460s alongside the Red Wing Blacksmith boot, since the Red Wing boot that's the most similar to the Docs. The main differences with the Blacksmith and Iron Ranger is that the latter just has a toecap. There are a couple of other differences ,like the eyelets are brass on the Blacksmith instead of nickel on the Iron Rangers, but everything I'll be saying about Red Wing in this article — the leather, the fit, the construction — goes for the Iron Rangers and the Blacksmiths both.
The first difference you probably noticed is the leather, which I'll get into in more detail in , but in brief: Docs are much glossier and the leather's a lot thinner.
The Iron Ranger has shiny nickel eyelets while the Docs' are duller, Red Wings are mostly triple stitched while the Docs are mostly single stitched — although there's a line of triple stitching along the side of the Docs — the Docs have bright yellow stitching on the welt versus white stitches on the Red Wings and, very importantly, the Docs have a much softer, spongier, and grippier rubber outsole. The Red Wings' soles are flat when viewed from the side, but there are recessed lugs that offer decent grip — again, more on that in the Soles section below.
Lastly, as far as the shape goes, the Red Wing boots have what I consider a more anatomically correct fit: it bulges at the toe, narrows at the midfoot, and secures the heel more effectively. It just follows the shape of the foot better. The Dr. Martens are a bit more shapeless and blobby. Some find that more comfortable, yes, but the heel does slip more in the Doc Martens because it doesn't do as good a job of securing the foot.
[Related: Red Wing vs Thursday – Which Is the Better Boot?]
Red Wing vs Dr. Martens Leather
Both brands are made with chrome tanned leather — that's how 90-plus percent of all leather on Earth is made — but that's about where the similarities end.
Red Wing
Full grain
Shows texture of skin
Thicker
Oil tanned
Made in Minnesota
For starters, the Red Wing's leather is full grain, meaning it's made from the outer layer of the animal's skin. It's a bit hard to see the "grain," or skin-like the texture on my Iron Ranger because it's been old and it's been conditioned a million times, but if you look at the Blacksmith photo above, you can see what the skin looked like. That means it's full grain, or pretty close to it.
(Please note, by the way, that the conditioner I put on the Iron Rangers darkened the leather a ton, its Amber Harness leather is typically much lighter — you can check it out in this review of the Red Wing Merchant, made with the same leather.)
Dr. Martens
Corrected, smoothed down
Thin, pliable
Shiny, glossy
Made in "Asia or South America"
The Dr. Martens' leather is corrected grain, meaning it's been smoothed down to this super smooth, glossy finish.
Now, maybe you prefer shinier leather. That's fine, the shoes do serve different aesthetic purposes: Red Wings might be more rustic, Docs are perhaps more urban, that depends on your style. But I do want to note that the Dr. Martens' leather is much lower quality. It's super thin and plasticky; you can tell this is very cheap leather.
I actually called up Dr. Martens to find out where the leather is from, and all they could tell me is it comes from "Asia or South America." Those continents encompass most of humanity, so they might as well say it comes from Planet Earth.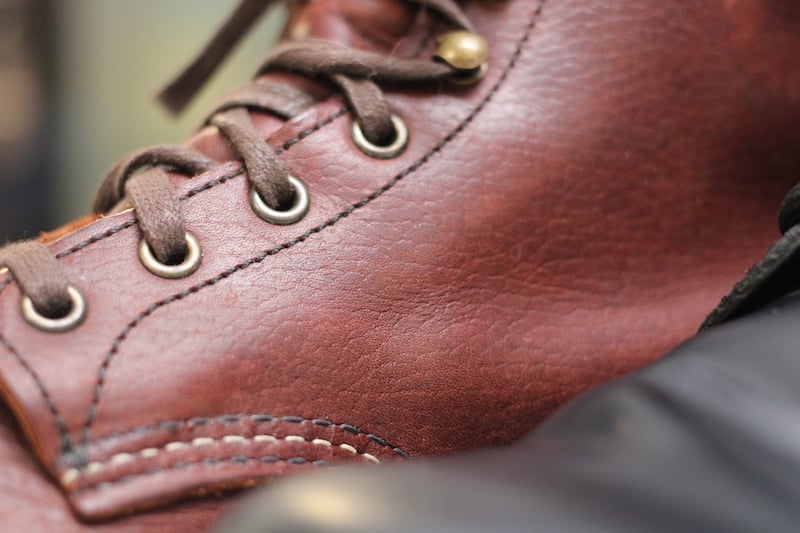 Red Wing's leather comes from SB Foot Tanning Co in Minnesota and not only is it thick, high quality leather, but the facility belongs to Red Wing. Owning their own tannery allows them a lot of quality control over the final product.
Another thing worth pointing out is that Red Wing calls this leather oil tanned, which means after it's chrome tanned, a bunch of oils (like white mineral oil) are added to the leather. This makes it more moist, weather resistant, and longlasting.
But where Dr. Martens might come ahead of Red Wing would be the variety of colors you can get. There are pink Docs, turquoise, white, yellow, and more. With Red Wings boots you can get… shades of black and brown. That's about it, there's nothing as shiny and glossy and modern as Dr. Martens, so if that's what you like, Red Wing's leathers might be too bland.
[Related: The 7 Best Stylish White Boots for Men]
Red Wing vs Dr. Martens Sole
Alright, what about the sole? Very different experiences.
Doc
Martens
Very soft, more sneaker-like
Superior traction
Superior shock absorption
Harder to resole
No shank
To start with the Docs, you might not know that this shoe was originally designed for age related foot pain. For the first decade the shoe was being produced, 80 percent of them were sold to housewives over forty. So while it depends what you want from a sole, the Dr. Martens are terrifically bouncy and possess superior traction and shock absorption relative to the Red Wings. Docs are just softer.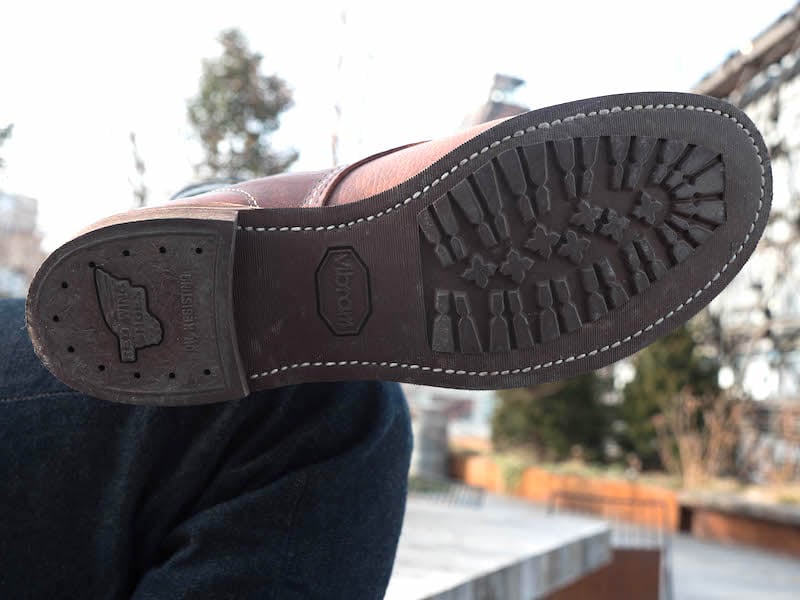 Red Wing
Vibram mini lug
Cork midsole, leather insole
Steel shank
Crummy shock absorption
Resoleable
Moulds to shape of your foot over time
Red Wings, as great as they are, are purposely built the old fashioned way. By that I mean the rubber is pretty hard and firm, and they've got cork midsoles and leather midsoles.
This means the shock absorption just isn't great on Red Wings; it feels like walking around on hardwood.
But where the Red Wings excel is that the cork and leather are designed so that over time, your foot sinks into it and you wind up with shoes that mold to the shape of your foot. So as the months go by, they basically feel like custom shoes, cradling the foot nicely. That aspect gives Red Wing the edge to a lot of guys, even though Docs are softer.
Further Reading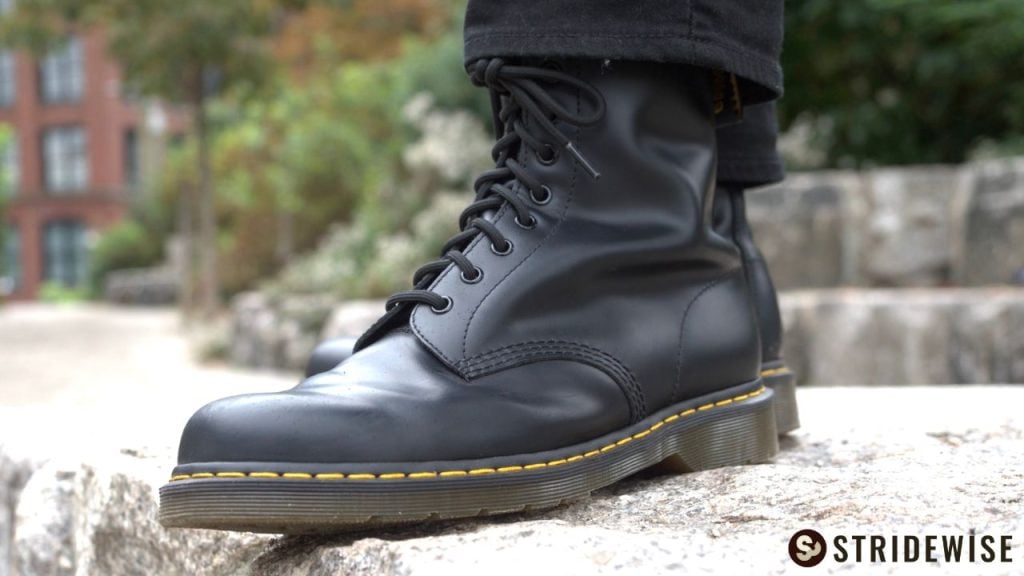 The last thing to mention with the soles is that Red Wings are resoleable whereas Dr. Martens are not. Well, not really. The company says the shoes are made with a Goodyear welt, but it's a weird kind of Goodyear welt that's attached with flame and is very hard to resole. Some cobblers specialize in resoling Docs if you send them to them, but it's hard to find someone who can resole these shoes, whereas any cobbler anywhere can resole Dr. Martens. That's another big reason why Red Wings last longer.
[Related: Dr. Martens vs Timberland]
Red Wing vs. Dr. Martens Fit & Sizing
Size down half a size for both
Docs have no half sizes
Docs have better grip and shock absorption
Red Wings conform to your foot in the long run
For some insane reason, even though they're one of the biggest boot companies there is, Dr. Martens don't have half sizes. You should size down a whole size with Docs, but my true size is 11.5. So I wear size 11 Docs, which are… fine. But 10.5 would have been perfect, a 10 would have been too small.
With Red Wings, I sized down half a size to an 11 and they fit great.
So comfort wise, Red Wings have less heel slippage and they mold to your foot over time, Docs have better traction and shock absorption. It depends on what you like, but long term, I think Red Wings are more rewarding.
Red Wing vs. Dr. Martens Price
Clearly, Docs win as far as the price goes.
Red Wing vs. Dr. Martens Summary
Dr. Martens
Better shock absorption
Better grip
Cheaper
Connection to punk subculture
Red Wing
Thicker, tougher leather
Resoleable
More "foot shaped"
More durable
So which is best for you?
The Dr. Martens are for you if you're low on cash, if you prefer shinier leather, if you prefer a sole that feels more like a sneaker than a boot, and/or if you're just drawn to the brand, love the punk rock history, all that kind of stuff. Red Wings are not punk rock, they're heritage.
Red Wings are twice the price, but there are very good reasons for this. It costs more but you're getting more.
The leather is much thicker, tougher and better quality. They're hardier, they'll withstand more damage, they're made in America (if you care about that), and more importantly, it's a boot that will last longer. It can be resoled, and the midsoles and insoles and uppers conform to your foot to make a super comfortable boot as it ages.
No, it doesn't feel like a sneaker. If that's a priority, or if you need to save cash, the Docs will be the better pick for you. But if you want a boot that will last longer and look better as it ages and be more protective and responsive to your feet, I'd go with Red Wing.
The following two tabs change content below.
Nick English
By day: Manhattan-based journalist with reporting experience on four continents, published in Vice, Men's Health, Popular Science, and a bunch of other places.By night: ravenous consumer of anything and everything related to high end men's boots.Stridewise is where I nurture a maniacal obsession with footwear and share my findings. Say hey:
[email protected]
.
Latest posts by Nick English (see all)