When you step into the world of high quality boots, you'll likely find that brands have several leather options for each model they have. Whether you go ready-to-wear or custom made, a boot with a different leather upper, even if everything else about the construction is identical, can have a significantly different vibe and function.So it naturally begs the question: is one leather better than the other? Today that's what we're going to find out.
We'll also touch on how the different types of leather for boots are made, who makes them, and which companies make boots with them.
There is one thing that should be mentioned first, which is that there are three principle ways animal skin is transformed into leather, and they greatly determines its characteristics.
Vegetable Tanned vs. Chrome Tanned vs. Combination Tanned Leather

You might have come across these terms already before, and these are basically the different ways of producing leather today.
Vegetable Tanned Leather
Vegetable tanning is the oldest way of tanning, dating back approximately 6000 BC, where animal hides are soaked with vegetable matter such as bark, twigs, and even the fruit of certain trees. These organic bits and pieces contain tannins (where the word tanning comes from) that preserve and strengthen the animal hide. This method takes the longest and requires at least a month or more, depending on the tannery's process.
"Veg tanned" leather is hard-wearing and tough, making it suitable for leather midsoles and outsoles and making for a tough break in when used for uppers. But despite the initial stiffness, a veg-tan leather upper molds better to your foot over time and also patinas much faster than chrome tanned leather. But, given its longer manufacturing time, it's more expensive than chrome tanned leather.
Chrome Tanned Leather
Chrome tanning is a much more recent method that was invented during the mid-19th century. Instead of using biodegradable plant matter, it uses chromium (III) sulfites to tan the animal hide. That speeds up the tanning stage significantly, shortening it from weeks or months down to a day or two. Because it's cheaper, faster, and less labor-intensive to produce, more than 90% of the world's leather today is made in this fashion.
Chrome tanned leather is supple, more water-resistant, and holds its dye better than vegetable tanned leather. However, it can crack when left unconditioned for a long time and it's a little harsher on the fibers, so it is generally considered less longlasting. However, there's a huge spectrum of quality with chrome tanned leather. Some, like the ultra thick Saddleback bags, will last for a lifetime, but the cheap stuff will crack and fall apart much sooner.
There's also the environmental impact of the chrome tanning process: the chromium salt solution can pollute local water sources and cause health issues within the community. A well known example is the large number of respiratory problems, renal failures, and birth defects linked to the tanneries in India's "leather capital," Kanpur.
Oil Tanned Leather
You may have also heard of oil tanning, which is a kind of chrome tanning. For this process, certain oils (like white mineral oil) are added to further enhance the leather's water resistance. Because it's such a moist leather, it's hardy and requires less conditioning than other chrome tanned leathers. Red Wing Heritage is known for its wide range of oil tanned leathers.
Combination Tanned Leather
As the name suggests, combination tanning uses both vegetable matter and chromium salts to tan the leather. Usually the early stages utilizes chrome tanning, shortening production time, then it's re-tanned using vegetable tanning to add its desirable traits. A combination tanned leather is first on the list below.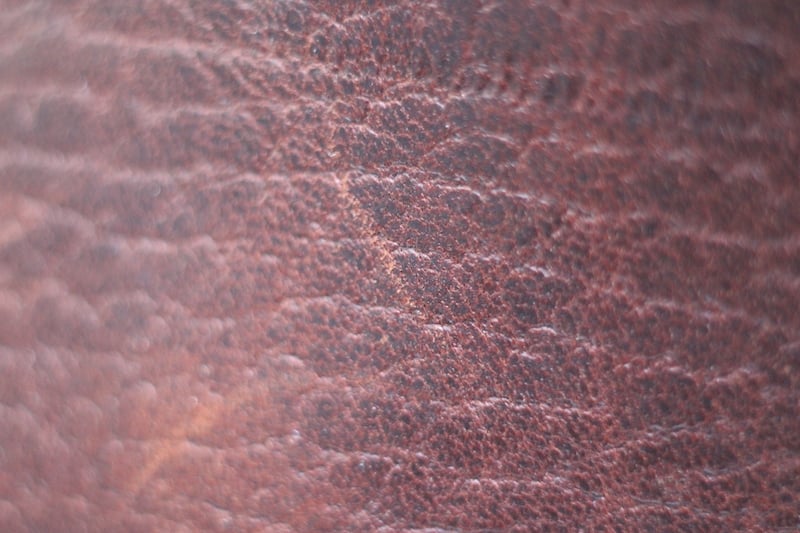 Now, on to the list you've been waiting for: these are the best types of leather used in boots. Here, you'll also learn about some of the best known tanneries and examples of boots made with each kind of leather.
[Related: The 10 Best Tanneries on Earth]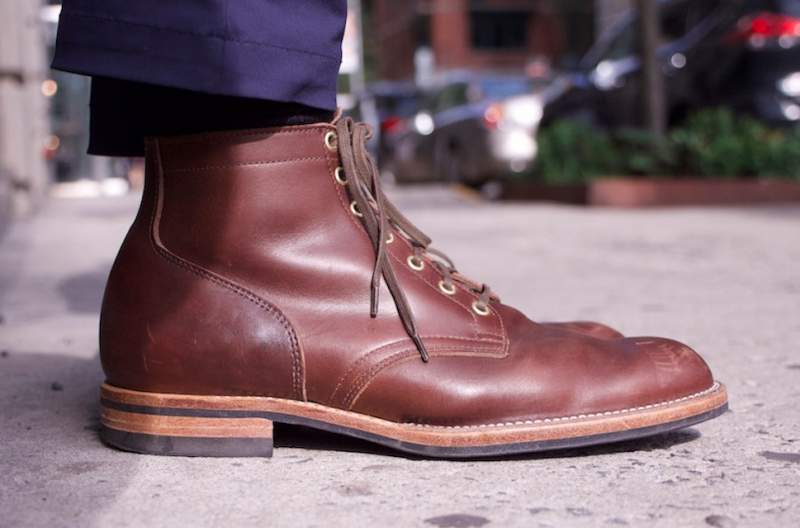 Best Boot Leather Overall: Chromexcel

There's a reason Chromexcel is the most widespread leather used on American boots. Every company uses it, and practically every popular boot at every price point comes in Chromexcel, from $199 Thursday Boots to $700 Viberg boots.
Why is Chromexcel so beloved? If you read earlier that combination tanned leather is the best of both worlds, then you may not be surprised. Chromexcel is combination tanned, produced over 28 working days at Chicago's Horween Leather Company.
But it's not just the fact that it's supple like chrome tanned leather and hardy like veg tanned leather. As it's produced it's imbued, or "hot stuffed" with a huge variety of oils and waxes that include food grade beef tallow and cosmetic grade beeswax, all of which produce an incredible depth of color, a rich patina, and make for seriously weather resistant boots.
Many call Chromexcel "full grain," meaning the pattern of the animal's skin remains. But Chromexcel is slightly "corrected," meaning it's been sanded or buffed down just enough to achieve a fairly uniform appearance without sacrificing durability. This leather ages well, looks classy, has a nice medium shine, and has terrific depth of color.
[Learn more in our complete guide to Chromexcel]
Pros
Durable
Develops a patina that many boot enthusiasts prefer
Broadly seen as the "best" leather for cool boots
Rich color
Cons
Scratches easily, though they can be easily buffed out due to all the oils and waxes
Can crease easily. This is dependent on how well the company selects their leather, so inspect your shoes before wearing them.
Find great Chromexcel on Viberg, Alden, Allen Edmonds, Grant Stone, Oak Street, Wolverine, and Parkhurst, among many others.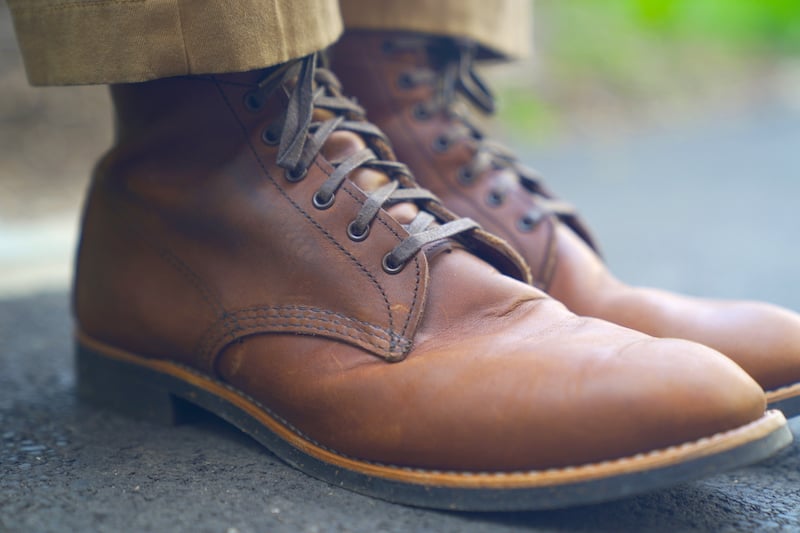 Best Oil Tanned Leather: S.B. Foot Company's Red Wing Leathers

S.B. Tanning Company is a tannery owned by the beloved institution in American footwear, Red Wing. While Red Wing's "Work" line are made overseas, all of the The S.B. Foot Tanning Company is the tannery that Red Wing owns and some of their well known full grain leathers include the Amber Harness (above), Oro Legacy, and Briar Oil Slick (below). They're top of the line and can be found in Red Wing models like the Classic Moc, Blacksmith, Iron Ranger, Weekender Chelsea, and others.
Red Wing's leathers are relatively inexpensive — roughly $300 for an American made boot is a good price — and the fact that they're oil tanned makes them very durable and easy to take care of. There's a reason that Red Wing is the go-to first boot for American guys: they live up to the hype.
Pros
Easy to take care of
Rugged aesthetic
Full grain; the animal's skin is visible
Cons
Sometimes results in a tough break in
Not dressy
Find this leather on any Red Wing Heritage boots, except the Hawthorne Muleskinner. That's roughout. .
Best Calfskin Leather: Tannerie D'Annonay's Boxcalf

Calfskin leather comes from the hide of calves under a year old and is known for its pliability and durability. It has a finer grain than leather coming from adult bovines and thus has a smoother finish. But despite being thinner than cowhide, its tensile strength is, pound for pound, actually higher. However, since a hide from a calf is about half the size of a hide from a cow, it is usually more expensive. (Of course, a litany of other factors like tannage and country of origin affect the price as well.)
Boxcalf is pretty widely considered the best calfskin. Well suited to dressy shoes, this leather is chrome tanned with an aniline finish, meaning it holds dye well while retaining the skin's natural surface. Even though it hasn't been corrected or sanded down, boxcalf is wonderfully smooth and vibrant. The best tanneries producing boxcalf are France's Tannerie D'annonay and Germany's Weinheimer tannery. If you see these names on boxcalf boots, you know you're in for a treat.
Pros
Its smooth surface and lightweight strength make it ideal for dressier boots
Little to no break in is required
Cons
Work/service boots with this leather aren't common and tend to be pricier
Find great boxcalf on the Chelseas from Carmina and J. Fitzpatrick.
[Related: Calfskin vs Cow Leather – Which Is Best for You?]
Best Vegetable Tanned Leather: Badalassi

As we've learned earlier in a previous section, vegetable tanned leather is hardy yet it has a better patina potential. The best of the best veg-tan leathers are also full grain leather and they serve as a better blank canvas for enthusiasts to tell their story through their boots. That's a fancy way of saying that it ages well and it ages fast. Because it's stiffer and has a rougher break in — even though once the break in is over they're insanely comfortable — veg tan leather has fallen out of favor for everyone but non-leather purists. After all, companies don't like taking returns from people who find the leather "too stiff." (People are so shortsighted these days.)
Given its present day scarcity, veg tan boots have also sort of become a grail boot to some. The easiest and most economical way to get your hands on some is from Grant Stone, the fantastic footwear company that makes beautifully crafted, versatile boots at pretty low prices, since they're made in China. But they're universally regarded as high quality, lining from Milwaukee, welts form Massachusetts, and in this instance, leather from Italy's Badalassi Carlo tannery.
Trust me, I own a lot of boots and barely any purely vegetable tanned ones. Grant Stone is the place to get it.
Pros
Durable
It ages faster than chrome tanned leather
Many find the patina more desirable
Old fashioned, traditional
Cons
Tough break in
Hard to find
Get this leather on Grant Stone's Diesel boot, Brass boot (that's the moc toe), and from Japan's White Kloud if you'd rather pay over a thousand bucks a pair.
Looking for something darker? If you can handle $700 a pair, check out Viberg's Dublin boots, with leather from Horween Leather Company.
Best Suede: C.F. Stead

When you sand down the grain side further and further, you reach the nappy, fuzzy flesh side — now you have suede. It's typically made from split leather, meaning the tannery splits the leather with an industrial machine. Split suede is thinner and more pliable than full grain leather. Oftentimes, you'll come across suede that's been waxed, as this enhances this notoriously vulnerable leather's resistance to stains and liquids.
The best suede, waxed or otherwise, comes from C.F. Stead, a world famous tannery located in Leeds, England. Founded in the 1890s, C.F. Stead has maintained a towering presence in the footwear industry and has many high profile partnerships with companies like Clarks, Adidas, and Dr. Martens.
Pros
Thin and pliable
Feels broken in right out of the box
Patinas nicely
Cons
Less durable than full grain leather
Naked suede is prone to stains and water damage
Find great C.F. Stead suede on Clarks Desert Boots and Viberg, and great waxed suede on Taft Dragon boots, Grant Stone's Chelseas, and Truman Boot Company's "Rambler" leather.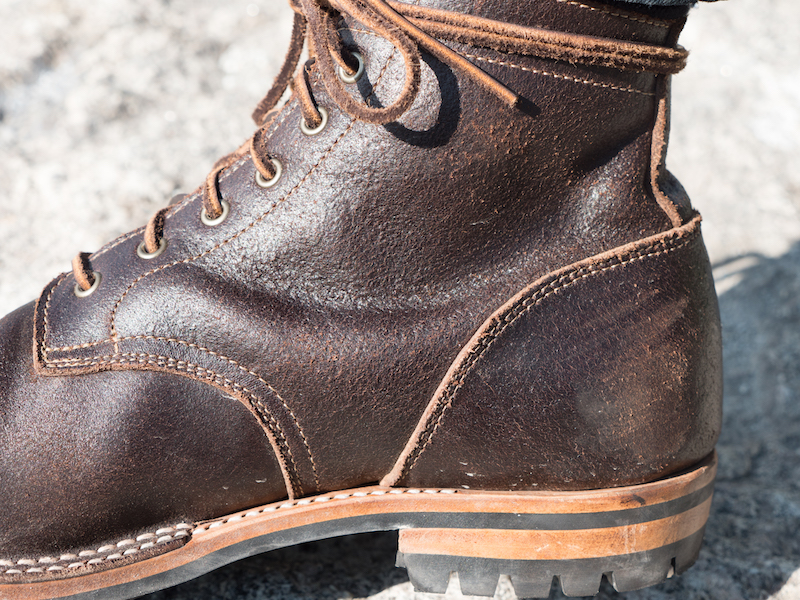 Best Roughout: Horween

Roughout leather is essentially full grain leather flipped on its other side, where the nappier, more textured flesh side is what you can see on the boot's upper. Note that this is different to suede, which typically results from splitting the leather in half. Roughout is much tougher than suede and it's the predominant leather in WW2 army replica boots because it can take a lot of abuse while being easy to maintain.
We picked Horween's rendition. The Java Waxed Flesh seen above is vegetable tanned roughout while the version below is Chromexcel.
Pros
Very tough
Low maintenance
Unique patina
Cons
Find Horween's roughout at Truman Boot Company, John Lofgren, White's, Viberg, or for a much lower price at John Doe Shoes.
Best Shell Cordovan and Horsehide: Shinki Hikaku
Both of these come from a horse, whose tighter collagen fibers in its skin make these leathers tougher, more abrasion resistant, and less likely to crease than cowhide. In fact, cordovan is generally seen as uncreaseable. Both of these products are usually vegetable tanned too, making these both virtually indestructible and aesthetically intriguing.
Shell cordovan technically isn't leather as it comes from a membrane under the skin at the horse's buttock, but it is famous for being a "leather" that does not crease at all. Its surface is also very smooth, making it ideal for dressier footwear. And since a horse usually has only six square feet of shell-cordovan-worthy membrane in its whole body, that makes shell cordovan one of the, if not, the most expensive leather out there.
Horsehide, meanwhile, is the leather that comes from the hide itself and features more of the skin's patterns and imperfections. A popular variation of horsehide out there is horsebutt (or horserump), which comes from the area of the horse's butt that's just above where shell cordovan is found. It's beloved by many boot aficionados for its unique grain and depth of color.
Japan's Shinki Hikaku is well known as the world's premier tannery for horsehide and cordovan. This family run business was founded in 1951 and its vegetable tanning process takes up to four months — and the cordovan takes up to an entire year.
[Learn more: A Beginner's Guide to Horsehide Boots]
Pros
Stronger and more abrasion resistant than full grain cowhide
Shell cordovan doesn't crease
Horsehide is visually interesting
Cons
You can get Shinki horsehide at Viberg for $830, but the best value is from the Indonesian bootmaker Sagara, in natural and burgundy colorways. (You'll need to e-mail them to start the ordering process.) For Shinki Cordovan you can try John Lofgren for $1,300, but the best value is definitely Meermin.
Best Kudu: C.F. Stead

Kudu is an African antelope whose leather is known for being lightweight yet tough. It's a little like calfskin in that regard, but unlike calfskin, kudu leather is one of the more visually interesting leathers because of the prominent scarring. Aside from the thorny branches that the animal passes by, you can also surmise the many attempts of predators on this majestic beast.
C.F. Stead once again makes the list here; if you've got a pair of kudu boots from a reputable company, it's guaranteed that it'll be made with their leather. Mostly vegetable tanned and finished with a couple of hours of chrome tanning to lock in the color, this leather makes for an indisputably rugged look — even when on dressier lasts like Parkhurst's, above.
Pros
Lightweight
Very tough
Visually interesting
Every hide's unique
Cons
Very rugged look; difficult to dress up
You can find C.F. Stead's kudu just about everywhere: Parkhurst, Mark Albert, Meermin, and Grant Stone are the best options for around $300. Naturally, Viberg's kudu boots are closer to $700.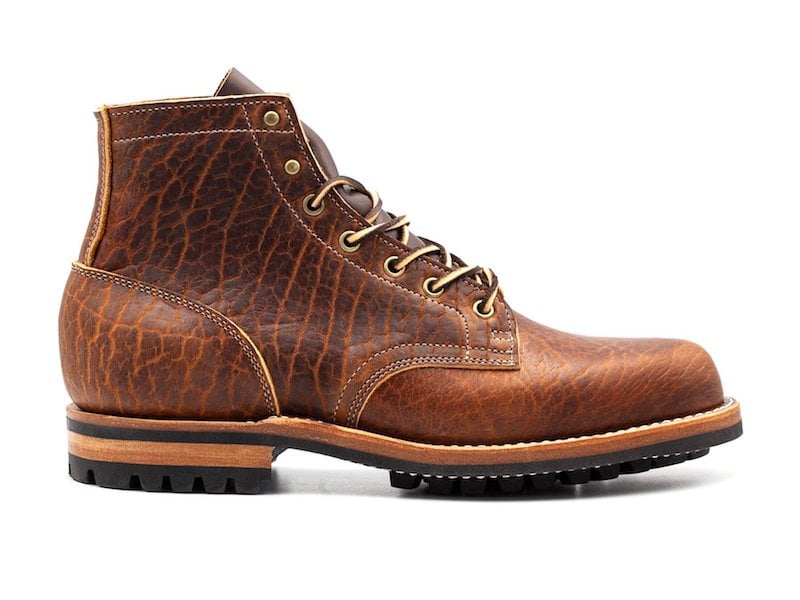 Best Bison Leather: Law Tanning Company

Bison leather is another one of those leathers with an eye-catching grain — its crackled surface adds another dimension to the look of the boots. The pores are bigger so it's more flexible and more breathable than most leathers that have a tighter grain. It's also tougher than cowhide because it isn't stretched after tanning, having 40% more tensile strength than its cow-nterpart.
Horween makes their fair share of bison, but our favorite tannery is Law Tanning Company in Wisconsin. Founded in 1936, this company makes an unusually diverse range of leathers from uncommon animals: bison, pig, deer, elk, even kangaroo.
Pros
Durable and more breathable
Little to no break-in is required
Visually interesting
Cons
Dries faster than other leathers and needs more frequent conditioning
Difficult to dress up
You can find Law Tanning's bison at Truman Boot Company and for a cheaper option, it's the go to bison source for Indonesian bootmakers like Renav Goods Co.
Wrapping Up
There are a lot of leathers that are very good for boots, and each has their own pros and cons depending on the look and/or function you're going for. There are also several tanneries that, when you see their name specified by the bootmaker, you know that it's gonna be good. If you've read this far, you've got a good grasp of which names will get you the best leather for your next pair of boots.
The following two tabs change content below.
Eugenio Salonga
Eugenio (or Eugene as called by most of his friends) loves functional art and appreciates good design that also works. He is into the well-made tools that he enjoys for his hobbies and also loves to nerd out about it. He is always on the hunt for small but passionate makers to satisfy his itch for handcrafted goods. Check him out on Instagram: @eugeniosalonga
Latest posts by Eugenio Salonga (see all)