Filson is perhaps one of the best known, and most controversial heritage clothing companies in the US. Touting themselves as the Alaskan outfitter with made in the USA products, their products have been increasing in price while production has moved overseas. The Lined Tin Cloth Cruiser is one of those items: it's no longer made in the USA. The Tin Cloth itself is imported from Britain and sent to Southeast Asia for sewing.
Still, the jacket is made with a tightly woven 14- to 15-oz canvas that is saturated with a mixture of paraffin wax and oils, making it both incredibly tear resistant and water resistant.
Currently priced at $425, the cruiser is unusually pricy for a waxed canvas jacket, particularly when you note that it's no longer American made.
Does it hold up to wear, though? Here's what you should know.
[SHOP FILSON'S TIN CLOTH CRUISER HERE!]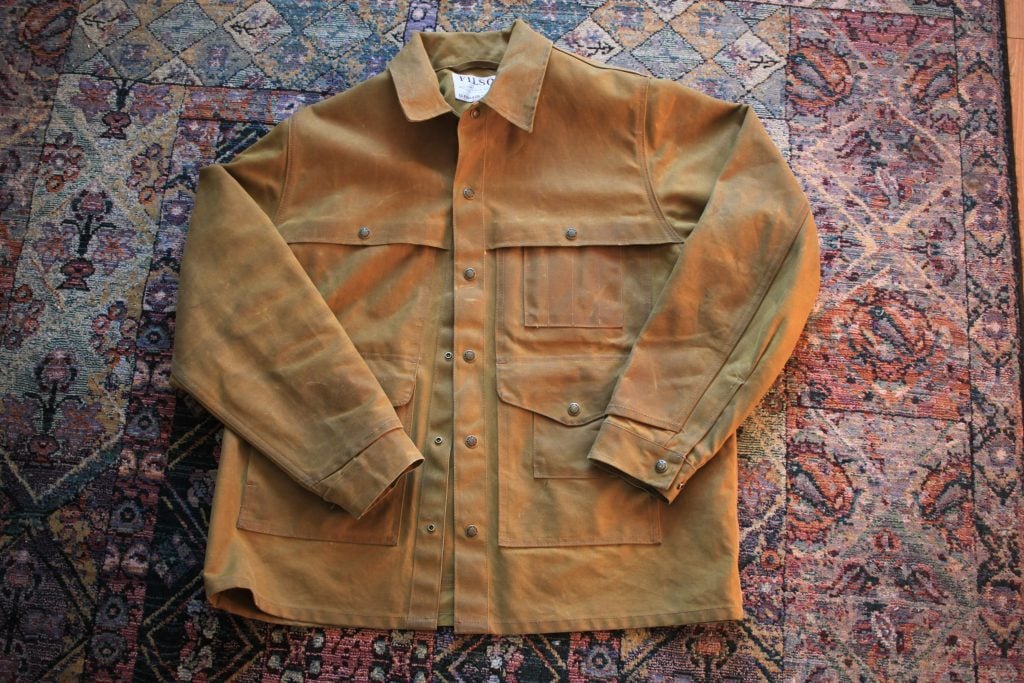 Filson's Tin Cloth Cruiser Pros and Cons
Here's a quick summary of this jacket so you can get the most important facts up top.
Pros
Looks great
Ages beautifully
Lined, so it doesn't feel damp on your sleeves
Withstands all tears and abrasions
Thicker canvas than competing jackets
Lifetime warranty (though trickier to uphold for Canadians)
Cons
Not versatile; hard to wear out on the town
No underarm gussets for mobility
Snap closures occasionally pop open
Expensive
No longer American made
Filson's Tin Cloth Cruiser: First Impressions
All versions are now lined
Hefty fabric
Longer than most jackets
This being my first waxed jacket, I was slightly worried that it might rub off on my shirts, but while the polyester lining kept wax off of my arms, you should be careful wearing this in a vehicle: the oil and wax will likely rub off on the seat and might not be as easy to clean. (This is why the waxed Journeyman backpack has an unwaxed twill panel on its rear, where it rubs against the back.)
The next thing you will surely notice is the heft of this jacket: quite simply, it's a beast! The size Large that I own weighs over 4lbs. The build quality is fantastic. You feel like you want to run through a forest just to prove that those thorns can't hurt you. (Warning: jacket doesn't cover face.) These coats are meant to be worn in the bush. Me chasing after my son on a hike is child's play in comparison.
[Related: The 10 Best Waxed Backpacks for Men]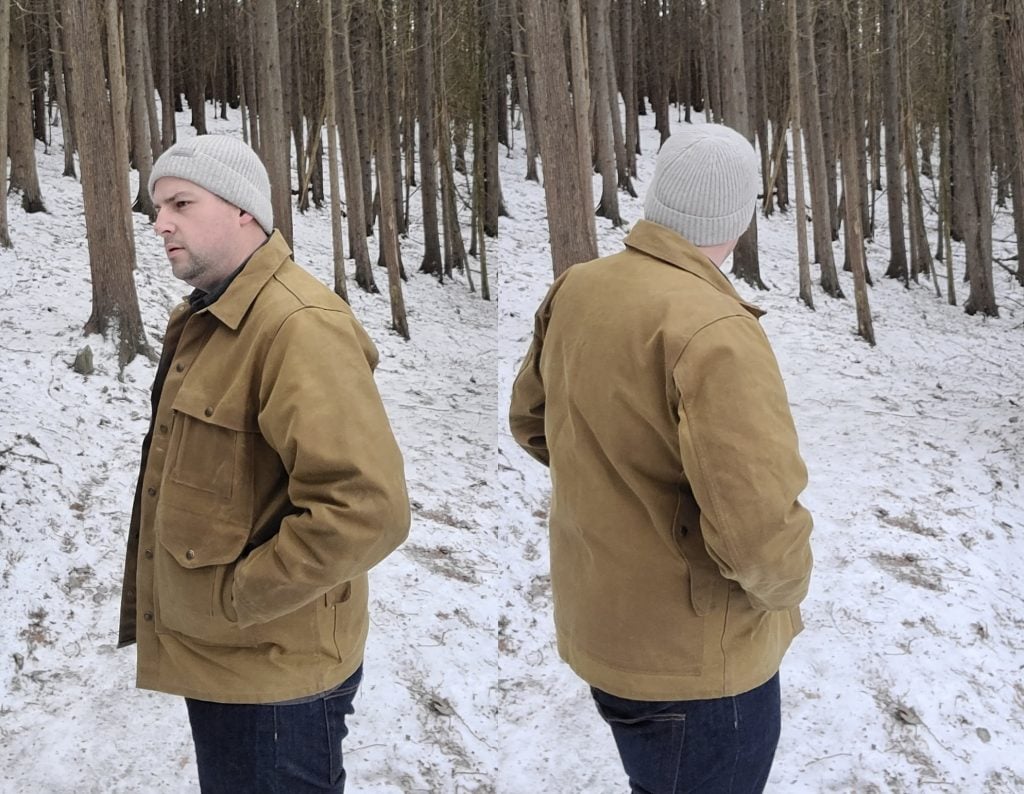 Filson Tin Cloth Cruiser Sizing and Fit
Roomy fit built for work
Size down for a slim fit
If you want a jacket that will allow more room for movement, I suggest going true to size. If you are looking for a less bulky look, size down one size and you will not be disappointed.
The Cruiser is longer than a trucker style jacket, which bodes well for those of us with longer torsos. It covers your backside when you bend down, plus it adds some extra wind protection.
The jacket has a cotton lined body and polyester lined sleeves, which are better than cotton in that the smooth polyester is less likely to catch on your shirt sleeves and ride them up when you're putting the jacket on .
It features double layers on the back, front yoke, and sleeves for added protection and insulation. There are four main pockets on the front, each with snap closures. The chest pockets are covered by the front yoke, which allows any water to flow over and keep anything inside, including your phone, nice and dry. There are also two hand warmer pockets, as well as 2 smaller pockets stitched on the breast pockets, perfect for pens, pocket-knife, or zippo. The back also boasts the map pocket, with snap closures on each side, perfect for gloves, scarf, or yes—even a map. (Note that despite Filson themselves calling it a map pocket, many guys will correct you and call it a "game pocket," insisting it's for storing the dead fowl you're hunting. Game pockets, though, are lined.)
Filson also offers a hood that can be purchased separately that can be affixed under the collar with snaps.
[Related: The Surprising Benefits of Waxed Jackets]
What's It Like to Live In?
Very casual
Ages well
Doesn't breathe that well
The Tin Cloth Cruiser is the perfect jacket for most casual settings. It looks fantastic with denim or some Chinos, but you will have a very hard time dressing this up.
The somewhat wet feel does mean that in warmer weather it feels cooler to the touch. If you are wearing it in the cold you should know that while it does cut the wind down, it does not insulate very well — and if you're wearing it in the heat, it doesn't breathe very well. That's the tradeoff of that impermeable wax barrier.
The fit does run large, so go true to size if you want to layer in colder weather or have mobility for yard work.
The oil and wax combination does make the fabric water fairly water resistant. While I can't say it will be a replacement for a good parka, you won't have to worry if the forecast calls for some light rain. The pockets all are covered with flaps, however there is no storm flap over the opening, which may allow water to seep in during a heavy rainfall.
[Related: The 7 Best Waxed Jackets On the Market]
How the Tin Cloth Cruiser Has Aged
Softens with age
Darkens at shoulders and arms first
Rewax every couple of years
I purchased this jacket in December 2020. I wore it throughout the late winter, spring and now again in the fall. The jacket was very stiff at the beginning and has definitely loosened up as I've worn it. The Tin Cloth doesn't stretch much, so getting the right size at the outset is key.
The jacket has also gained some almighty patina, darkening at arms and shoulders. The patina will depend on how you wear it, of course, but it'll lighten at your elbows first as the wax wears away.
The jacket comes with a tin of Filson branded oil finish wax that can be used to re-wax as needed. Rewaxing should be done every two years under normal wear, however aggressive use, such as exposure to lots of heavy rain or mud might require you to re-wax earlier. If you are going after pure aesthetics over function you can wax or not at your discretion.
[Further reading: How to Rewax Your Jacket]
What Would I Change About the Tin Cloth Cruiser
The jacket, while extremely well built and rugged, is not the best for work that requires a lot of movement. The lack of gussets at the shoulders make swing movement hard without straining against the jacket.
This brings me to my biggest complaint: the snap closures. They're used instead of buttons along the opening, to secure the hood, and at the wrist cuffs. Filson says this is to allow ease of use when wearing gloves, however, it's work to close them in the cold. Given the lack of flex in the fabric, I find it popping open when bending down or lifting objects (such as children).
I even went so far as to order replacement buttons from Filson to have it converted to proper buttons. This idea fell apart on two fronts. Filson's customer service on the phone was fantastic, and was in the process of shipping out new buttons for free, until they found out that the shipping address was in Canada. This caused a myriad of issues and they were not able to ship. I took up their suggestion of heading to the Filson brick and mortar in Toronto.
Here, they were less helpful. They seemed unwilling to help me get the buttons, and then advised that if I were to find similar looking buttons on my own, or even found a way to get Filson branded buttons, that I would void the warranty on that area of the jacket.
[SHOP FILSON'S TIN CLOTH CRUISER HERE!]
[Compare with the wool version of this coat: The Filson Mackinaw Cruiser]
Final Thoughts
The construction and build quality are top notch but might be overkill unless you intend to make trekking through the bush a major pastime. If you are looking for a waxed jacket for work however, I might look elsewhere for a jacket that has gussets on the shoulders and a proper button closure that will not pop open. If fashion is your goal, the length of this jacket sets it apart from the more city friendly trucker and bomber styles, and goes for more of a country or farm vibe.
I would consider this to be a fair price for what you get. The build quality, weight and features of Filson's Tin Cloth Cruiser make it a good value, as long as you are going to make use of all of them.
More Filson Reviews
The following two tabs change content below.
Daniel Harris
Daniel works and lives in Toronto, Canada. A father of 2, Daniel is currently undergoing the transition from fast fashion to high quality menswear. It's not unusual to see him rocking his Nicks boots, selvedge denim, and Under Armour shirt with baby strapped to his chest.
Latest posts by Daniel Harris (see all)