I'm a huge fan of Filson's bags. So much so that their Journeyman Backpack is my all-time favorite waxed canvas backpack. That same waxy material is what makes up the subject of today's review: the 48 Hour Tin Cloth Duffle Bag.
Filson, was founded way back in 1897 in Seattle as CC Filson's Pioneer Alaska Clothing and Blanket Manufacturers, when their goods became noteworthy players in the Klondike Gold Rush. Filson went on to become a favorite apparel brand for lumberjacks, outdoorsmen, and dudes that needed ultra-tough gear to handle the brutal outdoors of the American frontier. Nowadays, it's so pricy that it's worn largely by guys in cities who want cool kit that ages well and lasts forever — but hey, there's nothing wrong with that.
In this review you'll get a breakdown of the materials, the functionality, the price, and whether it's the right bag for you but I'll tell you right now: it's very good. This product is something of a fusion of their largely featureless duffle bag and their more pocket-packed backpacks, making for a versatile, carry-on-friendly travel buddy that ticks a lot of boxes.
[SHOP FILSON'S 48 HOUR TIN CLOTH DUFFLE HERE]
Materials
14oz waxed canvas
Extremely durable, fairly water resistant
Imported
Lifetime warranty
So why would you pay $495 for a cotton bag?
Unfortunately for a lot of guys, this bag is one of the many Filson products that recently switched from being made in the USA to made overseas, likely Vietnam. The good news is that the components are made in the USA (the hardy, vegetable tanned leather) and Britain (the canvas), and it still comes with a bulletproof lifetime warranty: anytime anything breaks, you can send it back to Filson and get it fixed. (As I did when the leather carry strap on my Journeyman backpack broke.)
Tin Cloth Waxed Canvas
Water resistant
Super durable; resists tears and abrasions
Acquires patina with age
The Tin Cloth is Filson's name for their 14-ounce waxed canvas. I've written a lot on waxed canvas, which I think is a great alternative to synthetics.
Canvas is super densely woven cotton that takes a lot more work to produce than the cotton in your t-shirt, plus it's woven with much thicker thread because it doesn't have to be soft on your skin. The combination of the plain weave and thick thread produces a strong fabric that's resistant to tears, snagging, and abrasion.
As mentioned, this canvas actually doesn't come from the US, it's from the famous British Millerain in England. Wax is applied to it for the same reason people wax suede on their boots: wax repels water. This is why waxed cotton is the old fashioned way we used to waterproof clothing and tents, or at least as waterproof as we used to be able to make products before Goretex came along.
Waxed canvas is much less breathable than a lot of modern waterproof fabrics, yes, but this doesn't really mater for a bag. (It does matter for jackets — do not wear one if your day might heat up!)
Another reason folks love waxed cotton is that it looks great as it ages, acquiring the kind of patina that folks covet with their Filson goods. In fact, some people sometimes manage to sell their really well-aged Filson products for a profit because beat-up waxed canvas looks so unbelievably cool.
[Related: The 5 Best Waxed Jackets On the Market]
Filson 48hr Duffle's Pockets and Features
35 liters
19″L x 7″W x 11½"H
2 exterior zippered pockets with interior pockets/sleeves
Pass-through for attaching to luggage
I bought this bag in Paris from a cool shop called Roganel, and I've been using it since for travel ever since. In addition to the pass through on the back that allows you to attach it to rolling luggage, this bag is not only an acceptable size to fit into an overhead compartment on a plane, it's also a fine size for a "carry-on item." For those unaware, you're allowed both a bag anda carry-on item when you get on a plane, a rule invented so that you could bring a briefcase or purse in addition to your travel bag. But at 35 liters of carry space, this "small carry on item" can actually fit everything you need for your a weekend trip; in other words, it's a cheat code for bringing two bags on a plane and avoiding baggage check fees. Just make sure to hold it like a purse and you're fine.
This bag is a cheat code for bringing two bags on a plane and avoiding baggage check fees.
Pockets
Zippered exterior pockets for travel documents
Slips behind the pockets
Rolling luggage strap
The zippered pockets let you have a secure home for your passport and wallet and anything else you may need to access easily, plus there are slips behind the pockets into which you can stuff your book or magazine, like I did here.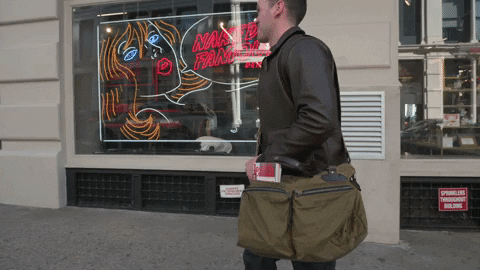 I do want to emphasize the front pockets, because this bag carries about 35 liters, but three or four of them are in the very expandable front pockets. Indeed, this bag doesn't look like it carries almost 35 liters, which is one of the great things about collapsible canvas. (It's also easier to roll up and store in case you don't have a lot of space; my Manhattan apartment is grateful.)
So yes, this fits enough to last 48 hours on the go. So long as you don't always travel with multiple pairs of boots like I do.
Straps
Cotton straps instead of leather
The main complaint I hear about the bag is that the shoulder strap is made of cotton instead of leather, which many consider a bit of a downgrade from the nice leather straps that Filson bags typically come with.
While I can appreciate that a cotton strap keeps the price down, at $495 this is a premium product and I know Filson has gigantic profit margins: this should be cheaper. I tend to use mine with a backpack anyway, so I usually carry the 48 Hour Duffle instead of using the shoulder strap.
Speaking of leather, unlike the other Filson duffles, the leather straps for the carry handle don't wrap around the bottom. This means they aren't load bearing straps and they're more likely to tear off their moorings. That hasn't happened to me and they'll fix it for free if that happens, but still.
Price
This bag is $495, with a footnote that because Filson's stuff is so durable there is no shame in getting used ones on eBay for less — that's where I got my Mackinaw wool coat and my Large Duffle.
[SHOP FILSON'S 48 HOUR TIN CLOTH DUFFLE HERE]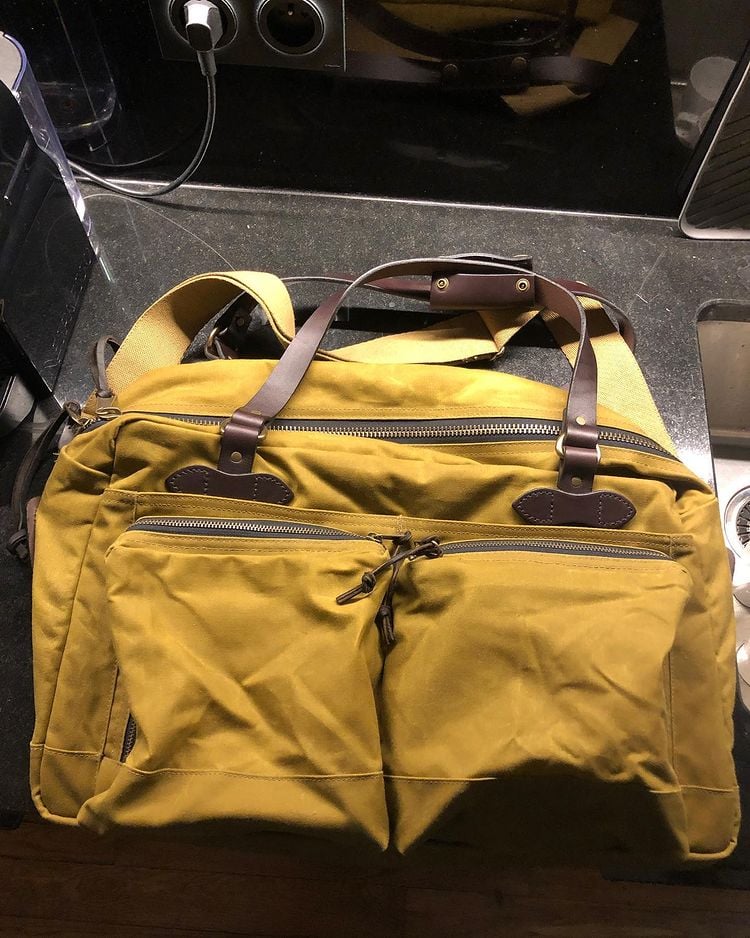 Pros
Perfect for a carry on
Very durable materials
Fairly water resistant
Secure pockets
Cons
No leather shoulder strap
Expensive
Not made in USA
View this post on Instagram
Wrapping Up
It'll last the rest of your life, it's full of handy pockets (unlike most Filson duffles), it ages beautifully, has a timeless aesthetic, and it's practically indestructible.
The downsides are that it's not made in America, it's too expensive for something that's not made in America, and you don't get a leather shoulder strap. If you're the type to wear raw denim, note that the wax will also pick up some of your jeans dye if you carry it bouncing against your legs. (Fortunately, I think that looks cool.)
That's my review of this bag that I consider the backpack of shoulder bags. It's the best of both worlds and it looks as good with a blazer as it does in a muddy field by your tent. Add all that to the lifetime warranty for repairs and I think it's a pretty solid investment.
The following two tabs change content below.
Nick English
By day: Manhattan-based journalist with reporting experience on four continents, published in Vice, Men's Health, Popular Science, and a bunch of other places.By night: ravenous consumer of anything and everything related to high end men's boots.Stridewise is where I nurture a maniacal obsession with footwear and share my findings. Say hey:
[email protected]
.
Latest posts by Nick English (see all)