Most guys try to avoid darkening their leather boots. But maybe you bought a pair online and the lighting in those marketing pics made the color look lighter than you expected.
The good news is, you can darken leather boots very easily. If you wanted, you could with just about any oil in your kitchen, like vegetable oil or olive oil — but don't actually do that. Some oils can go rancid, and you don't want to walk around with stinky fat on your feet.
In this article, we'll go over 6 methods to darken leather boots — and most of them are very easy to do at home.
How to Darken Leather Boots
I've tested most of these ways to darken leather on my own boots and will include before and after pics and a few videos when I can, but if there's a common method I haven't tested, I'll mention that and point you to the source.
Also, I'll let you know how the type, age, and quality of the leather might affect the outcome, so you can get all the facts before trying anything at home.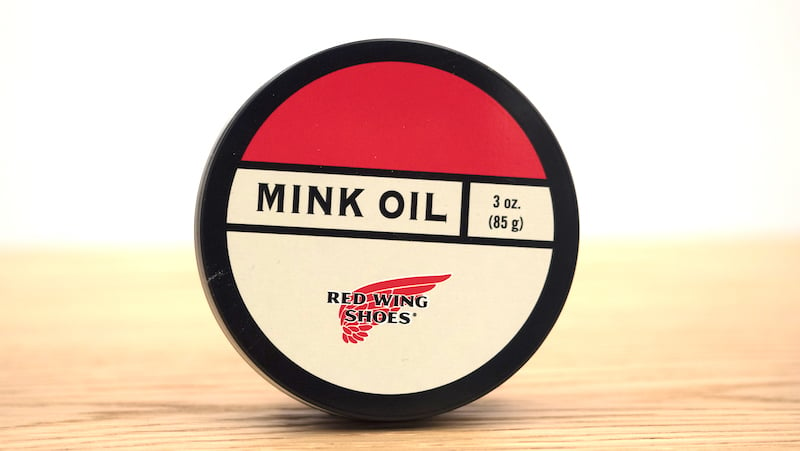 Method 1: Mink Oil
Pros
Softens and reconditions your leather
Adds some water resistance
Cons
Darkens only a few shades
Won't work well if you have newer boots or boots that still have a lot of oils in the leather
If your boots have aged unevenly, the boot may get darker unevenly. Areas with scuffs and heavy abrasion may have darker spots
Pure mink oil will darken your boots 2 to 3 shades darker because it adds wet looking fats and oils to the leather. It's a type of animal oil and is a byproduct of the fur industry. It's quite popular among boot guys because it's higher in unsaturated fats than most other animal fats but it has a super long shelf life and is really effective at deeply penetrating leather.
There's liquid mink oil and mink oil paste, but note that a lot of products marketed as "mink oil" contain other fats and additives to help lower he price. An example is Sof Sole's Mink Oil, which is mostly beef tallow.
If you're going to buy a mink oil composite, Red Wing Mink Oil Paste is a blend of mink oil, lanolin, and silicone. Lanolin is from sheep and gives wool its water resistance and anti-bacterial properties.
[Pick up some Red Wing Mink Oil here.]
The Best 100% Mink Oil Product
It's the only product I recommend that's 100 percent mink oil. How does it compare against composites?
Benefits of Mink Oil
There are quite a few other benefits of using mink oil as well.
It's less likely to go rancid than vegetable oils like olive oil or canola oil (don't use either). It also has a decent shelf life and can stay in the pores of your leather for a long time without smelling gross.
It gets deep into the leather, makes your boots more water resistant, and protects against sweat stains and salt. So it's popular for use on hard wearing boots and it's standard issue in some military orgs.
Mink oil will darken your leather, but it may take away the natural shine of your boots and dull the shine of leather, giving it a matte appearance. If that's fine with you, it's super effective at conditioning and waterproofing.
[Learn More: The Ultimate Guide to Mink Oil on Boots | Benefits, Alternatives, and More]
How to Use Mink Oil Paste
Remove all dust and dirt from your boots. Brush the entire surface lightly with a horsehair brush.
Heat up a fingerful of paste with your fingers a bit if it's solid.
Use little; excess oil is bad. Rub in with a white cotton cloth in a small circular motion or use your hands.
Leave for at least one hour to allow it to get into the leather.
Polish the leather to remove any excess.
Repeat if desired.
[
Learn More:
Red Wing Boot Oil Vs. Mink Oil – What's Best for Waterproofing and Maintaining Color?
]
Method 2: Other Animal Oils and Mixed Oils
Pros
Also conditions your boots, soften the leather
Adds oils back to old dry leather
Add water resistance to your boots
Cons
May look greasy and uneven
Could change the appearance of leather, leaving it with a matte finish
There are leather conditioners that will darken your boots that are made from other animal fats, sometimes mixed with a range of other substances like lanolin, saps, and different oils.
Products that say they are mink oil often don't have much in them, they are mostly tallow. For example, I've used Sof Sole Mink Oil, which one would rightly think has a lot of mink oil in it, but Sof Sole Mink Oil only has around 5-15% mink oil, and contains 55-85% beef tallow. See the results below.
[Read my full review of Sof Sol Mink Oil HERE]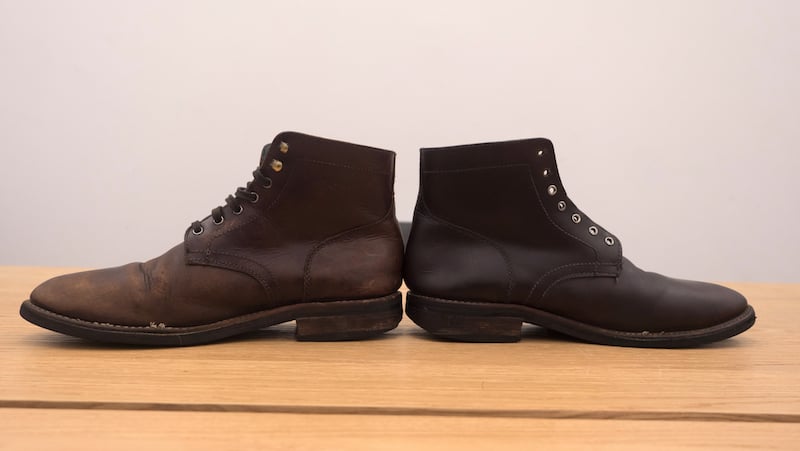 As you can see in the pic above, the leather darkened significantly. A few days later, it had lightened up a bit.
Other tallow based conditioners include Fiebing's Neatsfoot Oil, which contains 100% neatsfoot oil. (That's rendered from the shin and feet bones of cattle.)
Fatty conditioners also might leave the leather with an uneven discoloration across the boot, especially older, well-worn leather that may have abrasions, wrinkles, and dry patches. These can get darker than areas of the boot that still have lots of waxes and fats.
[Get the lowest price for Sof Sole Mink Oil here!]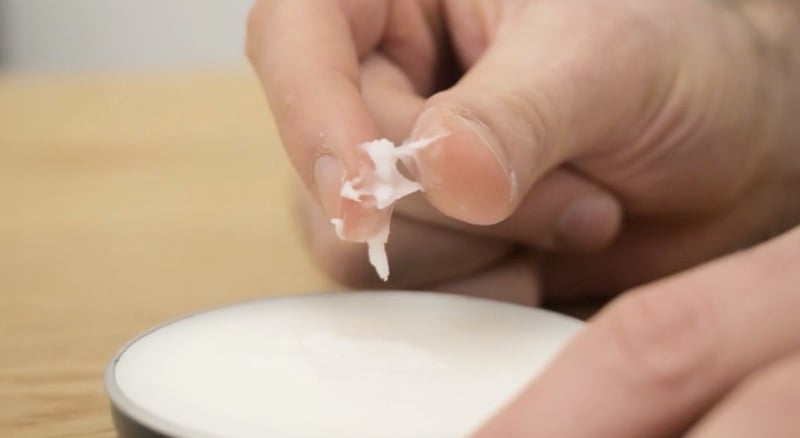 How to Use Animal Fat Conditioners
1) These sorts of products often need to be heated up before applying so it sinks into the pores of your leather boots before drying. Some people put mink oil in a coffee cup and microwave it then use a cloth to apply it, but I just heated it up in my hands and rubbed it in.
2) Rub it deeply into the creases and cracks of the leather.
3) Wait a few minutes and wipe away any excess — important because the residue can attract dirt and dust easily.
4) For best results apply one coat, let it dry completely, then apply a second coat.
[Read More: Kiwi Conditioning Oil Review – How to Use and Before & After]
Method 3: Coconut Oil
Pros
Easy to find, modestly priced
No animals needed
Cons
Doesn't darken the leather much
Sometimes leaves blotchy, spotty leather
Might leave behind white residue
This section could have been about vegetable oils, but most oils in your kitchen aren't suitable for putting on boots. This is because they're high in unsaturated fats that can go rancid — not so for coconut oil.
Coconut oil was a popular DIY conditioner on the message boards last decade, but is less popular now. A lot of people will say that it doesn't darken your leather much, while others claim it will. The main different seems to be how much you use and the type and condition of your leather.
To darken your leather with coconut oil, apply a lot and reapply until you get the correct shade. There are mild risks, like spots and white residue if you apply excess oil. If you clog up the pores in the leather too much, your boots won't breathe as well.
Honestly, compared to proper leather conditioners, I don't think there are too many benefits to using coconut oil to darken your leather boots. If you add the proper amount, it won't darken the leather much.
Here's a discussion on Reddit that shows pretty good results, but other people have had bad experiences using coconut oil to darken leather. Issues might be that inferior quality leather yields spots or that the oil solidifies at room temperature and doesn't evenly move through the leather fibers.
Birchees Leather Conditioner contains coconut oil, but also has birch tar, which makes the leather dark.
Method 4: Birchees
If you want to use a product that both darkens and protects your boots, but doesn't have animal fats and instead uses plant derived oils, use Birchees Leather Conditioner.
Birchess is a fantastic conditioner that also adds water resistance, softens the leather, and will make them a few shades darker as you can see in the image above.
Based on a centuries-old method of conditioning leather, Birchees darkens but can also be buffed to a shine. To learn more, check out the link below.
[Review: How to Use Birchees Leather Conditioner]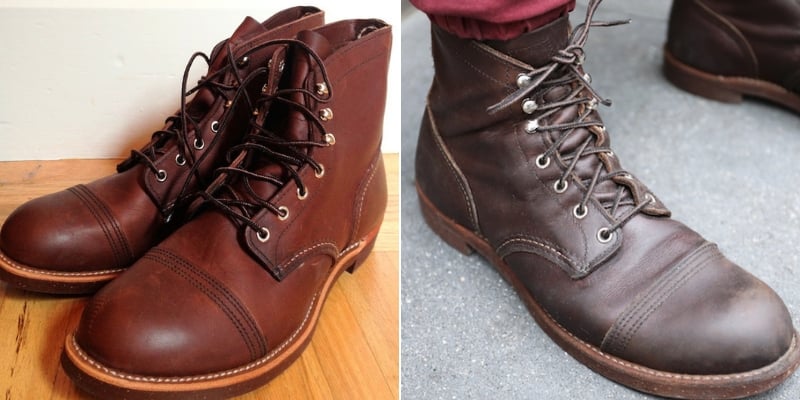 Method 5: All Weather Boot Oils
Pros:
Darkens leather boots the most, other than dying
Adds water resistance
Cons:
Blocks the pores on leather boots, making them less breathable
Might make the boots a matte color
I found this out when I accidentally darkened my Red Wing Iron Rangers with Obenauf's Leather Oil, which is a mixture of beeswax, propolis, and oils. It darkened them a ton, and it hasn't faded, so it darkened the leather more than I expected. These days, many guys say they like the color.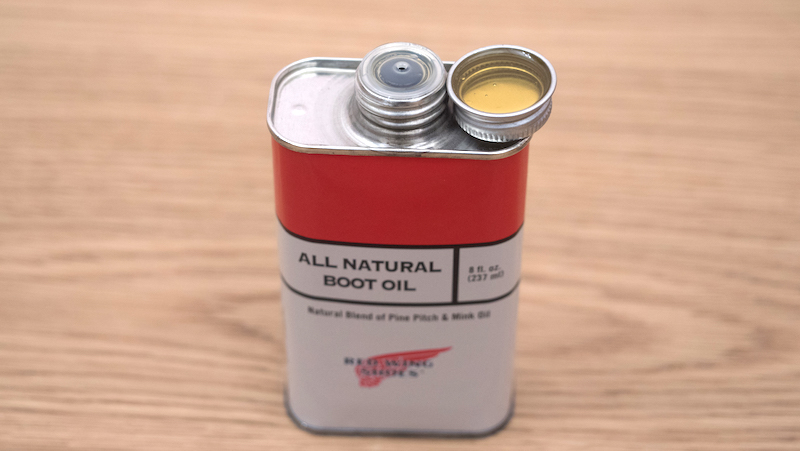 Red Wing's Boot Oil is another popular option. also made from mink oil, but it's silicone-free and has added pine pitch. That's made from the sticky sap in pine trees, which are known for being pretty darn tough and weather resistant, as far as trees go. Pine pitch has had many uses over the years, including a long history of being used as a preservative. On boots, the idea is that it helps to provide a barrier to the elements.
Huberd's is a popular option will definitely darken your leather boots. I tried it on some Chromexcel Captain boots and they were never the same again: blotchy, oily, their famous depth of color ruined. But if you have some matte leather boots and you just want them to be able to withstand the elements? Huberd's is great.
[Review: When You Should and Shouldn't Use Huberd's Shoe Grease]
[Get Huberd's Shoe Grease for the lowest price on Amazon]
With no artificial ingredients or solvents, it's full of natural ingredients like beeswax and pine pitch that needs to be softened before applying, but then it hardens and creates a nice barrier around the leather that can handle anything you throw at it.
Method 6: Use Leather Dye and Polish
Pros
You can choose from tons of colors
Done correctly, you can get an even coloring and almost new looking boots
Cons
The DIY approach has risks like an uneven color or not getting the correct color
Won't provide significant weatherproofing
I'm going to include shoe polish and products with dye in this section, like Kiwi shoe polish
All of the previous methods on this list use leather conditioners. They darken the boots because they add more fat and oils. There's a lot of benefits to them — extending your boot's lifespan is one — but they rarely look shinier.
So if you want darker boots — like much darker — you can always dye them with alcohol based leather dyes.
I'd take mine to a cobbler for this, especially if I liked the boots. There are DIY methods for doing this, and some people have had great success at it. Others not so much; it's difficult to apply dye to the boots evenly. If the boots are used, then scuffs and other blemishes can cause the dye to appear uneven.
How To Darken Leather Boots: Dos and Don'ts
First, this is important. Once you darken, you probably won't be able to go back to a lighter shade. The boots may lighten up as the oils and fats are removed over time, but if you're using dye or color polish, you can only go darker.
Don't darken suede, nubuck, rough out, or similar finishes.
Don't use just any old oil in your kitchen. Some cooking oils, vegetable oils like olive oil, and canola oil will spoil and go rancid.
Over applying is a bit of a relative concept as you may need to over apply to get the boots as dark as you'd like. Most people consider darkening to be a sign of over application of conditioners and oils, but in this case that's what we are looking for. Too much conditioner can clog the pours in the leather and reduces the breathability.
My suggestion is to apply a small amount slowly over the course of a few days until you get the shade you want. Stop if you see any spots or white residue. If you get these, don't worry, over time the oil will heat up and move around the leather and even out. It may take a few wears.
Wrapping Up
If you want to darken leather boots, these methods will certainly help you along your way. Just remember that it may not be possible to back to a lighter shade, especially with the dyes.
Done correctly, darkening your leather boots can lead to really nice, rich color, but don't overdo it. If I was hard pressed to say which method was the best, I'd say Birchees and Red Wing's Shoe Oil all gave my boots a much darker look, with Birchees the best for guys who want a darker boot that can still handle a shine. If you want to try dyeing them, I'd recommend taking your boots to a cobbler.
The following two tabs change content below.
Karl Wasson
Karl is an IT product manager living in South East Asia who gets a kick out of durability and dependability. He believes form and function are not mutually exclusive. When he's not working, he's searching for the best bespoke menswear in South East Asia and beyond.
Latest posts by Karl Wasson (see all)