Huberd's is a small American company based in Bennett, Colorado, and they've been in the shoe grease business since 1921. The company produces a variety of products like Shoe Oil, which is for more delicate leather, and Leather Dressing, which is for rugged leather items like saddles and harnesses.
Their flagship product is Huberd's Shoe Grease — which is the name the company itself sometimes goes by — and it's enormously popular, ranking as one of the top 5 selling conditioners on Amazon. The product claims to have,
"a unique effectiveness to renew leather and extend the comfort and life of boots"
In preparing this review, I used the product on two different boots: a pair of natural Chromexcel Captains from Thursday Boot Company, and my first pair of boots, the trusty Red Wing Moc Toes.
It worked great on one of them, not so great on the other. Here's what happened.
[Get Huberd's Shoe Grease for the lowest price on Amazon]
Huberd's Shoe Grease Ingredients
Beeswax and 

pine

 tar
High melting point improves water resistance
No animal fats
No preservatives
Like practically every leather conditioner, the company isn't very forthcoming with the ingredients. I even called and e-mailed them to find their MSDS, their safety data sheet, which is how I usually get a feel for a conditioner's contents, but they ignored me.
I do know that the main ingredients are beeswax and pine tar, which help to waterproof the leather. The beeswax has a high melting point, so once you get the product soft and get it into the leather of the boots it then hardens, creating a barrier around the leather to provide water resistance.
Some worry that this can "suffocate" the leather, which is one reason you might not want this on nicer boots (there are more reasons below), but thick layers of beeswax and pine tar are nonetheless commonly sought after for outdoorsy boots.
I don't know what the other ingredients are, but Huberd's does specify there are no animal fats (like mink oil or tallow), no silicone, and no "preserver additives" either.
[Related: How to Waterproof Nice Boots]
How to Use Huberd's Shoe Grease
Has the consistency of apple butter
Sit the tin in hot water to soften
Brush the shoes down with a horsehair brush
Use multiple thin coats instead of one thick one
Pay extra attention to spots where leather creases most
Let boots sit for 24 hours
This stuff is very thick and sticky and has the consistency of apple butter. To soften it up, I sit the tin in a bowl of hot water for a few minutes before spooning it onto a lint-free cloth for application.
It's worth noting that one of the biggest drawbacks of the product is the fact that because of the pine tar, it really smells like smokey bacon. That smell will dissipate over time, but the boots will probably always smell a bit like a campfire and if you apply it with your hands, you can enjoy smelling like pork rinds for a good day or two afterward.
Once it's hot, the product goes on pretty quickly and easily. Use multiple thin layers instead of one thick one, then let them dry for a day or two.
Huberd's Shoe Grease Before and After
Again, I used this on two types of boots.
Oil Tanned Leather
My Red Wing Moc Toes (see my review or buy 'em if you like 'em) are made from Charcoal "Rough and Tough" leather. It's oil tanned leather, which I think is underrated: it's tough, doesn't scratch easily, and requires little care. In short, it's the ideal leather for rough and tumble boots.
Here's what they looked like before (right) and after (left) treating them with Huberd's Shoe Grease.
The boots are already dark, so there's not much darkening. Instead, it produced boots that bead water away much more effectively, which should be the primary reason for purchasing Huberd's. 
It didn't make the leather stiffer, but it also didn't make it softer. It didn't give it a lustrous shine, but that's not what it's for.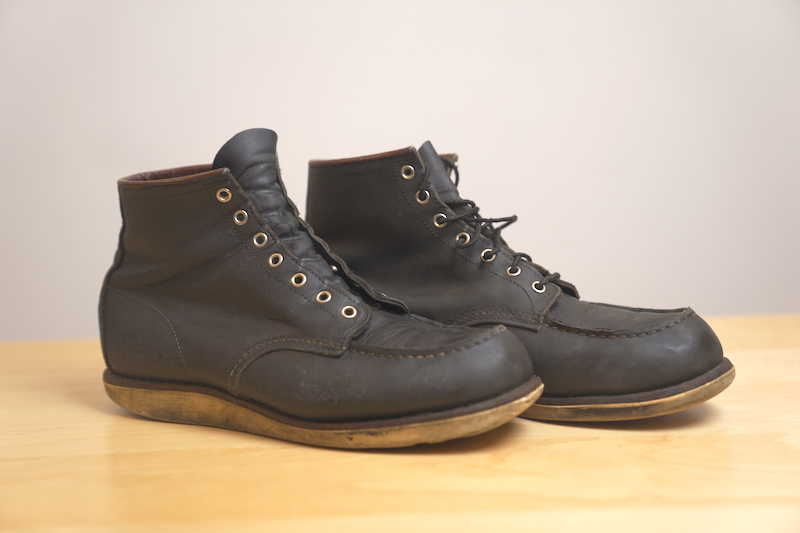 It gave the boots a layer of water resistant wax and tar that will help them to handle inclement weather, mud, and grime.
So that's how it goes on outdoorsy boots. On dressier boots, it didn't fare as well.
Chromexcel
For the uninitiated, Chromexcel is about the most popular leather for American boots. It's a combination tanned leather from Chicago's world famous Horween Leather Company. It's developed with vegetable and chrome tannage, hot stuffed with various oils and waxes, and the finished product is a gorgeous leather with great depth of color. It scratches kind of easily, but it's not hard to buff them out with a horsehair brush and a good conditioner.
That's not Huberd's Shoe Grease. Here's what happened when the conditioner that did such a great job with my outdoorsy leather was applied to my nicer leather: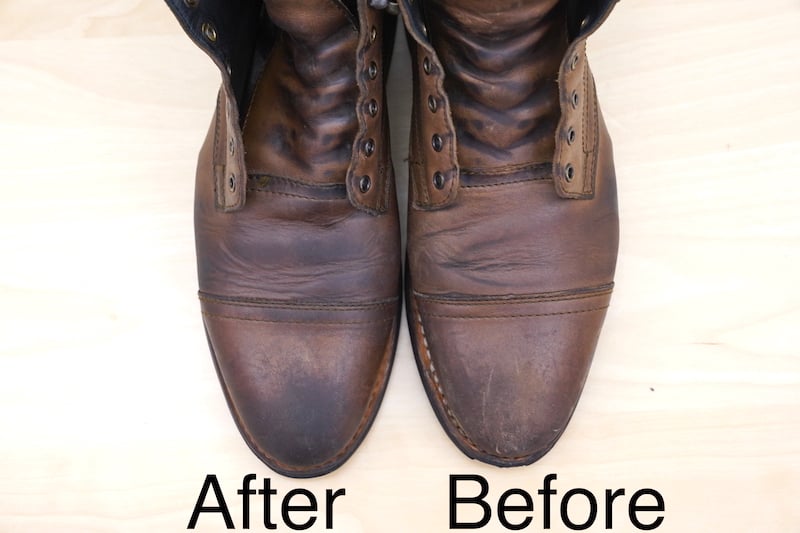 The boots were already in bad shape (as you can see on the right), but Huberd's darkened the leather in a bad way. Most conditioners will darken boots to an extent, but on natural (that's undyed) Chromexcel, it didn't even darken them uniformly.
Even weeks later, the boots were still splotchy. I'll be honest, I needed beat up boots to condition for this video so I borrowed these from a friend — and I had to buy him a new pair after making the mistake of putting Huberd's on them.
They became more water resistant, yes, but do not use it on your Chromexcel.
[Related: How to Care for Chromexcel Boots]
Huberd's Shoe Grease Price
A tin costs about $12.50 for 7.5 ounces, so it's about $1.60 per ounce. Buy some Huberd's Shoe Grease here if you like it.
That's pretty reasonably priced for a leather conditioner. It's hard to compare these products because they all have different ingredients, but here are a few others that I've reviewed so you can get a feel for the value:
Huberd's Shoe Grease Pros & Cons
Pros 
Money back guarantee
Improves water resistance
No silicone or preservatives
No animal products
Cheap  
Cons
Smells like bacon
Hard to apply
Darkens leather
Not a great base for polish
Bad on nicer leathers
I think this is pretty clear. If you have dark boots that don't need to be shiny, that you don't want to polish, and you want to be more water resistant, then Huberd's Shoe Grease will work fine.
If you have lighter boots that don't need to be shiny or polished, that you want to be more water resistant, and you don't mind them getting darker, then Huberd's Shoe Grease is fine.
Honestly, it's perfectly good at making boots tougher. But although a lot of people online have suggested that it can be used on Chromexcel (thanks guys), it can't. If you want something to gently condition your leather, something you can polish over, or something to preserve the color of your boots, don't use this product.
For outdoorsy boots you want to protect, it's great.
The following two tabs change content below.
Nick English
By day: Manhattan-based journalist with reporting experience on four continents, published in Vice, Men's Health, Popular Science, and a bunch of other places.By night: ravenous consumer of anything and everything related to high end men's boots.Stridewise is where I nurture a maniacal obsession with footwear and share my findings. Say hey:
[email protected]
.
Latest posts by Nick English (see all)