There are countless leather care products on the market, many carrying decades of lore and legend that culminate in their present-day reputation among consumers. Making sense of this maze of leather care products can be complicated and overwhelming, and in most cases requires that you, the consumer, have a firm understanding of the leather you're treating in order to best treat them. It's not very fair.
Birchees is an all new, all-natural product that just hit the market and there is a reason to give them a good long gander. They currently offer both a leather conditioner and leather wax, which both contain a core ingredient that distinguishes the product from all the others: birch tar.
[Shop the Birchees Leather Conditioner]
About Birchees / The Owner
Lorne Wanamaker is the entrepreneur behind the Birchees brand. A fascinating individual with a background in IT, he has don a lot of reading into old and obscure leatherwork texts and came to the conclusion that craftsmen mastered how to best treat and preserve leather in the 19th century.
That's when people were using birch tar, something of a lost leather conditioning art that originated in Russia. Wanamaker began developing his birch tar products in 2017, testing it on a range of different leathers to explore its waterproofing and anti-microbial properties.
Birch Tar Oil and Leather
What is Birch Tar Oil anyway?
It's a dark colored oil pitch that's extracted from birch tree bark with a steam distillation method. It carries a very potent smokey smell that remains on the leather for weeks following application. Birch tar oil was used in the fat liquoring process of traditional "Russia leather," which was famous for its resilience — and its smokey smell. Bitch tar oil has been used for a range of purposes including antiseptic, anti-inflammatory, analgesic, stimulant, febrifuge, astringent, depurative, tonic, and many others.
The birch tar oil makes Birchees products are vastly different from mainstream leather care products. Other ingredients are beeswax for its water repellent abilities, d-limonene from orange peels which is used to improve penetration, coconut oil, and a mix of antioxidants and tocopherols for oxidative stability.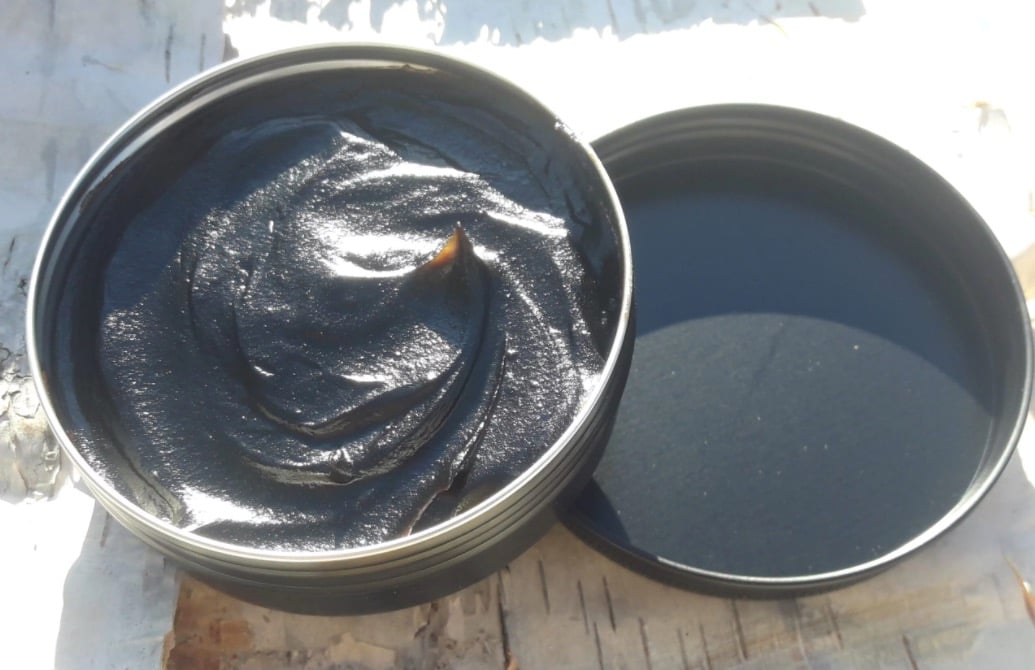 Lorne spent countless hours testing his product to get the mixtures and ratios just right, comparing it with over 20 other oils, conditioners, and waxes like olive oil, bear grease, raccoon grease, neatsfoot oil, and mink oil. His focus was on longevity and resistance to damage, salt, mold, fungus, oxidation, bacteria, and water, including how long it repelled water, and how it retained oils when soaked with water. Plus, Birchees products have been pH matched which will help with protecting a boot's stitching relative to animal products, which can lead to microbial rancidity.
And in case you needed one more excuse to try Birchees birch tar leather care products: Otzi, the infamous frozen iceman discovered in Italy's Ötztal Alps in Italy, used birch tar pitch to affix the copper head to his axe some five thousand years ago. If that doesn't persuade you to try this stuff out, I don't know what will!
[Related: How to Get Salt Stains Out of Your Boots]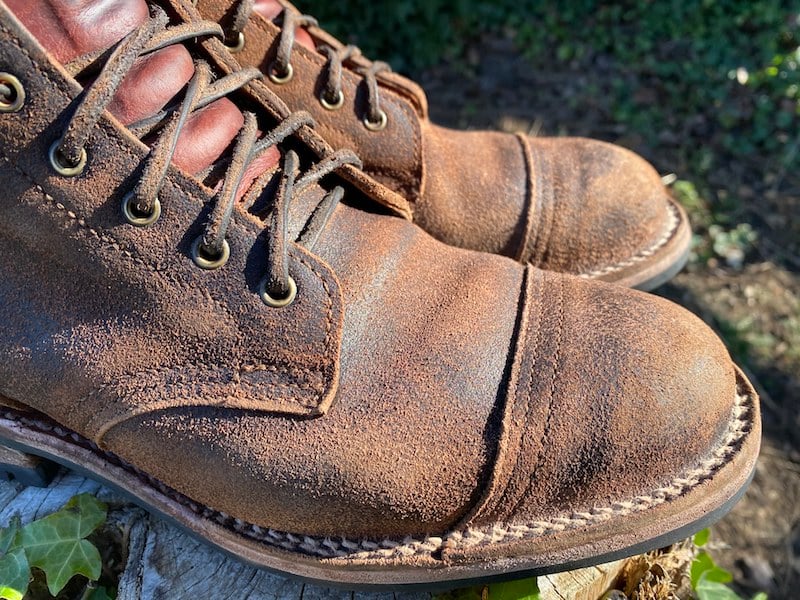 The Best Leathers for Birchees
Since Birchees carries a nearly black pigmentation, which turns more of a brown when spread thin, the easy answer is that Birchees products are ideal for any brown leather ranging from mid-range to dark chocolate brown, and even black leathers.
That said, Birchees darkens leather significantly less than other leather care products such as neatsfoot (derived from cattle shin bones and feet) or mink oil (derived from mink fat).
It's also important to note that leather care products derived from animal fats (besides mink oil, which has an unusual stability) can actually oxidize and damage your leather over time. Being that Birchees is 100% derived from plants, it offers antioxidative properties, which protect your leather in the long term.
But color is only the beginning of the discussion. Texture is another big piece of the puzzle. I would say Birchees will resonate best with fuzzy brown leathers such as Horween's dark brown (java or hickory) waxed flesh and or reverse chamois/ smooth chamois leathers. Other ideal applications would be CF Stead's waxy commander, or any dark brown oily Mohawk type leather. Basically anything with a rough texture which contains oils and waxes.
Birchees would also work well on smooth/lightly textured leathers such as various types of veg tan and maybe even calfskin. The important variable here is color, as Birchees will go best with medium chocolate browns to black pigmentations. You can still use it on lighter colors, just be aware it will darken them to a certain degree. or.
Furthermore, if you have work boots that you'd like to extend the life of, I would also recommend Birchees for those. For example, I would gladly use birches on my Red Wing moc toe work boots because they're work boots, and because I absolutely don't mind darkening them up if that means they'll last longer.
[Related: The 5 Best Leather Conditioners On the Market]
When Shouldn't You Use Birchees?
Easy answer: anything you don't want to alter the color tone or appearance of.
This would include the different vibrant red, blue, green, purples, yellow, and orange colored leathers (anything other than brown or black) whose appearance and tonality you seek to preserve.
I would absolutely avoid applying Birchees to leathers like suede unless you were looking to alter the appearance and texture dramatically. I wouldn't recommend using it on Shell Cordovan either, as it is unlikely to do much for the shiny luster people prize it for.
As far as chrome-tanned leather like Horween's famous Chromexcel, virtually the same advice would apply: only use Birchees if you're ok with dramatically altering the appearance. It would mask the reddish brown brilliance of brown Chromexcel coating it in a much darker, more chocolatey hue.
How to Use Birchees Leather Conditioner
Birchees is absolutely most effective when applied in a multi-step system, which is how Lorne designed them to be used. After going through the process myself, I definitely agree
Like any conditioning project it's best to ensure that the leather is clean and dry before beginning application, clear of dirt and debris.This can be accomplished a number of ways depending on the leather and your personal preferences. In most all cases aside from suede, I recommend lathering up your boots with Bickmore's Saddle Soap or Armstrong's Leather Cleaner using a horsehair application dauber.
Let the boots air dry for a minimum of 12-24 hours until completely dry.

Then apply the Birchees leather conditioner. One or two coats is ideal; I used one generous application in these pictures.Many would recommend using a rag, but I like feeling the effects the product has on my leather with my own skin, so I massaged it in with my fingers, which smelled for days afterward. I like to have shoe trees inserted into the boots so that they maintain their shape during the application process and don't bend or cave in when you're applying the conditioner.
Wait for a minimum of 4 to 24 hours to allow the conditioner to really absorb and settle.
Birchees' Leather Wax
If you like, you can stop here, but you also have the option of applying Birchees' wax. The conditioner nourishes the leather and the wax serves more as a top coat/protective layer, adding a substantial amount of waterproofing to the boots.
In applying the wax, I opted for a horsehair application dauber because the fibers in the horse hair get a better hold on the wax than my fingers can. (And I don't have to deal with trying to clean the wax off my hands later!)
Temperature is also a major factor to consider, and Birchees should be applied in an atmosphere ranging between room temperature to warm. In hotter climates, the balm could liquify which is fine. It's only problematic if it's too cold — the product will not absorb into the leather properly and will likely remain gunked up on the surface.
Wrapping Up
Overall, I am very excited that a product like Birchees has hit the market.
It hits that sweet spot right between serving as a cosmetic enhancement for oily and waxy leathers, and serving a utilitarian function for hard wearing rough and tough swamp-marching work boots.
I wouldn't call it a general, all-purpose product, but more of a specific-use, niche type leather care product for guys who want their leather to last longer in any environment. The natural smokey smell brings on a cozy, cabin-in-the-woods, sitting by the fireplace, campfire type of feel. It tells everyone around you that you've got the adventurous spirit of an outdoorsman and that you wouldn't think twice before chopping some wood, building a shelter, cooking over an open fire, and loading up your Winchester for a long day's hunt.
The following two tabs change content below.
Style blogger, boot collector, leather fiend.
Latest posts by Dale Basista (see all)