Leather Honey is the number one selling leather conditioner on Amazon right now. If you are searching for leather conditioner or even, yes, boot conditioner, Leather Honey comes at the top of the list.
That may be surprising to some of my fellow fans of Goodyear welted boots, because the conditioners that most of us spend our talking about are probably Venetian Shoe Cream and Saphir Renovateur, but Leather Honey is the big cheese.
Invented over 50 years ago and owned by a family outfit based in Kearneysville, West Virginia, it's true that its popularity may be because it's promoted as a means to restore leather couches, jackets, and carseats, but the company also emphasizes that it's also for use on nice boots.
I tried it out on my Mile 85 boots from Santalum; here's what I found.
[Buy it: Get the lowest price for Leather Honey on Amazon here!]
Leather Honey Ingredients
Ingredients not made public
Has no solvents or silicone
Not for use on suede or vinyl
You actually can't take a closer look at the ingredients because Leather Honey doesn't disclose them, claiming,
"Leather Honey is an age-old family invention and we prefer not to reveal the contents, for obvious reasons."
But I did manage to get my hands on their safety data sheet. I didn't learn much, all I could figure out is that it is liquid, and it has no known hazardous ingredients, no solvents, and no silicone.
(You should dispose of it in accordance to local, state, and federal regulations.)
The lack of solvents and silicone might be good news to some folks given there are some fears that it may eat away at the leather. I don't think there's a ton of evidence for this myself, and a lot of people like solvents for helping to clean the shoes while they're being conditioned, but there's certainly a market for conditioners without these products.
Now, it is only not recommended for suede, simulated leathers, or vinyl. But this Indonesian leather is chrome-tanned pull up leather, so let's see how it goes.
[Learn more: Does It Matter If Your Leather Conditioner Has Petroleum?]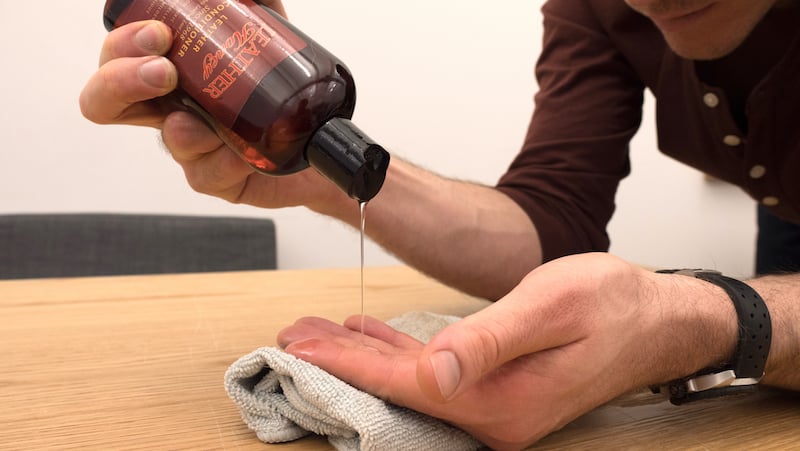 How to Use Leather Honey
The safety data sheet notes that it may cause skin irritation, although on their site they swear it won't, so I decided to:
Use a lint free cloth to apply it, especially given the texture. It is indeed sticky and honey-like, not a cream and not an oil.
Use thin, even coats. It penetrates the leather pretty deeply and Leather Honey tells you that "while applying too much won't be harmful, try to apply in thin, even coats without over-saturating the leather."
Apply, then return to it two hours later to wipe off any excess.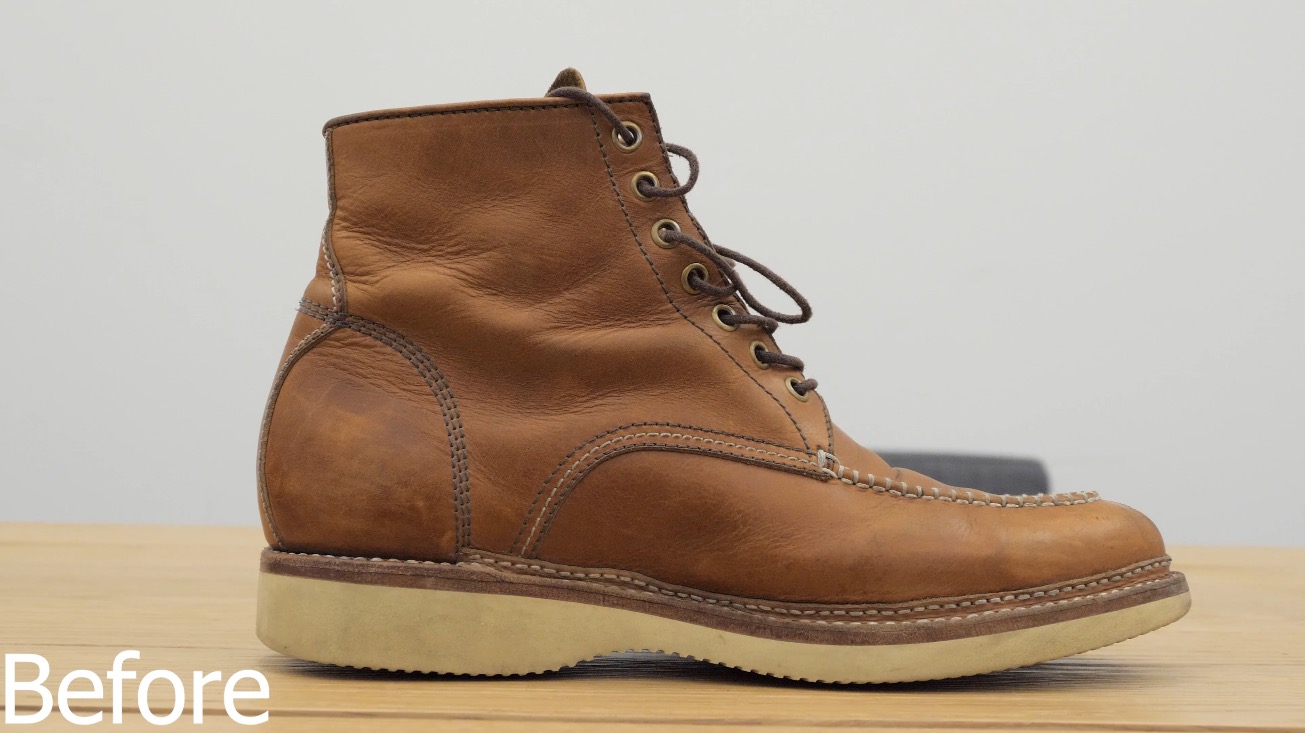 Leather Honey Results
Applies unevenly
Decent at removing scuffs
Best for use on older oil tanned boots
After a couple of hours the leather had lightened up and I was pleased to find that it didn't dramatically darken the leather overall. However, the effect is a little uneven; because of the consistency of the Leather Honey it's tough to distribute uniformly and some areas of the boots wound up a little darker than others.
These boots are a few months old and what I found was that they wound up looking like well loved old boots — a plus for many consumers — but they still looked a bit older than they actually are. This is an effect I would enjoy on, say, my 4-year-old pair of Red Wing Iron Rangers, but I didn't love to see on newer shoes.
The product is also good, but not great at removing scuffs. If that's your goal, I'd sooner recommend Venetian Shoe Cream or Cobbler's Choice.
[See my full review of Venetian Shoe Cream here!]
Leather Honey Price
This costs $18 for 8 ounces, so about $2.25 per ounce.
That's pretty cheap. It's not as cheap as Bick 4 or Lexol, but it's cheaper than Venetian Shoe Cream ($3-ish per ounce) Cobbler's Choice ($5/oz) and Saphir's Renovateur ($9/oz).
[Buy Leather Honey for less here.]
Leather Honey Pros & Cons
Pros
Penetrates deeply
Inexpensive
Long lasting
Cons
Sticky
Ingredients aren't available
Hard to polish over it
Hard to apply evenly
I think this is a decent product for older footwear that needs to be brightened up a little, I'd specifically recommend it for oil tanned leather boots. It's decent (but not amazing) at covering up scuffs on chrome tanned leather, and I wouldn't recommend it for dressy footwear as it's hard to use it as a base for polish. If you're using outdoorsy oil tanned boots, I think Leather Honey works fine.
The following two tabs change content below.
Nick English
By day: Manhattan-based journalist with reporting experience on four continents, published in Vice, Men's Health, Popular Science, and a bunch of other places.By night: ravenous consumer of anything and everything related to high end men's boots.Stridewise is where I nurture a maniacal obsession with footwear and share my findings. Say hey:
[email protected]
.
Latest posts by Nick English (see all)