This post may contain
affiliate links
that at no additional cost to you, I may earn a small commission from.
Meermin, also called Meermin Mallorca, is a Spanish shoe company that's often mentioned in the same breath as Carmina Shoes. While they are different companies, both brands were founded in Mallorca and have deep ties to the esteemed Albaladejo family, a longstanding institution in Spanish footwear.
That's about where the similarities end, though. Carmina's shoes are well over $500 while Meermin is pretty well known as a budget shoe brand. The uppers are made in China and the shoes are mostly sold online, although I purchased my pair of Country Calf boots in their small store in Soho, New York.
Is it a good quality boot though? I've taken my pair out to a wedding and trudged around the city in them, and I think I have a good idea.
Meermin Country Calf First Glance
I grabbed Meermin's best-known Derby boot, the Chestnut Country Calf. You can also get it in dark brown but the tan is definitely the most popular.
Besides the quite brilliant tan color, the most prominent aspect of the shoes is the unusual pebble grain leather. Typically seen on cowboy boots and sometimes on workboots, it's rare to see this kind of leather on slimmer, dressier boots like the Country Calf. I've had more than one person ask if they're made from alligator, but it's actually embossed calfskin — I'll discuss this in more detail in the next section.
The boot is sort of dressy. The pebble grain makes it a bit tough to categorize but the somewhat slim silhouette, the rounded toe, and the toecap all make for a shoe that I think you could pull off with a linen suit or at a summer wedding, as I did below.
With that said they're relatively heavy and Meermin has elected for a storm welt so it's a pretty hardy sole and it's not that flexible. The leather isn't particularly soft or supple either, plus there were a few quality control issues with loose threads and some glue visible on the heel and inside the laces.
Now, it 's hard to complain too much about QC with a shoe that costs so little and most people aren't going to notice those problems. But the QC is one aspect of this very pretty shoe that reminded me: this is a budget brand.
[Looking for Dress Boots? – The 10 Best Dress Boots]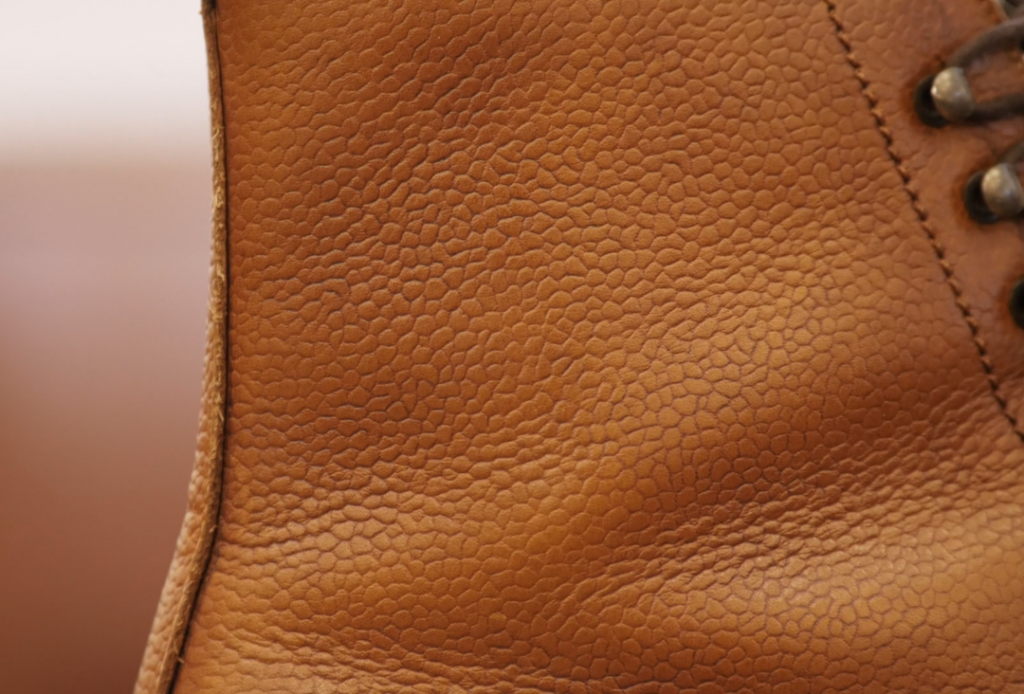 Meermin Country Calf Leather
French calf leather
Pebble grain appearance
Hides creases well
So, this upper is made in Shanghai from French calf leather. The leather itself is processed at Les Tanneries du Puy, a facility that's kind of close to Lyon in central southern France.
As I mentioned, the leather is pretty stiff when you first get it, not buttery soft like a lot of calfskin, but it does soften up in a few days. It's also full grain, meaning that it's made from the top layer of the hide of the animal.
But the most notable thing about the shoe is this pebble grain leather, which does indeed look a little like alligator skin but it's usually made by embossing the leather. This would mean the Country Calf is technically corrected grain, though sometimes you can get a look like this by treating the leather in a way that slightly shrinks it, causing it to crack. But the Chestnut Country Calf is corrected grain.
While people disagree on a lot as to whether or not the leather is more durable, a big bonus is that pretty much everyone agrees that it's a lot better at hiding creases and scratches. You can see in the pictures above that I've been wearing these for some time and they really haven't creased as noticeably as other calfskin or cowhide boots that I own.
That said, in areas that have taken a bit of damage (like around the heel and the ball of my foot) the pebble grain seems to have started to smooth out somewhat, so I'm not totally sure how consistent these boots will look in a year's time. If you check out this Reddit review of the boots after one and a half years of wear, you can see they've smoothed out quite a bit along the vamp.
Meermin Country Calf Leather Care
Saphir's Renovateur a good bet
Use wax for sheen, cream for scratches
Storm welt is pretty water resistant
The folks at the Meermin store were pretty easy with leather care. They told me to use a wax polish or a cream; just spread a little bit evenly over the shoe, rub it with a piece of cloth, let it rest on the leather for a few minutes, and then brush it out with a good quality horsehair brush.
As far as brands they're big fans of Saphir's Renovateur because it can help maintain the color while softening and preserving the leather. The main difference between getting a wax or a cream is that the wax gives it more of a sheen whereas creams are a bit better at tending to scratch marks, of which I have accrued plenty.
As far as waterproofting goes, this is a storm welt so it's pretty water resistant. Meermin told me it's not a great idea to stomp around in puddles, but they'll hold up to some wet weather and you're free to use a waterproofing wax if you like.
A final note: I spilt a little bit of a chocolate protein shake on these shoes and when I rubbed it off with a wet towel, I lost a little bit of the color. So while they're not not durable, this confirmed that I didn't want to put them through too much damage.
Meermin Country Calf Sole
Outsole similar to Dainite
Rubber, cork midsole, leather insole
Steel shank for stability
Storm welt
The rubber sole is pretty much Meermin's stab at copying the well-known Dainite rubber sole that's often used in higher quality boots. The grip is solid but I found it to be pretty brittle and inflexible.
With a boot like this, one that's sort of formal and sort of not formal, I think the sole is a knock against it. By that I mean when I wore them with suit I found myself trying to hide the sole because the studded rubber does make them look less dressy — pebble grain already straddles the line between dressy and not dressy and the sole makes it a lot harder to do that. But hey, they don't slip in the rain.
After the rubber outsole there's a steel shank for stability and the heel has a layer of wood, so it goes rubber, wood, rubber, cork midsole, and then there's a very thick vegetable tanned leather insole.
Finally, it's got a storm welt. This is a kind of Goodyear welt that has the same construction as Goodyear. but instead of a flat welt the storm welt is wider and bends upward. This means there's more of a barrier between the upper and the sole so it's more water resistant, hence the term "storm welt. Aesthetically some guys aren't crazy about it and it does make a shoe a little less formal and less flexible, but whether or not that's a pro or a con is really up to you.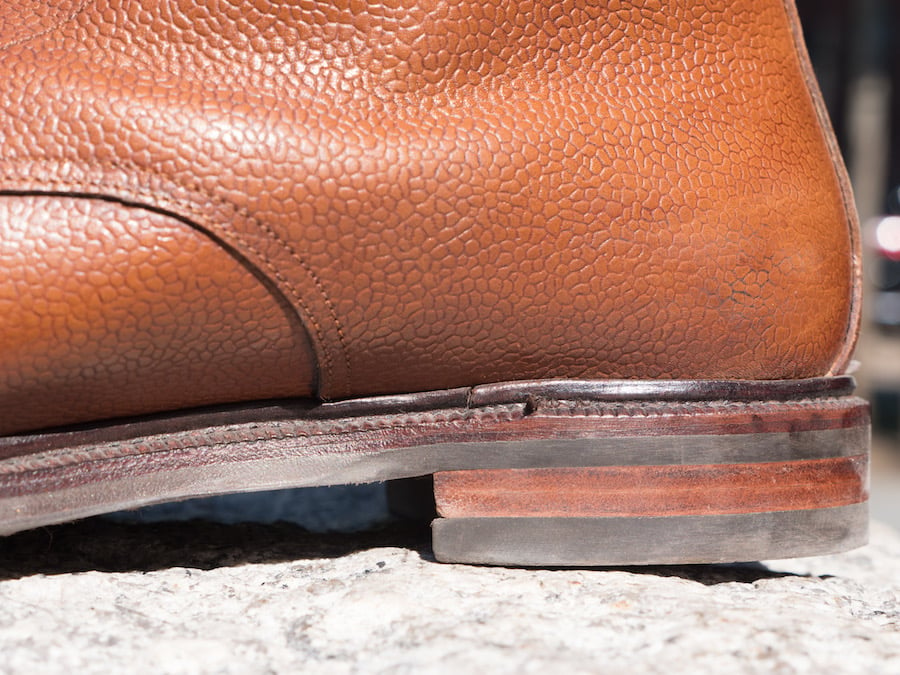 Meermin Country Calf Sizing & Fit
Run from 4.5 to 15 on UK sizes
Just one width available
Last described as "voluminous"
This can change at any time but the sizes run from 4.5 to 15. The company runs on European sizes, so while I'm on a Brannock device I'm about an 11.75 and most true to size boots fit me as 11.5, I'm a 10.5 on Meermin. (That's the same size I was for my R.M. Williams boots.)
There's just one width available, I'm a D and the fit is decent if a little roomy, especially around the heel. Meermin calls this the Rui last, which they describe it as,
"voluminous classic rounded toe last that's medium to wide fitting, a bit wider around the vamp and toe."
The fact that it's only available in one width might be a bit of a downer for some folks, although the upside is that I'm pretty confident it can fit E width feet. The heel in particular is pretty roomy.
I had no issues breaking them in, which is a bonus, but despite all the rubber I wouldn't say the heel is very soft. It's not terrible and there is a nice little heel seat to help matters, but the shock absorption isn't great and in general the heel is kind of brittle.
Meermin Country Calf Price
The price changes quite a bit but you can get a pair for about $245. Shipping is $35 — over ten percent of the cost! — but that's still a very inexpensive boot and the main selling point for the brand. For most guys, pretty much anything under $300 is a cheap shoe, especially for a Spanish company. Well, technically it's Spanish. Remember the boots are made in China, which obviously helps with that price.
The Verdict
These are very eye-catching boots. The tan is gorgeous and the pebble grain really makes them stand out from the crowd, plus it helps to hide signs of aging. The storm welt makes them relatively water resistant and easy to resole and they're pretty sturdy shoes.
The downsides are a brittle and inflexible sole, so-so arch support, a last that some might find too roomy, and pebble grain is pretty hard to categorize. Is this shoe dressy or casual? Meermin's site suggests wearing these with Japanese raw denim, which I guess is the crowd they're aiming at. If you're wearing a relatively nice shirt I think dark denim could work with these boots, personally I just have a hard time imagining them in very casual or very formal environments. Others see these as only wearable in casual environments and could never imagine wearing them with a suit. It depends on your own tastes.
But hey, these are very inexpensive boots so if you've got a good chunky workboot, a dress boot, and something in between, I can see these as being a decent addition to your wardrobe if you're the experimental type.