If you haven't come across a pair of moose leather boots, you're not alone. It's an uncommon leather.
That being said, moose leather has a long history as material used for boots. Moose leather boots started with Mukluks — a soft boot constructed for cold weather made from seal, moose, or walrus skin and worn for insulation by indigenous peoples living in Arctic regions.
While you're unlikely to sport a pair of traditional moose leather Mukluks in the office, you can find a lovely pair of heritage moose leather boots.
Moose Leather At a Glance
Tough yet supple
Easy to break in
Rugged
Cuit Ortiz, co-owner of John Doe Shoes, uses one word to describe moose leather: unique. Moose leather has the uncanny ability to be supple and strong at the same time.
"I chose this leather because it has a very peculiar feel, surface and temper," he says. "I have never seen anything like it before. It's tough but at the same time supple. The surface looks like a mix of roughout and waxed flesh."
Moose leather boots also have a reputation for an easy break-in. John Doe Shoes swears by it. Truman Boots also swears by it. And so do all their customers who have been lucky enough to try these beauties.
View this post on Instagram
Which Companies Make Moose Leather Boots?
The best known companies making moose leather boots right now are:
John Doe Shoes
John Doe does a stunning Moose in cigar with a lovely distressed look.
"The tanners freeze or salt the hides, then tan the moose leather just like a regular cowhide leather," says Ortiz. "Finally, they finish with wax and oils to get a nice pull-up effect."
These are a bargain at $225.
[Check out my review of John Doe Shoes]
Truman Boots
Truman Boot Co carries both men's and women's moose leather boots. The men's Bronze Moose Rough Out sports a Vibram 430 Half Sole, polished brass hardware and a slew of other top-notch features.
They also have lightly waxed Bronze Moose built with the 79 Last and Vibram 430 Half Sole. Clocking in at the more expensive side, they carry a $470.00 price tag. (The women's boots are $360.) Truman used Dainite Logger Half Soles for the ladies, other than that it's built just like the men's lightly waxed Bronze Moose.
Truman boots also made a "frontier boot" (above) in moose leather for Blue Owl. Inspired by logging boots of the Pacific Northwest, they build this boot for work. They have aggressive World War II style Commando rubber soles.
Truman manufactured the boots with a stitch-down construction — a process where the key points of the boot are stitched together for greater durability. They are completely recraftable. They're a solid boot and you pay for quality at $645.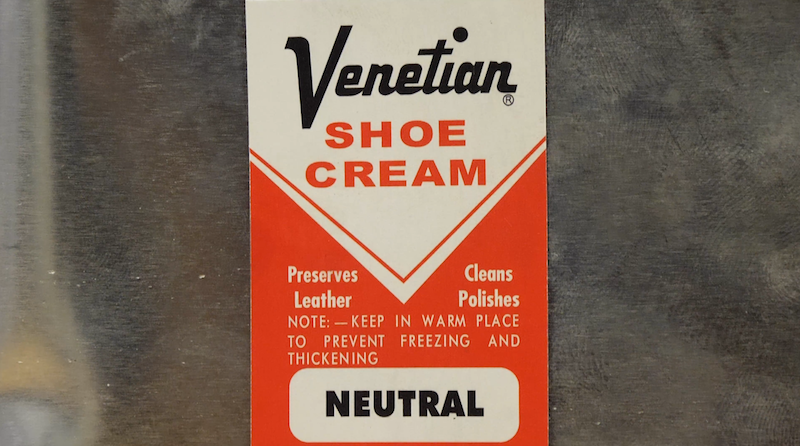 Moose Leather Care
Full Grain Moose Leather
Less is more
Brush now and then (or don't)
Use Venetian Shoe Cream or Saphir Renovateur every 6-12 months
The oldest and probably the most worn John Doe Shoes Cigar moose boots out there are Cuit Ortiz's. He fully admits to treating his pair terribly for a year (a benefit of co-owning a footwear company). Rain, mud, rocks, motorcycle riding, you name it, he's run them through the ringer.
As with most high quality leather boots, less is more.
"I never did anything on them, not even a quick brush, and they looked like if I have been wearing them for just a couple of hours," he says.
After a year, he conditioned one boot with Saphir Renovateur and the other boot with Venetian Shoe Cream. If the leather gets dry, it's necessary to condition, but Ortiz actually preferred the way they looked before conditioning them.
This is very tough leather that's meant to be worn hard, so just enjoy them and if you apply any of the aforementioned products once, limit it to no more than twice a year.
[Related: The 5 Best Leather Conditioners for Boots]
Moose Rough Out Leather
Here's what Truman recommends for their moose roughout:
Treat this rough out leather just like suede. First, make sure the boot is clean and dry before applying the spray. Spray the entire boot. Allow the spray to dry for 2-3 hours. Apply a second coat. Truman Boot Co leather care page says for extra protection, well, just apply a third coat.
Truman boots recommends using a wire brush on Moose Rough-Outs. It's great for cleaning and removing dirt from the welt stitching. Use light to moderate pressure and brush the rough out moose leather in the dirty places.
[See my review of Truman's famous Java Waxed Flesh boot]
Moose Leather Pros & Cons
Pros
Unique look compared with other leathers
Supple feel
Durable
Cons
Limited quantities of moose leather
Moderate to Expensive price (except for John Doe Shoes)
Too rugged for dressing up
Over all, I dig the look of moose leather. We find this leather on beautiful $600+ boots and affordable $225. It can be beat up and comes in an elegant rough out or a lightly waxed flesh that provides oodles of rugged character.
I really don't see any major downsides, maybe the average price point puts them out of reach for some. But, as long as John Doe's are on the market, owning a pair of quality moose leather boots is possible without breaking the bank.
[Related: My list of The Best Boots]
Featured image via @trumanbootcompany on Instagram
The following two tabs change content below.
Karl Wasson
Karl is an IT product manager living in South East Asia who gets a kick out of durability and dependability. He believes form and function are not mutually exclusive. When he's not working, he's searching for the best bespoke menswear in South East Asia and beyond.
Latest posts by Karl Wasson (see all)