Truman Boot Company is an Oregon-based brand founded in Pennsylvania by Vince Romano, who named the company after the border collie that adorns all their shoeboxes to this day.
Founded in 2014, Truman don't offer a huge amount of aesthetically different styles, they have a great reputation for innovative leathers. What's on offer depends on the season and whatever Romano feels like offering, but we've seen everything from moose leather to turquoise suede topping their heavy, functional builds. There's no other company blending such eye-catching leathers with traditionally rugged, dare-we-say masculine patterns.
Don't worry, not all of their leathers are turquoise suede. There are plenty of traditional blacks and browns that include the boot we're looking at today, which is their most popular: the Java Waxed Flesh.
Since this is the boot that I've found to be the most frequently discussed over on Reddit, I decided to try it out.
The Pros and Cons of Truman Boots
Got somewhere to be? Here's a quick summary of this review so you can make your decision.
Pros
Thick leather and robust construction, these are everything-proof boots
Completely made in USA
Grippy sole
Water resistant and easy to resole
Rare, innovative leathers
Tough as Nails
Cons
Extremely expensive
Can't be dressed up
Takes 6 – 8 weeks to be made and shipped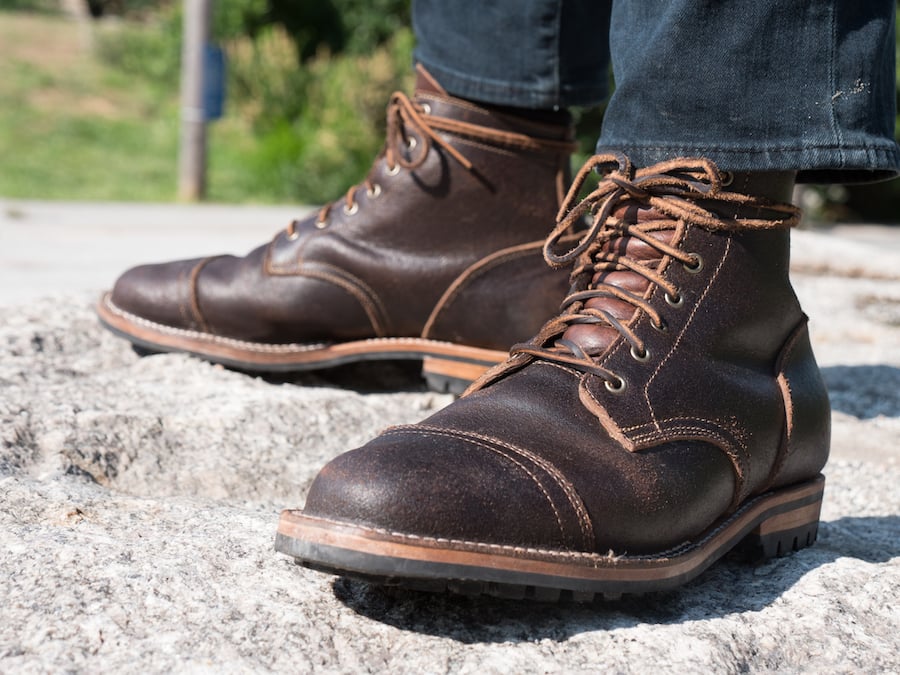 Truman Boot Company First Glance
Chunky tank of a boot
Classic round toe, forgiving on many foot types
Thick, waxed leather
Commando sole
Stitchdown construction
Truman currently offers three different lasts, meaning three shapes the boots are built on, and this boot is on their 79 last. It's fairly stout and round at the toe, a far cry from the slimmer, dressier boots popular among the skinny jeansed man.
A meaty boot with a structured toe, it comes with rawhide laces and a chunky Commando sole to add to the rugged aesthetic. "Thick and chunky" are the main words that come to mind when describing the boot overall, particularly the heel counter, which is unusually wide.
While my older pair was made with stitchdown construction, today's Trumans are made with a 270-degree flat Goodyear welt that allows for easy resoleing and terrific water resistance.
To sum up: the leather is thick, the sole is heavy, and these are just a pair of boots you just want to immediately take outside and abuse. (In a good way.)
Truman Boot Company's Java Waxed Flesh Leather
Waxed roughout leather
Exclusive color from Horween
Vegetable tanned
Very resistant to scratching
This is the Java Waxed Flesh, an exclusive leather for Truman that's produced by Horween Leather Company. Widely considered America's best tannery, Horween is based in Chicago and are probably best known to boot lovers as the makers of Chromexcel®, a combination-tanned leather that Truman uses on many of their boots in several colors.
But this is a vegetable-tanned roughout leather. That means it's made inside out: the smooth side of the leather is on the inside, the rough side is turned out. Note that this isn't the same as suede, which is thinner because it's been split. Roughout is your standard thick leather that's just been turned over, and it was very common in World War 2 service boots because it's far harder to scratch and requires next to no leather care. (Who wants to carry Venetian Shoe Cream all over Normandy?) There's a good case to be made that roughout should be the go-to for hard wearing boots.
There's a good case to be made that roughout should be the go-to for hard wearing boots.
This leather is made even tougher by coating it in wax, which makes it more water resistant and, if we say so ourselves, cooler looking. Once the wax wears away, you can reapply it using the exact same technique we outlined in our guide to waxing suede. Basically, you heat a bar of Otter Wax and scrape it on.
But many guys love waxed flesh because it's a challenge: only by wearing the boots hard and long will you wear away the wax and reveal the fuzzy nap beneath. The result is this gorgeous patina you see below — which many guys would consider sacrilege to rewax. Your boots are plenty weatherproof without a fresh layer if you want to wear yout patina with pride.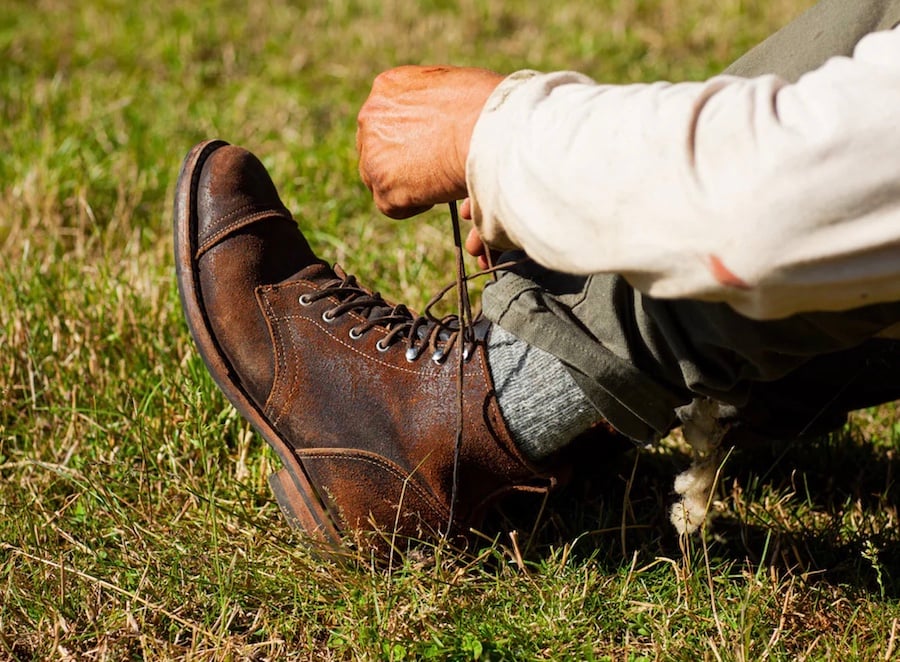 Truman's Commando Sole
Commando sole
Designed for hiking
Not dressy, very grippy
Leather midsole and insole
Goodyear welt
This is a Commando sole, patented by Vibram and widely considered the classic sole for working or hiking. It's not remotely formal or dressy, but it's very grippy and functional.
(Not so fun fact: Italian inventor Vitale Bramante invented this sole after six of his friends died in a climbing accident in the 1930s. He made this sole because he thought they wouldn't have died if they had grippier shoes.)
After the Commando sole you've got a leather midsole and a leather insole with a steel shank sandwiched between them for stability. This is a very popular, old fashioned way of making ultra tough boots — there's no shock absorbing sneaker foam to be found here.
As mentioned earlier, my older Trumans are stitchdown but these days they're made with Goodyear welts, the default construction for quality boots. Ultra water resistant and easy to resole, these boots will be with you, sole after sole, for decades.
Truman Boot Company Sizing & Fit
This boot comes in D and EE widths
Sizes 7-14
Fits roughly true to size
Not much of a break in
Very large, thick counter
The sizes can change at any time but right now they run from 7 to 14 in D, and EE widths. I'm a tiny bit bigger than 11.5 on a Brannock device (what you measure your feet with in a shoe store) and the 11.5 fit well.
Note that your sneakers are probably a half size bigger than your true size and most boots are a half size smaller than your true size. I'm a 12 in sneakers and an 11 in Red Wing and Thursday boots. With Truman, I'm 11.5.
These particular boots are made on the 79 last. Here's how Truman describes their three men's lasts:
79: "It has a classic round toe used in the majority of our boot construction. The D (Standard) width last is very forgiving to many foot types."
20: "A bulkier last with a snug fitting heel. Lots of room in the toe and fore part of the boot (…) Good arch support too."
55: "A narrow last with an almond-shaped toe, the 55 last has a sleeker, more low-profile aesthetic than our original 79 last."
On the outdoorsy 79 last, the fit is roomy, making it well. suited for work and movement. Just remember that more voluminous boots like these are awful hard to dress up, even in business casual environments. For that, you could look at their boots made on the 55 last, which you should order a half size larger than the 79.
[Further reading: The Ultimate Guide to How Boots Should Fit]
Truman Boot Company Price
When I bought my pair in 2018, I paid $440. Today it's $480.
For an American made boot with this level of craftsmanship, it's pretty damn good value. While they're no longer made with extra laborious stitchdown construction, the kind of leather and skill (and aesthetic) that goes into these boots isn't far from a lot of Nicks Boots, which are practically all over $500 and take up to 35 weeks to be made.
For Trumans to be made it takes just 6 to 8 weeks.
Tough as Nails
Wrapping Up
These are solid-ass boots. While they're not super versatile, they look excellent dressed down and are ready for any kind of wear you want to throw at them while being decidedly more aesthetically pleasing than your average work boot.
They'll age extremely well, they'll do great in the yard or with jeans at a bar, the sole is tough as nails and very durable, and the fact that they're made in America from start to finish is very satisfying — and helps to justify the cost.
The following two tabs change content below.
Nick English
By day: Manhattan-based journalist with reporting experience on four continents, published in Vice, Men's Health, Popular Science, and a bunch of other places.By night: ravenous consumer of anything and everything related to high end men's boots.Stridewise is where I nurture a maniacal obsession with footwear and share my findings. Say hey:
[email protected]
.
Latest posts by Nick English (see all)