This post may contain
affiliate links
that at no additional cost to you, I may earn a small commission from.
Truman Boot Company are well-known for crafting rugged, American-made, ultra manly boots with some of the most unusual and daring leathers you're likely to find.
Don't get us wrong; they've got spectacular offerings in all the classic black and brown tones you've come to love. But no one else will also offer these styles in bright blue, green, and even purple leathers.
It's hard to talk about their greatest leathers because the company has a very seasonal approach to their offerings: they'll bust out a bright red boot, run through their stock, and move on. For this article, we recruited Dale of the stellar boot and leathercraft YouTube channel Aerosurferlv to walk us through his collection of about 35 Truman boots throughout the ages. Some of them are still on offer and some of them are lost to the past, but in any case, this content should give you a solid taste of the brand.
1. Tuscanello Horse Rump
Our first boots on the list come in the very fancy, currently discontinued, Toscenello Horse Rump.
Leather
This Horse Rump comes from the world famous Maryam Tannery in Tuscany, which specializes in traditional, vegetable tanned leathers.
I talk lot about veg-tanned leathers, but if you need a primer: some 99 percent of leathers on Earth are made through chrome tanning, a process invented in the 19th century, while vegetable tanning is thousands of years old. It takes more time and skill, as well as more water and energy (it's not all upsides) and it uses the tannins of bark and plant matter to slowly create this ultra durable, beautiful, and pricy leather. It's also stiffer and harder to work with than chrome tanned stuff, so many boot companies don't bother with it — to the chagrin of the purists who lust after it.
Maryam is a world-class tanner that collaborates with luxury brands like A. McDonald Boots out of Australia and high-fashion brands like Boris Bidjan Saberi. A few other heritage boot companies use this leather, like Nicks and Oak Street Boots, but those are either pricier or they're impossible to get.
Toscanello Horse Rump comes in a lovely medium brown hue that Dale wears with anything.
"It's just that perfect middle brown color, that horse rump is so supple and beautiful and ages really nicely," says Dale. "I don't dare treat these, because I just want to see how they age."
Horsehide, with the exception of shell cordovan, isn't that different from bovine leathers. On the foot, they're about the same weight, breathability, and temper.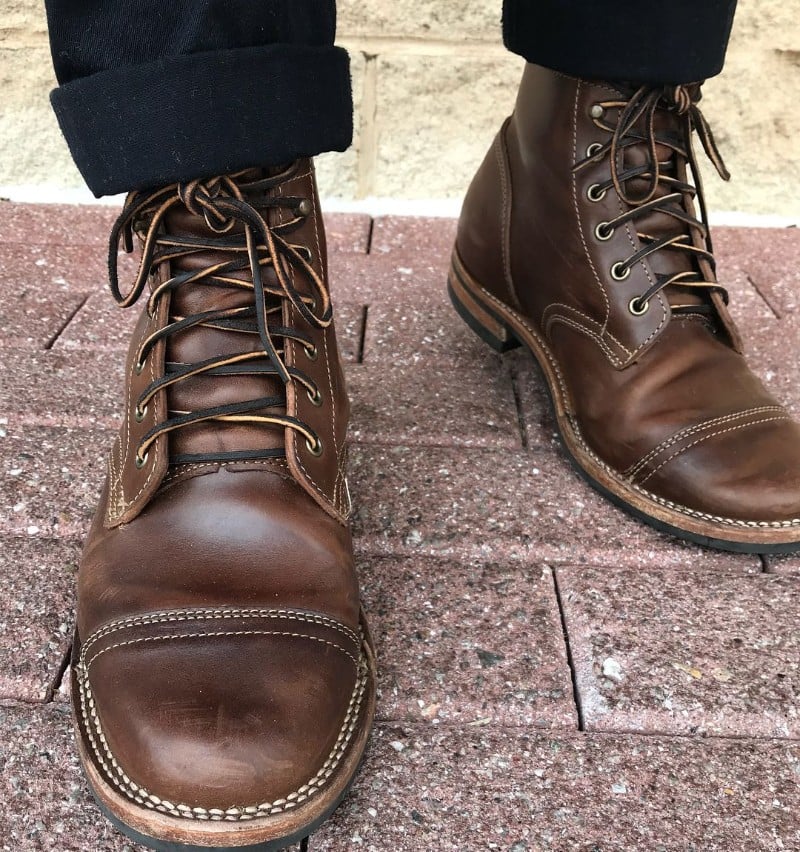 But aren't Truman known for their unusual leathers? Well, this is an unusual brown leather — you'll seldom find a wholly vegetable tanned leather boot at all, let alone one made with horse rump. It's a very elevated take on a classic look, but if you're after something more eye catching, you're in luck.
[Related: The Best Vegetable Tanned Leather Boots]
2. Gobi Mohawk
Here's an eye catching leather. The Gobi Mohawk is a very light-colored leather, somewhere between grey and cream with a texture that might bring sand to mind — we're assuming it's named after Mongolia's Gobi Desert, after all.
Leather
This leather is from the famous British Tanner Charles F. Stead, and it's hard wearing and looks stunning as it develops a patina.
It's special because it's naked and natural leather, so there are no pigments added to it, and it's a roughout leather that's coated in wax.
"This is a pair that I would not have otherwise chosen for myself if I had not been into boots for as long as I have," Dale admits. "It's a very light color, which might throw off a lot of boot collectors because people are afraid of scraping them or staining them because it leaves marks more easily. But t hat's not the case."
Roughout is the flip side of full grain leather, turned inside out so the skin side is on the foot and the nappy flesh side is facing the elements. On its own, roughout is surprisingly durable and scratch resistant, and Truman went a step further by coating it in wax to seal and protect the leather from rough weather.
The wax is also responsible for the color permutations throughout the leather, giving some lovely light and dark areas that deepen and contrast with time and wear. Wax is a favorite for creating a nice patina, which is why it's so common to encounter waxed jackets and waxed backpacks — often on the same guy wearing waxed boots.
These boots are built on the 79 last, like the Toscenello Horse Rump. With a round toe and democratic fit, the 79 is a vintage last from the now defunct Musebeck Shoe Co that forms the basis of most of Truman's boots.
[See more Truman in our list of the 11 best white boots for men]
3. Stone Rambler
The Stone Rambler is aptly named because this leather looks like a muddy stone.
"This is just a gorgeous leather," says Dale. "It's sort of a mix between a muddy brown and a slate grey color. It does look like natural stones, in fact, when you're walking around the forest and you find stones, it's the same color."
Stone Rambler is usually but not always on offer from Truman; it's one of their more standard makes.
Leather
This is an example of Truman's famous Rambler leather, a waxed suede from Britain's CF Stead. It's a tough, versatile hide that goes with everything.
"The Rambler is some of my favorite leathers because there's so much variation and depth to the surface appearance of it," says Dale. "It's got hues of light and dark, you see a lot veining and abrasions. You really see the animal's life in the boot, and that's what I love: the organic feeling of feeling life in the boot."
This is just such a versatile leather. It's tough, it goes with literally everything, you can't go wrong with these. I don't treat these either because I just love how they age without any help. I think that just wearing them and letting them age really pulls out character as time goes on. There's so much depth to these, and you won't discover it all until you're five, ten, fifteen years in.
[Read More: Why Truman Boots' Best Leather Is CF Stead's Rambler]
4. Coach Rambler
All those qualities of the Stone Rambler are why the Rambler has become a signature offering of Truman's. They've released it in several colors, from baby blue to burgundy, but the burnt orange Coach Rambler is one of their most popular and enduring offerings.
Leather
"I don't know where they get the name from, but this is very similar to Stone," says Dale. "It's got a lot of these very cool high and low tones, a lot of cool character, veining, abrasions, scarring all throughout."
But it's not just golden orange you'll find; in some areas, you'll find red and even purple gleaming through.
Now, when guys get started in boots, their default position might be that brown, black, and grey are the most versatile colors and that orange is too garish. That's not the case; Red Wing's best boot, the 875 moc toe, is their "Oro Legacy" orange and it's their most sold boot. A golden orange matches well with earthy tones as well as blue, black, and grey. It's the underdog that easily wins — remember that brown boots and black jeans are often frowned upon, but orange with black always gets the go ahead.
"It's an everything boot, and I wish I had these sooner," says Dale. "I'm very disappointed in myself, I just got these last year. I should have gotten them at the beginning."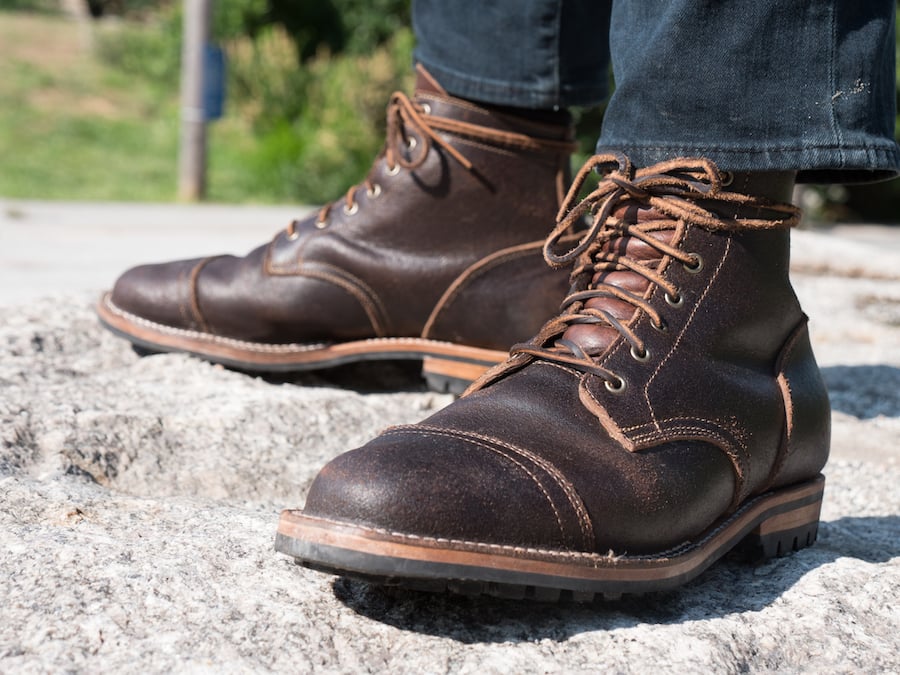 1. Java Waxed Flesh
Truman's Java Waxed Flesh is their flagship leather. If you're only going to buy one pair of boots, these are it.
Leather
These are the very cool Java Waxed flesh boots, the only American leather on this list — it's a vegetable tanned, waxed roughout sourced from the legendary Horween Leather Company.
"Java Waxed Flesh is just the apex of Truman Boots," says Dale. "As you wear it, the wax on the surface wears down and reveals natural undertones. As you expose more of the nap, it gets hairier and fuzzier."
For most people who go to Truman, this is their purchase.
Another way this leather stands out is that it's such a dark brown that it's almost black, depending on the lighting. This makes it another one of the rare leathers that you can wear with earth tones or black and grey.
"With the way it wears in, you'll delight in the way the boot ages and becomes more beat up," says Nick. "The Rambler's really good at that, but Java is great at that. It's a patina you really earn and it's just more exciting the older it gets."
And isn't that the name of the game with Goodyear welted boots?
Wrapping Up
There you go guys, that's the definitive list of the best Truman boots from the planet's leading expert on the brand. For more from Dale, definitely check out his guide to his entire 75-pair collection above. As for Truman, note that this is a small company where everything's made in America, so as such there can be considerable wait times for a lot of their boots. Head to their site to see what's available and if you like something, don't wait – once it's out of stock, it'll probably never come back.