This post may contain
affiliate links
that at no additional cost to you, I may earn a small commission from.
John Doe Shoes is not a huge company, and they really don't spend much on marketing. That's kind of their schtick: they take what they would have spent on marketing to help you save money on boots, and they picked the name John Doe because you should be paying for quality and not a name. And John Doe, like, isn't a name. You know what I mean.
But here's the most interesting thing: it's a made to order company, and the boots seldom cost over $200. Sometimes they might have your size lying around, but 80 percent of their sales are made to order in their family-owned workshop in Mexico, which means not only are they cheap, but they're customizable: you can decide the leather, the sole, the color of your stitching, whether you want a storm welt or speed hooks, all this stuff.
"We had so many styles and leathers that it was impossible and quite expensive to have them all stocked," co-owner Cuitlahuac Ortiz told me. "So we offered a Made to Order service. What we lose in efficiency at the workshop we more than make up for in costs. That allows us to have a massive assortment of high quality leathers our customers can choose from."
The downside of the fact that your shoes are made to order is that you need to wait three to four weeks to get them, but hey, that's pretty fast for made to order. (I waited six months for some Indonesian boots once.)
So are they worth the wait? They sent over their most popular boot, the 420, and I ordered it in Chromepak, the highly sought after but not-all-that-common leather from Chicago's Horween Leather Company. Here's what happened.
[Order these boots (and many others) at John Doe Shoes]
John Doe Shoes 420 Boot First Glance
Basic service boot
Low profile toe
Some QC issues with stitches
This is a fairly standard service boot type makeup with a pretty low profile toe, a rounded toe box with a toe cap, and a flush pull tab.
It does not have quite the same sleekness as a Thursday Captain or a Parkhurst Delaware boot — the kind of hybrid dress/work boots that are becoming so popular — this leans a little heavier on the rounder toe, work boot aesthetic while still looking a lot cleaner and sleeker than an Iron Ranger. Maybe you could call it a hybrid work-dress-work boot.
There were a couple of minor things that one might see as quality control issues. The stitching on the toe caps is not totally symmetrical, they're a little closer together on one boot than the other…
and the triple stitching along the vamp converges by the front of the laces on one of the shoes but doesn't on the other.
This is the sort of thing that a lot of boot aficionados hem and haw over, but let's be real: nobody will notice this unless, for some reason, their face is mashed onto your foot. Given the price, these are very far from dealbreakers in my eyes.
Chromepak Leather
English tan chromepak
Full grain, 5-oz
Informal, outdoorsy
Tougher than Chromexcel
"Chromexcel on steroids," is how John Doe's website defines Chromepak. "Heavily stuffed with oils and fats that give it water resistant properties, this is one of Horween's toughest leathers while keeping the good looks of Chromexcel."
I need to emphasize, again, that this is a made to order company and you can get boots made with a huge variety of leathers from well respected tanneries like Horween, SB Foot, and C.F. Stead. (All of which are on my list of the best leather tanneries on Earth.) What I decided to get, though, is the 5-ounce English Tan Chromepak.
Chromepak is not the world's most popular leather but it is a pretty cool option for your wardrobe: it's a full grain, wholly chrome tanned leather from Horween Leather Company, and while it's a little similar to their flagaship leather Chromexcel, it has less color variance and is more informal and outdoorsy. It's also a lot stiffer and harder to break in.
Maybe you consider those cons, but these are the pros:
it's a lot more oily and stuffed with waxes than Chromexcel,
it's more water resistant, and
it's way more scratch resistant.
That's a big upside because as much as everyone loves Chromexcel, it gets scuffed up really easily. Meanwhile, I've been wearing these Chromepak boots for months and there's nary a scuff in sight.
It's not super lustrous, but it's cool leather, and it's a kind of leather that changes color depending on the light it's in. With really consistent wear — like over a year — it may age like this pair.
View this post on Instagram
Chromepak Leather Care
Less is more
Brush now and then
Use Venetian Shoe Cream every 6-12 months
This heavily oiled finish creates a nice barrier against water and scuffs, and when you're talking about conditioning these kinds of oily leathers, less is more.
You don't need to brush and condition them every time you wear them — remember that overconditioning your boots can stain the leather. The good thing with oily leathers is that they don't need much babying, which is why I find they're a good option for guys who just don't love agonizing over whether or not they've conditioned their boots this week. It's leather you don't have to think about too much.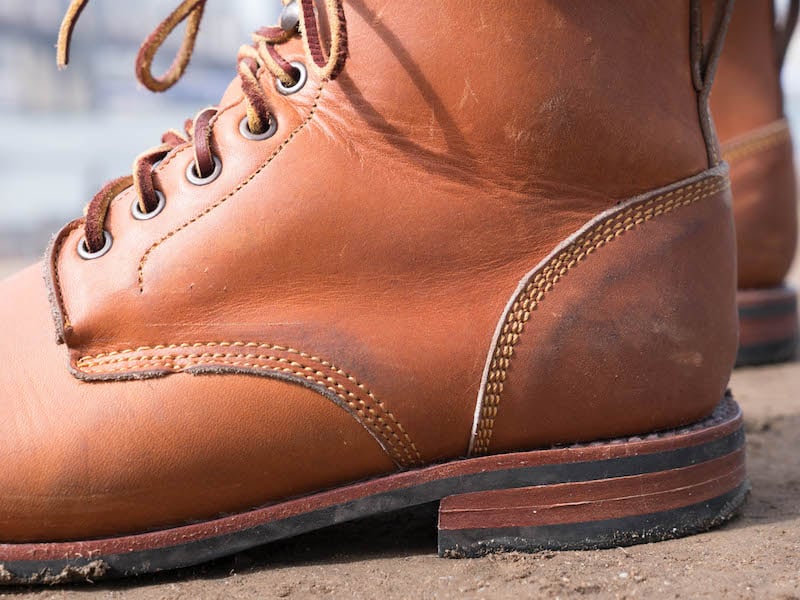 It's leather you don't have to think about too much.
If they get wet in rain or snow, let them dry and give them a brush, otherwise you just need to brush them a good horsehair brush every now and then to give them a bit of shine. It's also a good idea to leave shoe trees in them between wears to help them retain their shape and suck out the moisture that can accumulate inside the boot from a day of wear.
As for conditioning the leather, you can just apply some Venetian Shoe Cream once or twice per year.
[Related: My Venetian Shoe Cream review]
Sorry for this dreadful lighting.
John Doe Shoes 420 Boot Sole
Outsole similar to Dainite
Layers of cork and leather
Steel shank
Fully leather lined
This rubber outsole is one of the many out there that look like Dainite, a fancy rubber sole you get in boots like Viberg and White's, but it's not Dainite. Still, it performs similarly and is relatively flexible, lightweight, and comfortable.
After the outsole there's a cork midsole, a leather midsole, and a leather insole. That's more going on in the sole than you usually see in boots, which typically have just one midsole. The leather and cork will help the boot to mold to the shape of your foot over time, as it has with mine.
There's also a steel shank in there for some stability, and best of all, it's fully leather lined. This makes for an exceptionally comfy shoe.
Once again, you can get this boot customized; you can pick a Commando sole, a leather sole, or a "formal" rubber sole as well.
[Related: The 6 Kind of Boot Soles You Should Know About]
Image via John Doe Shoes
John Doe Shoes 420 Boot Fit & Comfort
True to size
D and E widths
Arch is a little far back
Leather stiff to break in
There's no shortage of complaints on Reddit about the sizing of these boots. It seems like everyone gets the wrong size, but mine was fine; I ordered true to size and it worked out great. I don't really have complaints, except that the laces are a bit wide apart on my foot, making the last seem a tiny bit narrow and making the look of the boots edge a little closer to sneakers than I'd like.
Still, not a dealbreaker.
Now, in the past, John Doe boots had an EVA strip in there like Thursday boots do, but these ones don't. So the shock absorption is just OK, the arch is a little far back on the foot, plus the leather takes an awfully long time to soften up.
I have trouble complaining about all that given the price, but I do want to mention here my least favorite thing about these boots: the speed hooks. They're a little closer together than the eyelets, which might have been done on purpose, but over the course of a few months of wear the leather has started to tear a little around one of the speed hooks.
John Doe Shoes 420 Boot Price
A pair of these shoes will cost you between $210 and $235. At the time of writing, they're $217 with the rubber sole (leather is $7 cheaper) but when I first got them the cost was about $232. The vast majority of John Doe boots cost under $200, but not these ones.
This is the biggest thing to note with these shoes: they're very inexpensive for made to order shoes.
Full disclosure: They reached out to me and asked if they could send me these boots to review, so I didn't pay for them. But I can't make any money off of their website and they didn't sponsor this review or anything, plus I'm clearly not refraining from criticizing them.
That said, I like the boots, but since I'm talking about their website, I do want to point out that their website is a bit of a mess and very hard to navigate. These boots, for instance, can only be found at this link — you can't find them by clicking around their site. The photos, backgrounds, and descriptions are all pretty inconsistent too, but to their credit, the company has acknowledged this before and said that they're spending all their time, you know, making boots. They're sure you can appreciate that.
Fingers crossed for a site redesign soon, though.
John Doe Shoes 420 Boot Pros & Cons
Pros
Very inexpensive
Very customizable
Leather lined
Classic look
Available in many well known leathers
Cons
Some complain about fit
QC issues, speed hooks tore
Long order time
Chromepak leather is pretty stiff
All in all, I'm extremely impressed by John Doe Shoes. These shoes are so damn inexpensive, they're made to order, they're leather lined, they have two midsoles, the leather is great, and did I mention how cheap they are? Sure, maybe the stitching isn't as perfect as it would be if it were finished by a cyborg seamstress, but it's totally forgivable at this price point.
I'm glad these boots are in my repertoire, and I think you will be too.