This post may contain
affiliate links
that at no additional cost to you, I may earn a small commission from.
There's a ton of interest on Reddit, YouTube, and everywhere else in comparing these three stalwart American boot companies and it's not hard to see why. They all make great work boots, they're all American owned, and they're all under $300 a pair.
(OK, Red Wing is a little tough to find for less than $300 a pair but it can be done if you don't mind factory seconds. Mine had a tiny nick in the leather and I managed to save a hundred bucks on them.)
They're all quality shoes from quality companies and to be honest, I had some difficulty deciding on which of their products I should compare. After all, Red Wing has a moc toe boot that's pretty similar to Thorogood's extremely famous moc toe, and Thorogood has a captoe boot that's pretty similar to Red Wing's extremely famous Iron Ranger.
At the end of the day I decided it would make the most sense to compare each company's most famous product: Thorogood's American Heritage Moc Toe, Chippewa's Service Boot, and Red Wing Heritage's Iron Ranger. All of these are widely considered both fashionable and work boots. So which is best for you?
[TEAM RED WING? SHOP HERE] [TEAM THOROGOOD? SHOP HERE] Unfortunately, the Chippewa service boot has been discontinued.
First Glance: Thorogood Vs Red Wing Vs Chippewa
Red Wing Iron Ranger
Bulbous toecap
Nitrile cork sole
Oil tanned leather
Let's start with the Red Wing Iron Ranger because this might be the most popular boot of the three.
This is a truly iconic boot that's as popular among lineman and Brooklyn hipsters as it is among celebrities like Bradley Cooper. It's inspired by the shoes worn by iron miners in Minnesota's Iron Range, although I should point out that today these are part of Red Wing's more fashion focused Heritage line.
It's best known for this toecap, which a lot of people justifiably call bulbous — I can always count on someone calling them clown shoes — and it's made with oil-tanned leather from Red Wing's own tannery, SB Foot Tanning Co.
Finally the sole here is a nitrite cork sole but as of summer 2018, Red Wing changed all their Iron Rangers to have a Vibram mini lug sole. So depending on when they were bought, different Iron Rangers have different soles.
Chippewa Service Boot
Minimalist service boot aesthetic
Crazy horse leather
Vibram sole
This boot has a more minimalist look than the Iron Ranger. It rocks a nice, uncomplicated service boot aesthetic: plain toe, relatively slim, and 6 inches tall.
The leather here is Crazy Horse, a waxed full grain leather that I'll talk about in the next section, but it's also available in more traditional leathers like Tan Renegade.
It's got a 360-degree Goodyear welt and the sole is Vibram, which has a different look to the newer Red Wing soles but still looks quite a lot like a classic cork sole from the side.
Thorogood Moc Toe
Moc toe design
Oil tanned leather
Polyurethane sole
The most obvious difference here is that this boot has got a moccasin-type sole, but there's a lot more to talk about here. The leather is oil tanned, so it has more in common with Red Wing than Chippewa, and while the sole used to be Vibram it's now made from Thorogood's own, more durable polyurethane.
It's important to emphasize that this boot, moreso than the others, is a workboot. The sole can withstand up to 18,000 volts and it's really popular among linemen and electricians and so on. Some boots try to look like workboots or are modeled after shoes that used to be considered workboots way back when cork soles and leather uppers were the most advanced technology we had to work with.
Thorogood's moc toes are more modern and better suited to workwear, with a downside being they're less versatile than the others on this list.
[Shop different leathers for the Thorogood Moc Toe here.]
Leather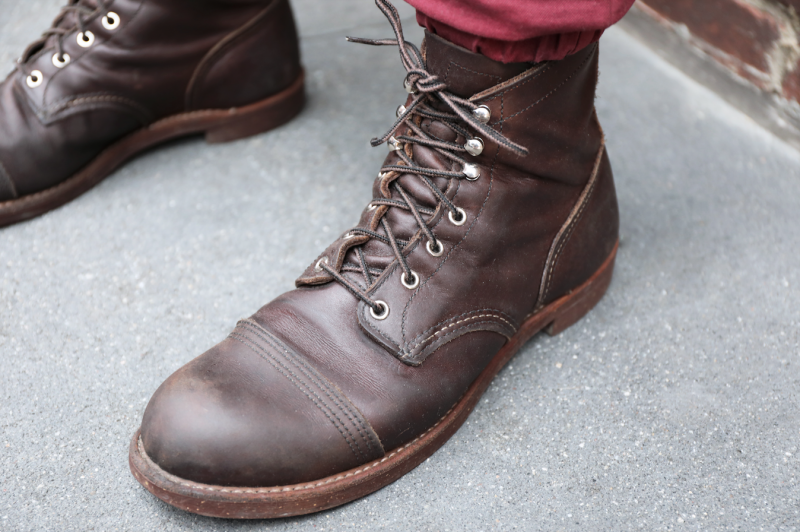 Red Wing Iron Ranger
Oil tanned leather
Easy to take care of
Ages well
I need to address something, here: I had been conditioning my Rough & Tough moc toe boots with Obenauf's for years and while it worked great on that leather, it darkened my Iron Rangers' Amber Harness leather pretty significantly. I was young, I was foolish, and I probably should have gone with Red Wing's own boot oil instead.
Still, it kept them moist and I continue to love this leather. It's a little unusual in that instead of being vegetable tanned or chrome tanned this is oil tanned, which I really like. It doesn't have quite as much depth of color as something like Chromexcel but it's a little more water resistant, it doesn't scratch as easily, it's quite moist, and it doesn't need as much conditioning. Basically, it's a hardier leather.
[Read the full Red Wing Iron Ranger review here!]
Chippewa Service Boot
Crazy horse leather
Rubbing it changes the color
Not dressy, but a great informal leather
This leather is a really popular leather called Crazy Horse, so named because it has a history of being used on horse saddles. It's not made from horses though, it's full grain steer leather that's produced by applying a kind of wax to leather that's been partly smoothed out, or "corrected".
The wax strengthens the fibers to the point where the color changes when it's rubbed or scratched. Running your hand over the boots results in streaks of darker or lighter color that can easily be smoothed away, all of this makes for a really rustic, vintage look that a lot of people adore. It's not remotely formal, but it makes informal outfits look pretty special.
Note that it aged pretty quickly — the wrinkles and creases you see above all occurred within a week of wearing it.
[For a closer look, read the complete Chippewa Service boot review.]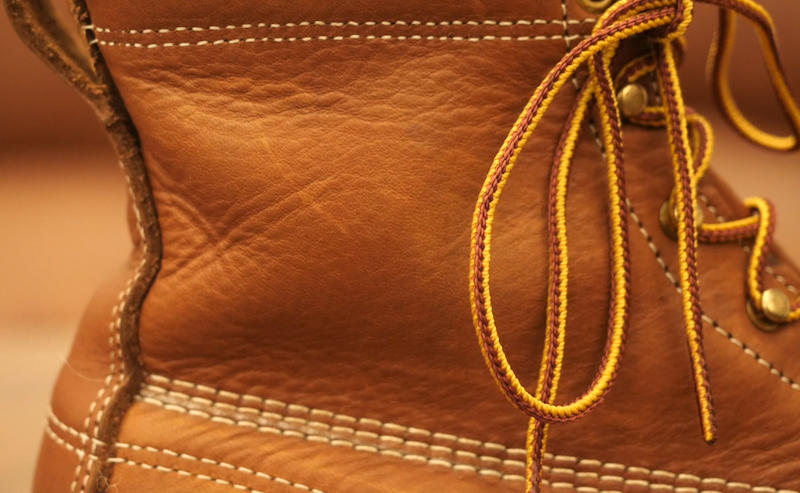 Thorogood Moc Toe
Oil tanned leather
Thinner and lower quality than Red Wing
Has loose grain
This is also oil tanned, which is usually made from vegetable tanned leather that goes through further processing with oil that might be made from castor, pine, fish, or some other variety.
When compared to Red Wing's leather this is thinner, aged faster, and it has quite a lot more loose grain. I can't say I was disappointed by that because it is much, much cheaper than Red Wing, but if you're someone who's more preoccupied with aesthetics than price, you may not be taken by Thorogood's leather.
Sole
Red Wing Iron Ranger
Nitrile cork outsole
Newer models have Vibram outsole
Cork midsole
Leather insole
Steel shank
This sole has a nitrile cork outsole, cork midsole, a leather insole, and a steel shank for stability. The outsole is a composite of rubber and cork. If you have the classic Iron Rangers with this sole, I'll say this: it has much better grip than you'd think to look at it, and there are bonuses to the flat sole. You don't get stuff stuck in your sole like I always do with chunkier Commando soles like the Truman, plus it's lightweight and more wear resistant than leather.
It's not super soft though, and the grip isn't so good that it won' slip on compacted snow so that's something to keep in mind for wintertime.
[Want to know more about the difference between cork and leather soles? Check out my comparison of Red Wing and Wolverine.]
Chippewa Service Boot
Grippy Vibram outsole
Cork midsole
Leather insole
Crummy shock absorption
Not well constructed
Like the newer Iron Rangers, Chippewa has the Vibram sole. This is a kind of rubber made famous by a company in Italy and while it's not as pretty as cork, the grip is definitely the best out of these three boots.
Also like the Iron Rangers, this shoe has a cork midsole, leather insole, and steel shank. So the arch support is OK and the two shoes mold to the shape of your foot over time, however the shock absorption with the Chippewa boots was the worst of the three — it feels like walking around on wood.
It does have a 360-degree Goodyear welt which is probably more water resistant than the 270-degree Goodyear welt on the Iron Rangers. However, the heel started to detach on the Chippewas within a week of wear, so they don't seem like they can withstand much damage at all.
Red Wing, Chippewa, and Thorogood.
Thorogood Moc Toe
Polyurethane sole
Rubber midsole
Fiberglass shank
Great shock absorption and arch support
These used to have a Vibram sole but today it's Thorogood's own polyurethane, which they have calculated as being 25 percent more longlasting than Vibram. There are some complaints online that the downside of this more durable sole is that it's not quite as soft, so if you're in it all day it might be a little harder on the knees among folks who have joint pain. This isn't a universally agreed upon opinion, but it's worth pointing out.
There's a lot more to talk about: there's a rubber midsole and a fiberglass shank, both of which are why this shoe is much lighter than the other two, and the insole is poron. That's an air-permeable material often used in sneaker brands and also in some more modern boots, like those from Thursday Boot Company. Finally, there's a removable insert that adds even more shock absorption.
So between the three, Thorogood felt the most like a sneaker: lightweight with great shock absorption and arch support.
[Compare the two brands' moc toes with this Red Wing vs Thorogood comparison!]
Fit & Sizing
Every shoe is a half size smaller than sneaker size
Red Wing: Worst break in
Chippewa: Best grip
Thorogood: Best arch support
This is pretty simple: I had to size down half a size for every single one of these shoes. I'm an 11.75 on a brannock device, I'm an 11.5 in boots that fit true to size, in all three of these I'm a size 11.
Thorogood has the best variety of widths because they offer the moc toe in in B, D, and EE. Red Wing has D and EE and Chippewa has D, E, and EE. So Thorogood caters best to both narrow and wide widths.
Comfort-wise, Thorogood was the lightest, had the best shock absorption and it feels the most like a sneaker, but that's not always a pro. Most guys don't buy boots so that they can feel like sneakers, they buy them because they want heavier, more assertive and masculine boots.
For that purpose I preferred the Iron Rangers, even though their break in period was by far the worst of the three. The grip wasn't fantastic but that cork sole is flexible, durable, and lightweight.
Price
Red Wing Iron Ranger
A pair of these shoes will run you about $300 to $320, and they're always cheaper on Amazon.
[SHOP THE RED WING IRON RANGER HERE]
Chippewa Service Boot
You can pick up a pair of these shoes for $270 to $290. For a pair of American Goodyear welted service boots, that's considered reasonably inexpensive. Of course, it's also cheaper on Amazon.
Unfortunately, the Chippewa Service Boot has been discontinued.
Thorogood Moc Toe
A pair of these shoes will cost you $170 to $190, which is obviously and dramatically cheaper than the other boots here. If you're curious, Red Wing's Moc Toe is usually between $230 and $270.
[SHOP THE THOROGOOD MOC TOE HERE]
The Verdict
For shoes that are so frequently compared with one another, there are a whole lot of differences. Here are the Cliffnotes.
Red Wing Pros and Cons
Pros
Best leather
Super durable
Most versatile
Cons
Worst break in
Most expensive
270-degree welt

Chippewa Pros and Cons
Pros
Decent value
Good grip
No break in
Cons
Bad shock absorption
Least durable
Heels are coming off

Thorogood Pros and Cons
Pros
Cheapest
Best shock absorption
Best arch support
Cons
The hardest to dress up
A little gaudy
Leather isn't great
Personally, I simply find myself reaching for my Red Wings more often. I really value versatility with my shoes and the Iron Ranger is relatively comfortable in both casual and smart attire, I like the weight and the construction, and the leather is definitely the best quality of the three.
If you'd rather have something lightweight and sneaker-like, Thorogood is your best bet. And if you'd rather have a plain service boot? I'd spring for a Red Wing Blacksmith instead.
[Related: My list of The Best Boots]