After living in New York City for five years, my partner and I recently moved back to where we grew up in Northern California. Of course, life in NorCal is very different from life in NYC — we tend to spend a lot more time outdoors and traversing different climates throughout the day than we did before. It's not uncommon for us to go on a hike in the morning and end up walking around San Francisco in the afternoon. That requires a particular kind of boot.
I've always known that Red Wing's shoes are durable, but this new lifestyle has made me realize just how versatile they are as well. When I saw the Red Wing Classic Moc on their website, I knew it would be the perfect boot to serve double duty between the trails and the city sidewalks. This workboot is an iconic Red Wing style that looks like it can stand up to anything while still looking good. I eagerly awaited their arrival and as soon as I got them, I couldn't wait to take these babies out on a hike.
Red Wing Women's Classic Moc Pros and Cons
The Pros:
Ultra-comfy polyurethane Traction Tred sole
Resoleable Goodyear welt construction
Water-resistant leather
Fashionable and functional!
Lots of color options
The Cons:
Tough break in
White outsole shows dirt
Hard to dress up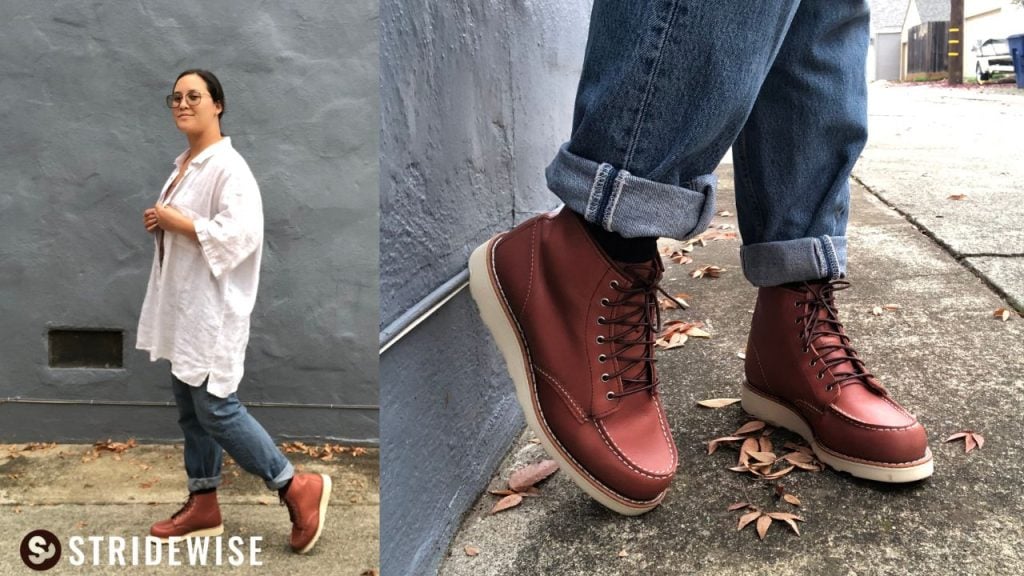 How Red Wing Makes the Classic Moc
Completely American made
Leather from Red Wing's own Minnesota tannery
Old fashioned Goodyear welt construction is very weather resistant
Sustainable; uppers last for decades and can be resoled
Before we get into my experience, let's get the lowdown on these boots. Red Wing first designed the Classic Moc over 70 years ago specifically for sportsmen. Since then, farm, factory, and construction workers have sworn by the long-lasting construction and wearability of these iconic boots. The women's 6-inch Classic Moc is designed with softer leather than the original, and it includes a more forgiving tread outsole, which we'll get into more detail later.
Like all of Red Wing's shoes, the women's Classic Moc is made in the USA. They're made with a water-resistant Goodyear welt that keeps your feet dry and ensures long-lasting quality. The premium leather, durable stitching, and signature construction showcase Red Wing's dedication to craftsmanship and sustainability.
Why are Red Wing shoes sustainable? Their boots will last for ages, and when they do wear out they are designed and constructed to be resoled and repaired for years to come. That means that you get more for your money and can feel good about buying something that's better for the planet!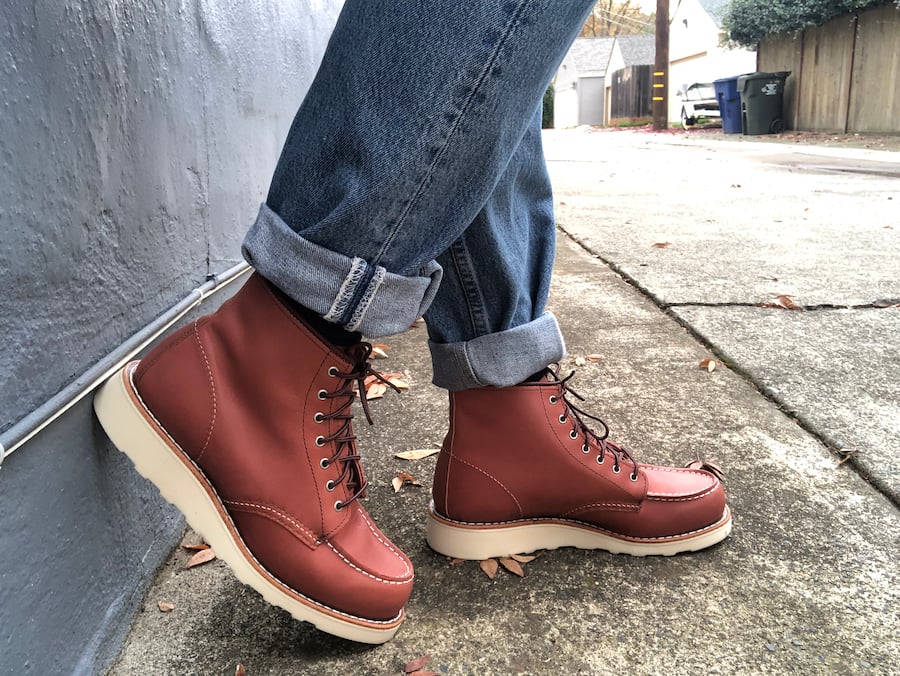 Red Wing Women's Classic Moc Leather
The reason that Red Wing's Classic Moc boots need to be broken in is because the leather they use is such high quality.
Red Wing uses full-grain, oiled leather which is slightly sanded down for smoothness, but still retains the thickness and slight texture of the natural leather hide. Full-grain leather is part of what makes the Classic Moc boots ultra durable and water resistant. With proper care, the leather will stay strong and weather-resistant for decades to come. It is stiff at first, but once your boots are broken in the leather will feel soft, flexible, and supportive.
I went with the Auburn full-grain leather because I knew it would work with a lot of different outfits and stand up well to the elements. I love the patina that full-grain leather develops, and the rich caramel brown will only deepen over time.
I love that Red Wing made tons of color options for the women's Classic Moc, too — a lot more than the men's boots get! If I had to get another pair of these in full-grain leather, I'd go for the indigo, hands down. It's just such a cool color that still has a utilitarian feel. I also think that the Classic Moc in butter or cream roughout leather would be incredibly stylish. (Roughout looks like suede but is thicker and more durable.)
Red Wing suggests cleaning, conditioning, and using protectant on the Classic Moc leather every year or so to ensure it stays in top condition. You can get the suggested care kit here and give your boots quick once over at the start of each boot season.
Red Wing Women's Classic Moc Fit and Sizing
Order your usual shoe size
Good arch support
Very cushioned sole
Red Wing's Women's Classic Moc boots are made on their No. 105 last, which is based on the shape of the original Classic Moc style. The women's boots are slimmed down slightly for a sleek look and an ideal fit. (They're typically a B width while the men's are a D width.) I was pleased to find that the slim silhouette looks just as good with leggings and jeans as they do paired with trousers or a casual dress.
I am a solid size 8 in women's shoes and the Classic Moc boots fit me perfectly. I had enough room to wiggle my toes or wear a thick hiking sock without feeling like my foot was sliding around inside the shoe at all. I took these on a short hike and then for an afternoon in the city on my first wear, and the snug ankle and strong Taslan laces held my foot comfortably in place.
My absolute favorite thing about the fit of the Classic Moc is that they have a lot of arch support and a super cushioned sole to provide all-day comfort.
I will say that the Classic Moc boots do take some breaking in. When they're fresh out of the box, the leather on these boots feels sturdy and stiff, which is great for a long-lasting shoe but not necessarily comfortable for immediate wear. I did get a blister where the beautiful trimmed leather edge was rubbing against my ankle during a long day of walking.
After about four wears, I already started to feel the leather soften in the ankle and the insoles beginning to give.
This isn't anything I was surprised about, though, as Red Wing specifically states that these shoes will get more comfortable as they break in. After about four wears, I already started to feel the leather soften in the ankle and the insoles beginning to give a bit. Over time, I can see how the leather upper will soften and the insole and cork midsole will mold perfectly to the shape of my feet.
For anyone considering Red Wing's Classic Moc boots, I recommend taking the breaking-in period slowly while looking forward to gaining an increasingly personalized fit over time! Consider wearing them for shorter walks at the beginning of your relationship with your boots.
[Further reading: Red Wing's Clara Boot Review]
Red Wing Women's Classic Moc Sole and Construction
Resoleable Goodyear welt
Very water resistant
Layers of cork and leather provide a custom fit over time
Unlike most women's footwear, Red Wing uses Goodyear welt construction. I love shoes that are made with Goodyear welt construction because they provide SO much more comfort and value for money.
Goodyear welt construction means that the shoe upper is not glued or "cemented" directly to the sole. Instead, the two parts of the shoe are connected via a leather "welt" that sits in-between. The welt and Red Wing's use of their quality Puritan triple stitching locks out water and keeps the foot dry from underneath. Red Wing fills the midsole (the pocket in between the upper and outsole) of the Classic Moc boot with cork, which provides an additional layer of cushion while it conforms to the shape of your feet over time.
Goodyear Welt construction makes Red Wing's Classic Moc boots water-resistant, ultra-comfortable, and more environmentally friendly. Because the shoe upper and outsole are separated by the welt, that means the sole can easily be replaced when it eventually wears through. Red Wing provides repairs at the in-house repair shop in their factory in Red Wing, Minnesota, but any cobbler can resole a Goodyear welted boot with ease.
This means that your Red Wing boots will last longer than any conventional women's boot and save you from having to buy a new pair every six months!
The cork insole and polyurethane Traction Tred outsole make Red Wing's Classic Moc boots surprisingly cushy and comfortable. The Traction Tred outsole is thick and has treads that help with grip. At first glance I thought this outsole was purely for fashion, but as soon as I slipped on my Classic Moc boots, I knew that they were fully functional, too.
I got these shoes so I could travel many miles in them, from hiking trails on mountain tops to sidewalks and subway stairs. It's absolutely crucial that they provide maximum comfort. When I walk around in the Classic Moc boots, I can actually feel the difference in my knees and back. That's why manual laborers prefer boots like these: the build is easier on your joints and your back than spending all day in squishy, unstable sneakers.
The only thing that I don't like about the Traction Tred outsole is that they are white. Don't get me wrong, I love the fashion statement! But after wearing my Classic Moc boots hiking and around the city, the soles easily showed all of the mud and dirt I had tromped through that day. If you're someone who doesn't like to have dirty soles, you'll want to clean these on a regular basis — or else opt for the Classic Moc in black!
Red Wing Women's Classic Moc Pricing
Considering that you can buy boots for the same price without anything near the same quality, I think this is a solid price point. The Red Wing Classic Moc boots are an iconic style that you'll be able to wear over and over again. They'll only get more comfortable as time goes on, and with proper care they should last you for a lifetime. Remember that they can be resoled and that these boots are built to be water resistant and ultra durable!
Wrapping Up
Overall, if you're looking for a boot that provides both looks and long-lasting durability, I would highly recommend Red Wing's Classic Moc boots. They look great whether I'm hiking or heading to a function and their quality and comfort cannot be matched.