When I need something a little more dressed up than sandals, flip-flops, or even sneakers, my go-to summer shoe is these Turkish leather slippers from Sabah.
The brand was founded by American Mickey Ashmore, who spent much of his 20s working in finance in Istanbul and found himself commuting to and from work in traditional leather slippers. Seduced by their comfort and versatility, he was inspired to launch his own brand that draws on traditional Middle Eastern shoemaking — but with a few modern design flourishes.
Who should buy The Sabah Shoe?
Guys who want a resolable leather summer shoe.
People who like the ease of sockless slippers.
Anyone who wants a somewhat dressy shoe for traveling
Who shouldn't buy The Sabah Shoe?
People who needs more arch support.
Guys who want a summer shoe that you can walk in for long periods of time.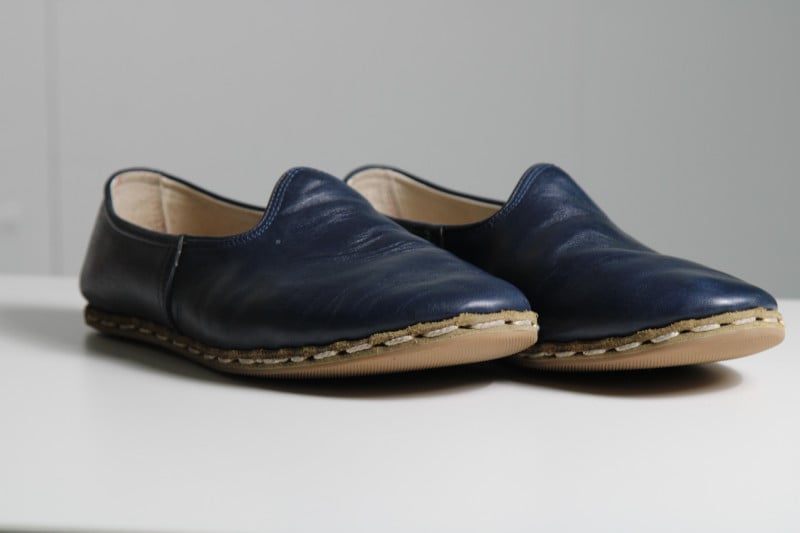 Overview
Handmade in Turkey
Dozens of colors
More durable than traditional Turkish leather slippers
Handmade with leather from Istanbul in Gaziantep, one of the oldest cities in the Middle East, these slippers are inspired by a traditional slip-on shoe from the region. If you've spent any time in Turkey, Morocco, or India, you've probably seen shoes similar to these but without quite as slim a silhouette. This is a modernized version of a traditional shoe, and with a more robust sole to boot.
While Sabah sells classic leathers like this blue, brown, and black, the shoes are so popular there are over 20 colors now, including plenty of totally non-traditional leathers like pink and leopard print.
Huckberry bills them as the ultimate travel shoe, and I have to agree with them — they were a dream to wear flying to and from California this summer because they're so easy to kick off.
They're also perfect for parties, barbecues, and errands and while they're a hair too dressy for shorts and a t-shirt, if you're wearing a collar, you can usually pull off these thoroughly Turkish shoes. They're far easier to get on than loafers, you don't need to bend down to put them on, I'm crazy about them, they're super versatile and cool as hell.
Sabah Leather
Tanned in Turkey
Semi vegetable tanned
Natural sheen
Sabah's leather is semi vegetable tanned and it was developed by a family run tannery in Turkey. My blue shoes came with a natural sheen and a soft surface that you can burnish as it ages.
View this post on Instagram

There are no stiffeners or structure, it's all natural cowhide — the idea is for them to mold over your feet with time and one of the cool things about them is they've posted plenty of pictures of old Sabahs so you can see that people really wear these for years and years.
Sabah Construction
Rubber outsole
Water buffalo leather insole
Resoleable
Handmade
The sole construction, meanwhile, has water buffalo leather insoles that mold to your feet over time. That's what has traditionally been used as an outsole for Turkish leather slippers, but Sabah has attached a rubber outsole for more durability and grip. I even love the stitching running along the outside: it's one continuous, waxed cotton string that's hand threaded through the leather from the inside out without any machinery used at all, unlike Goodyear welts. It's a nice signifier that these shoes are handmade with skill; they're not just glued together.
Sabah Fit & Sizing
Order a size down from your normal European size
The CEO Mickey Ashmore explains the sizing as,
you want the shoes to be very tight, as snug as possible without curling your toes or hurting. A little pressure is ok.
Once I learned that, I realized I got a size too big: I ordered 45s, because my Brannock size of 11.5 translates to 45.5, and my other European sized shoes (like Common Projects) are 45s.
I found my Sabahs very comfy out of the box — a hair roomy, but nothing unmanageable. Judging by Ashmore's advice, I Should have gone for a 44, and I'd suggest you size down similarly.
[Related: The Ultimate Guide to How Boots Should Fit]
Sabah Price
The price is $195. Could you go to Turkey and get them for less? Yes, but for one you're not going to Turkey soon.
It's worth noting that while there are some cheaper Turkish slippers on Etsy, these are slightly modernized versions of the traditional shoe: the silhouette is more versatile and fashionable. They also come with the extra rubber outsole, although I get that the margins are probably big on these. But for a resoleable leather shoe you can wear with almost any outfit, especially in summer, I like them.
Pros
You can wear these without socks and without your foot overheating.
They're really light and flexible.
They're perfect for traveling.
They're very versatile; you can get black ones for a relatively more formal vibe, pink for totally informal, and everything in between.
[Dress Better: The 7 Best Lightweight Jeans for Summer 2021]
Cons
They're not super supportive; for all day standing and walking, I'd suggest something else.
There are some styles they don't go great with. If you like heritage workwear type fashion — thick straight leg jeans and burly flannels — they might not be the perfect match. They're better suited to form fitting clothing.
The soles are known to wear down pretty quickly; although they are resoleable.
A small percentage of customers have complained that the stitching on the footbed becomes uncomfortable after a few months. (Although I haven't experienced this.)
[Related: The 5 Best Lightweight Shorts for Men | Linen, Hemp, Stretch, and More]
Wrapping Up
So these are my favorite summer shoes. They look good with shorts and most trousers. You can wear them to a casual lunch, the beach, BBQs, out to the movies (they're so easy to kick off!) and out to the bar. They're comfortable and casual but you won't look schlubby at a work party. They're also ideal for travel; easy to get on and off at the airport.
I'd advise against them if you'll be out walking all day, but that doesn't make them bad shoes. In the right situation — and there are a lot of them — Sabah the perfect combination of versatile and eye catching.
The following two tabs change content below.
Nick English
By day: Manhattan-based journalist with reporting experience on four continents, published in Vice, Men's Health, Popular Science, and a bunch of other places.By night: ravenous consumer of anything and everything related to high end men's boots.Stridewise is where I nurture a maniacal obsession with footwear and share my findings. Say hey:
[email protected]
.
Latest posts by Nick English (see all)