Do we really need another minimalist white sneaker? If it's this leather and this construction at this pricepoint, my answer is yes.
Continuing their apparent mission to disrupt the footwear market with high quality and direct-to-consumer prices, Thursday Boot Company has released a line of low profile sneakers that aim to stand toe to toe with industry leaders like Koio, Oliver Cabell, and the big dog Common Projects. What these shoes all have in common is Italian leather, minimalist design, and stitched construction, but Thursday's Premier pulls this off at just $129. These competitors cost well over $200 and in the case of Common Projects, well over $400.
So how do Thursday's new line of sneakers hold up? To answer this, we'll look at their leather, their soles, and their fit.
Best Value!
Thursday Boot Co Premier Leather Sneakers
This minimalistic sneaker is a wardrobe staple. They can be dressed up with a blazer or dressed down with jeans and currently, there are 15 different colorways.
Check Best Price
We earn a commission if you make a purchase, at no additional cost to you.
Further Reading
The Premier's Origin
So getting into the sneaker game and differentiating your product is super difficult, and no one knows that better than Thursday Boot Company. Their CEO gave this interview to Gear Patrol where he said,
At first I was pretty resistant to the idea of expanding into sneakers because I was not confident we could do something additive to what was already on the market.
But the company's CMO pushed him to find the perfect sneaker against which he wouldn't want to compete, and he couldn't find it — not at a reasonable price point anyway. And so the company known for their insanely inexpensive boots launched an insanely inexpensive sneaker which quickly grew into an insanely inexpensive line of sneakers, all of which are just $129. For a sneaker made with Italian napa leather, you won't find a better deal, but there are more leathers than that available here. That's why I bought three of them.
Let's look at this leather in a bit more detail.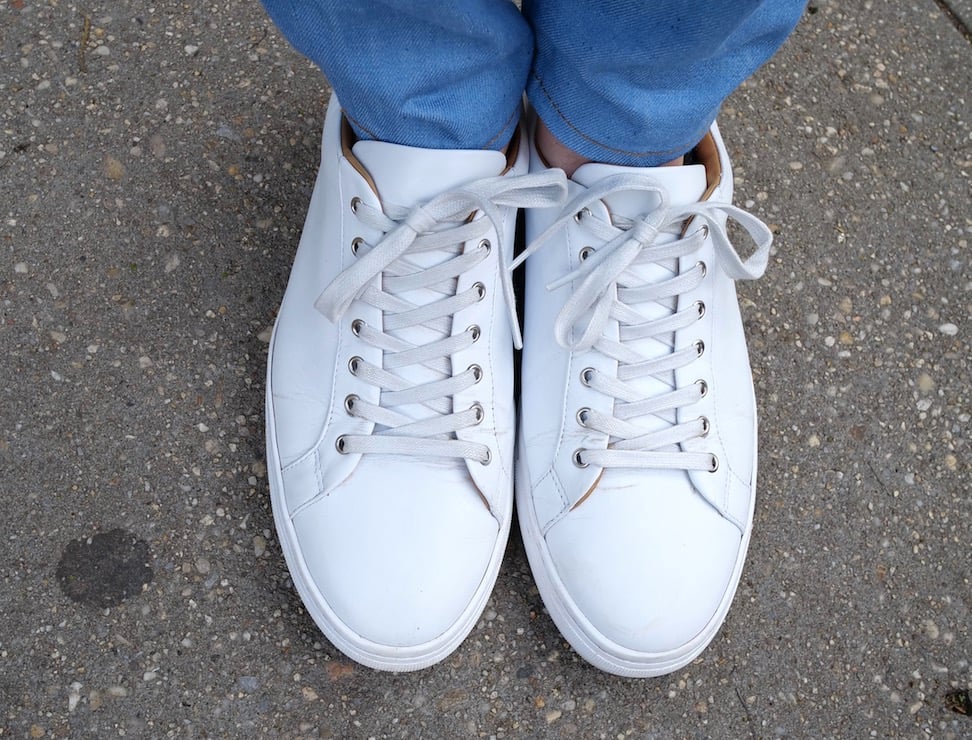 Thursday Sneakers Leather
The white ones are made of Italian leather, the brown and black are US hides
Veg tanned sheepskin lining
1.5 millimeter Vachetta leather insole
"Heritage" boot leather sneakers also available
A cool thing about Thursday is they don't skimp on leather choices. Their Captain boot comes in over a dozen leathers and although the sneakers are a newer product, you can get them in at least ten different leathers. Three of these are "heritage leathers," the kind you'll typically see on boots like natural Chromexcel and Cacao waxed flesh, but for this review I'll focus on their more modern sneaker leathers: White, Black, and Toffee. (Note that I've been wearing in the White ones for some time; apologies for the "worn in" look.)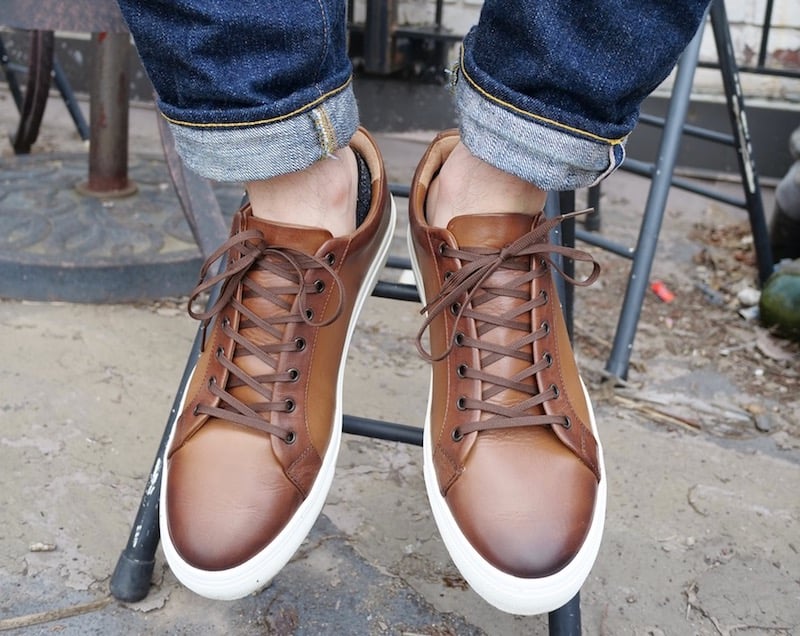 Thursday's Sneakers' Leather Uppers
I love these leathers. They're about 1.2 to 1.4 millimeters thick and they're all full grain, so they're made with the outer layer of the animal's hide.
The white one is made of Italian leather from Valletri Tannery and it's called napa leather, which really just means it's unusually soft and pliant for a white leather. (Leather couches are often made from Napa.) While the White is Italian, the other two colors I'm wearing are made from North American hides.
The white and black have a really good hand to them. A lot of leathers on sneakers are over finished or over painted, but these haven't had the hell shined out of them; they just have a good, clean, consistent look that doesn't have a lot of extra polish or anything added on top of it.
The Toffee is more complex, made with a hand finished 3D focal point effect on veg tan crust leathers. It's not a fully vegetable tanned sneaker, but it's terrific quality leather that has a nice depth and character to it.
[Related: A Luxury Sneaker That Won't Crease? Meet the Idrese Nuno]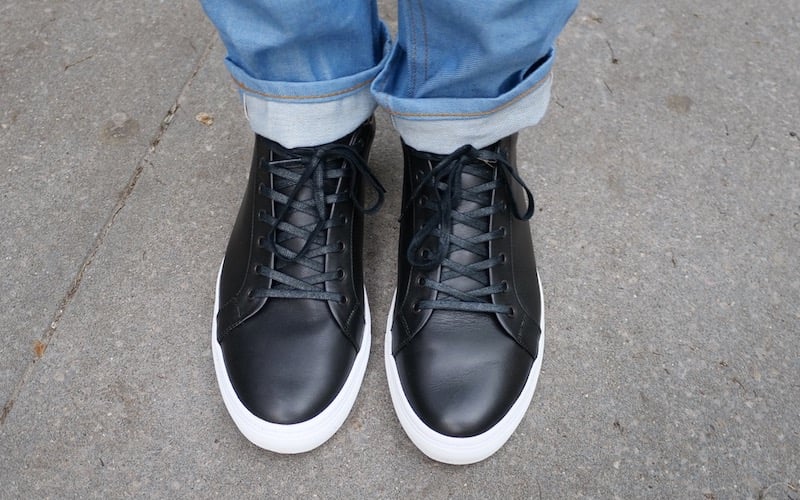 Thursday's Sneakers Leather Lining
The other leather on the shoes I want to mention is the leather lining, which is vegetable tanned sheepskin. As a veg tanned sneaker it's relatively durable but it's under a milimeter thick, so it's not stiff.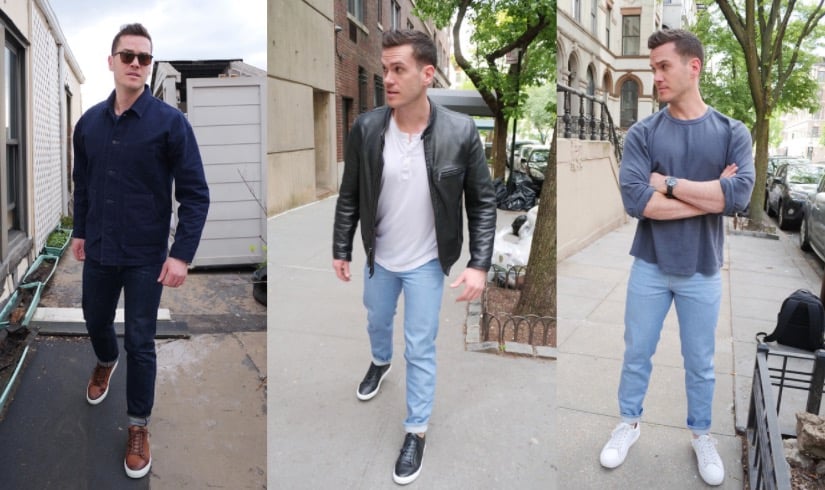 Thursday's Sneakers Leather Insole
The last leather component worth a mention is the insole, which is Vachetta leather that's about 1.5 millimeters thick. The insole is actually thicker than the upper, an indicator that underfoot comfort was given a real focus here.
Vachetta is a big name in leather and it's what's used in luxury designer bags from companies like Coach and Prada. It's all natural, vegetable tanned leather that's minimally treated, chemical free, always from Italy, and unusually soft and fatty for veg tan. This is what goes immediately underfoot, but there's more going on in the sole than that.
[Check out my review of a Vachetta briefcase from Carl Friedrik!]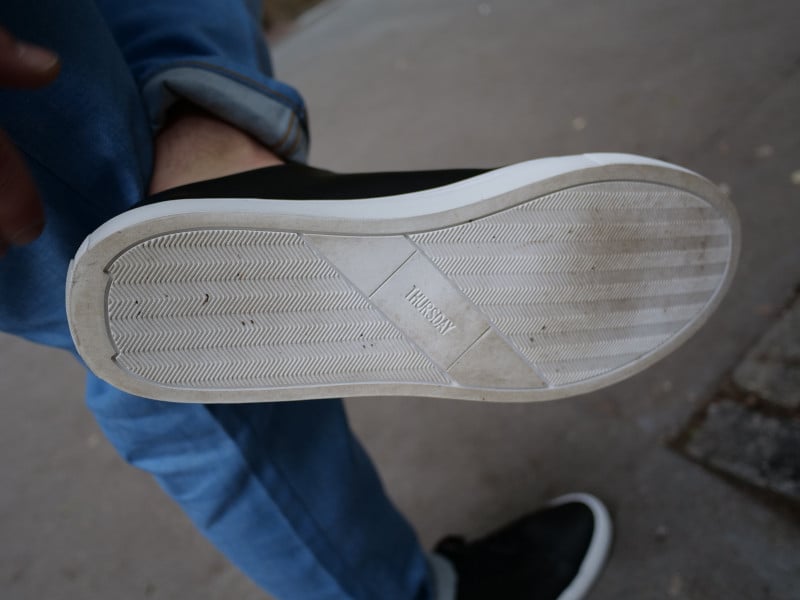 Thursday Sneaker's Sole
Durable, flexible, grippy sole.
Made of 30% recycled rubber.
Very comfy leather insole and polyurethane midsole
Strike points and side walls built with extra durability
To learn more about what makes a good sneaker sole, I've been talking to the guys who run Koio, Oliver Cabell, and Thursday to try and get to the bottom of the super popular and super expensive Margom outsole.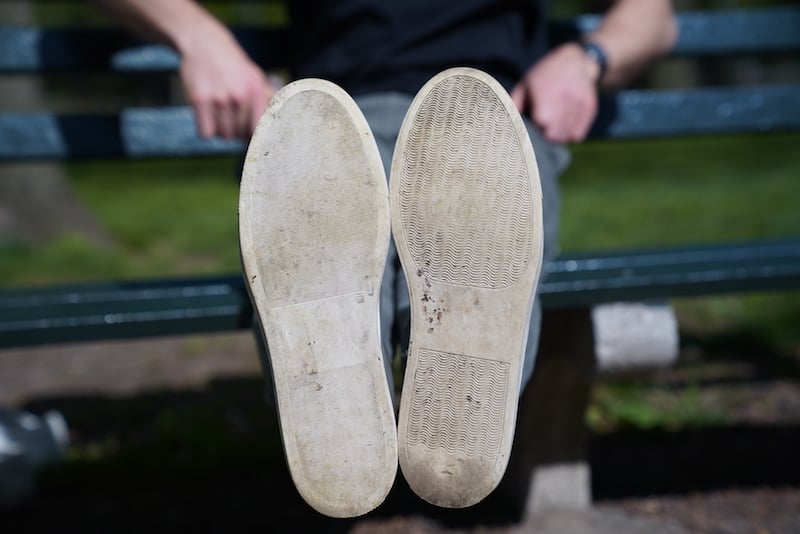 Margom Soles
Margom is what's used by industry big cheese Common Projects and plucky upstarts like Oliver Cabell and Koio. But to be honest, the main reason everyone got so into Margom outsoles is because Common Projects did it and popularized it as a mythically high quality product. I like my Common Projects sneakers, but I know they cost way too much and that most of the cost comes from the marketing, not the product. Margom soles are meant to be very durable, but they're also quite stiff and overpriced.
[Compare: Oliver Cabell vs Common Projects – Who Makes the Best White Sneaker?]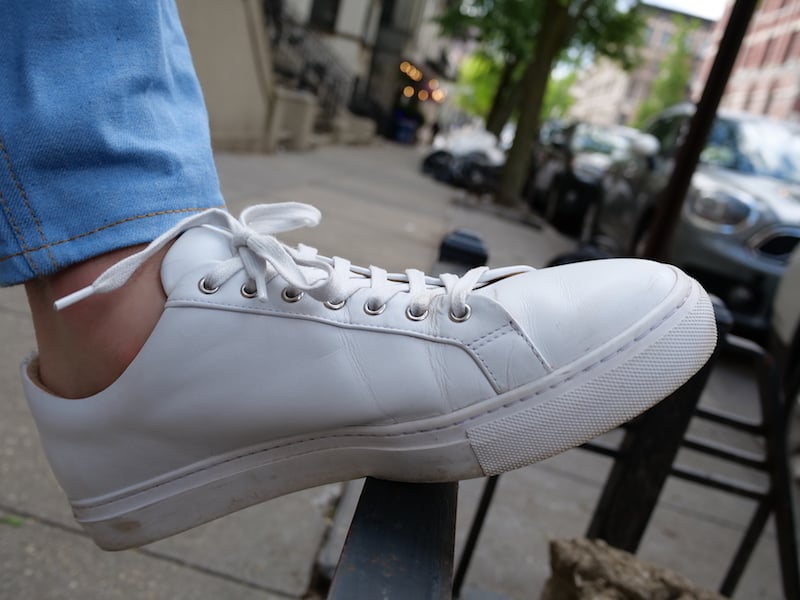 Thursday Sneaker's Outsole
To keep the cost down, Thursday developed their own cupsole at one of the main Vibram Original Equipment Manufacturers. Vibram is a hugely beloved name in boot soles and the fact they're involved in the soles of these sneakers should definitely instill some confidence in the product.
I found this sole to be both durable and flexible, plus 30 percent of the rubber is recycled, which gives some sustainability points. The rest is natural virgin rubber, which Thursday purposely used in the strike points and side walls to provide extra durability. The side wall is less dense than the bottom, though, making it more flexible.
[Related: Nothing New, the World's Most Sustainable Sneaker]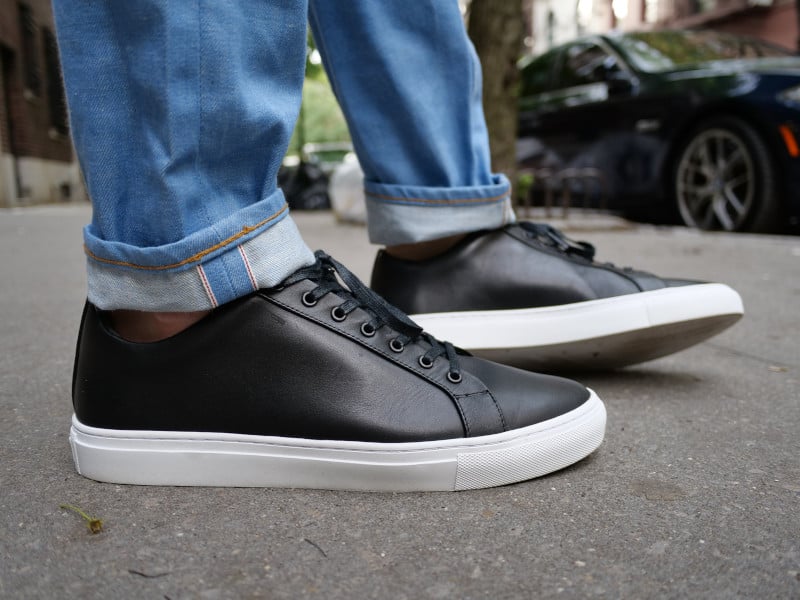 Thursday Sneakers Midsole and Insole
After all the thought and care that went into the outsole and the insole, we've still got to talk about the midsole: a layer of shock absorbing foam, technically a medium density high rebound Polyurethane foam. I did my due diligence and walked around in both Thursday's sneakers and Common Projects, and I have to say Thursday's was more flexible and comfortable for me.
Thursday Sneaker Sizing & Fit
Comes in half sizes, which is unusual for new brands
Buy your normal sneaker size
Good shock absorption from the polyurethane and leather in the sole
On a Brannock device my foot is about 11.6 or 11.7, but I wear a 12 with Thursday. They say to order the size you normally wear in sneakers and while a "true to size" shoe for me is an 11.5, most of my sneakers are 12.
So, no big surprises with the sizing: order your usual sneaker size.
The Premier also comes in half sizes, which is surprising for a product so new to the market. Their competitor Koio, which I like a lot, don't do half sizes and it's a huge pain for guys with feet like mine. (Plus, it's a move that alienates some 50 percent of your potential consumer base.)
For fit and comfort, the combination of very modern shock absorbing polyurethane foam and the very old fashioned shock absorbing Vachetta leather makes for a lovely balance that offers great shock absorption and comfort when I'm walking.
Best Value!
Thursday Boot Co Premier Leather Sneakers
This minimalistic sneaker is a wardrobe staple. They can be dressed up with a blazer or dressed down with jeans and currently, there are 15 different colorways.
Check Best Price
We earn a commission if you make a purchase, at no additional cost to you.
Wrapping Up
Pros
Fantastic value
Versatile design
Wide variety of quality leathers
Very flexible and good at absorbing shock
Cons
Some minimalists may not like the shiny eyelets (on the white variant)
Break in can be tough
Not made in Italy (if that matters to you)
To wrap this up, these are the best value white sneakers on the market. If we're comparing price, they beat out Greats and Oliver Cabell and they blow Koio and Common Projects out of the water. I can only think of maybe Beckett Simonon's Reid sneaker as a potential competitor; they're $159 but they're often on sale. That said, they're more expensive than Thursday and you have to wait a few months for the shoes to get made for you.
In short: The Premier is high quality, made with a variety of vegetable tanned leathers, Vibram helped create the sole, and the design is a great blend of minimalist and eye catching.
The following two tabs change content below.
Nick English
By day: Manhattan-based journalist with reporting experience on four continents, published in Vice, Men's Health, Popular Science, and a bunch of other places.By night: ravenous consumer of anything and everything related to high end men's boots.Stridewise is where I nurture a maniacal obsession with footwear and share my findings. Say hey:
[email protected]
.
Latest posts by Nick English (see all)