Let's get something out of the way right up top – I've been a big fan of Saddleback leather for a decade and change. My first quality leather briefcase was the classic 2 rivet briefcase, which I purchased my junior year in college after over a year of research (and more importantly, saving up money.)
I still have that briefcase, still love it, and it has traveled with me all over the country and on numerous trips to Europe. Check out Nick's video on that bag here.
My brother owns several Saddleback bags, I've use their wallets for years, and even bought my wife and mother in-law purses from Love41, the company's women's brand.
I've always loved the rugged, adventurous aesthetic of these bags. The romance of a bag that looks as much at home on a NYC street as it would in the tent of Percy Fawcett on his cartographical expeditions is something I've always been an absolute sucker for. The crowd sourced photos of beautiful aged, roughed up leather in exotic locales which have graced Saddleback's website for years is irresistible to the hopeless romantic – I never stood a chance.
Practically, it's bit lacking. It's heavy, hard to open and close on the go, and a little cumbersome overall. But despite all that, I still found myself utterly charmed, if not enchanted by the old world allure of the Flight Bag.
Saddleback Flight Bag Pros & Cons
Here are some quick pros and cons if you've got somewhere to be and need your info fast.
Pros
Design – Distinct, antiquated design and Gladstone opening make the Flight Bag beautiful and unique at this price
Construction Quality – Well built, with high quality leather, hardware, and thread
Size – Functional layout with enough room for the essentials of an EDC bag
Branding – Minimal branding, even compared to other SBL Bags
Warranty – A nice, round, 100-year guarantee
Cons
Weight – At 6 pounds empty, this is a heavy bag. Add a computer, a book, daily essentials, a camera, etc, and you're going to feel it in your back at the end of the day.
Size – For a bag marketed as a travel briefcase, it's a bit small for multiday trips.
Laptop Sleeve – The internal sleeve is fairly loose and floppy
Price – At $629, there are a number of competing companies that offer similar functionality and quality for the same or less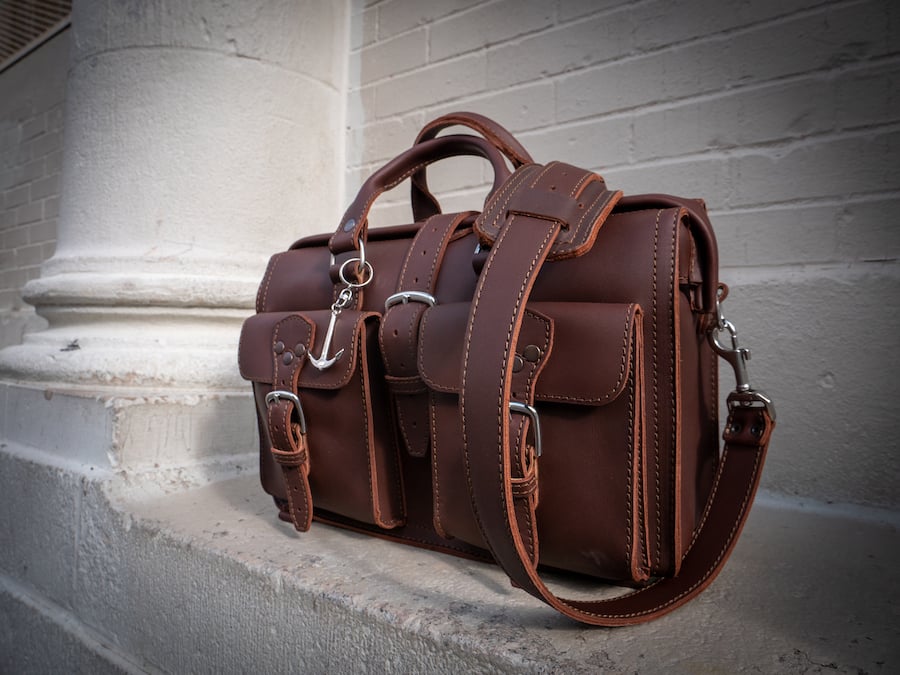 The Flight Bag
15″ x 11″ x 5″
Front Pockets: 6″W x 7″H
Strap: 40″ – 65″L x 1.25″
Shoulder Pad: 7.75″L x 3″W
Weight: 6 lbs
The Flight bag from SBL was released about 5 years ago and fits into a curious little spot in the Texas based leather company's daily carry briefcase offerings.
Intended for the use of pilots (according to Saddleback's founder Dave Munson), the Flight Bag features a gladstone style opening, two exterior pockets, and a large interior compartment with a false bottom for hiding cash or personal documents when traveling, and a thin dividing flap indented to carry a 15 inch laptop, along with various other daily essentials.
It's a bit smaller than a large Classic Briefcase and a bit bigger than the Thin Front Pocket Briefcase. In some ways, stylistically at least, it is a bit of an amalgamation of the two.
The interior of the bag is lined with nubuck pig skin. There are no interior pockets apart from the laptop flap. This was a bit of a learning curve, having been so used to the internal pouches on the Classic Briefcase. But the external pockets are of sufficient size to carry charging cables, batteries or hard drives, and other daily essentials. There are also two slim pockets formed in the gap caused by the manner in which the pockets are sewn onto the front of the bag.
Overall, its more than sufficient amount of space to carry what you need for the day and then some. As with most Saddleback bags, the less you carry, the better, as these bags are not lightweight in any way. The Flight Bag weighs in at 6 pounds empty.
[Further reading: The Best Leather Bags Made for Men]
Saddleback Flight Bag Materials & Construction
Like all of Saddleback's bags, the Flight Bag is made from fully chrome tanned leather which comes from North American hides, sourced from LeFarc Tannery in Leon, Mexico. It is currently available in Tobacco, Dark Coffee, Chestnut, and Black.
Also like the rest of Saddleback's bags, it is over engineered and overbuilt, utilizing 316 stainless steel hardware throughout, brass rivets in key stress areas, and UV resistant polyester thread. With regards to tanning, this is a point which I will only spend a brief moment on, because frankly I'm tired of talking about it. Saddleback mostly uses chrome tanned leather. Does that mean it's not good quality? No. It doesn't. Does that mean it should cost less money? No. It doesn't.
There are tradeoffs between veg tanned and chrome tanned leather in terms of how the leather feels, ages, and can be used. There is high quality chrome tanned leather and there is low quality chrome tanned leather. Veg tanned leather generally tends to be of higher quality from the get go. It also tends to age very well. Chrome tanned leather is more uniform, costs less to make (generally) and tends to stand up a bit better to water and general abuse.
Both kinds of leather can be great. Both can be not great. All I will say here is, when I was hiking in Costa Rica with my Classic Two Rivet bag and we were swamped by a torrential down pour, I was really happy that my bag wasn't made of veg tanned leather.
In terms of build quality, everything is up to the standard that I've come to expect from Saddleback. The stitching is clean and even and the application of the various components like the pockets, straps, and buckles is uniform. Crucially, the gladstone closure is perfectly aligned. The internal bars which form that opening feel nice and sturdy, not likely to be bent when being shoved under the seat in front of you or into the overhead compartment of a plane. It feels like it was assembled with skill and care. Most importantly, it feels like it will be able to withstand a reasonable, or even moderately unreasonable use and abuse.
The leather feels uniform and solid like all of the other leather from Saddleback which I've personally handled. With that said, arguably the most controversial trait of any Saddleback bag is the unfinished edges. The simple truth of the matter is that at this price point, $629 at the time of writing, there are other extremely well made leather bags available which have finished edges (painted, burnished, or rolled). The presence of unfinished edges have never bothered me on these bags, and if anything felt in line with the overall rugged design language which Saddleback is known for. It also leaves nowhere for the bag to hide if there are flaws or shortcuts in leather production – but this can be a double edged sword.
[Further reading: See Frank Clegg explain edge finishing on his $1,450 briefcase]
By and large, the edges on this Flight Bag are relatively clean and show a nice, fully tanned leather with a mostly tight grain structure. The exception, on my bag specifically, is on one of the pocket straps which, with more and more use has begun to show some fuzziness and emphasizes the wrinkles that naturally appear with time. Each bag is going to be slightly different, as the specific grain structure of each bag is going to vary slightly. In no way is it a deal breaker, but as prices continue to creep higher and higher over the years, I feel that Saddleback may need to either rethink this design detail or become much more stringent in their evaluation of grain and quality, particularly in these high wear areas.
The Takeaway
Practicality: this is where we wade into the swamp of personal preference. What do you prioritize? Do you want hyper efficient compartmentalization, with a spot for every cable, connector, or various EDC item you might need? Do you want something light weight with a small footprint? Well, this probably isn't the right bag for you.
Alternatively if you want a bag which is distinct in design, is robustly built and over engineered, and is visually striking? Then this might be just the bag for you.
The fact is, for many of us, aesthetics matter. How a product makes us feel matters. The way that feeling is inspired is going to be different for different people and as much as reviews such as this have a tendency to break things down into the most nuts and bolts terms, the emotional element which informs so many purchases should not be dismissed.
Personally, I have plenty of options that I can choose from in terms of briefcases or bags to carry on a daily basis. Some of them are lighter. Some of them fit more stuff. Despite whatever pros or cons, I find myself going for this bag more often than not. The design of the Flight Bag is enchanting. It's just so damn cool looking.
The Saddleback leather Flight Bag isn't perfect. The truth is that there is no such thing as the perfect bag. It's a little bit on the heavy side and a touch small to be a truly versatile travel bag. It is also one of the most beautiful and evocative leather bag designs I've seen since, well, since the classic two rivet capture my imagination all those years ago. It's a romantic bag from a romantic company. Fortunately, that romance does not come at the expense of functionality.
The reality is, that despite the exotic imaging on Saddleback's website, most of us will never hike into the jungle with these bags strapped to our sides. We will never journal our adventurous findings of the day inside a canvas tent, pitched with scavenged branches and dimly lit by an oil lamp. Sure, some will travel with these bags and embark on magnificent adventures with them, the scars of many miles carved into the chrome tanned hide. Most will not.
No, the majority of us will bring these bags to and from work either in the front set of our cars or sitting on our laps on the subway. But that makes them no less steadfast companions. And in that briefest of moments when we look over the rim of our laptops with weary eyes to see the that beautiful sculpture of leather and utility, maybe that moment of fantasy is enough to sustain us. To enjoy the beauty of a thing, with all of the possibilities and potential it contains, basking in an imaginative moment, dreaming of an adventure yet to be embarked upon.