This post may contain
affiliate links
that at no additional cost to you, I may earn a small commission from.
Waxed canvas jackets are tough as nails, last forever, and are cool as hell — every guy should own one. I've spent many years building my unnecessarily expansive collection of them and in all honesty I can report: the best waxed jacket is the Tensaw Jacket from Tom Beckbe.
If you're just here for the short version, well, waxed jackets typically fall into two categories: rugged, outdoorsy sportswear or city-friendly fashion that's more intended to look cool. The Tensaw is the only jacket I've encountered that works just as well in both categories, living up to its sales pitch as a jacket that looks just as good with a slain waterfowl as it does with a nice glass of red.
In this review, we're taking a close look at the material, construction, price, and extras so you can decide if it's right for you.
[SHOP THE TOM BECKBE TENSAW JACKET HERE!]
Overview
American made and designed
A very functional hunting jacket
Nice balance of outdoorsy and stylish
Stand up collar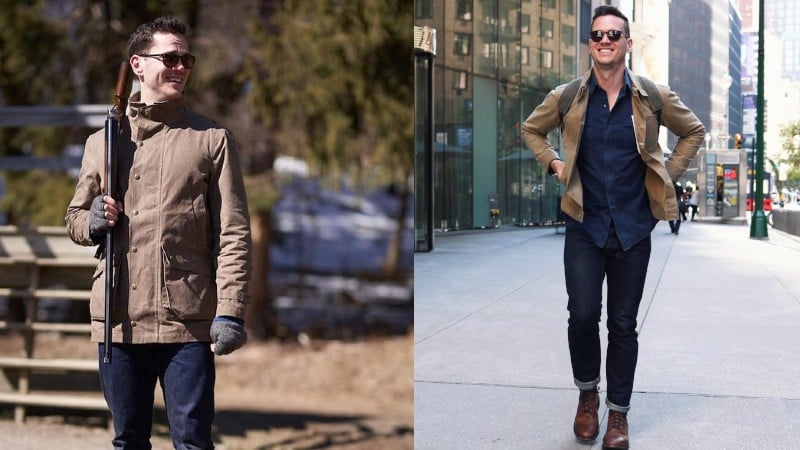 I mentioned earlier that some waxed jackets are meant to work and some are just meant to look cool and to be clear, there's nothing wrong with buying apparel because it looks cool. But the Tensaw Jacket has become a veritable sensation in and out of hunting lodges because it's rugged enough for a hunt but stylish enough to wear into town — but first and foremost, it is a hunting jacket. Indeed, I'd consider it a more useful and utilitarian one than other popular waxed hunting jackets like Barbour, which I feel aren't functional enough for hunting and too ostentatious for the average citygoer.
Every inch of the Tensaw has been painstakingly thought out to blend form and function, but before I dive deeper into the features and fit, and then the price and the pros and cons, I want to get into the materials.
[Related: The Best Waxed Canvas Backpacks]
Material
Durable 8oz waxed canvas
Snag and tear resistant
Wind and water resistant
Ages well
Cotton lined
Layers well
Waxed Canvas
For the uninitiated, waxed canvas is highly regarded for a few reasons.
1. It's extremely durable.
This densely woven cotton is very resistant to tears and abrasion, so you don't need to worry about thorns cutting it open in the underbrush. I once lost a leather jacket to a nail slicing a long hole in the back — that won't happen to canvas and it's repaired much more easily as well. (This is one reason why when folks ask about vegan alternatives to leather jackets, they're often told to buy waxed canvas instead of synthetic cow.)
2. It's water resistant.
When sailors noticed wet sails caught more wind, they waxed them to make them less porous. Water also rolled right off of it, and waxed canvas caught on among outdoorsmen as the ideal material for tents, bags, and jackets. It doesn't breathe super well — a downside to the impermeability — but the soft cotton lining helps to keep the Tensaw from feeling like a wet shirt.
3. Waxed canvas looks really cool.
Waxed canvas looks cooler the older and more beat up it gets — and let's not pretend that coolness is not a factor when picking a jacket. As with boots and jeans, wear and tear is a badge of honor you'll carry with pride.
There are downsides with waxed canvas. You eventually will need to reapply the wax to maintain that water resistance, but it's relatively easy to do — keep an eye on the elbows because that's the first place you'll notice the wax wearing away.
[Related: The 7 Best Waxed Jackets for Men | Thickest, Coolest, Best Value, and More!]
The Tensaw's canvas is 8 ounces per square yard (though it comes in a lighter 6oz version) which isn't ludicrously thick or thin. We've reviewed jackets at well over 20 ounces, but thickness like that takes a lot of work to break in. The Tensaw was designed with practicality in mind, as a shell that provides wind and water resistance without needing a trek to the Yukon to break in. Indeed, the not-insanely-thick weight is the point: it's light enough to provide a protective shell in spring and fall, and roomy enough that you can add another layer or two in colder weather.
You'll want to wear this jacket every time you head outside.
Lining
The lining is a noteworthy part of the jacket's identity. Tom Beckbe is not just an American brand, it's an Alabama brand, and they've lined the jacket with 100% cotton that's the same color as Alabama clay, or "alluvial clay.' It's a geological formation that stretches from eastern Texas to southern Virginia and if you're from the Deep South and grew up without being glued to your TV all weekend, there's an excellent chance you've had this color smeared all over your clothes. (And been yelled at by your mom tracking it in the house.)
When I interviewed the founder to get information on the jacket, he told me Alabama clay is,
something that's part of your DNA, basically. So when we started designing the jacket, much the way Barbour has a tartan pattern, we looked to traditional sporting apparel and asked, 'what are the elements of that apparel that makes it "of a place"? To us, tartan is very British. We said if we're going to take that same idea, what would it look like if it were Americanized.
The Alabama clay color is both vibrant and earth tone, adding a really distinctive contrast that has become a sort of shorthand for the brand.
Features
Gusseted arms and bi-swing back for better range of motion
Soft, stand up corduroy collar
Lots of pockets, plus a hidden flask pocket
Roomy fit
The fit is cut for mobility and to allow layering, not unlike the roomy Tin Cloth jackets from Filson. The Tensaw doubles down on mobility with a bi-swing back, tails, and gusseted underarms, so you can swing your gun when fowl hunting. (The tails can be clipped down if you're looking for a less casual look while out on the town.)
Pockets
You bet we got pockets. There are two large bellows pockets that are great for storage, and in case you get tired of unsnapping them every time you need to grab a shotgun shell, you can keep them open with continental style pocket restraints.
There are two sets of handwarmer pockets: one underneath those bellows pockets and another two just below the chest. The jacket also comes with an interior media pocket and a "Napoleon" pocket hidden underneath the buttons in the middle of the chest where you can keep your phone — or a flask for when it gets nippy.
Collar
The comfy, corduroy-lined collar is designed to always stand up: the popped collar protects you against the wind and, well, it gives you the excuse you've always wanted to keep your collar popped. it makes you look cool. It gives you the excuse you've always wanted to keep your collar popped.
Fit & Sizing
Fits large, works well for adding extra layers and providing mobility
If you prefer a more fitted look, i recommend sizing down and ordering a "tall"
You have two options for fitting.
If you want a roomy jacket that you can easily layer and swing your arms around in, get your standard size. I'm typically a large, or a 42, and you can see me wearing a Large on the right of the picture above.
If you normally wear a large, ordering one from Tom Beckbe will give you a jacket that has a lot of extra space for mobility and layering.
Because I wanted to wear the jacket around Manhattan a lot, I sized down and picked up a medium tall jacket. If you want a less baggy look, I'd suggest the size-down-and-order-tall move for yourself, too. If you want a sport ready coat and mobility focused jacket, get your normal size.
[Related: A 10-Year Barbour Waxed Jacket Review]
Tom Beckbe Tensaw Jacket Price
If your outdoorwear has been nylon from North Face or Columbia until now, that might seem pricy, but when compared against major hitters in the waxed jacket space, I think this is reasonable. Tom Beckbe's main competitor is probably Barbour and while that jacket is about $400, buying it with a liner brings the price past Tom Beckbe — plus, Barbour's canvas is thinner (at 6 ounces) and their jackets aren't made in America.
For a top of the line jacket that'll last you decades, this isn't jaw droppingly cheap but it's good value for the quality you're getting (and against which Tom Beckbe is competing).
[SHOP THE TOM BECKBE TENSAW JACKET HERE!]
Wrapping Up
Here are the bullet points:
Pros
Built with function in mind with pockets aplenty
Versatile design that works well in the city
Wind, water, and tear resistant
Cotton lining vastly increases comfort
Will age beautifully
Works well in most climates
Wide range of sizes and colors
Made in USA
Cons
Waxed canvas doesn't breathe too well
Quality comes with a price
May still be too outdoorsy for some urban environments
I think the real take away is that this jacket is an exceptional balance between form and function. It's a near perfect waxed jacket for any man at any age in any environment, be it trudging through Alabama marshlands or celebrating your hunt at the local chophouse.