Oak Street is a much talked about footwear company that was founded in 2009 by George Vlagos in Chicago. This company has the Windy City in its DNA: all of its boots are made with leather from Horween, one of America's most beloved tanneries, and the company's even named after a short street in the city's Gold Coast neighborhood.
Everything is handcrafted in the United States and many of their most popular shoes are handsewn moccasin-type shoes but when it comes to their boots, their Trench line is their most popular line of footwear. (At least that's what their Chief of Operations told me.)
So let's dive in.
[BUY THE OAK STREET TRENCH BOOT HERE]
Oak Street Natural Trench Boot First Glance
Natural Chromexcel®
Dainite sole
Most popular boot sold
Goodyear welted
Simple aesthetic
I picked up the Natural Dainite Trench Boot, which is Oak Street's most popular type of boot and their most popular type of leather. It also comes in black, brown, crazy horse, oxblood, kudu, and several rough-outs, to name a few. It's also available with leather soles and with a cap toe, but I went with the classic plain toe Dainite sole.
All the trench boots are Goodyear welted and this shoe has a very basic, uncomplicated, service boot aesthetic. It has a nice plain toe that some have called "duckbill-y," but I just love this kind of simple, minimalist boot that lets the construction and the leather speak for itself. It also comes with some really cool rawhide laces and while I don't usually love rawhide laces, they work incredibly well with the golden leather.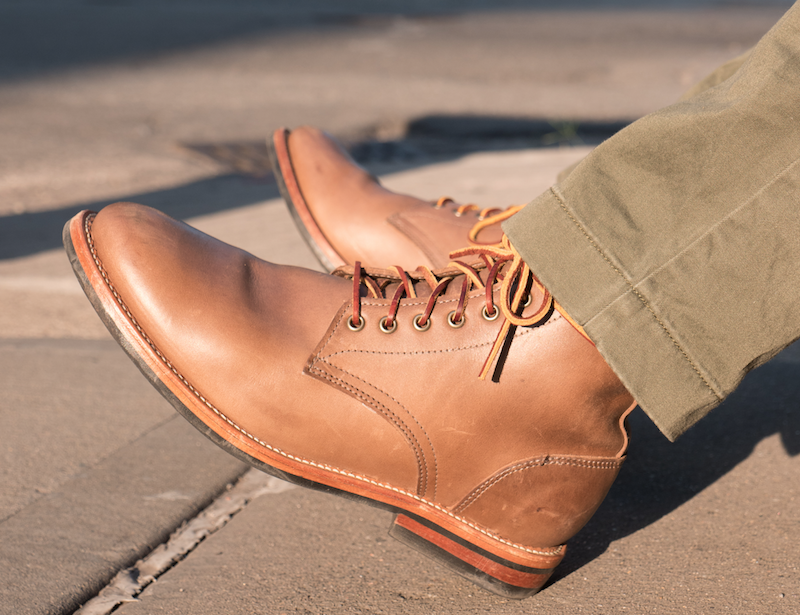 This is actually my first pair of "natural" leather boots I've ever owned, and I'm officially a convert. Sure, they're less versatile than plain brown boots, but when it works with an outfit it's really special. Personally, I really like these with green khakis (which is why all the pictures in this review are of me in green khakis) but they'd also be great with blue khakis or any kind of jeans. It depends on how adventurous you want to be — I'm a pretty boring dresser myself, so the craziest I get is green pants.
The shoe is partly lined with calfskin down in the toe box, it has a nice Dainite sole, it's triple stitched along the side and double stitched along the counter. The rest of it is single stitched so you can tell it's durable but it's not trying too hard.
Quality control-wise, I had no issues. There was no wheeling along the stitches, no loose grain, and no loose threads, although after a week of wearing them I did wind up with a few loose threads by the heel and laces. I wasn't brokenhearted over this though; these are gorgeous boots with rigorous QC.
Oak Street Boots Leather
Natural Chromexcel®
Combination tanned leather
Scratches are less noticeable than on brown CXL
May need more cleaning
Again, this boot comes in a ton of different types of leather but I decided to get the most popular kind so that my review can be the most useful to the most people. (I make a lot of sacrifices, I know.)
This is natural Chromexcel® and if you've read my other reviews, you're probably a little tired of hearing about this kind of leather. But for the uninitiated, it's an enormously popular leather from Chicago's Horween Leather Company, which was established in 1905 and widely considered one of the world's best tanneries.
Chromexcel uses a combination of vegetable- and chrome-tanning and it's used on a huge variety of boots from Thorogood (cheap) to Viberg (extremely not cheap). The leather is a little over 2 millimeters thick so it's enough to feel substantial but it managed to be easy to break in.
One nice touch is that when you get these boots Oak Street includes a little booklet with information about the leather that lets you know how fancy the leather is, that it undergoes 89 separate processes, taking 28 days and using all five floors of the Horween facility. During the production they use food grade beef tallow, cosmetic grade beeswax, marine oil, chrome salts, tree bark extracts, and lots of other secret ingredients, ultimately resulting in a slightly corrected full grain leather that's both durable and supple.
I really want to emphasize that Oak Street, at least judging from this shoe, is really good at selecting their leather. A lot of people complain that there are too many Chromexcel boots with loose grain and I'd agree: my Wolverine 1000 Mile boots are riddled with loose grain and premature creasing. Oak Street's leather was fantastic.
As natural leather, t doesn't have quite as much of the famous depth of color for which Chromexcel is renowned and it's a bit harder to get it to hold a shine. But the upside is that in my experience, it doesn't scratch quite as easily as the regular brown leather, or at least the scratches aren't as noticeable.
The downside with this golden leather is that dirt is more noticeable on it, so they might need care a little more often.
Oak Street Boot Leather Care
Clean with damp cotton cloth
Apply Venetian Shoe Cream
Brush with horsehair brush
Condition every few months
When it comes to taking care of Chromexcel you'll hear a lot of different recommendations out there. This is because it's such a popular leather that a ton of companies use it and many of them make their own leather care products, but most people who know what they're talking about just recommend you use Venetian shoe cream and that's what Oak Street recommends as well.
First you clean the boots with a damp cotton cloth (they recommend using distilled water, but it's not a big deal if you don't) then you put some of the shoe cream on a cloth and work it into the leather all over.
Then you gotta buff it with a good horsehair brush and while horsehair sounds like a gimmick, it's useful because the thin hairs do a better job of pushing the cream into the leather's pores. Give it a swift back and forth to buff the shoes all over, and then let it dry in a well-ventilated area.
That's pretty much it. If you want a shinier leather you can go with Saphir's Renovateur, but remember this one is natural leather and I'm a little wary of how it would look if it's shiny. But if you like looking like you're wearing gold on your feet, go right ahead.
[Looking to waterproof them? Take a look at my guide to waterproofing nice boots.]
Oak Street Boots Sole 
Dainite outsole
Good balance of grip, comfort, flexibility, durability
Leather waterlock soles
360-degree Goodyear welt
The outsole is Dainite, which is a very beloved rubber sole from Britain. The studs look pretty funky and modern, but it's actually been the same kind of rubber since 1910,
The idea with Dainite is that it's meant to provide comfort and grip in all conditions without attracting dirt, which is definitely an issue with a leather sole. Dainite is not quite as soft as leather, but it does have good shock absorption, durability, and flexibility.
[For a more thorough comparison of rubber vs leather soles, check out my Wolverine Vs. Thursday Boots article.]
I go back and forth on how well Dainite holds up in inclement weather — I do think it's better than leather, I think Vibram might be a bit better as far as grip goes but generally speaking, Dainite is a really good compromise. Softer than oak or cork, harder than leather, and relatively grippy.
After the rubber there is stacked leather in the heel and what's interesting is that the sole also has oiled leather waterlock soles, which means the leather has been oiled to make it extra water resistant. There's also a fiberglass shank for arch support and stability.
Adding to that water resistance is the fact that this is a very evenly stitched Goodyear welt, so there's a layer between the upper and the sole. Usually it's leather or rubber but I believe Oak Street uses a canvas rib. This makes it a lot easier to resole and it makes it, again, pretty water resistant.
Finally, this is a 360-degree Goodyear welt which is a tiny bit more water resistant than a 270-degree welt, which is what you see on Red Wing's Iron Rangers or Wolverine's 1000 Miles. It's not a huge difference with water resistance but some people prefer a 360-degree welt like this one for that reason, even though it makes for an ever-so-slightly a slightly bulkier heel that some don't find as aesthetically pleasing. 
Oak Street Boots Fit & Sizing
Runs from sizes 7 to 14
Just one width available
Good weight
Toes tent to slide into the toecap
Right now this shoe runs from sizes 7 to 14 (though that could change at any moment) and there's just one width available so you might have issues if you have very wide or narrow feet.
My width is a D, or "normal," so I have no issues and it fit true to size. While many of my boots run large and I have to buy a size 11, I'm an 11.5 in Oak Street. (My Brannock is about halfway between 11.5 and 12.)
The last is called the Elton last, which has a bit of a reputation. The pros are that it's very aesthetically pleasing, it's not too wide or blocky, it's a nice clean design. (Again, some people think it's too "duckbilly" but I like it.)
A common complaint, though, is that it's not super comfortable at the toe. It often feels like my toes are sliding down into the end of the boot. The fit is good otherwise, but when I'm standing still my toes slide away from the heel. One of my YouTube viewers Seth told me that he fixed this issue by using some Dr Scholl's tri-comfort inserts, which you might want to consider.
But they're still great boots. I also want to mention that I really like the weight of these shoes, which might not seem all that important but I think when it comes to boots it's something that guys do consider A big aspect of wearing nice boots, even if you're not thinking about it, is that they're powerful shoes. They're not just durable, they're sturdy and solid and masculine, and the weight really plays a role in that.
Vibergs are too heavy, but some boots (like Chippewa) aren't heavy enough to convey that feeling of strength. I think Oak Street gets the feeling right.
Oak Street Boot Price
The price varies, but a pair of these shoes will set you back $426.  
Now, $426 is pretty pricy. Sure, it's a lot less than Alden and Viberg and it's a really high quality boot, but I would have been happier with about $380. That's not to say I think it's overpriced, exactly, I just wouldn't call it fantastic value.
But hey, they're good boots and if you like the upper and don't care if you get a beat up leather sole, the leather sole version of these shoes is quite a lot cheaper at $426.
[BUY THESE OAK STREET BOOTS HERE!]
The Takeaway
There's a lot to like about these boots. They have a clean aesthetic, super high quality leather, they're unusually water resistant — waterlock soles, 360-degree Goodyear welt — they've got Dainite soles, and I love the weight of these things.
I'm less wild about the fit and the price, which I acknowledge are the two most important aspects for a lot of people. But these shoes still look so great, I'm always excited when an outfit calls for them.
The following two tabs change content below.
Nick English
By day: Manhattan-based journalist with reporting experience on four continents, published in Vice, Men's Health, Popular Science, and a bunch of other places.By night: ravenous consumer of anything and everything related to high end men's boots.Stridewise is where I nurture a maniacal obsession with footwear and share my findings. Say hey:
[email protected]
Latest posts by Nick English (see all)