Oak Street is a much talked about footwear company that was founded in 2009 by George Vlagos in Chicago. This company has the Windy City in its DNA: most of its boots are made with leather from Horween, one of America's most beloved tanneries that we've visited in Chicago, and the company's even named after a short street in the city's Gold Coast neighborhood.
Everything is handcrafted in the United States and many of their most popular shoes are handsewn moccasin-type shoes. But overall, the company's most popular item is their super versatile Trench boot.
So let's dive in.
Oak Street's Trench Boot: Pros and Cons
Got somewhere to be? Here's our list of who should and shouldn't consider the Trench boot so you can get a quick need-to-know right now.
Pros
Simple, versatile design
Wider toe box is very comfortable
Made in USA
Suitable for D or E width feet
Pretty fairly priced; American boots like this are rare for under $500
Simple Yet Luxury
Oak Street Bootmakers Trench Boot
Oak Street might make America's best luxury city boot. Sturdy and durable but not too heavy or casual, it also has a deceptively wide toe box for extreme comfort.
See All Versions
We earn a commission if you make a purchase, at no additional cost to you.
Cons
Not a cheap boot
Some prefer speed hooks on boots
No narrow or extra wide sizes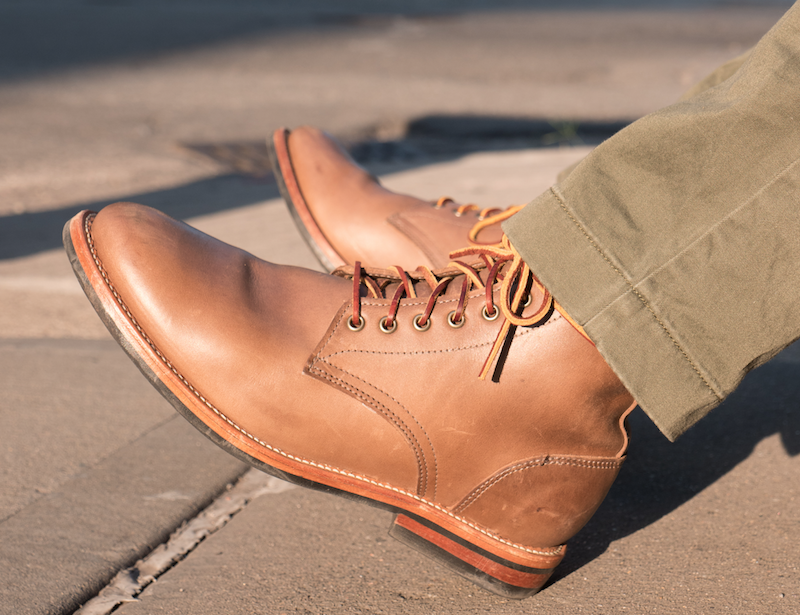 Oak Street Natural Trench Boot First Glance
Natural Chromexcel®
Dainite sole
Simple aesthetic
Rounder toe box
Goodyear welted
The Natural Dainite Trench Boot is Oak Street's most popular model and leather, but it comes in several other staple and seasonal leathers that have included wild boar and kudu. Expect Black, Brown, Natural, Natural Roughout, and Color 8 (burgundy) Chromexcels to be on offer just about any time.
The "Natural" leather is so named because the hide was never dyed. When you learn that, you might start thinking of the golden color as more like a chromey skin color — that's what it is! You might think it less versatile than brown, but it matches better with black pants and they're great with just about any trouser that isn't khaki. (I love them with green the most.)
The Trench has a basic, uncomplicated, service boot aesthetic, which is to say it has a low profile toe and simple lace up pattern. I'm a huge fan of the simplicity: it makes it versatile and puts the leather and construction center stage. Tall and close cut, it can put off an outdoorsy vibe while working just fine in smart casual environs.
Goodyear welted for water resistance and resoleability, the Trench is partly lined with calfskin down in the toe box to give it some structure. It's triple stitched along the vamp, double stitched on the heel, and single stitched everywhere else — so you can tell it's durable, but it's not trying too hard.
Quality control-wise, I had no issues. There was no wheeling along the stitches and no loose grain to speak of, which is extremely rare with Chromexcel leather. After a week of wear them I did wind up with a few loose threads by the heel and laces, but those are easy to burn off with a lighter. Oak Street is clearly serious about quality control.
This Natural Chromexcel Leather
Natural Chromexcel®
Combination tanned leather
Scratches are less noticeable than on brown CXL
May need more cleaning
This boot comes in a ton of different types of leather, but I picked he most popular kind so my review could be the most useful to the most people. (I make a lot of sacrifices, I know.)
This is natural Chromexcel®, the undyed version of America's most beloved boot leather. Every boot company worth its salt has at least one model in this leather, which is combination tanned in Chicago by Horween Leather Company, broadly recognized as America's best tannery.
A nice touch is that Oak Street includes a little booklet that lets you know how fancy the leather is: it undergoes 89 separate processes, taking 28 days and using all five floors of the Horween facility. During the production they use food grade beef tallow, cosmetic grade beeswax, marine oil, chrome salts, tree bark extracts, and lots of other secret ingredients, ultimately resulting in a slightly corrected full grain leather that's both durable and supple.
I really want to emphasize that Oak Street, at least judging from this shoe, is really good at selecting their leather. A lot of people complain that there are too many Chromexcel boots with loose grain and I'd agree: my Wolverine 1000 Mile boots are riddled with loose grain and premature creasing. Oak Street's leather was fantastic, showing true skill in the "clicking" process at their factory.
Natural leather hides scratches more easily than brown, though the downside of this golden leather is that dirt is more noticeable on it. Expect it to darken wonderfully with coming years and plenty of regular conditioning. Horween suggests a coat of Venetian Shoe Cream or Saphir Renovateur once or twice a year.
[Further reading: How to Clean and Care For Chromexcel Boots]
Oak Street Boots Sole
Dainite outsole; leather also available
Good balance of grip, comfort, flexibility, durability
Leather waterlock soles
360-degree Goodyear welt
The outsole is Dainite, considered the crème de la crème of rubber soles since they were launched in 1910. They're celebrated not just for their balance of softness and durability, but also their aesthetic: while the recessed lugs offer grip, they're perfectly flat in profile.
The boot also comes with a leather sole at a lower price: currently $462 versus $488 for Dainite. I'm a big fan of leather soles myself, as I love their softness and flexibility, and Oak Street's is oiled to be more water resistant than your usual leather sole, though I concede the grip isn't as great as a luggy Commando sole. Dainite is generally considered the best compromise between chunky lugs and soft leather with regard to softness, durability, and grip.
Constructed with a vegetable tanned leather insole and midsole with a layer of cork filling between them, the Trench is a very traditionally made boot with a generous thickness to its sole materials. This build means that with time and wear, your feet will sink into the leather and cork and produce a boot that feels custom made to your foot. This custom feeling is the key to why so many guys fall in love with the world of boots.
Oak Street Boots Fit & Sizing
Runs from sizes 7 to 14
Just one width available, but it fits D and E
Order half a size smaller than your true size
Good weight
Right now this shoe runs from sizes 7 to 14 and there's just one width available.
Oak Street suggest ordering true to size, though I've found this boot fits fine when you order down half a size like most boot brands tell you to do. Get yourself measured on a Brannock device in a shoe store and subtract 0.5 from that number. I'm an 11 in Red Wing and Wolverine and most boot brands, and while I ordered 11.5 in Oak Street and they're perfectly comfortable, I would have a comfortably snug fit with an 11. (I've lent these boots to friends with feet a half size larger than mine, and they've loved them.)
The Elton last these are made on is wide at the forefoot, so it's very comfortable and doesn't produce any of the slight pinky pinch you might be used to if you wear other brands. The round toe also means that guys who wear E (or wide) sizes are usually comfortable ordering true to size with the Trench boot.
Some of my YouTube viewers have complained that they feel their toes sliding down into the end of the boot that they fixed with some inserts from Dr Scholl, but I didn't have any issues myself. Just know that if you do have this issue, there's a cheap fix from ol' Dr. Scholl.
Oak Street Boot Price
$462 for leather soles
$488 for rubber soles
A nice bonus is that the price changes based on the sole, so you can "save" cash going with leather.
Now, that's pretty pricy relative to some American-made brands like Red Wing, but they're cheaper than higher end brands like Nicks and Whites.
Oak Street deserves a seat at that table. Most Goodyear welted American boots like those brands I just mentioned are blockier and more akin to work boots, and when you're talking Nicks and Whites, they're often heavy to the point of unwieldy. Oak Street make a tremendous service boot that has weight (but not too much), a wide toe, and a casual elegance. The niche of "well made, great QC, not really for work but not flimsy either" is one that Viberg also falls into, and their service boots cost about $800. It's a city boot, and a great one at that.
I don't think this is overpriced when you consider their competition, materials, and American provenance.
Simple Yet Luxury
Oak Street Bootmakers Trench Boot
Oak Street might make America's best luxury city boot. Sturdy and durable but not too heavy or casual, it also has a deceptively wide toe box for extreme comfort.
See All Versions
We earn a commission if you make a purchase, at no additional cost to you.
The Takeaway
There's a lot to like about these boots. They have a clean aesthetic, super high quality leather, they're unusually water resistant, they've got Dainite soles, and I love the weight of these things. Aesthetically, they're so simple that there's practically nothing to complain about, unless you dislike the rounder toebox. But personally, I find them unusually comfortable as a result: my Trench boots have led me to lose patience with the fit of almost all of my other boots, and once you've experienced the roominess, I think you'll know what I mean.
These boots are beautiful and comfortable, and I'm always excited when an outfit calls for them.
The following two tabs change content below.
Nick English
By day: Manhattan-based journalist with reporting experience on four continents, published in Vice, Men's Health, Popular Science, and a bunch of other places.By night: ravenous consumer of anything and everything related to high end men's boots.Stridewise is where I nurture a maniacal obsession with footwear and share my findings. Say hey:
[email protected]
.
Latest posts by Nick English (see all)