Red Wing Heritage boots are a popular choice for work and casual wear due to their durability and timeless style. They're handmade here in the United States and their resoleable construction, combined with the very hardy leather uppers, makes them able to last for years, even decades.
But like any other leather boot, they can become dirty, scuffed, and dried out over time. In this article, we will provide step-by-step instructions on how to properly clean your Red Wing boots to keep them looking their best. No matter the weather conditions that you are dealing with outside of your home, these tips will help you get your boots looking better than new.
How to Clean Red Wing Boots: Step By Step
Before you condition your boots, it's a good idea to clean them. Otherwise, you may push dirt and impurities further into the leather, burying them under the conditioner's oils and waxes for all eternity!
The good news is that it's fairly simple. You just need a brush, a rag, some water, and some leather cleaner. In fact, most boots will do just fine being rubbed down with a wet rag, paying extra attention to the stitching and seams where dirt can hide.
For a deeper cleaning, here are some easy steps to follow:
Begin by removing any dirt or debris from the surface of your boots. Use a soft, horsehair brush or cloth to gently scrub away any caked-on dirt or mud.
Best Value Cleaner
Cobbler's Choice Co. Leather Cleaner
An inexpensive cleaner made with all natural ingredients, it's easy to apply and contains tea tree oil for some anti-microbial properties.
Buy Now
We earn a commission if you make a purchase, at no additional cost to you.
09/25/2023 09:12 pm GMT
Next, get your leather cleaner. We suggest Cobbler's Choice Leather Cleaner, which is cheaper and easier to use than Red Wing's Foam Leather Cleaner, although Red Wing's is a little more powerful. If using the foam cleaner, dip a cloth or sponge into the solution and gently scrub the surface of your boots, paying extra attention to any areas that are particularly dirty or scuffed.
Once you have finished scrubbing, use a clean, damp cloth to rinse away the soap and dirt. Be sure to remove all suds and soap residue from the boots to avoid leaving any streaks or residue behind.
The Official Red Wing Cleaner
Red Wing's Foam Leather Cleaner
Specially designed for Red Wing's leathers, it includes a sponge for easy application.
Buy Now
We earn a commission if you make a purchase, at no additional cost to you.
After rinsing, use a dry cloth or paper towels to blot away any excess water from the surface of your boots.
Once your boots are clean and dry, you can use a leather conditioner to moisturize the leather and keep it supple. More on what to use when in the next section.
Finally, let your boots air dry completely before wearing them again. This will help to prevent any odor or moisture from accumulating inside the boots, which can cause them to become uncomfortable or damaged over time.
This video, starting at the 7:30 mark, has us using Saddle Soap on Chromexcel boots. The same method works for Red Wing leather.
When to Use Saddle Soap on Red Wing Boots
If a regular cleaner like Cobbler's Choice or Red Wing's Foam Leather Cleaner aren't doing the job, you may want to level up.
Originally designed for cleaning horse saddles, Saddle Soap is an astringent, which means it constricts body tissues. This makes it very good at pulling out stains, dirt, wax, and oil from leather. But remember that people tend to care about the appearance of their boots more than very thick leather saddles. if used improperly, Saddle Soap won't just pull dirt out of your leather, it'll pull out oils, waxes, and even dye.
Fiebing's Yellow Saddle Soap
The ultimate deep clean for leather, Saddle Soap will take care of any stain — just wash it off before it starts lifting out dye as well.
Check Best Price
We earn a commission if you make a purchase, at no additional cost to you.
09/25/2023 10:12 pm GMT
It should be a last resort, but the video above shows how to go about it. In short:
Brush the boot down with a horsehair brush.
Dip the brush in water, then rub it onto the soap in the tin to make a lather.
Scrub the boot in a circular motion for 5 to 10 seconds on one panel at a time, pressing lightly.
Remove as much of the saddle soap from that one panel you've been cleaning with a dry paper towel or microfiber cloth. Remember to just use one panel at a time so you can remove the Saddle Soap quickly.
If a stain still won't lift, you can rub some soap deeper into it. Use the back of your finger nail to push it deeper into the stain if need be.

Once all the stains are out, give the panel another once over with the soap to even out the color.
Wipe all the soap off with a wet towel or cloth, being sure to include the stitching and folds.
Repeat for the other panels of the boot.
Let the boot dry and condition it the next day.
Be sure you don't forget to condition the boot, as the soap will have dried it out considerably. How do you condition your Red Wing boots though, you ask?
[Further Reading: The Complete Guide to Using Saddle Soap]
How to Condition Your Red Wing Boots: Step By Step
Proper care and maintenance are important to ensure that your boots stay in good condition for as long as possible. One of the key steps in maintaining them is conditioning the leather.
Most of Red Wing's boots are oil tanned leather, a form of chrome tanning that includes a range of oils that improve weather resistance. Most of their colors can be treated the same way, but there are some variants — like their roughout leathers or "Rough and Tough" nubucks — for which Red Wing suggests a different approach.
Here's a guide on how to condition any boot you've got.

Amber Harness and Oro Legacy Leather Care
These are the most popular leathers for the Iron Ranger and the Classic Moc Toe, respectively. Remember, you've already cleaned your boots at this point.
Here is What You'll Need:
Clean Rag
Horsehair Brush
Horsehair Dauber Brush (optional)
For Oil Tanned Leathers
Red Wing's Leather Care Kit
Get all your products in one: a cleaner, conditioner, and protector, all designed specifically for Red Wing's oil tanned leathers, including Oro Legacy and Amber Harness.
Buy Now
We earn a commission if you make a purchase, at no additional cost to you.
2. Condition The Boots
The best ways to condition these types of leather is to use a product specifically formulated for use on oil-tanned leathers. Naturally, it makes sense to gravitate toward Red Wing's own product, the Leather Conditioner that's designed for their own boots, but if you have some on hand there's nothing wrong with the slightly cheaper Venetian Leather Balm. It's less effective at waterproofing, but better at maintaining the color.
Begin by preparing the area where you will be conditioning your boots. Make sure the surface is clean and dry.
Take a small amount of conditioner and place it on a clean, dry cloth. You can also use your hands if you don't mind smelling like conditioner for a while.
Gently rub the cloth with the onto the leather surface, making sure to cover the entire surface of the leather.
Once the leather has been conditioned, buff it with a brush to soften the conditioner and allow it seep into the leather and spread more uniformly.
Buffing the leather helps to remove dirt and debris while also maintaining the natural shine of the leather.
Regular buffing with a horsehair brush can help maintain the shine of the boots and remove dirt and debris that can cause damage over time. It is a good idea to buff the boots regularly to keep the leather lustrous.
Briar Oil Slick Leather Care
Red Wing's Briar Oil Slick leather is a unique and durable leather option; we ordered it on our Blacksmiths. The oil slick finish is achieved by applying a special oil to the surface of the leather, which helps to protect the leather from water and other elements while also giving it a distinctive look.
Like any leather, Briar Oil Slick leather requires proper care in order to maintain its appearance and longevity. Here are a few tips for keeping your Red Wing boots in great shape.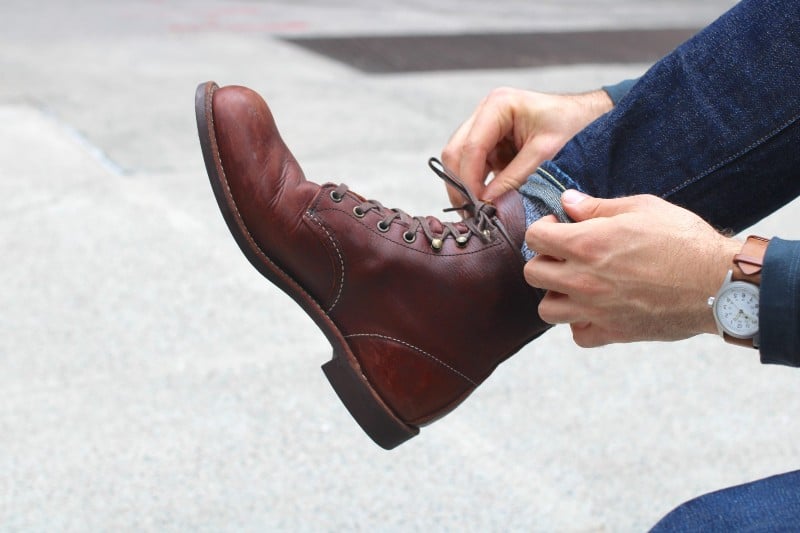 Clean your boots regularly. Use a soft brush or cloth to remove any dirt or debris from the surface of the leather. Use a mild leather cleaner designed for oil-tanned leather, like Red Wing's.
Condition your boots with Red Wing's Boot Oil. The difference here is that for Briar Oil Slick, Red Wing recommends their Boot Oil, the reason being that it's formulated for boot with more oil added during the tanning process. It's made with pine pitch and mink oil. These components are extra effective at weatherproofing boots, just note that it darkens leather. If you're more interested in preserving color than boosting water resistance, grab their Leather Cream.
For Hard Wear
Red Wing's Care Kit #1
Everything you need for leathers you don't mind darkening, this includes Boot Oil and Leather Protector to really weatherproof your boots.
Buy Now
We earn a commission if you make a purchase, at no additional cost to you.
Protect your boots from the elements. If you know you'll be in a wet or snowy environment, apply a waterproofing agent like Red Wing's Leather Protector to help keep them looking great. All of these are in the kit above.
Store your boots properly. To keep your boots in great shape, store them in a cool, dry place.
By following these tips, you can help ensure that your Red Wing Briar Oil Slick leather boots look great and last for years to come.
Muleskinner and Rough and Tough Leather Care
Red Wing's Muleskinner and Rough & Tough leathers are two of the company's most iconic leather options, known for their durability and rugged good looks. Both are oil-tanned leathers that are designed to withstand the rigors of heavy use and exposure to the elements.
Red Wing's Rough & Tough Leather Care
It's a little known fact that Rough & Tough leathers are nubuck, a top grain leather that's been sanded or buffed to give it a slightly velvety surface, though Red Wing's is so heavily oiled that the handfeel is simialr to a well conditioned leather.
Simply follow the same steps as the previous leathers, but instead of Boot Oil or Leather Conditioner, it's recommended you use their Leather Cream instead.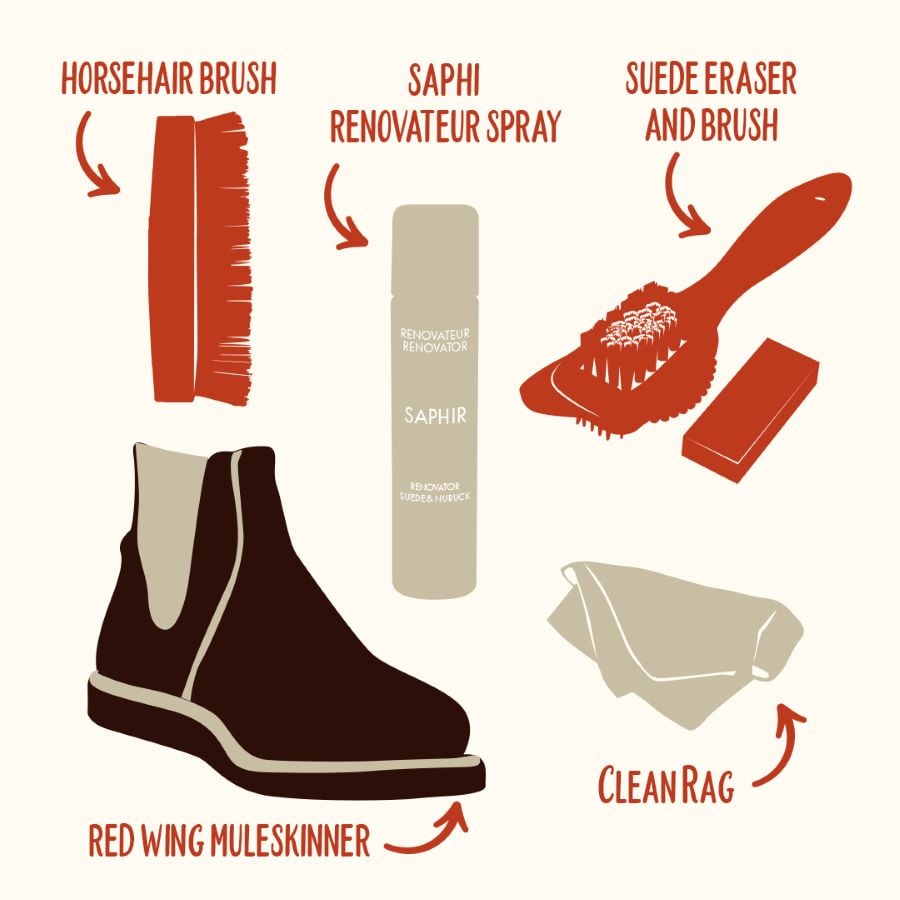 How to Care for Muleskinner Leather
Muleskinner leather is a roughout leather, meaning it's full grain leather (like their others) but flipped inside out, exposing the fuzzy "rough" side. It's then waxed for some extra water resistance. This leather is known for its ability to develop a unique patina over time as it's exposed to water, sunlight and wear.
To care for Muleskinner leather, Red Wing recommends to avoid using any kind of polish or wax on it.
To care for Muleskinner leather, Red Wing recommends to avoid using any kind of polish or wax on it, since it will interrupt the natural patina development. Avoid oils and waxes because they'll smooth the nap down and wreck the look. Instead, you want to treat them like suede.
For Suede and Roughout
Cobbler's Choice Suede Eraser and Brush
Combining the powers of the eraser and the stuff bristled brush will help to keep the fuzzy nap of your suede or roughout clean as can be without using liquids.
Buy Now
We earn a commission if you make a purchase, at no additional cost to you.
09/25/2023 09:27 pm GMT
Some general tips for keeping your Muleskinner in top shape:
Start with the suede brush, swiping in one direction, and watch the nap lift and the dirt vanish.
For more stubborn dirt, rub with an eraser just like you did with your pencil and paper in grade school.
Use the brush again to remove the flecks of rubber.
Repeat if necessary.
Spray with Saphir Renovateur, an excellent conditioner formulated for suede, roughout, and nubuck. The aerosol delivery system lets it condition the leather without matting the nap. Hold the boot a few inches away from the can and spray the whole thing in short bursts.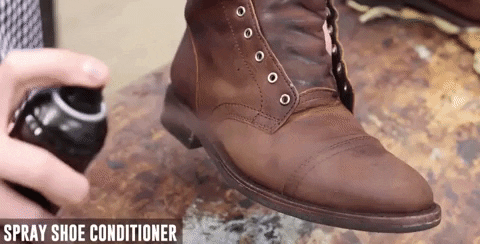 How Often Do Red Wing Boots Need Conditioning?
The frequency with which you should condition your Red Wing boots depends on a few factors, including the type of leather they are made of and the amount of wear and tear they receive. For boots that get regular city wear, once a season is usually sufficient.
If you wear them hard, condition them every month or two. You'll know they need conditioning when the leather dries out. One symptom is that a drop of water will vanish into the leather instead of sitting on the oils on its surface.
To determine how often your boots need conditioning, consider the following factors:
The type of leather: Different types of leather require different levels of care and conditioning. For example, oil-tanned leather needs more conditioning than Rough & Tough, which is (even) oilier.
The climate: Humid or dry climates can have an impact on the condition of your boots. If you live in a dry, arid climate, you may need to condition them more frequently to prevent the leather from drying out and cracking.
The level of wear: The more you wear your boots, the more they will be subjected to wear and tear. If you wear your boots frequently, you may need to condition them more often to keep the leather in good condition.
In general, it's a good idea to condition your Red Wing boots every few months or as needed to maintain their appearance and prolong their lifespan. If you're not sure how often your boots need conditioning, you can consult a professional cobbler or the manufacturer for guidance.
Frequently Asked Questions
Should I oil new Red Wings?
It's not necessary to oil Red Wing boots right out of the box; they got oiled during production. Spend a season in them first.
How long do Red Wings take to break in?
Expect at least five days of wear before your boots get comfortable. It's best to bring a spare pair of shoes with you on your first few outings in case you need to swap out of them. The good news is that after that first week, the boots will get more comfortable every day.
What does Red Wing leather protector do?
Their Leather Protector extends the life of the leather by forming a barrier on the leather that prevents water, salt, and other elements from penetrating its surface. Lightly mist footwear six inches away from the leather in a sweeping motion.
The following two tabs change content below.
Veljko Vesic
Hey there! I'm Veljko Vesic, a wordsmith with a soft spot for boots and durable apparel. I thrive on the thrill of combining my love for fashion with the power of the written word. When I'm not busy crafting engaging content, you'll find me exploring hiking trails, hunting for the perfect pair of boots, or diving into research about long-lasting fashion trends.
Latest posts by Veljko Vesic (see all)