I am always going on and on about what makes a product truly worth the price. While there is often much more to the way that we evaluate, enjoy, and ultimately use the things we buy and own, at the end of the day everything is just so damn expensive.
The real value of a product is often more complex than a simple checklist of materials or construction methods. We tend to underestimate how things like design, marketing, and retail associated costs contribute to overhead and ultimately lead to what something is priced. So today we're looking at one of the most popular leather jackets on the market: AllSaints.
They clearly pay a pretty penny for their marketing, but how does the jacket feel in your hands and the all important question: how does it make you feel?
AllSaints Jacket Pros & Cons
Got somewhere to be? Here's a quick summary of my thoughts after a month of wearing the Cora jacket.
Pros
Clean, classic style
Soft leather feels and smells luxurious
Slim, structure fit gives off an elegant profile
Comfortable lining feels nice even when wearing a t-shirt
Involvement with the Leather Working Group
No external branding or weird stitching, accents, or other faf
Cons
Price; $649 is a little bit steep, though in line with the market
Construction methods, in particular the shoulder pads are an annoying cost saving measure disguised as a style choice (more on that below)
Double zipper is just straight up annoying and not necessary on fashion focused jacket
AllSaints, the Brand
"Posh rocker" vibe
Founded in 1994
AllSaints was started in London in 1994 and from its very early stages had a fairly clear sense of who it wanted to be and where it wanted to go. Through dressing and collaborating with up and coming musicians, the brand cultivated a certain posh rocker vibe that more or less remains, to this day. While the ramskull logo is most often recognized on t-shirts, sweaters, and other ready to wear pieces, a core product category for the brand is their leather, which ranges from fairly classic biker and rocker stylings to more avant-garde street looks.
But far and away one of their most classic and most popular styles is the Cora leather jacket: a clean, simple, slightly structured café racer.
I've always thought of AllSaints as a sort of fashion sweet spot for folks who have general classic taste but want to spice it up a little bit. Maybe you're a bit bored of J-Crew, don't really want to go as hard as John Varvatos (in style or price), and you are nowhere near being able to afford Yves Saint Laurent, AllSaints could be a cool brand for you to check out.
[Compare with our review of Schott NYC's Cafe Racer]
AllSaints Leather Quality
The classic Black is cowhide
Very soft, tumbled leather
Consistent grain, no mismatched panels
Chrome tanned, but high quality
The Cora jacket is typically offered in a couple of different hides and colorways depending on the season, with some being made from sheep or lambskin and others being made from cow hides. This jacket is cowhide, which is more expensive than the lambskin and sheepskin you tend to see in brands at this price point. That's a good thing: cowhide is more durable than the more widespread lamb.
AllSaints don't specifically state calfskin, but you'd be forgiven for thinking that was what is being used here in the case of the classic black because this leather really is buttery soft. While it is certainly a chrome tanned hide, a fairly regular amount of wear over the past month or so has yet to reveal any of the tell-tale signs of poor quality – no fibrous split grain along the edges, and no sickly wet blue color emerging from the inky surface.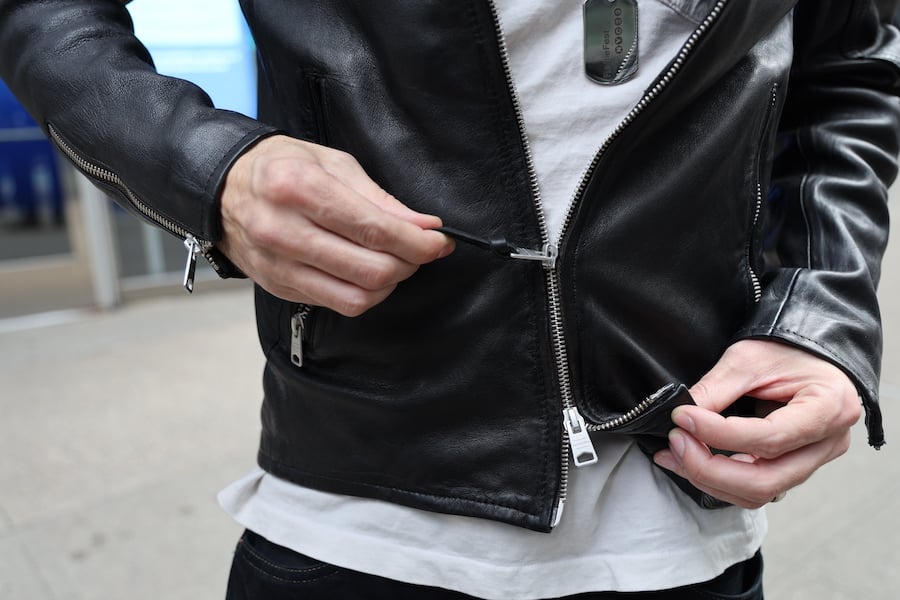 AllSaints Cora Jacket Materials & Construction
While the jacket is made in India, a place that doesn't necessarily have the best reputation for tanneries, AllSaints does say they work closely with the Leather Working Group in order to source leather from sustainable tanneries, which is good to look for when a jacket's under a thousand bucks and you want to know your leather's not giving skin lesions to developing world tannery workers.
Overall, the texture of the leather is, for the most part, very consistent throughout, likely being owned to this being a thinner, corrected leather. The stitching is nice and clean and even, with no signs of loose threads or pulled stitches that I've yet found. The zippers are all pretty standard fare, not too heavy or too cheap, and the interior of the jacket is lined with a soft recycled polyester. Now, normally, that would be a major point of contention for me, as at this price point I would much rather see a more premium material like cotton or silk.
But, in this case, whatever method by which they have reprocessed the polyester has left it feeling more akin to a nice, well-worn cotton t-shirt material. Not silky, but soft and comfortable against the skin should you elect to wear short sleeves, plus the fact that it's recycled is another nice sustainability boost, like the Leather Working Group certification.
My Main Gripe
The only major issue I might have with the construction (as anyone who has watched one of my other recent, rather colorful jacket reviews can tell you) is the use of smaller sections of leather panels to create the jacket. The general rule of leather goods is the fewer single pieces of leather used, the better: the more pieces of leather used the cheaper the jacket is to make, the cheaper it looks, and the easier it is to tear. That's why you see an awful lot of jackets with a seam running along the chest.
Now, this jacket doesn't have that chest seam, thank goodness. And there are some benefits to the extra pieces of leather: for instance, the smaller panels on the sides add a little shape and movement to the jacket, and along the back where it flair they give a nice contour when you're sitting.
My biggest gripe is along the sleeves, where you see smaller patches of leather and, most egregiously, where the faux shoulder pads are applied. Some guys like an extra piece of leather on the shoulder to add some bulk, which is fine, but the shoulder piece you see above? A quick run of the finger underneath will reveal that it's covering a hole, or a gap, where leather was taken out of this piece. Our theory is it was used for the unusually small piece of leather at the wrist cuff you see below.
While that might not be a major issue for some, and it's fine if it isn't, it is still a potential failure point for the jacket years down the road. And for what this jacket costs, one should expect many years of normal, reasonable wear. I personally would have much preferred forgoing the shoulder pads entirely, opting for one smooth sleeve of hide. So this is a place where money was saved.
AllSaints Cora Jacket Fit & Sizing
Order usual jacket size
Fits somewhat slim, not skinny
Fortunately ,we don't have to spend too much time here as its pretty straight forward. Your normal jacket size will likely be the move.
Overall, it's a fairly slim cut, so if you do have a little extra padding in the middle you might not love the profile of the jacket as it is a very minimal, very vertical cut. If that is the case, I'd probably look to one of their more traditional biker styles like the Milo, the Conroy, or the Dren.
I personally am a 36 regular and the jacket fits perfectly, with just a touch of snugness to give structure. As this is a more polished look, it's not something I plan on really layering much under but, your mileage may vary.
AllSaints Cora Jacket Price
At $649, the Cora Leather jacket is not cheap. We rub shoulders with a lot of guys who will only spend four figures on Japanese horsehide jackets but for the average person, $649 is pricy, something most people will consider an investment piece.
Is AllSaints Worth It?
Is it worth the price? Well, it is. And it isn't. It kind of depends on what you want the jacket to be, what your expectations are, and what you can afford.
The standard bearer in the leather jacket world is Schott, though their cafe racer is $300 more expensive. With that extra money, you get a jacket made in New Jersey rather than India, with thicker leather and fewer panels of it.
So should you just save up an extra $300 and spring for a Schott? Maybe.
But at that point, should you just save up another $300 and get something from Mr. Freedom or Y'2?
Well hell, if you're going to spend $1200, you might as well go all out and spend $2k on something from The Real Mccoy's?
I'm guessing you're getting the point – there will always be something more expensive that you could potentially opt for, should you have the means or, should you stretch yourself beyond your means.
My personal philosophy is that you should set your priorities for what you want from a product that you're about to buy – what's your use case? Once you determine that, buy the best that you can afford and then enjoy it every time you wear it. This is not a jacket that'll last ten years of hard wear, not with these sleeves. Schott is.
At a certain point, especially with leather jackets, you have to really take into consideration your use and give yourself a clear, honest reason for buying a jacket. Is the AllSaints Cora a leather jacket that will protect you if you're riding a motorcycle and you take a spill? Nope. Is it the kind of jacket that will last a decade or more? Also nope. If those are the sort of things you're wanting your leather jacket to do, there are jackets out there for you that will be willing and eager to take your abuse in stride and look all the better for it. They'll just cost more money.
If, however, You are wanting a jacket that is classic, elegant, and a quick way to dress up an otherwise casual look and feel nice while you do it, well then this could very well be a viable option for you. And, if the $649 price tag is within, or just at the top of your price range, well, you could do worse.
Do I wish it was cheaper? Sure. Is the price a deal breaker for me personally, considering the way its constructed but also considering the way I feel when I wear it? I don't think it is.
The question comes down to this: if you love the way something looks, the way something feels, and most importantly, the way something makes you feel… is it worth slightly overpaying for? To put it a different way: if it makes you happy, then are you really overpaying at all?
Frequently Asked Questions
Are AllSaints Jackets worth it?
With real cowhide, relatively few pieces of leather, and classic styling, AllSaints are reasonably priced for the quality they deliver. The value is on par with other brands.
Where are AllSaints jackets made?
AllSaints leather jackets are made in India.
How do AllSaints jackets fit?
AllSaints jackets fit true to size, get your usual jacket size. The exact fit depends on their jacket, but they tend to be trim rather than baggy.