When I visited a guy with 75 pairs of boots, he said the Brass Boot is his all-time favorite boot.
When I published my latest list of the best men's boots on the market, I put the Brass Boot as The Best Moc-Toe, even beating out my trusty Red Wings.
This boot is what everyone loves about the moc toe, but elevated: better leather, better construction, a better last, and — if you can believe it — better value. That doesn't mean it's cheap, but you're getting a lot of boot for a lower price than anyone would expect.
Founded in 2016, Grant Stone have made a name for themselves with their very high quality business casual boots and shoes, particularly their Diesel boot. The Brass Boot , released in 2021, stands out as their first "work boot" — more on what that actually means later.
For this unbelievably thorough(if I say so myself) review, I spoke to the company's founder and CEO to learn more about its creation and what lies beneath the surface.
Welcome to the luxury work boot.
Grant Stone Brass Boot Pros and Cons
Got somewhere to be? Here's the long and short of this review:
Pros
Casual, but fancy. If you like nice footwear but want something you can wear with a baseball cap and t-shirt, this should be your new go-to.
Terrific value
Fantastic quality leather
Roomy but secure fit
Best Grant Stone boot for work and casual wear
Cons
Not actually suitable for most jobsites
Harder to dress up than other Grant Stone boots (but much easier than other moc toes)
Made in China, which some guys don't like
Grant Stone vs Red Wing: What Is a Work Boot?
The Brass Boot is as functional as Red Wing Heritage's work boots, though neither would meet safety standards that require steel toes, electric shock resistance, etc.
The Brass Boot beats Red Wing for its leather lining, thick leather midsole, steel shank, and higher quality leather.
The Brass Boot's design really forced us to ask: what is a work boot? That's the question that swirls around the Brass Boot and to some degree, every "heritage style" work boot. Are you really meant to do manual labor in these things?
To answer that question, we did a comparison with the most popular heritage work boot on the market, Red Wing's 875.
The answer's actually fairly simple: in and around the 1950s, boots like Red Wing and, yes, the Brass Boot, would have been exactly the kinds of boots that guys would wear on the job: they're water-resistant, resoleable, very tough, and built with cork filling, leather insole, and wedge outsole — the kind of construction that makes standing on your feet all day more comfortable than sneakers or dress shoes.
Basically, if you call heritage mocs like Red Wing and Thorogood work boots, then so is the Brass Boot. One could easily argue that the Brass Boot is even better suited for work, given it has a steel shank for stability and a leather midsole, two components missing from the 875.
[Learn More: The 7 Best Moc Toe Boots You Can Buy]
Today, though, work boots have evolved with newer, high tech features like puncture-proof toes, electric shock resistance, and waterproof boots. If you're working as a lineman or electrician, you're likely to be searching for boots that meet the particular standards of the OSHA (Occupational Safety and Health Administration) or ASTM (formerly known as American Society for Testing and Materials), and boots like the 875 or Brass Boot might not meet them.
That said, if your work simply requires a boot with good ankle stability, water resistance, and all-day comfort — say, yard work — then these "heritage" work boots will fit the bill.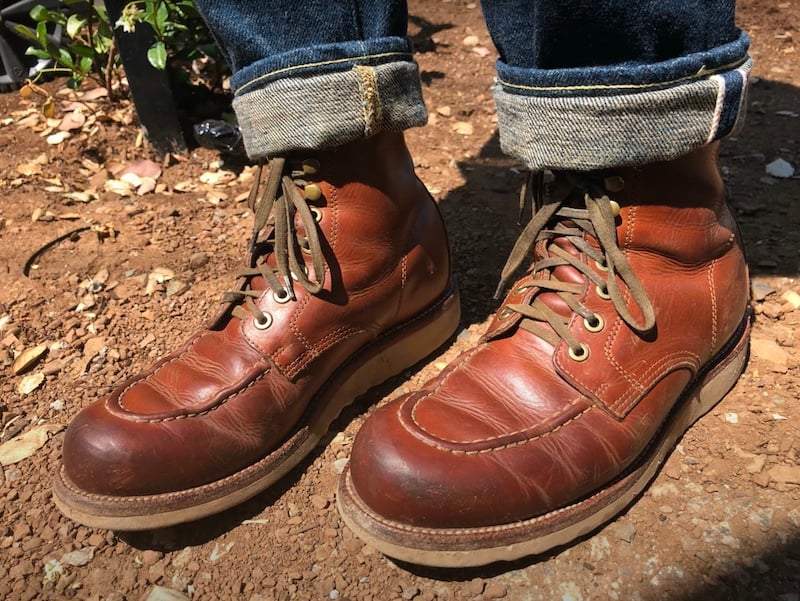 "I'd say both," said Grant Stone's founder when I asked him if it's a work boot or a fashion boot.
You have some people who really wear them day-in and day-out, and you have people living in the city who will wear them once a week max. But definitely, you can wear this just like any other [light-duty] work boot.
And it's a million times more "work booty" than any of Grant Stone's other boots.
[Related: Moc Toes vs Plain Toe, Which Boot Is Best for You?]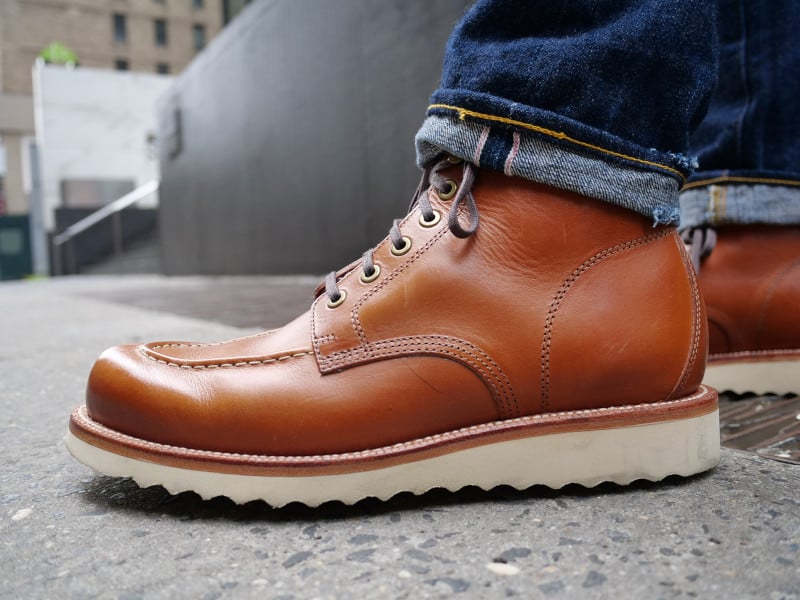 Grant Stone's Brass Boot Leather
This boot is different to other Grant Stone boots in that it's a burly moc toe, but it's also different from other moc toe boots. A big part of that is the leather quality.
Grant Stone absolutely did not skimp on the leather. It's high quality even relative to other fashion-work boots like the Red Wing moc (which, to be clear, uses great leather as well) and it's a big reason, perhaps the main reason, you can be confident that this is, in fact, a luxury work boot.
Out of all the cool leathers Grant Stone has, my favorite is the 100% vegetable tanned Minerva leather from the Italian tannery Carlo Badalassi. I think every guy should own a veg tan boot and they're surprisingly hard to find. Likely, this is because it's tougher to break in and pricier than chrome tanned leather, which makes up some 99 percent of all leather on Earth, but vegetable tanning is the way leather has been made for thousands of years and it's considerably more durable — and, subjectively, more beautiful.
[Related: The 8 Best Vegetable Tanned Leather Boots]
Owing to the Brass Boot's skyrocketing popularity, it's now available in over half a dozen other leathers from extremely reputable tanneries like C.F. Stead's waxed suede and Horween Leather Company's Chromexcel. It bears repeating that one simply doesn't find work boots with such high quality leather elsewhere.
[Related: Made in Xiamen: An Interview With Grant Stone Founder Wyatt Gilmore]
Brass Boot Construction & Sole
Leather insole
Cork filler
Triple ribbed steel shank
3mm leather midsole
EVA outsole or Vibram-like mini lug
That's the fancy leather side covered, on the tough and durable you've got the leather insole, a steel shank, and a thick, 3mm leather midsole. As previously mentioned, the shank and midsole aren't offered on Red Wing's moc (nor is this boot's leather lining) and they make for a boot that feels sturdy and stable, particularly given that the triple ribbed design of the shank allows it to flex more easily with wear. In addition, the multiple layers of vegetable tanned leather will mold to the shape of the foot over time, creating a custom fit.
Brass Boot Fit and the Floyd Last
Roomy toe box
Higher walls allow for more vertical volume
Great for guys with high arches.
Less dressy, more casual
They built this boot on the Floyd last, but it's a continuation of their overall fit philosophy: basically, keep it roomy and classy.
A last is a foot-shaped mold used to build the boots and dictate their fit. Most of Grant Stone's boot are made with the dressy Leo last that Gilmore describes as having "more of an egg shape to them, there's no depth."
The new Floyd last is another confirmation that it's a new kind of boot for the brand. Gilmore notes,
The wall on the sides of the upper is tall, and it's not like the Leo last or dressier lasts (…) The easiest way to think about it is like a logger boot, with a really tall toe box with depth, and that was kind of the idea for this boot because this boot, in general, is something I don't think anyone would put in the business casual or dress category. People think of this last as more of a work boot.
A big part of what separates this from Grant Stone's other boots is the overall volume of the boot. There's a tall toe box, high side walls, and plenty of room to wiggle your toes, which Gilmore believes is a key part of why the Alden Indy's combination last is so famously comfortable. This also keys into the work boot vibe: a fuller fit is more useful for work because when you stand for a long period your feet swell, plus folks often work in thick socks.
Grant Stone Brass Boot Sizing
Size down half a size from your true size, a whole size from your sneaker size
As for sizing, all Brass Boots come in D and E widths and a few come in EEE, including the Saddle Tan.
They recommend that you go down half a size from your true size and a whole size from your sneaker size. It's important to note the difference, as my true size is 11.5 but most sneakers are a 12, and I'm an 11 in Grant Stone and most other boots. You probably shouldn't size down just 0.5 from your sneaker size.
[Related: The Best Boots for Wide Feet]
Grant Stone Brass Price
The price varies depending on the leather. At the time of writing,
The "Earth" waxed suede is $328
Most others are $380
Grant Stone are universally considered great value boots. If you've only bought sneakers your whole life you might disagree, but if you've purchased Goodyear welted boots before, I'd like to think I've offered a good explanation as to why it's a lot of boot for the money: great leather, thoughtful lasting, robust leather midsole and insole, leather lining, plus the only thing made in China are the soles: the welts are from Massachusetts, the laces are made in Kentucky, the lining is from Milwaukee.
Is it about 60 bucks more expensive than Red Wing, which is made in America? Sure, but if Grant Stone were made in America they'd cost well over $400. At the current price, they're a steal.
Wrapping Up
You saw the pros and cons at the start of this article, but in summary, this is a wildly versatile boot that's extremely high quality, suitable for both casual and smart casual wear, it's made with very durable materials, it'll last forever, it'll age beautifully, it comes with leather lining, and it's got a wonderfully voluminous fit that'll suit almost any foot shape. (Especially when you remember that they offer up to EEE widths.)
The only real downsides, besides the fact that you can't actually wear them in a steel mill (ASTM standards they do not meet), are that not everyone loves that they're made in China or the fact that they're pricier than the US-made Red Wings. If you're here to compare this moc to that moc, it's possible you're not convinced that better leather, lining, a shank, and a veg tan midsole make this worth the extra money. I think it is, and I think I've made a good case as to why, but there's no arguing that more of your money will remain in America if you shop American made.
But I'll die on this hill: the Grant Stone Brass Boot is the best moc toe on the market.