In the world of high end Swiss watchmaking, there is a classic slogan that states, "You never actually own a Patek Philippe. You merely look after it for the next generation."
It's an extremely effective campaign for one primary reason: it evokes the concept of heirlooms, those treasures that we hand down from generation to generation and savor for the time that they are under our stewardship.
Far too often in the age of fast fashion and our broader disposable culture, are we encouraged to buy something that will be intentionally short lived. But every so often, a product comes along that reminds us that, our shiny, exciting new purchase today might just become that cherished heirloom for those who come after us.
Now, I know what you're thinking . "Oh no, here goes Troy again about to wax poetic about a jacket or something."
Yup, that's exactly what I'm going to do!
Taylor Stitch Moto Jacket Pros & Cons
If you're in a rush, here's a quick list of the pros and cons of this collaboration between Taylor Stitch and Golden Bear.
Pros
Excellent build quality throughout: from the hide itself, to the stitching, zippers, and buttons
Classic cut is comfortable without being baggy or boxy, and structured without being too slim or trendy
The story and heritage of Golden Bear is just plain old cool: This is the jacket that everyone secret hopes to stumble across when perusing at a thrift store
Hard to come by: therefore all the more unique and special
Cons
Leather colors: the Whiskey, when new, is unbearably orange. You'll be grateful for when it's darkened in a few years, but initially, it's a lot
Limited production: the double edged sword. You won't see a lot of people wearing them, because a lot of people won't be able to get one.
Price: As justified as the price is, it will simply be cost prohibitive for many
Taylor Stitch & Golden Bear
Taylor Stitch is likely to be a brand that our readers are familiar with. The San Francisco based apparel company has been making quality casual menswear with a bit of west coast, outdoorsy appeal since 2008. We've talked about their products on many occasions over the years and, while some object to most of their production being done overseas, it's safe to say that we are fans of the brand.
Golden Bear, on the other hand, is a brand that many may not be as familiar with. Also based in San Francisco, Golden bear first started back in 1922 and set about outfitting longshoremen with rugged dock coats, later expanding their offerings to bomber, motorcycle, and varsity jackets, the latter of which they are still best known for to this day.
While the two brands seem, at first glance, to be entirely different companies of entirely different eras, one thing would bring the two together: the notion of a treasured heirloom.
The Moto Jacket: Origins
You see, the original Moto Jacket was made by Golden bear back in the early 70's. That jacket came into the possession of a man named Albert and several decades later, Albert's son Nick would become a designer for Taylor Stitch. Somewhere along the way, Nick would inherit that gorgeous, storied jacket, and bring it back home to the folks at Golden Bear.
The story is a beautiful one indeed, and told to greater length over on the Taylor Stitch Blog, but the key take away is: that jacket, with countless miles and some 45 years of life in its seams, was the inspiration for the Moto Jacket that we have here today.
Apart from some minor pattern updates and little tweaks, it is largely the same model that was produced all those years ago: a sturdy, handsome, and utterly timeless leather motorcycle jacket. Like a sturdy dive watch, pair of aviator sunglasses, or a solid pair of leather boots, it's the kind of look that is well deserving of the often over used term icon.
From a pure style perspective, this is what so many people think of when they say the words, "classic leather jacket."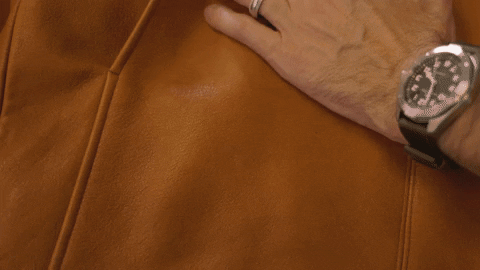 Taylor Stitch Moto Leather, Materials, and Construction
3.5oz, ~1.5mm thick leather
Full grain steerhide
Supple yet dense
Cotton polyester blend body lining
3M Thinsulate insulation
This jacket is so damn well made.
The stitching and seams are all beautifully done, all perfectly rolled and finished in a solid and uniform manner. The chrome tanned, 3.5 ounce full grain steerhide leather has a nice, supple yet satisfyingly dense hand that immediately gives you that weighty, reassuring feeling when you put the jacket on. The body lining is a cotton polyester blend with a single layer of 3M Thinsulate to add extra warmth for the transitional seasons, and the sleeves are lined with a silky acetate fabric.
Setting aside whatever it looks like, the jacket just feels so good to wear.
The other components of the jacket are of equally high quality: gusseted sleeves with brass zippers, flannel lined pockets, heavy button snaps on the collars, and YKK two way brass zippers. Some readers may remember on my AllSaints leather jacket review that I griped about the two-way zipper. I don't love two way zippers because they are often cumbersome and seldom necessary. But because of the overall cut of this jacket and the fact that I could totally see someone actually, you know, riding a motorcycle whilst wearing it, their inclusion here is actually justified.
The jackets are all made by hand at the Golden Bear workshop in San Francisco. This is the primary reason the jackets are only produced and sold in small batches. It is also a primary reason for the price, which, as we will discuss a bit later, is not insignificant.
While different colors are occasionally offered, like suede, black, or navy blue, the primary two colors most consistently offered are the Whiskey Steerhide, which I'm wearing in these images, or Espresso steerhide, seen above, which is a much darker, chocolatey brown. There's also a simpler Black available.
As far as the Whiskey goes, the photos you're going to see on the website and in the marketing photos are quite a bit different from what you are going to get when the jacket is brand new. There's no other way to say it: the jacket was straight up orange.
Now, I have no doubt that after a few years (or decades) of hard use, reasonable abuse, and some thorough conditioning, the jacket will ultimately develop that gorgeous, warm, cognac color that you see all over the website, but it is a color that you are going to have to earn. Even for me, after having gotten the jacket second hand, worn it off and on for a couple of years, and conditioned it now twice with neatsfoot oil, I'd say it's only about 20-30% darker then when it was properly new.
But it does match my golden orange Red Wing moc toe boots pretty nicely.
[Further reading: How to Care for a Leather Jacket]
Taylor Stitch Moto Jacket Fit & Sizing
Overall, the fit of the Moto jacket is a nice balance of fitted and relaxed – it's just right. Gussets along the back and the bottom panel allow for a nice amount of movement and freedom without it falling victim to the baggy, boxy dad jackets that anyone who grew up in the 80s or 90s is all too familiar with.
In keeping with that idea, the length is also just right. Not too short, such that if you wear an untucked button up shirt you'll feel dumb with half your shirt hanging out, but also not too long that it gets in the way.
While I am usually a 36 regular in my jacket size, which would correspond to an XS in the Moto, I ended up with a 38 or Small. While there is a touch extra room in the shoulders, which tells me their sizing and patterning is spot on to the measurement, I actually prefer that fit in this jacket.
If you're on the fence, right in between sizes, I think this is somewhat similar to many leather jackets: if you want a snug, fitted, or more rock and roll kind of look, round down. Round up if you want some room to be comfortable or layer a sweater or shirt jacket underneath.
Price: Is Taylor Stitch's Leather Jacket Worth It?
The gap between really good leather jackets and really bad leather jackets is a massive chasm, but in terms of the quality and feel, as well as the price.
At $1,075, this is where we start getting really serious and the conversation becomes as much about investment as any other aspect. This is a jacket that you expect, especially for the price, to stand up to a lifetime of use and then some. As much as I lament the fact that when this jacket first came out it was a few hundred bucks cheaper than it is now, the increase is, woefully, what we expect of most well-made, especially American made things these days. Everything is more expensive than it was a few years ago.
Despite all of that, I don't feel that this jacket is inappropriately priced for the quality that you're getting. Is it a lot of money to spend on a jacket? Yes, yes it is. Is it a lot of money for what you get? No, not particularly.
But all of the talk of money, material, and branding, is secondary to the most important aspect of a jacket like this: how it makes you feel and how long will you have it for. A proper, American made, heritage leather jacket is something, I personally believe, everyone should own at some point in their life (with all respect to those disinclined towards animal based products). A jacket like the Taylor Stitch x Golden Bear Moto Jacket is meant to be your companion. Your one-and-done leather jacket.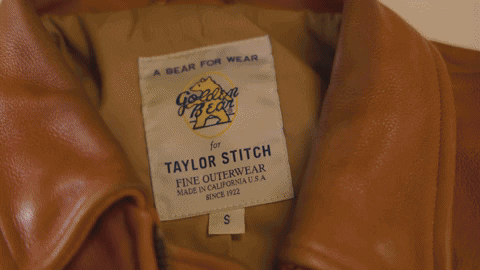 This is the jacket that, no matter where you're going or what you're doing, you can grab it on your way out the door and you know that you will be good to go, and if it gets a little bit ruffed up along the way, so much the better.
And, as the sun begins to set on your years, with many rich and fulfilling travels in the rear view mirror, you will pass that jacket along to someone who will love it even more than you did. Because for them, it won't just be a jacket. It will have been your jacket. And as they embark upon their own life's journeys (preferably on a suitably cool vintage Indian motorcycle) a small part of you will still remain with them, your memories and miles permeating the well-worn and patinated hide.