First, I would like to make something very clear: the joy I get from writing about products comes from drilling down to the core of what makes something special.
I take no pleasure in criticizing products or building up my own ego by tearing down the work of others, and I will usually try to my damnedest to avoid reviewing something that I feel is outright bad.
Regardless of how many corners that are cut, tricks applied, or margins inflated, everything that is bought and sold exists because someone made it. Someone designed it, constructed it, shipped it, delivered it. Whether or not I personally like something or feel it is of appropriate value, human effort has been involved in it coming to my doorstep. Thus even a poorly made thing deserves a base level of respect.
Whether we're discussing boots, bags, jackets, eyewear, watches, or anything else, price is one the last details I look at when evaluating whether or not I can recommend something. Price is (or at least should be) a function of what something is: how it is designed, crafted, and how it functions. Rather than something being cheap or expensive, my biggest questions are:
Is it honest?
Is the product what it is claiming to be?
Is it made to the standard that it purports?
Based off of those answers, is that thing appropriately and honestly priced?
Sometimes, it's painfully clear that you are paying for a name. Sometimes, cheap is just cheap. And oftentimes, the price and the product do not line up at all.
That brings us to Angel Jackets, the product we really, really didn't want to review.
The spectacularly bad Reeves Jacket from Angel Jackets
Why Review a Product That Sucks?
Angel Jackets reached out to us three times over three years to ask us to review their jackets. The second we visited their site, we knew it wouldn't be a positive review. You get what you pay for with leather jackets, and theirs were far too cheap to be worth recommending — and we told them so.
Angel Jackets is a good example of a brand that only exists because of affiliate marketing: if a blog like this recommends somebody buy it, and somebody clicks on the link in that blog to go to AngelJackets.com and makes a purchase, then the blog that recommended them makes a commission.
Affiliate marketing has become such a big part of digital media that companies as prestigious as The Huffington Post, Forbes (both recipients of Pulitzer prizes) and the laughably named Honest Brand Reviews have published articles praising Angel Jackets and recommending you buy them even though they never actually handled the jackets.
Does Angel Jackets Use Real Leather?
The leather is "real" in that it's made from an animal, but it's extremely poor quality, very thin, and won't last
The Reeves Jacket arrived in a soft shipping pouch, wrinkled up inside of a plastic bag. The label indicated it had shipped from Pakistan, likely directly from the actual manufacturer. We can't say, because there is in fact a significant lack of transparency surrounding where this company is based or where its jackets are actually made. Their site has some cute videos showing trendy designers and craftsmen drawing jackets and measuring sections of hide, but this has very little to any connection to the reality of what the final product is.
When I took the jacket out of the bag it was crumpled up inside, the leather was heavily wrinkled like a starchy shirt from having been folded into the pouch. Those wrinkles remain weeks later. The leather itself is thin, papery, and was permeated by a horrendous chemical smell that continued to outgas in my coat closet for days. Far from the sumptuous, rich smell of fresh leather one hopes for when buying a new leather jacket, this was more akin to the smell of cheap polyester carpet when it's unbearably new.
The inner label simply states "Real Leather' which, to the uneducated, may seem like a good sign. But to those who handle leather regularly and are familiar with grades of leather, it doesn't instill much confidence. It's like going to the grocery store and seeing a product label that says "Real Food!"
Generally, leather is divided into categories of full grain, split, and genuine. (There are more categories that get used, but we're simplifying.)
Full grain is what you typically want: it retains as much of the animal's hide as possible and it means your leather is thick, durable, and will age well.
Split leather has been split horizontally, making for a leather that's thinner, more supple, and typically nappy like suede.
Genuine leather is even thinner than the previous categories, and it's the cheapest of all of them. If you see "real leather" on a label, expect it to mean "genuine."
There's nobody controlling who can and can't use the terms "full grain" and "split," so seeing these terms associated with a product isn't always a guarantee of quality. But Angel Jackets settling on "real leather" for their nomenclature is a red flag, and my suspicions were confirmed when I had the product in hand.
My editor Nick, who assigned me this article, took such delight in my reactions to this jacket that he kept many of my text messages I sent:
The finish on the jacket has a sort of faux patina look, as if a thin film of dirt or wear has accumulated on its surface due to hard honest use. It is anything but. Upon closer inspection, you can clearly see where the finish was sprayed on and where it was not. This is some kind of plasticizer or straight up fabric paint, and the likely source of the acrid, sad, chemical smell that emanated from it when it first arrived.
Angel Jackets: The Details
Hanging from the collar are two hang tags, with the first stating usual language about regularities and hand crafting and the second warning that your warranty is void if the tag is removed.
So, to be clear, your warranty — and I'm still a bit unclear on what that actually covers — is only valid if you keep the large, absurd hang tag attached to the jacket. Makes sense!
The liner is a cheap, papery polyester, and you can feel the synthetic lining and cheap padding added to the shoulders to create the illusion, however unsuccessful, that the leather is more substantive than it actually is. The jacket is replete with seams of small sections of leather, stitched together in order to save on using larger, more expensive sections of hide.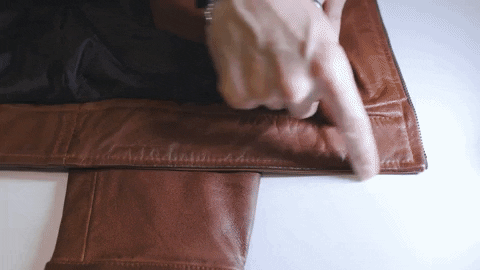 The fit is baggy, the fabric uncomfortable, the 'leather' wrinkled and bizarrely finished, with a smell akin to that of an industrial solvent – it is an offensive garment to nearly every sense.
Angel Jackets Price
The Reeves Jacket is $189
At $189, this jacket is highway robbery, and insults the intelligence and ambition of anyone who would buy one.
But Troy, you snob, not everyone can afford a thousand dollar leather jacket!
I hear you saying that, and you couldn't be more right. This jacket is not intended for someone who could afford a premium leather jacket. It's intended for someone who aspires to, someone who wishes that they could. It is intended for someone who wants to experience what it's like to wear a nice leather jacket and enjoy the way it looks and, most importantly, the way it makes you feel.
But the only thing this jacket is capable of making you feel is disappointment. (And, possibly, light headed due to the fumes).
The aspirational buyer, who I very much consider myself to be among, is an incredibly important customer. For us, money matters deeply and represents hard work, and months, sometimes years of focus and saving. We dream of being able to feel that moment of excitement and elation when we finally get to buy that thing we've been working towards, and we relish the ability to relive that feeling when we use our new acquisition. It is an infrequent and precious experience when we get to truly indulge in luxuries that many find common or even mundane.
The Best Value Leather Jackets (You Should Buy Instead)
Now if you're searching for reviews of a sub-$200 leather jacket, you might not know what a good leather jacket should cost. We've established that a good leather jacket has a clean look — so not too many seams, especially not across the chest — and quality leather.
Thursday Boots' Leather Jackets
Range of Racer, Motorcycle, and collared jackets available
3 fits to choose from: Relaxed, Slim, and Athletic
$349
Best Value Leather Jacket
The best leather jacket will last the rest of your life, and while Thursday Boot Company's doesn't make their jackets from the thickest horsehide or cowhide on the market, they're definitely the best compromise for those who want a quality jacket without selling the farm.
They're $349, which is the absolute least you can spend on a leather jacket. Dip below that and you're risking Angel Jackets quality garbage that drapes badly, fits poorly, wrinkles like linen, and will fall apart before it's had enough wear to be worth the price.
Yes, $349 is indeed inexpensive for a leather jacket, and the main reason is that Thursday is using lambskin, which is cheaper — but it's also softer, and many find it more comfortable. Want a cowhide jacket? Get one of Thursday's jackets in Black Matte leather. It's the cowhide leather they use for jackets right now and it's as cheap as the lambskin ones, which is bonkers.
Another bonus: there are no seams across the chest on most of Thursday's jackets, which is a dead giveaway that the brand was saving money — and that you were as well when you bought it.
Schott NYC — on eBay
Schott is America's best leather jacket brand
Made in New Jersey
High quality jackets like this last for decades
The benchmark for a high quality leather jacket is Schott NYC, and their bestselling jackets like the iconic Perfecto or minimalist Cafe Racer will run you in the area of $900. If that drops your jaw, watch our full review of the Cafe Racer for an explainer, or read this guide to Japanese leather jackets, which are generally considered the world's best — and cost $1,500 at the low end.
But the great thing about leather jackets is that they last forever, look good when they're old, are more comfortable when they're broken in, and can be revived if they haven't been taken care of. So, as I often do with boots, I recommend getting on eBay and finding a second hand Schott NYC jacket for half price.
This isn't like buying second hand underwear; there's zero shame in picking up a used leather jacket or used boots. Just give it a once over with a leather jacket conditioner. Good leather like Schott's can be brought back to life, even if it arrives in a bad state.
Get a Waxed Canvas Jacket Instead
Waxed canvas is very durable
Also looks better as it ages
And half the price of a leather jacket
The Best Value!
The last option is to not get a leather jacket and instead get a waxed canvas jacket. It's actually a great idea if you're looking for a tough, "manly" jacket that'll last forever and look cooler as it ages. There are even some advantages to a waxed canvas jacket over a leather one: the wax makes it more waterproof and the canvas is very resistant to tears and abrasion. I once sliced a leather jacket open on a nail; that won't happen with a jacket like this.
Our favorite on the market is the world famous Flannel Lined Trucker Jacket from Huckberry, which was worn by Pedro Pascal in The Last of Us.
Wrapping Up: Is Angel Jackets Legit?
Angel Jackets is legit in that you'll get a product from them, but it's a bad quality one and you shouldn't buy it
At nearly $200, Angel Jackets is just expensive enough to trick people into thinking it might be premium. It's a despicable bait and switch.
As much as I genuinely dislike speaking ill of other people's work, products like these just piss me off. I'm sure that at several points in the supply chain there was a fair amount of honest human effort, but it does not excuse the fact that this jacket shouldn't cost anything close to what it does.
If your goal is to buy this jacket so that you can experience how nice it is to feel a well-made leather jacket, I implore you, don't waste your money or your aspiration.
Frequently Asked Questions
Where do Angel Jackets ship from?
Our jacket arrived from Pakistan, likely directly from the actual manufacturer.
Where is Angel Jackets located?
Angel Jackets have registered addresses in Chicago and London, but the addresses are tax offices, rentable mailboxes, or suburban houses. Our jacket was made in and shipped from Pakistan, and the company is not transparent with where its operations are located.
Is Angel Jackets legit?
Angel Jackets is legitimate in that you'll receive a jacket after you give them money, but the quality is extremely poor. If you want an inexpensive leather jacket, you should get one from Thursday Boot Company or a second hand one from Schott NYC on eBay.
The following two tabs change content below.
Troy Barmore is a watch, luxury, and heritage goods specialist and writer based in New York City. Growing up in the mountains of Colorado, Troy has had a passion for subtlety and detail since childhood. Whether it be denim, leather, eyewear or watches, he has made the study of quality goods a lifelong focus.
Latest posts by Troy Barmore (see all)