This is likely the most pointless and self indulgent article I've ever written.
After all, why would I talk about products no one can buy?
Well, the idea came about when I decided I wanted to make a video about my favorite jackets and realized that a significant portion of them had been discontinued, so there wasn't much point in including them.
This isn't to say that I only make content so people can spend money, but I try to make my content actionable in some way, and this one… isn't. But given I often wear these jackets and coats on my Instagram and YouTube pages and people often ask me about them, I thought I'd write them up in the hopes that it might at least inspire your next outerwear purchast.
Plus, if I write an article about these jackets, I can justify to myself all the money I spent on them. Now it's a business expense! Please enjoy my money laundering operation below.
[Don't miss the other side of this article: My 10 Favorite Fall Jackets]
1. Thursday Boot Company – Flight Jacket
This is my only brown leather jacket and I wear it all the time, I'm a massive fan of this vintage air force fighter pilot look that the Flight Jacket has going for it. I never expected I would wear a leather jacket with elastic cuffs, but it's just a fantastic piece that's old and new in the right ways, plus it has a removable, off white, shearling collar for extra chilly days.
A lot of people ask me why, given how often I wear it, I haven't reviewed this. The first answer is that you can't buy it — Thursday never replenished their stock when they sold out over a year ago and it seems like it just wasn't a big hit for them.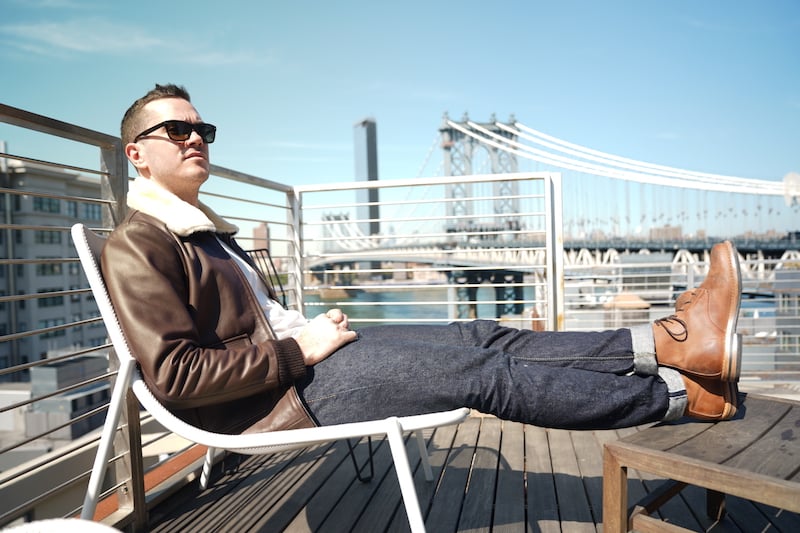 The second reason is that it's from the first generation of Thursday jackets from a few years ago, and as is the case when any company takes their first try at a new product, that first generation wasn't great. The lining tore and the buttons for attaching the collar came loose.
I have a newer jacket from Thursday and it's great, they obviously responded to the complaints and fixed the product, but why would I review an older version with problems they no longer have, let alone a model they don't sell anymore?
Anyway, I love this jacket. But you can't buy it.
[SEE THURSDAY'S JACKET COLLECTION HERE!]
[Wish you could get this look? Schott and Satchel & Page have pretty great alternatives!]
2. Anonymous Chinese Dress Coat
This one I'll just mention quickly: this is my dressy coat. I don't dress up often but whenever I do, I throw this wool coat over the top of my suit or blazer.
Whenever I wear this on my channel, I get comments from people asking where it's from but my reply is always that you can't buy it. I had it custom made at a Chinese fabric market.
I spent a few years living in Shanghai and if you've ever passed through, there's a good chance you stopped by 399 Lujiabang Lu, home of the South Bund Fabric Market. There, you can choose from dozens of tailors to make a garment just for your body and I'm glad I had the chance to highlight this coat because it's an opportunity to emphasize the most important lesson in fashion: get clothes that fit.
The best fabric on Earth won't work for you if it doesn't fit your body, and I'd go as far to say that poor quality fabric that fits well will do more for you than high quality that doesn't. This fabric market was my first step toward realizing how big a difference it makes when you wear great clothes that fit.
3. Motiv Mfg – French F-2 Fatigue Jacket
The next coat is the one I talk about the most: a one-off fatigue jacket by MotivMfg that I bought from the excellent luxury heritage retailer Division Road.
I've never in my life seen better marketing than the copy they wrote for this coat, and whenever anyone notices this coat I read it out to them:
The French F-2 Fatigue Jacket is designed as meeting point between dutiful mid-century European military garments and tailored outerwear pieces made for the future. This piece is derived from 1950's French military jackets, re-created in an anatomically tailored fit with an articulated shoulder, collar, and set-in sleeves in an above-military-grade fabric that will outlast any generation or future war, providing a structured form in a cut perfectly balanced between vintage and contemporary.
This jacket is made in a 20 oz. Charcoal Covert Cloth Twill that uses steeply and tightly woven 100% British Worsted Wool yarns to produce an amazingly dense fabric resistant to weather and tearing. Featured in the Victoria & Albert Museum for its deep ties to historic milling processes, Covert Cloth was originally created in the early 1900's as a military grade riding wool twill weave, providing outdoor protection for officers and gentleman alike. This particular iteration of the fabric was produced by Scotland's Lovat Mill from 1826, as a refined version of their production of military regimental tweeds with varied shades of grey, charcoal, and black tightly woven into this coal colored tank-like twill. (…)
This French F-2 Fatigue Jacket is designed with a concealed rolling button front placket with a storm-ready button up notched collar to allow for outerwear versatility, function, and style in an unlined and finely finished structural piece with cotton twill trimming on the yoke, pockets, and gusseted button cuff for practical refinement. Paying homage to the originals with sophistication, this jacket has beautifully shaped and utilitarian pocketing with concealed buttoning like welted flap chest pockets, and patch flap front lower storm pockets that are gusseted to house plenty of modern armaments. Further, this jacket is packed with superior bespoke and old world detailing like flat felled seams, zigzag back collar stitching, bartack reinforcements throughout, and impressive custom burnished gun metal buttons cast in the shape of the plastic 50's military originals.
It was actually a line in an e-mail that Division Road sent me about this jacket that sealed the deal:
The Lovat Covert Cloth is amazingly dense and structured, making this piece feel almost bulletproof, while actually being tear proof and very weather resistant even unlined in a piece like this, and this woolen type was originally developed as regimental riding cloth.
Using it on this F-2 does make it a very special modern fatigue jacket, and in terms of styling, longevity, and durability it's the best of all worlds. It will really break-in and mold to the body like a selvedge denim, taking advantage of Motiv's anatomical design principals. I will say it's not a piece for the faint of heart from its weight and density, thus it should be worn heavily, in harsh conditions, and is designed as a modern armament.
That line — that it's not for the faint of heart — is what pushed me over the edge. Nobody tells me what I can't wear!
Surprisingly, MotivMfg is a Chinese company, something you'd never expect from the Western, traditionalist ethos here. They're advertised as having
re-established a pattern-to-bespoke garment, one-roof workshop in Beijing with the ethos, process, techniques, and materials of Savile Row to produce historically informed garments in styles and production methods lost by the west.
It's rare to see something as tough as wool woven into a fabric as tough as twill. It's an awesome jacket. Unfortunately, you can't buy it.
[Division Road has a huge array of incredible jackets; give 'em a look!]
View this post on Instagram
4. Marks and Spencer – Best of British Trench Coat
Marks & Spencer is a British brand that makes a lot of inexpensive clothing, but this trench coat — my first and last — was on the pricier side at over £300 (~4ooUSD). That's because it's from their Best of British collection that they did in collaboration with the British Fashion Council, so it's 100 percent made in Britain.
I mostly bought it because it made me think about what the Ninja Turtles used to wear when they wanted to pass as humans, but I wear it when the weather's dreary and my wardrobe's dressy. I took it on a rainy brunch date not too long ago with my Carmina Chelseas in the Instagram post above.
I don't often wear trench coats because, well, unless you have a hood or a big waterproof hat, you'll need an umbrella no matter what. And if you're using an umbrella, do you really need a trench coat? And if you wear a waterproof hat, won't it detract from the look? In any case, I like throwing it on when it's raining outside and I'm wearing slacks or chinos.
Sadly, the Best of British collection was a one-off and you cannot buy this.
[Love being this frustrated? Check out the 11 Best Red Wing Boots You Can't Buy]
5. Taylor Stitch – Sierra Parka
Last up is my go to coat for extremely cold weather, and it's the Sierra Parka from Taylor Stitch.
(Well, my super cold weather jacket is either this one or my Filson Mackinaw, but if it's raining or if I want something more versatile that I can wear with anything from sweatpants to slacks, I bring out this beast.)
It's a shame that Taylor Stitch doesn't make this anymore because I've never felt even a little cold in the Sierra. It's packed with insulation which is made from recycled polyester, the brushed cotton lining feels like a blanket, it's got a water repellent nylon exterior, plus the shell is 6 percent spandex. This gives it a surprising amount of stretch and comfort for something so hard wearing.
I also enjoyed the marketing for this coat; they got a guy from an ice cream store to stand in his freezer at minus 11 Fahrenheit for hours on end to see how the parka held up.
Honestly, the only real downside to this parka is it doesn't have hand warmer pockets; the two front pockets aren't in the right position for it. Mine is also a hair slim on me, but that's through no fault of Taylor Stitch — through a happy accident I received one in 42 and one in 44, and I gave the 44 to a homeless guy who randomly asked me if I had a spare winter coat. I should have given him the 42 because coats like this look better when they're a bit big, but I still wear it every winter. As it doesn't need any other layers, it's not too tough.
Wrapping Up
That about does it for my favorite discontinued jackets! The sad thing about writing about clothes is that a lot of my content winds up not being evergreen; I'll fall in love with an item, wear it hard so I can write a great review, and by the time I publish it it's been discontinued or sold out. This article is my attempt to at least get some of that information I gleaned out into the world, even if it won't help anybody buy one of these jackets, it might help you shape your opinion of your next purchase regardless. Good luck out there!
The following two tabs change content below.
Nick English
By day: Manhattan-based journalist with reporting experience on four continents, published in Vice, Men's Health, Popular Science, and a bunch of other places.By night: ravenous consumer of anything and everything related to high end men's boots.Stridewise is where I nurture a maniacal obsession with footwear and share my findings. Say hey:
[email protected]
.
Latest posts by Nick English (see all)