While the name "Red Wing Heritage" evokes thoughts of longstanding tradition, the brand actually has a lot of limited edition and discontinued boots in their history. Seasonal offerings, one-off specials, and boots that simply didn't fare well in the market are common and Red Wing collectors all over the world prize themselves on their abilities to hunt down obscure boots that haven't appeared on Red Wing's website in years — even decades.
To compile a list of the best Red Wing boots you can't buy anymore, I went straight to the source: Red Wing Heritage NYC, where I tasked two employees and Red Wing vlogger CJ Cook to assemble their favorite rare boots. Some of them, like the Williston, are sublime in their subtlety, while others like the Wabasha are surprisingly eye catching and innovative.
Regardless of why they're no long made, each pair has a special place in a Red Wing fan's collection.
1. 9437's the Williston – Teak Featherstone
The 9437's not the craziest boot on this list, but it is unusual for Red Wing because of its slim silhouette and ability to be dressed up or down: in fact, I think the Teak Featherstone Chelsea Boot is possibly the most versatile Red Wing boot. It's certainly one of the few Chelsea boots I think can be worn with a suit, and it really seems to be Red Wing's attempt to take on the ubiquitous Chelsea boot, the R.M. Williams. The overall sleek profile, silhouette, leather used, and minimalist design of the 9437 makes it not unlike a lot of the dressy Chelseas on the market.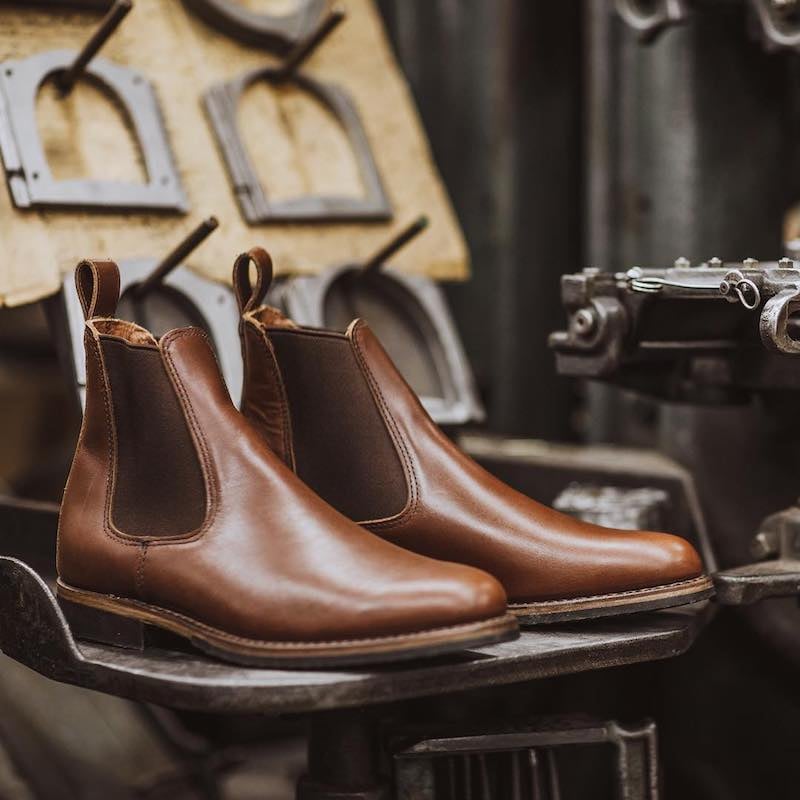 Why is the Williston 9437 rare?
No longer made
Very dressy, unusually slim design for a Red Wing
Somewhat unusual leather resembles calfskin
The 9437 isn't produced anymore. They differ greatly from the rounder toes the brand is known for and that you'll find with the Blacksmith, Iron Ranger, and Moc Toe. But this slimmer profile allows these to be worn with tailored clothes and form fitting trousers.
The Featherstone leather is suitable for such a boot. It's a finished leather that looks almost like a smooth calfskin commonly found in dress shoes. Sourced from American Texan steers, the full grain hide of the cattle is surface dyed and then finished with a variety of waxes. A combination of resins and dye stains are used to achieve the Featherstone leather's smoothness and unique luster.
[Related: Why the Williston Chelsea (Was) the Most Versatile Red Wing]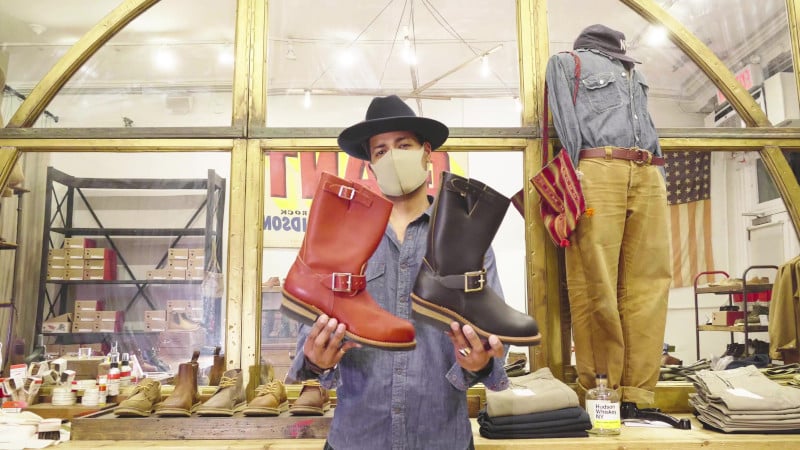 2. 8271: Engineer Boot (Oro Russet)
Next we've got the rare 8271 Engineer Boot in Oro Russet. Engineer boots were first made to protect firefighters and engineers who worked on trains. The Engineer's style and minimal stitching keeps feet from getting burned by hot embers and other rail road dangers. These particular Red Wings come with a steel toe.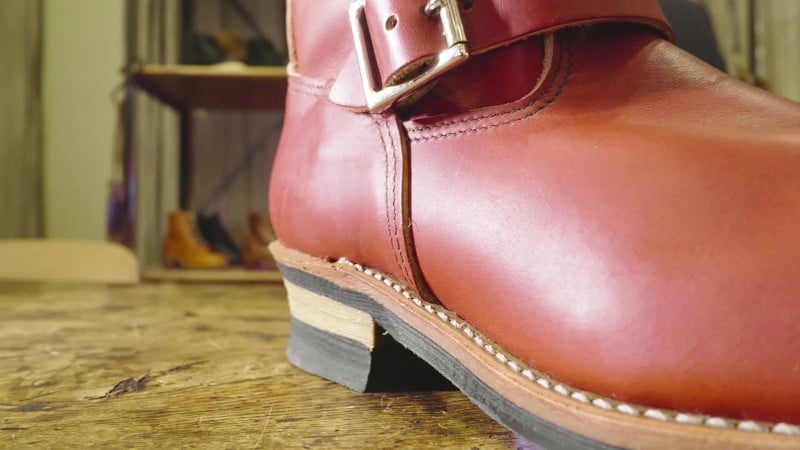 Why is the 8271 Engineer Boot rare?
No longer made, only produced for Japanese market
Steel toe heritage boot
Made with the hard to find, red Oro Russet leather
Not only can you not buy engineer boots from the American Red Wing store, the 8271 has one of the brand's most famously rare leathers: Oro Russet. It isn't used on boots sold in the States; you have to find a European or Japanese release to get this leather.
[Related: The 10 Best Japanese Red Wings]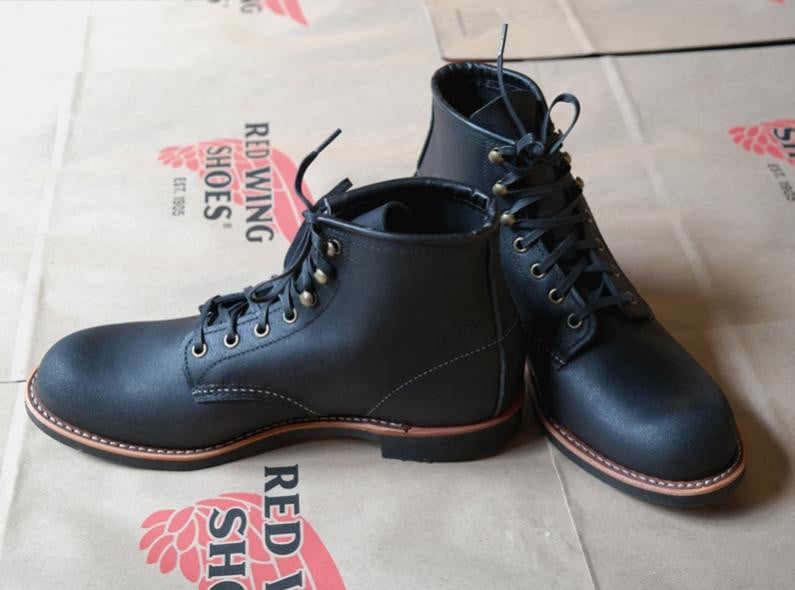 3. 2955: Blacksmith (Black Spitfire)
The 2955 are your basic Blacksmiths: they come on Vibram's classic 430 mini-lug sole, they have bronze eyelets and speed hooks, and they're basically the most classic plain toe boot you'll find. The idea behind the Blacksmith is that it's rugged enough to work well in the shop, but nice enough to take to the bar. (That's why some guys name it as the best Red Wing boot on Earth.) This 6-inch boot is meant to protect your feet and ankles from hot cinders at the forge and the mini lug performs well in dirt and snow — but the boots look great under chinois at the bar as well.
Why is the 2955 Blacksmith rare?
Classic blacksmiths, but limited release
Rare Black Spitfire waxed rough out leather
They aren't many Red Wing boots made in the Black Spitfire leather. You can get Blacksmiths in their more common Black Prairie leather, or the charcoal Rough and Tough leather, which are both very cool, but not as rare as the much harder to find Black Spitfire. It's a heavily waxed black rough-out leather, meaning it's made from the flesh side of the animal's hide and the surface is almost suede-like — until it's waxed to boost water resistance.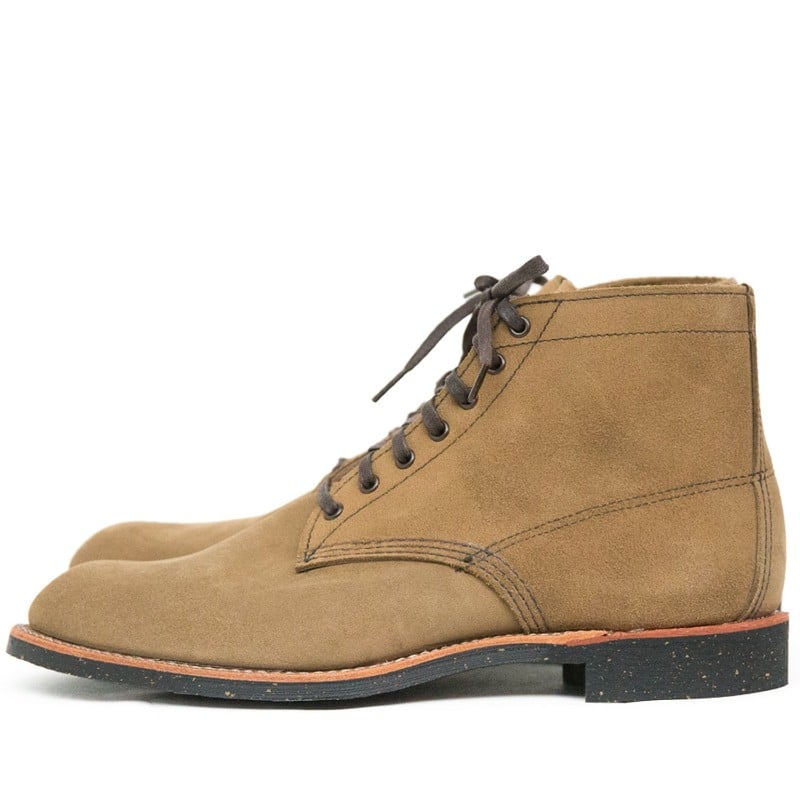 4. 8062 The Merchant Olive Mohave
The 8062 Merchant in Olive Mohave leather was a fascinating entry in the Reg Wing pantheton due to its subtle silhouette and unstructured toe, making it a marginally dressier version of the Beckman.
I reviewed the cousin of the 8062 called the 8064 — the Merchant in Amber Harness leather — a while back and I love it for its ability to be dressed down or up.
The Merchants have a Chemigum outsole, which is rarely seen on other Red Wings. Chemigum is very similar to nitrile cork, but the mixture contains a little less cork and more rubber, and this particular Chemigum has a grippier pattern.
Why is the 8062 Merchant rare?
Half-dress boot half work boot, similar to the (also discontinued) Williston or the Sheldon
Most Red Wing rough-out is waxed; the Olive Mohave is unwaxed
The 8062 has the far less common Olive Mohave leather, which is only currently found the Women's 3377 6-inch classic moc. The Mohave is an unwaxed reversed suede called rough-out, so it's super fuzzy but much more durable than suede.
[Related: Review: The Merchant Might Be Red Wing's Best All Rounder]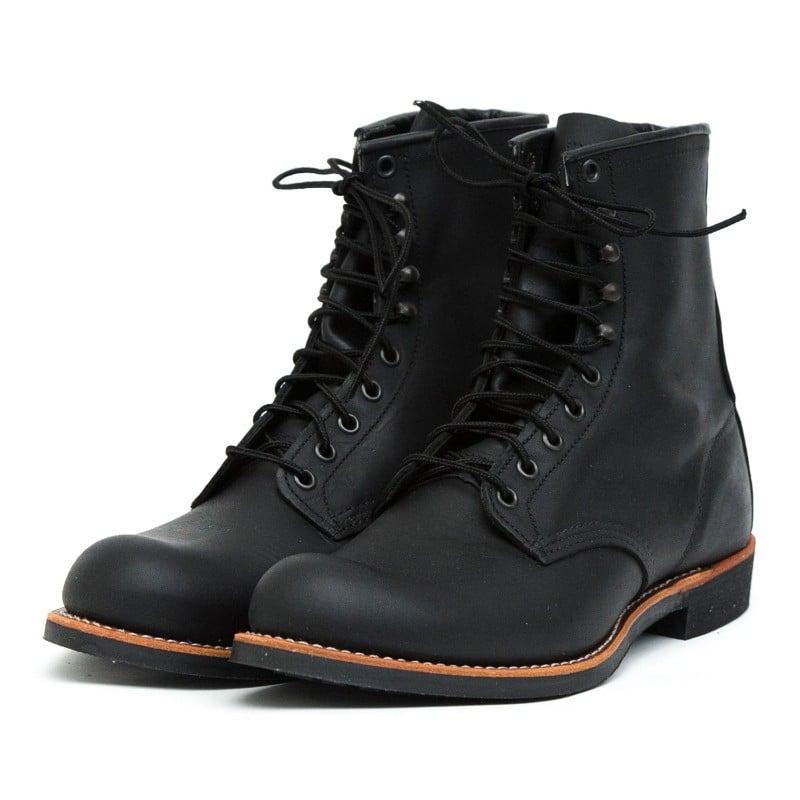 5. 2944 The Harvester Black Harness Leather
The next up is the 2944 Harvester in Black Harness Leather. The model dates back to the 1930s just after the Great Depression. Basically, the Harvester is an 8-inch Blacksmith designed for harvesting crops and working in oil fields. They are constructed with the 403 Vibram Mini-lugiyraikw, and built on the round toe #8 last.
Why is the Harvester 2944 rare?
European release
Basically, a blacksmith but 8-inch,
Originally comes with a Vibram mini-lug sole
The Harvester 2944 and the 2943 are still available in Amsterdam, but only in in a few small sizes. There are two main reasons this is a compelling find: first, as mentioned before, the style hasn't been available for purchase in the States for a long time. The Blacksmith is similar, readily available and a very popular boot, but 8-inch tall versions never became all that popular.
Second, the Black Harness Leather isn't typically found on Blacksmiths. You can find it on Iron Rangers, the Weekender Chelsea, and one or two others, but the only black leather you'll find on 6-inch Blacksmiths is the Black Prairie Leather, a teacore leather that reveals a brown color as it wears in.
6. 8829: The Billy Boot (Black Klondike Leather)
The Billy Boot was a limited-edition make from Fall 2019, but the original Billy Boot was released in 1925 and was named after the then-President of Red Wing's son, Billy Sweasy.
The original Billy Boot was built on the classic 875 moc toe last but was marketed as a boy's boot that included a small pocket knife and a pocket for said pocket knife on the ankle. It was a 16-inch boot with a Gro Cord heel instead of the wedge sole.
The 8829 Billy Boot released in 2019 is a Classic Moc Toe style, but 8 inches tall.
Why is the 8829 Billy Boot Rare?
Rare style
Knife pocket on the ankle,
Exclusive leather, Black Klondike Teacore leather
Leather laces
Embossing on tongue and sides
This boot was only made for one season in limited quantities, so it sold out quickly. While it's similar to an 8-inch classic Moc Toe, it differs in a few notable ways. First, it has the very cool scout knife holder on the ankle. It also came in the unique Black Klondike Teacore leather: it's first dyed brown, and then over-dyed with a black finish. As you wear the boots, the black slowly fades, revealing the golden brown base and creating a unique patina.
It also has leather laces and embossing on tongue and sides, which aren't found on the classic moc toe, which you can read about in my best boots for men guide.
7. 8188: The Pecos (Hawthorne Muleskinner)
Next up we have the 8188 Pecos, a European model that's no longer made. The original Pecos hit the market 1953. It was popular with farmers, ranchers and oil rig workers, and they're similar to the NailSeat Work boot currently available from Red Wing Shoes in America.
Why is the 8188 Pecos Rare?
European only release
Styles easily, ages amazingly
Different from the work Pecos called the NailSeat
The 8188 comes in the Hawthorne Muleskinner leather, another waxed rough-out, but there are a few different Pecos are available outside of America. The European 8159 comes in Amber Harness, the Japanese Pecos 8168 comes in the rare Hawthorne 'Abilene' Roughout (an unwaxed Hawthorn Muleskinner), and the Pecos 8866 comes in the very rare Oro Russet Portage.
8. 4585: The Logger (Briar Oil Slick)
The Logger style dates back to the 1930's and is built for mud, snow, and generally tough environments. Some Red Wing aficionados claim the 4585 as the best boot you can't buy: it's an 8-inch, round toe, lace up boot; and it's a nice hybrid of the Iron Ranger and Blacksmiths. They are pretty rugged , sporting not only a chunky Vibram lug but also an extra water resistant storm welt.
Why is the 4585 Logger rare?
Never released in America, and not sold for a long time in Europe
Unusual 8-inch height, nothing else like it
Briar Oil Slick leather (Oil Tanned)
There really isn't anything else like this boot for sale. It's taller than the Sawmill but built on the same no. 23 last. The only 8-inch heritage boot you can get from Red Wing US are moc toes, so you can understand why collectors get excited about this tall plain toe offering.
These come in the Briar Oil Slick leather, an oiled tanned leather made by Red Wing's SB Foot Tanning. Oil tanning produces a lovely, durable leather that compliments the rugged lifestyle of a logger: it's water, stain and perspiration resistant, while maintaining a natural look. The 4584s also have a true Vibram Lug outsole, a steel shank, and lovely nickel eyelets. These wouldn't look out place in a logging camp, but are classic enough to wear to the local pub.
9. 8804 Chevron Boot (Oro-Russet Portage)
The 8804 Chevron boot was a limited release for the Red Wing Frankfurter store: it was the boot for Red Wing fans in the 90's and sold so well that the company released the boot as the 1977 Frankfurter to honor the store and the boot, which is now hard to find.
Why is 8804 Chevron Boot Rare?
Rare Oro-russet leather
Limited release style not available in the US
Made with a sleek Supersole
Quasi-storm welt made with glued on piping around the outside
Red Wing branding on the shaft
It's a fairly standard moc toe built with a Supersole outsole and a leather collar. The Supersole isn't really that grippy or (in my opinion) handsome, but many find it to be remarkably comfortable. It also has a strange faux-storm welt: greater water resistance because of glued on piping running along the boot's periphery.
While that detail isn't exactly what I might want in a boot, there's a lot to like about the 8804: it has the rare Oro-Russet Portage leather, a rare oursole, insulating ankle cushioning, and extra water resistance. All of this gives the boot a bit of a 90's streetwear look combined with Red Wing's heritage aesthetic.
10. 9185: Wabasha Boot (Copper Rough & Tough)
I'd say the 9185 is the strangest boot on this list. They were made in 2012 for a limited run — and they weren't even made by Red Wing. They were made in Maine as collaboration between Red Wing and Rancourt.
Why is the 9185 Wabasha rare?
Made in USA by Rancourt
Intended for the Japanese market
Limited numbers produced
Handsewn
Combination of waxed canvas and leather
These are uncommon because there's a very limited number of them, they were expensive, and they were hand stitched. Basically, Red Wing handed over leather and a design to New England's Rancourt & Company and had them build the boot, so they were made in a classic moc design by two classic American heritage footwear companies. Throw on a mini-lug sole, rawhide leather laces, waxed canvas panels, and the contrast stitching and you have a really cool, very rare boot.
11. 4545 Iron Ranger (Black Spitfire)
I didn't think this list would be complete without at least one Iron Ranger. The 4545 was released about 5 years ago in Amsterdam, and these are part of the "damn, Europe gets all the coolest boots" club. They are simply a classic Iron Ranger boot made in the Black Spitfire leather.
Why is the 4545 Iron Ranger rare?
Very limited European release
The black spitfire leather is also rare
Expensive, if you can find a pair
There were only 666 of these made, so they are very difficult to find. Just to give an idea of how coveted and rare these things are, people will pay $500 – 600 for a new pair of factory seconds. Red Wing Amsterdam partnered with a Danish motorcycle shop called Wrenchmonkees to produce these motorcycle-friendly boots, utilizing the rugged, heavily waxed rough-out Spitfire leather to up the badass-ness of the boot.
Wrapping it Up
Man, do I love a trip down rare boot lane. It's a place where the passion for this little hobby really shines; you get to see how much thought goes into researching historical boot styles, how they were built to function, and why certain types of leathers and materials were used. Then the designers tweak that ever so slightly by creating a new leather that adds to the story, updating it for a new generation of boot lovers to enjoy. Red Wing is especially good at this and it's even more prominent in their Japanese releases. The best part of lists like this? We can always look back at the old, rare boots and create a wish list of features, leathers, and designs that we want to see the most.
The following two tabs change content below.
Karl Wasson
Karl is an IT product manager living in South East Asia who gets a kick out of durability and dependability. He believes form and function are not mutually exclusive. When he's not working, he's searching for the best bespoke menswear in South East Asia and beyond.
Latest posts by Karl Wasson (see all)