I'm a little embarrassed at how badly I wanted this bag.
I was salivating over it for months (maybe a year) before finally pulling the trigger, because… it is an investment. But I don't know if I own a cooler backpack. Do I own more "functional" backpacks? Sure. Do I own more "modern" bags? Certainly. But when it comes to badass heritage design and incredible durability, the Bradley Mountain Wilder is one of the coolest bags on the market.
The company's owner, Tyler, designed the wilder as a one-off to use on a trip to Switzerland and Italy. It wasn't part of his product line-up, but the bag held up so well he added it to the store and now it's far and away the company's most popular bag.
Here's why.
[Related: The Best Waxed Canvas Backpacks]
[SHOP BRADLEY MOUNTAIN'S THE WILDER HERE]
Overview
Who should buy Bradley Mountain's The Wilder
Guys that want a durable — we're talking heirloom quality — backpack that looks better as it ages.
Fans of old fashioned design who love classic materials like waxed canvas and veg tan leather.
Anyone who wants to support a small company that makes everything in the US.
Who shouldn't buy the Bradley Mountain's The Wilder
Penny pinchers; this bag isn't cheap.
Guys who prioritize modern features like micro-adjustable shoulder straps, sternum straps, or padding in their laptop sleeve.
Men who need to be able to open and close their bag quickly.
Guys who want a versatile bag; this is hard to wear with shorts or a suit.
Bradley Mountain's Wilder Materials
Extraordinarily thick, 20-ounce waxed canvas
Vegetable tanned leather accents
Unlined
Bradley Mountain vs Filson
Compared with Filson, who make very similar bags — we're comparing it to the Journeyman — this bag has thicker canvas and uses only American-made materials.
Filson's canvas and twill come from British Millerain, a fantastic textiles manufacturer in Rochedale England, while Bradley Mountain gets theirs from Fairfield Textiles, a fantastic manufacturer based in New Jersey.
Bradley Mountain makes their bags in the US with vegetable-tanned leather and Filson makes most of their bags overseas. Filson is in the Pacific Northwest while Bradley Mountain is based in San Diego in a tiny shop with just 4 full-time employees. If supporting small American businesses is your thing, definitely Bradley Mountain is a better pick than Filson.
[Related: Filson's Dryden Backpack vs Journeyman]
Bradley Mountain Canvas
The canvas is 19.8 ounces per square yard, which is monstrously thick. (Filson's is 14 ounces, for the record.) It's also waxed, which is an old-fashioned way of making the material more waterproof. People first started doing it when they waxed the sails of boats, because it made them catch more wind, and we've been waxing canvas for centuries since.
Waxed canvas jackets are also popular not just because they're water-resistant, but because beat-up canvas looks even cooler when it's been waxed, giving it what fellow YouTuber Carl Murawski calls a 'patina cheat code.' It looks old quickly, but in the most beautiful way.
[Related: 13 Alternatives to the Filson Journeyman Backpack]
Bradley Mountain Leather
The other material we'll chat about is this leather, which isn't just on the straps but also totally covers the bottom of the bag for an extra tough layer of reinforcement.
They call it harness leather, it's described by the tannery as made
Using an exclusive blend of waxes, oils, and tallows, we hot stuff these leathers to bring out their inherent beauty. Through a traditional process called jack glazing, oils are brought to the surface to create a glossy finish that never masks the leather's natural grain.
It comes from Pennsylvania's famous tannery Wickett and Craig, one of the very few tanneries in the United States that focuses exclusively on vegetable-tanned leather. Over 90% of leather on Earth is chrome tanned, which is much faster and cheaper, but veg tanned leather is typically more durable and eco friendly and many people prefer the way it ages.
But it is much stiffer than chrome tanned leather, and it's a lot of work to get these stud closures shut when you first get the bag. You should expect a few weeks of grunting and groaning to punch the studs through as it softens, because this leather does not relent easily. I recommend grabbing a screwdriver to open up the holes.
[Related: The Mission to Clean Up Chrome Tanning]
Bradley Mountain Wilder Features
28.3-liter capacity (3.5-liter front pocket)
Unpadded laptop sleeve on interior
Exterior water bottle holder
Belt cinches can decrease volume and strap items to exterior
The main compartment is 28.3 liters, which is 19 inches by 13 by 7. The bag is described as 28 liters, but that doesn't include the front zipper pocket, which gives you an extra 3.5.
As a heritage bag, this isn't bristling with pockets and technical features but what you have is, thankfully, a laptop sleeve on the inside. It's not padded and unsecured — you can't zip it in there — and there are no other interior pockets, but you get the laptop sleeve and it fits any sized laptop.
In addition to the 3.5-liter front pocket, there's a small front pocket that clasps closed. It's otherwise an open pocket, but the clasp can secure a beer or some papers — just don't put anything too small or valuable in there.
The exterior sleeve is described as a water bottle holder, and the belts on the other side of the bag can be used to reduce the bag's volume or to strap a blanket or jacket to the exterior.
Price
The price is $465.
Now, if you've only owned cheap nylon backpacks your entire life, your jaw probably just dropped
But if you like these sorts of backpacks that are made in the United States with high-quality heritage materials like 20-ounce canvas and vegetable-tanned leather, well…
Let's compare this bag to Filson's Journeyman backpack. (My Journeyman review.) The Filson is $50 cheaper (about 12% cheaper at $395), but it's smaller and has thinner canvas and Filson's Journeyman is not made in America. To be more exact, the bag has 18% less volume than the Wilder and the canvas is 35% thinner.
Also, the Wilder has a huge strip of veg-tanned leather reinforcing the bottom, and it's expensive leather. The canvas is American made and Bradley Mountain is a much smaller company.
If we want to decide which is the most American, it's Bradley Mountain! Filson's canvas and twill are British-made and the bags are assembled overseas.
[SHOP BRADLEY MOUNTAIN'S THE WILDER HERE]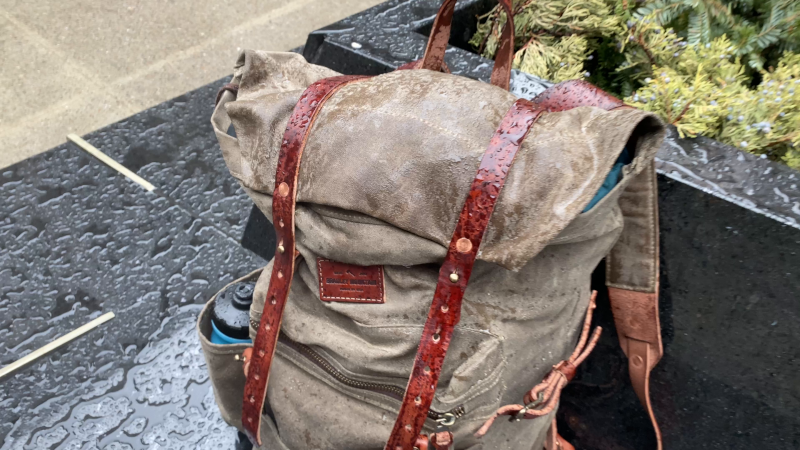 Bradley Mountain is a very small company, they only have 4 employees versus Filson's hundreds. So there's a warm and fuzzy feeling for supporting a smaller brand like this. I won't pretend either of them are cheap bags, and the Journeyman is definitely more versatile. Heck, Jack Ryan wore it running around for the CIA.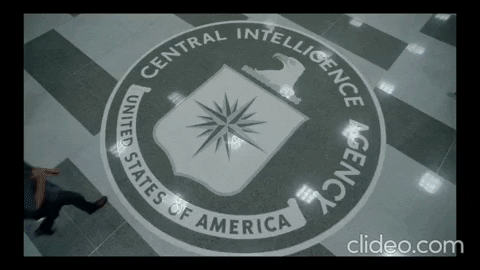 While the Wilder is a lot more ostentatious and will look weirder in a boardroom, there's an argument to be made that the Wilder is better value. It's up to you if these things matter.
[Related: Is Filson's $1000 Leather Briefcase Worth It?]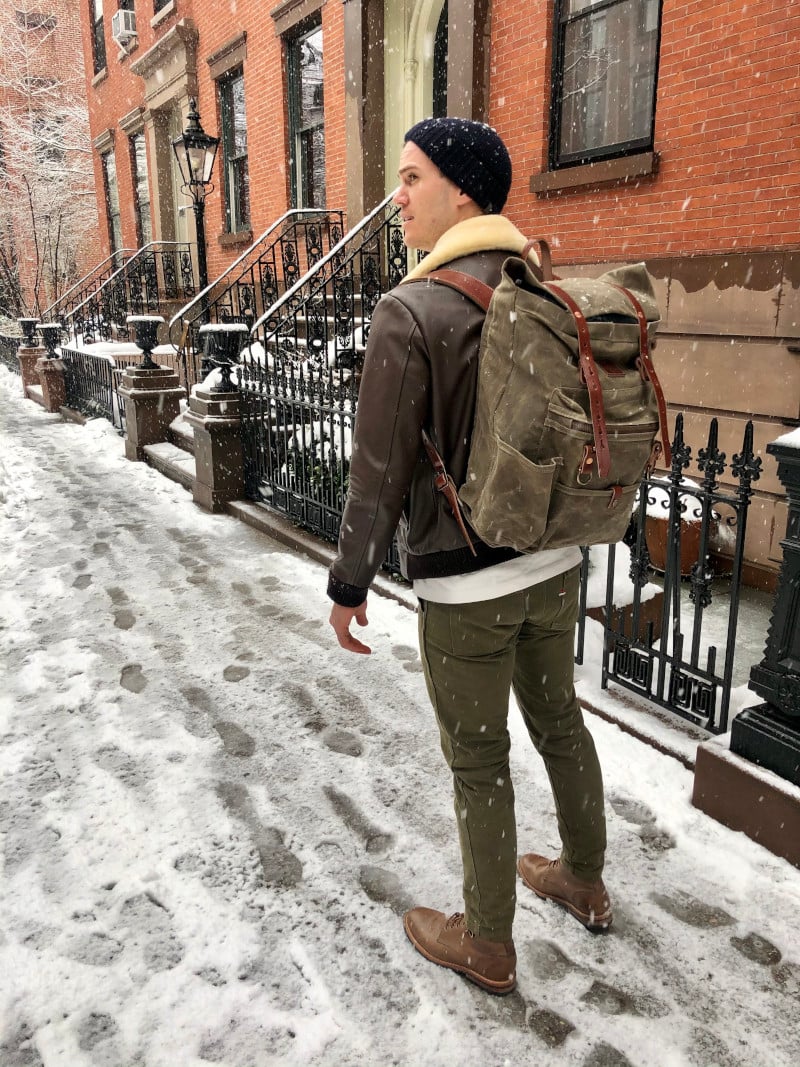 Pros & Cons
Pros
Durable
Ages well
Functional, water bottle pocket laptop sleeve
Made in America
Small company
The Wilder has the thickest canvas of any bag I've owned, it's ultra-durable, the leather is crazy thick and tough.
Perhaps most importantly for some guys, it'll age beautifully. It's gorgeous. Basically, the bag has durability and coolness for those who like that old-fashioned frontier vibe.
Those are the primary reasons guys buy a bag like this. It'll last you a million years. You'll probably die still using this bag, and that's worth the money. It lasts longer than your average nylon backpack and looks badass at the same time.
You've also got a water bottle holder, these belts for strapping extra stuff on the outside, a laptop holder, and the opening design that combines a stud closure with long belts makes it easier to get into than a roll top while making it easy to overfill — you can strap the flap over a coat or blanket that's spilling out the top.
And finally, like I just said, perhaps this is better value than Filson. It's a small company and everything comes from America, and these are all excellent reasons to pick a bag.
[Related: The 7 Best Waxed Canvas Jackets for Men]
Cons
Visible logo
Laptop sleeve is unpadded
Shoulder straps aren't micro-adjustable
Style might clash with shorts or dressy outfits
Not a roll-top, loses some water resistance
Water bottle holder and front pocket aren't very secure
I don't like the patch on the front, but you can just cut those threads with an Exacto knife. The laptop sleeve isn't padded and there are no interior pockets, perhaps drawbacks of the old fashioned design. On a similar note the shoulder straps aren't micro adjustable (they're shortened with buckles) and there's no sternum strap. And while this might be nitpicky, the leather studs are hard to close when the bag is new or when it's cold out.
The style isn't as subtle as Filson's. It looks fantastic with jeans or casual trousers and even better with a leather jacket, but unlike Filson bags it looks odd with shorts or a suit.
Lastly, it's not as rainproof as it could be. I think the canvas is thick and waxy enough to handle most storms, but the opening isn't watertight. If that's a big problem for you, you can consider getting their roll-top Biographer bag.

Wrapping Up
This is a pricy bag, but it will last a lifetime. Bradley Mountain is a cool small business that makes all of their products in the States and this bag just keeps getting better looking after every year you use it. It's a pretty good investment if you don't mind sacrificing some modern convinces for heritage materials and a really lovely patina.
The following two tabs change content below.
Nick English
By day: Manhattan-based journalist with reporting experience on four continents, published in Vice, Men's Health, Popular Science, and a bunch of other places.By night: ravenous consumer of anything and everything related to high end men's boots.Stridewise is where I nurture a maniacal obsession with footwear and share my findings. Say hey:
[email protected]
.
Latest posts by Nick English (see all)