These are two seriously iconic boots that are famous for completely different reasons.
They both fall into the category of the All American Work Boot that most guys, let's be honest, are probably wearing because they look cool, they last forever, and they keep your feet dry. (As opposed to wearing them for patching potholes.)
The reason I landed on these two boots — the Red Wing Iron Ranger and the Timberland 6″ Premium Waterproof Boot — is that if you're trying to decide between a Red Wing boot or a Timberland boot, you're probably thinking about the Red Wing and the Timberland boot. Both of these boots are the flagship models from their respective brands.
(Perhaps you're more interested in the Red Wing Blacksmith; it's basically the same boot as the Iron Ranger but with no toecap and duller eyelets. You can see my review of that one here.)
Let's dive into the boots' aesthetics before taking a closer look at the leather and the sole.
Red Wing vs Timberland Aesthetic
Timberland
Chunky, roomy fit
Grippy sole
Nubuck leather
Leather collar
This is a relatively chunky boot, moreso than the Iron Ranger. (Which is already pretty well known for its chunkiness.)
The aesthetic of the Timberland is world famous, and before it became massively popular in hip hop in the early 90s — which tripled the company's sales, by the way — the boot was actually a favorite of manual laborers in New England, and there are a few reasons why:
It's waterproof. Not just water resistant, like most old fashioned boots are, but waterproof,
It's got serious grip on the rubber lugged outsole, and
It's fully insulated to keep the toes warm.
These three qualities make it really functional in the real world, something that's rare for boots that look this good.
(As an aside: it's said that the reason Tims got so popular among '90s rappers is that they keep your feet warm for those times when you're standing on a street corner dealing drugs all night. It's true that Notorious BIG, Jay-Z, 50 Cent, and a lot of the other artists known to wear the shoes used to be drug dealers… but it's not really my specialty. My point is the boot keeps your toes dry and warm.)
The upper is nubuck leather, which I'll discuss further in the next section, and you've otherwise you've got Taslan nylon laces, 7 pairs of hexagonal eyelets, a Timberland logo stamped on the outer heel, and a leather collar up the top of the cuff to help with insulation.
[See my original review of the Timberland 6″ Premium Waterproof boot]
Red Wing Iron Ranger
Full grain leather
Bulbous cap toe
Vibram mini lug sole
These boots come in a ton of leathers, but they're really well known for this Amber Harness leather on the 8111 Iron Rangers.
I should mention that my Iron Rangers are very old, and I conditioned them with a waterproofer years ago. This seriously darkened them, so above I showed what the leather looks like after a few years if you take better care of it with good conditioners like Cobbler's Choice or Venetian Shoe Cream. My own, darker boots look like this: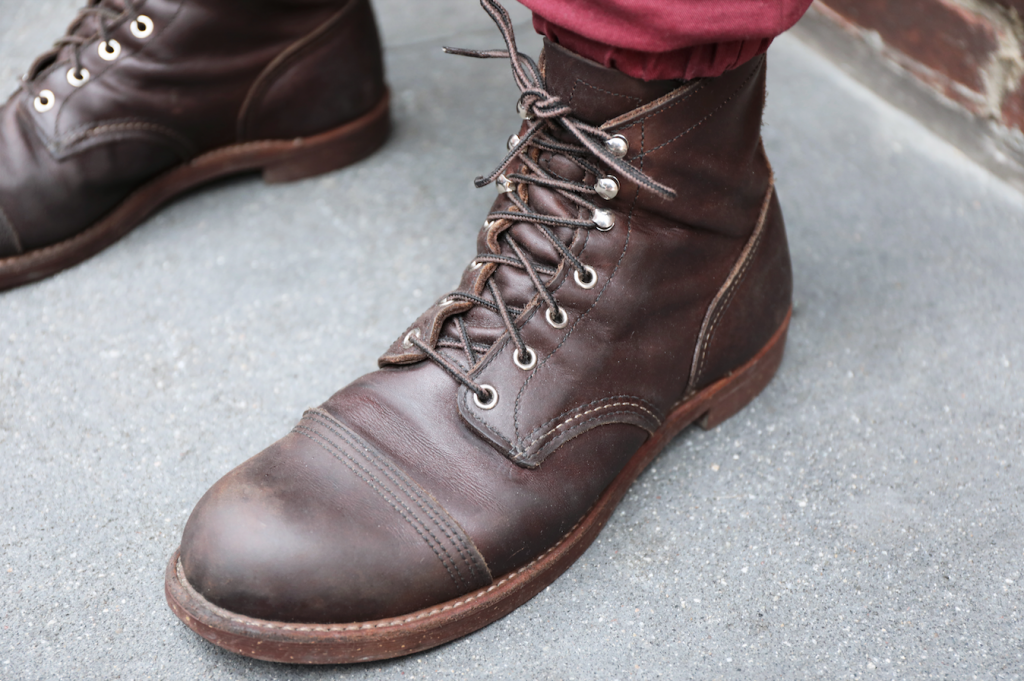 Looks wise, The Timberland is a more voluminous boot with a lot more room in the toe. Nonetheless, the Iron Ranger is often considered quite bulbous by guys who prefer dressier boots. The toecap gives the toe a rounder appearance, and it is roomier than most boots.
Since 2017, the shoe has comes with a Vibram mini lug sole, so it's not as grippy as the Timberland but many guys prefer the flatter, sleeker look of the sole.
Four pairs of eyelets and three pairs of speed hooks make getting them on and off a little easier than the Timberland.
There's a bit more going on in the soles of these boots — it's not just chunky rubber versus sleeker rubber — but let's spend a second talking about the leather.
[See my full review of the Red Wing Iron Ranger]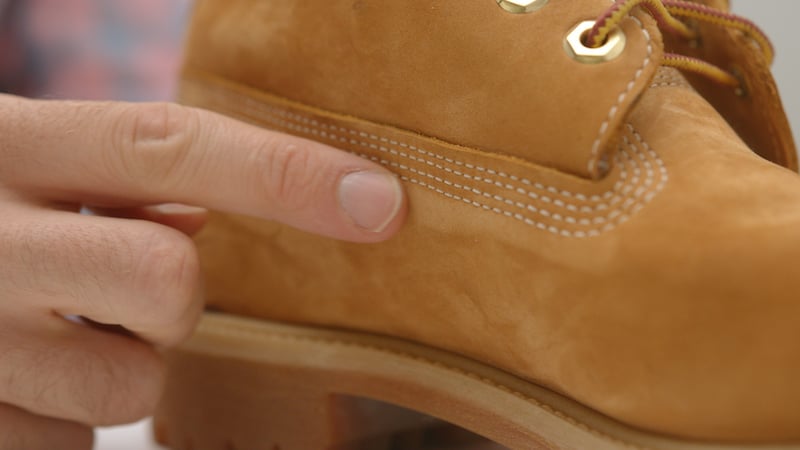 Red Wing vs Timberland Leather
Timberland Leather
"Wheat" nubuck leather
A little hard to keep clean
A lot of people think Timberland is made with suede, but it's actually nubuck. The difference is that if you think of an animal's skin as a loaf of bread, suede is made from the fluffy inside and nubuck is made from the outside. The difference between full grain leather (like on the Iron Ranger) and nubuck is that the leather has been sanded or buffed to give it a slight, fuzzy nap of protein fibers.
So nubuck is a lot tougher than suede, but it still feels a little fuzzy and it does stain pretty easily. That doesn't mean it can't be cleaned, but it's a lot harder to keep your Tims sparkly clean than it is for the Iron Rangers.
[Learn more about the differences between Suede vs Nubuck vs Leather]
Red Wing Iron Ranger Leather
Full grain leather
Oil tanned in Minnesota
Easier to clean
Most of Red Wing's leathers are oil tanned, meaning they're chrome tanned and then tanned with oil to make the product a bit more hardy and water resistant.
When people think about boots that look cool as they get older, they're thinking about boots like this: it's thick leather (2 to 2.2 millimeters), it's full grain (so it's made with the outer hide of the animal) and it's the stuff badass boots are made from.
You can get this in Black Harness and a reddish Oxblood Mesa, which are the same oil tanned leather in different colors, or you can get it in Charcoal or Copper in the "Rough and Tough" leathers, which are oiled nubuck. The Rough and Tough leathers aren't like Timberland's, though — it's not fuzzy and it's much more oily and stain resistant.
That's the real takeaway here: besides the different look, Iron Rangers are way easier to keep clean. You don't need shoe cleaner like you do when you want to clean Tims, you can usually just wipe them down with a damp rag.
[Related: Timberlands vs Doc Martens – Which Is Better?]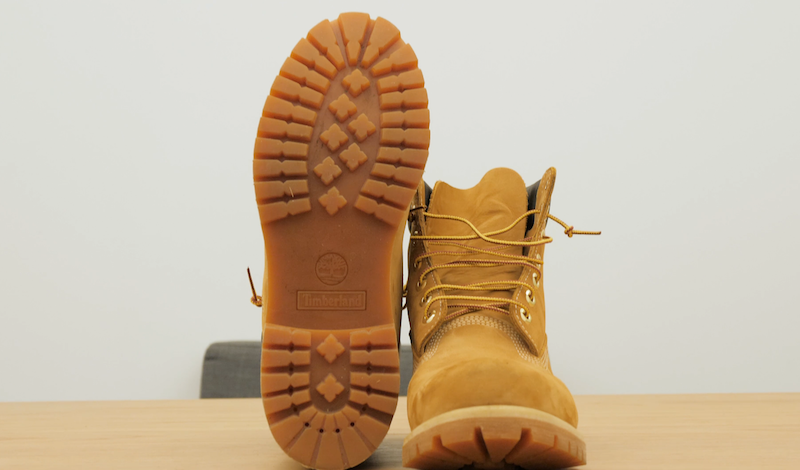 Timberland vs Red Wing Soles
Timberland Sole
Gripstick sole
Rubber midsole
Urethane insole
Foam footbed
Hard to resole
Waterproof
Timberland has this unbelievably grippy Gripstick sole, which is made from 10% recycled materials.
After that, you've got a rubber midsole and and a urethane insole, plus a removable foam footbed you can see below. All of this rubber and foam gives the shoe spectacular shock absorption.
It's worth emphasizing that Timberlands aren't really resoleable. The construction is what's called bonwelted, which really just means it's glued together, or "cemented." There are a couple of people online who say they can resole Tims if you mail them the shoe, but generally speaking, you can't take Tims to a cobbler and get them resoled like you can with…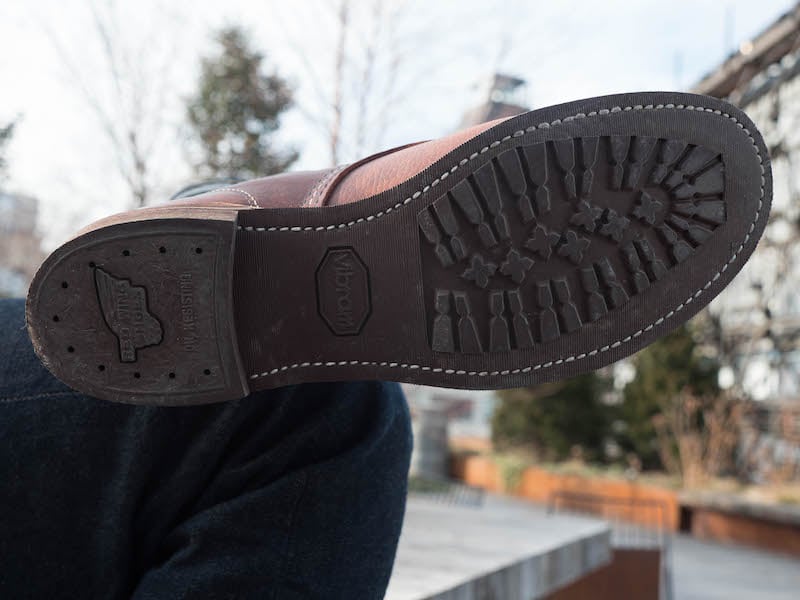 Red Wing Iron Ranger Sole
Vibram mini lug sole
Cork midsole
Leather insole
Resoleable
Water resistant
The Iron Ranger is made with what's called a Goodyear welt, which means the upper and the sole aren't attached to each other, rather they're attached to a "welt" in between them. That means absolutely any cobbler can resole them when the time comes and they can last for up to a decade or two. That's a massive advantage.
The downside is that while Tims won't last as long as Iron Rangers, they are waterproof, whereas Iron Rangers are just very water resistant. You can wear the Red Wings in the rain or snow without a problem, but it's not considered waterproof: if you stand in a puddle for a long time, your toes will probably get a little wet.
As far as the layers of the sole go, it's much more traditionally made than the Timberlands: after the outsole there's a layer of cork and a leather insole. This is a really old fashioned way of making classic, heritage boots, and that construction means two things:
The boot molds to the shape of your foot over time, becoming more comfortable and feeling more tailor made for your foot.
They don't have very good shock absorption; it's nowhere near as good as the Tims.
So which sole is best for you depends on what you want from a shoe.
[Related: Goodyear Welt vs Cemented vs Blake Stitch]
Timberland vs Red Wing Price
This one's quick an easy: The Timberlands cost between $160 and $198, the Red Wings cost between $300 and $329. At half the price, the Tims obviously win this category.
Timberland vs Red Wing – The Summary
Timberland
Half the price
Better shock absorption
Waterproof
Grippier
Insulated
Red Wing Iron Ranger
Easier to clean
Resoleable
Fit to the shape of your foot
Age a little better
More "classic" look
Why pick Timberlands?
For starters, they're probably more iconic than Red Wings. Before I got into boots I didn't know what an Iron Ranger was, but I knew what a Timberland boot was — this shoe is everywhere, and you're wearing a piece of pop culture history when you buy them. They're like the Chuck Taylor of boots: they're meaningful and pretty well priced, if not the most durable shoe on Earth.
On that note, they're half the price of the Iron Ranger, they've got way better shock absorption, they're waterproof, they're grippier, they're insulated, and they don't have a tough break in.
These are all great reasons to prefer the Tims.
Why pick the Iron Rangers?
The leather's much easier to keep clean, the cork and leather soles mean it molds to the shape of your foot — that's actually a meaningful difference, it's a big part of why many guys get so attached to their boots — and they can be resoled a million times.
Is there an aesthetic benefit to the Iron Rangers? This is very subjective, but I'd say that Tims are casual streetwear and Red Wings are a little more "classic." That is to say that Red Wings look good on 20-year-olds and 60-year-olds, while my dad would look a little out of place in Tims. Red Wings are less youthful and more classic — something you may see as a pro or a con.
The dealbreaker for most guys will probably be the price, and that's fair. But you have to keep in mind Iron Rangers will last much much longer than Timberlands. Partly because the leather is thicker and better quality, but also because you almost definitely can't resole a Timberland but you can with Iron Rangers, which is why some consider the price difference worth it.
Which do you think is the better boot?
The following two tabs change content below.
Nick English
By day: Manhattan-based journalist with reporting experience on four continents, published in Vice, Men's Health, Popular Science, and a bunch of other places.By night: ravenous consumer of anything and everything related to high end men's boots.Stridewise is where I nurture a maniacal obsession with footwear and share my findings. Say hey:
[email protected]
.
Latest posts by Nick English (see all)