This is it: the ultimate showdown between two flagship cap toe boots from two very different companies.
In one corner, we have Red Wing, founded in 1905 and arguably the most popular heritage boot company in the US, with the Iron Ranger.
The challenger is newcomer Thursday Boot Company, founded in 2014, and their critically acclaimed Captain boot.
I've worn the hell out of both of these boots. The Iron Rangers were the second pair of boots I ever bought, and I put the Captains through their paces last year when I wore them all over Colombia.
So who comes out on top: time-tested traditionalist or industry-disrupting new guy? Let's take a look.
[Team Thursday? Shop the Captain Boot here.]
[Team Red Wing? Buy the Iron Ranger here.]
Aesthetics
Red Wing Iron Ranger
Thick, oil tanned leather
Bulbous toe cap
Very casual
Vibram mini lug sole
The appeal of this boot really comes from its timelessness; as part of Red Wing's Heritage line, very little has changed about the about the Iron Ranger in the last few decades. It's firmly a casual boot, particularly with its shiny nickel eyelets part and signature round, bulbous toecap. (It's a true toecap, by the way: made with two layers of leather.)
The boot is pretty ubiquitous, and this is often the first boot a guy spends money on, although you'll find plenty of people who don't like it because they think the toecap is too clownish.
The leather is thick and oil tanned, and the sole is a Vibram mini lug, attached to the upper with a 270-degree Goodyear welt.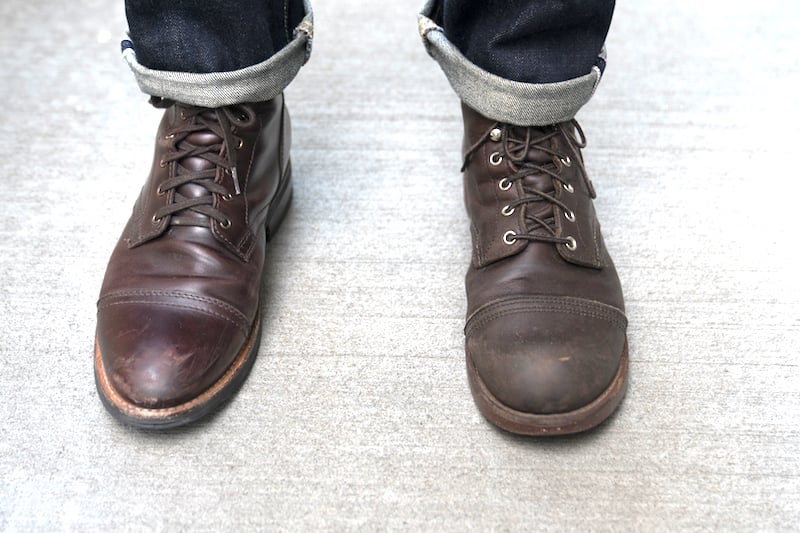 Captain on the left, Iron Ranger on the right.
Thursday Boot Company
Combination tanned leather
Sleeker silhouette
Hybrid dress boot/ work boot
Studded rubber sole
The Captain is much lighter and sleeker than the Red Wings. It makes sense: the Captain, like many of Thursday's boots, is intended to be a hybrid work/dress boot. I think it succeeds, and it makes for a boot that's far more versatile than the beefy Iron Ranger.
These are fully leather lined boots, with handsome combination-tanned leather and a studded rubber outsole which looks very flat from the side while still having a good grip.
Overall, no one can argue with the fact that these are two completely different aesthetics: the Iron Ranger is a true, chunky workboot and the Captain is more a more versatile hybrid that's easy to dress up and dress down, particularly given its dressier leather.
[Read my original Thursday Captain Boot review!]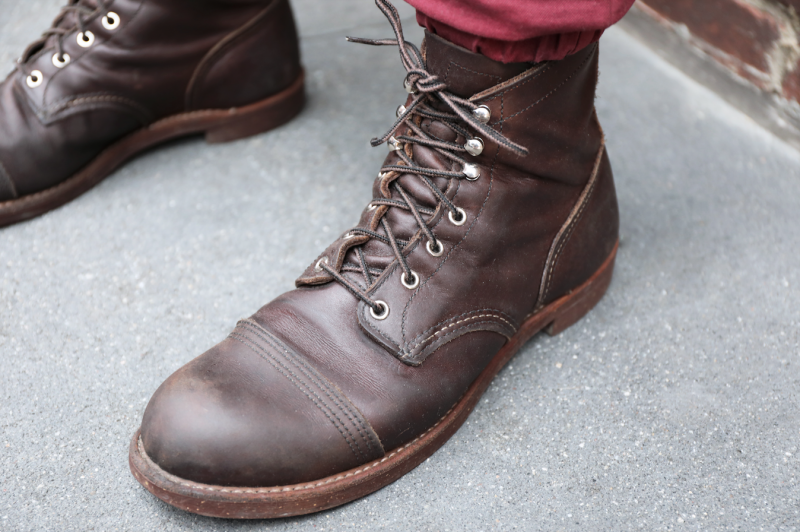 Leather
Red Wing
Full grain, oil tanned leather
Thicker than the Captain
Matte finish
Hardy, outdoorsy
One of the coolest things about Red Wing is the fact that they tan their own leather at their tannery, SB Foot Tanning Co, which produces about 6 million linear feet of (mostly oil tanned) leather per year.
My boots are a lot darker than you might expect Amber Harness to look, and that's because I made the mistake of conditioning them with Obenauf's, which shifted the color dramatically. (If you want to avoid that mistake, use this neatsfoot oil instead.)
And, honestly, these boots don't really need much conditioning. It's a very hardy, full grain, oil tanned leather, and generally I think oil tanned leather is underrated. It's hard to scratch or damage and it can go a long time without treatment. Here, it adds a lot to the boots' rugged, outdoorsy feel, though a potential downside is that it's quite matte and doesn't shine easily — again, it's hard to dress up an Iron Ranger.
[Learn how to avoid darkening your Iron Rangers (like I did) in this guide to Red Wing conditioning.]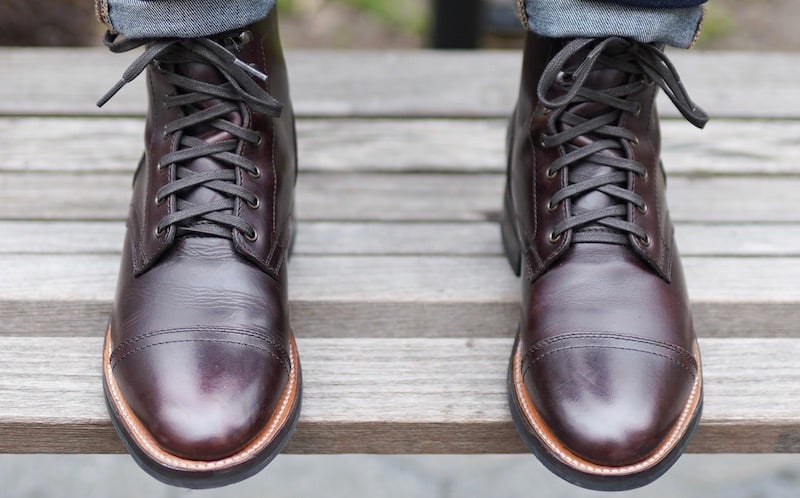 Thursday Boot Company
Combination tanned
Shinier, dressier
Easier to dress up
Contours the foot better
The Captain is available in a variety of leathers, including a few from Horween Leather Company, but the flagship boot is made with the company's own Thursday Chrome leather out of the LeFarc tannery. It comes from Tier 1 United States cattle and it's very similar to Horween's Chromexcel®, which is combination tanned with vegetable and chrome. (Learn more about the different ways of tanning boot leather here.)
Again, it's considerably easier to dress up this vibrant, lustrous leather than the more matte Iron Rangers. I will note that the leather on the Thursday boot is slightly thinner than the Red Wing, but we're talking about a difference of 0.2 millimeters here, which won't really make a difference as far as durability is concerned. It does, though, make for a slightly sleeker silhouette, and it contours to the foot a little more easily.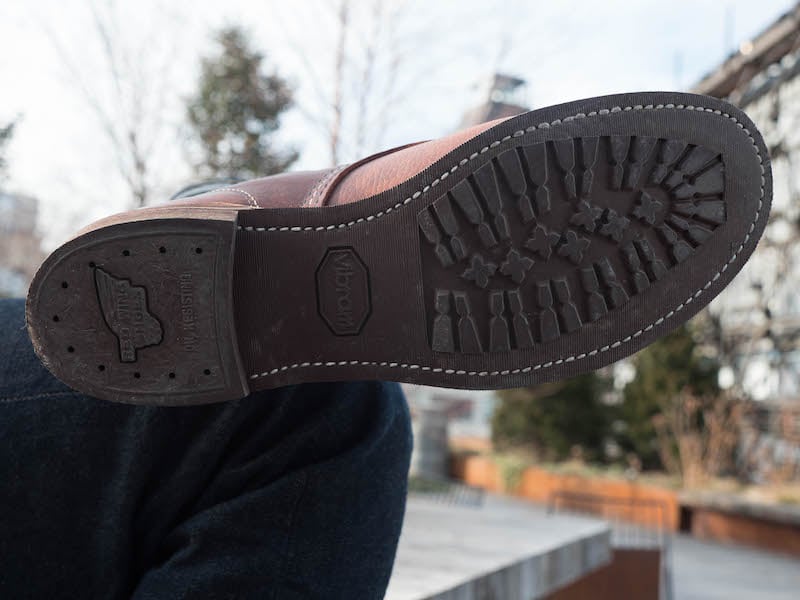 Sole
Red Wing
Rubber outsole, cork midsole, leather insole
270-degree Goodyear welt
Bad shock absorption
Older models of the Iron Ranger have the infamously slippery nitrile cork sole but, if you bought yours anytime after summer 2018, you probably have the low-profile (but still grippy) Vibram mini lug seen above. No matter when you bought them, though, they'll have a cork midsole, steel shank, and leather insole. Everything is stitched together is a 270-degree Goodyear welt, which makes it easy to resole but is a little less water resistant than a 360-degree Goodyear welt.
[Read my original Red Wing Iron Ranger review!]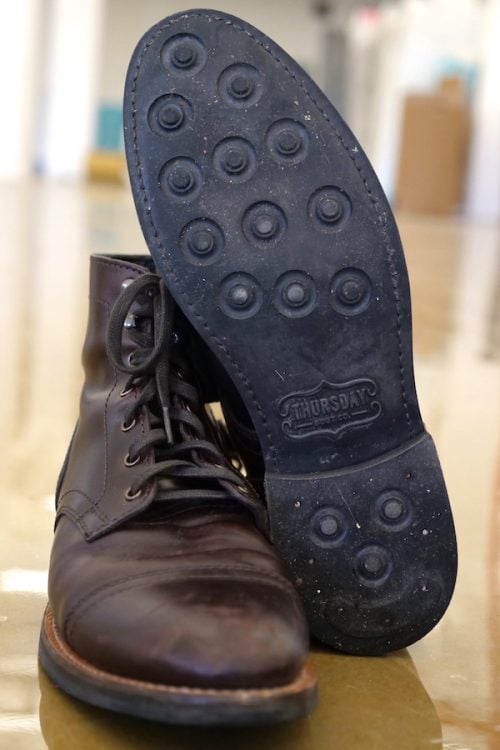 Thursday Boot Company
Rubber outsole, cork midsole, leather insole
360-degree Goodyear welt
More water resistant
EVA comfort strip
The rubber outsole on the Captain has recessed lugs and offers similar flexibility and grip to the Vibram mini-lugs on the Iron Rangers. The stitching along the welt is a lot subtler on this boot (again, helping the versatility), plus it has a full 360-degree Goodyear welt, which means it's more water resistant. The Captain also has a cork midsole and steel shank, and then something different: a Dura EVA comfort strip. It's a material often used in athletic sneakers, and it makes for a boot that feels softer and bouncier than your regular heritage workboot.
The feeling of these soles is one of the biggest differences between these two boots. Even though they both have the cork midsole that molds to the shape of your foot over time and the steel shank for arch support, the Iron Ranger has crummy shock absorption — it feels like you're walking around on hardwood. A lot of people like the old fashioned workboot feel of the Iron Ranger (it does feel like a boot made a hundred years ago, which is a draw for some folks), but I definitely prefer the shock absorption of the Captain.
Between that and the full 360-degree welt, I'd give the sole of the Captain the edge here.
[Learn more: The 6 Kinds of Boot Soles You Should Know About.]
Fit & Sizing
Order down a half size

Thursday

offers more sizes
Red

Wing

's fit is more voluminous

Thursday

contours the foot more closely; better shock absorption
Sizing was simple for both boots: they both run half a size large. I'm an 11.5 and I ordered an 11 in both, which fit great. Thursday's come in a slightly larger range of sizes (6 to 15) than Red Wing (7 to 14).
Comfort-wise, as I mentioned, I prefer the shock absorption on the Captains to the Iron Rangers, and I feel Thursday has better arch support as well. The Captains are also sleeker, so they cradle the foot a bit better, while the Iron Ranger is more roomy (they use a more voluminous last), so it depends on what you like.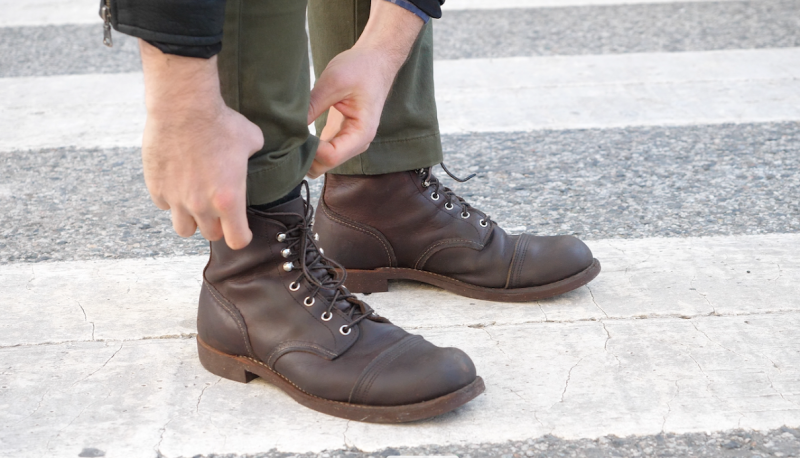 Price
Red Wing
These will typically run you $300-$320 on Amazon, Nordstrom, or Red Wing's own site, though the price can fluctuate a bit and you can periodically find them on sale for under $300.
[Shop the Red Wing Iron Ranger here.]
Thursday Boot Company
These boots are only $199 from Thursday's own site and on Amazon. (Or you can pick 'em up from one of their stores if you visit New York City.) They say they keep their prices low by selling direct-to-consumer and having a low mark up.
[Shop the Thursday Captain Boot here.]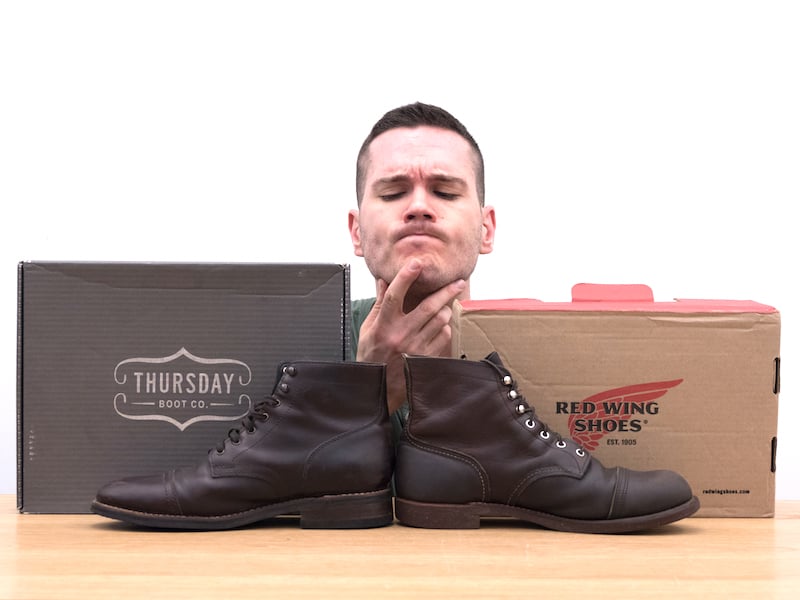 Red Wing Vs Thursday: Pros & Cons
Red Wing Iron Ranger
More outdoorsy leather
Beefier, more casual
Wider toebox
Lower heel
Worse shock absorption/arch support
More expensive
Thursday Captain Boot
Dressier leather
More versatile
More comfortable; fully lined
Better arch support
Better break in
Less expensive
I like Iron Rangers as much as the next guy. If you want a heavy, chunky, outdoorsy, old world workboot, Red Wing is for you. A lot of guys like boots because they want to wear the kind of clothes their grandpa wore, and Red Wing is unabashedly old fashioned.
Undeniably, the shock absorption is bad, and you can't wear these with slacks or even most business casual outfits. It's not fancy or modern or dressy. But it is absolutely tough as nails, and it's a classic.
Besides saving you a hundred dollars, the Captain boot is most notable in my mind for its versatility. You don't have to hate Iron Rangers to acknowledge that Thursday has succeeded in creating a combination dress boot/workboot that can be worn with just about anything. It's lighter, it's better value, it's more comfortable, and it's even more water resistant.
I do love the Iron Ranger, and I get why it's such a popular boot: the timeless appeal of a true workboot is real. If that's what you're looking for, by all means, get yourself a pair.
But if you have a few hundred bucks, you're looking to buy a pair of boots and you want to get the most possible wear out of them, I think you can't beat the Captain boot for price and versatility. I simply find myself reaching for my Captains more often.
[Related: My list of The Best Boots]
The following two tabs change content below.
Nick English
By day: Manhattan-based journalist with reporting experience on four continents, published in Vice, Men's Health, Popular Science, and a bunch of other places.By night: ravenous consumer of anything and everything related to high end men's boots.Stridewise is where I nurture a maniacal obsession with footwear and share my findings. Say hey:
[email protected]
Latest posts by Nick English (see all)