This post may contain
affiliate links
that at no additional cost to you, I may earn a small commission from.
There are entry level boots, there are mid-range boots, there are upper tier boots, and these two brands sit firmly in the upper tier: the beloved but pricy Viberg Service Boot and the most popular boot from the Alden Shoe Company, the Indy 403.
These two pairs of boots are real institutions in men's footwear. I think it's safe to say that Viberg has achieved more of a cult status than Alden — people really have very strong opinions about Vibergs, which is definitely in part attributable to the fact that they're so darn expensive. But Alden is also a cherished company among boot aficionados and it could be argued that the brand is more of a cultural icon given that it's a bit cheaper (so it's more accessible) and more importantly because Indiana Jones wears the Indy boot in all of his movies. (Before the Nazi-punching archaeologist came along, the Chromexcel version of the shoe was called the 403 while the calfskin was the 405.)
These are two shoes that are well over $500, so which is the better boot? Well, there's a lot to take into consideration.
[Shop the Alden Indy boot here!]
[More into Viberg? Shop it here instead!]
First Glance
Viberg
This is a pretty classic Service boot design, by which I mean it's minimalistic and it's reminiscent of old-fashioned, standard issue army boots. (You can compare it with Chippewa's here.) There's nothing trendy here, no weird stitching or toe cap, it's just a traditional, masculine look that's simple and timeless.
The most remarkable aspect is the unusual stitchdown construction, in which the leather upper is stitched directly into the sole with two rows of thread, making for a very memorable look. Besides the welt the most eye-catching features are the very thick Chromexcel leather, the brass eyelets, and the weight of the shoe — this is easily two pounds per boot.
[Read my full review of the Viberg service boot here!]
Alden
Even though it's been around for well over a hundred years, the Indy has a much less traditional look. While it's also made of Chromexcel leather it stands out from other shoes with fake moc toe stitching — it's just for fashion, so there's none of the blockiness of a true moc toe — and the chunky welt.
The Goodyear welt extends a good centimeter from the vamp and is a bright tan color, which contrasts nicely with the rich Chromexcel upper and the white moc toe. It's less versatile than the Viberg but in my very subjective opinion it's cooler, more memorable, and more fun to wear.
[Check out my original, more in-depth review of the Alden Indy here!]
Leather
Both Chromexcel
Viberg is slightly thicker & tough to break in
No break in on Alden
I won't break this section down into two parts because both shoes are made from the exact same kind of leather: Chromexcel leather from Chicago's Horween Leather company.
This is a leather that's really well known for its rich color depth; it undergoes 89 separate processes over 28 working days and uses all five floors of Horween's facility. While it's being made the leather is stuffed with a huge variety of oils and waxes, including food grade beef tallow, cosmetic grade beeswax, marine oil, chrome salts, tree bark extracts, and naturally occurring pigments.
At the end of the day you're left with a very rich, lustrous leather that develops a beautiful patina as it ages. The downside is the finish is a little vulnerable to scratches and nicks.
Note that Viberg uses a thicker leather than Alden's — the Service boot gave me some pretty serious blisters during the break in period, whereas the Indy was pretty easy from the get go.
Whichever shoe you get, there are two products usually recommended for taking care of Chromexcel: Venetian shoe cream if you want to keep the shoe as is, and Saphir's Renovateur if you prefer a shoe with a bit of shine.
[Related: Are Vibergs Worth It?]
Sole
Viberg
Dainite outsole, great grip
Leather and cork midsoles
Hard leather insole
Stitchdown construction
Viberg's sole is where all the action is.
Let's start from the bottom. Sparing no expense, Viberg went with a studded Dainite outsole imported from England, a sole that offers more grip than your flat leather soles but looks a lot classier than a chunky lug. Dainite also lasts much longer than leather soles and while it's not fantastic on ice, it performs pretty darn well in rain.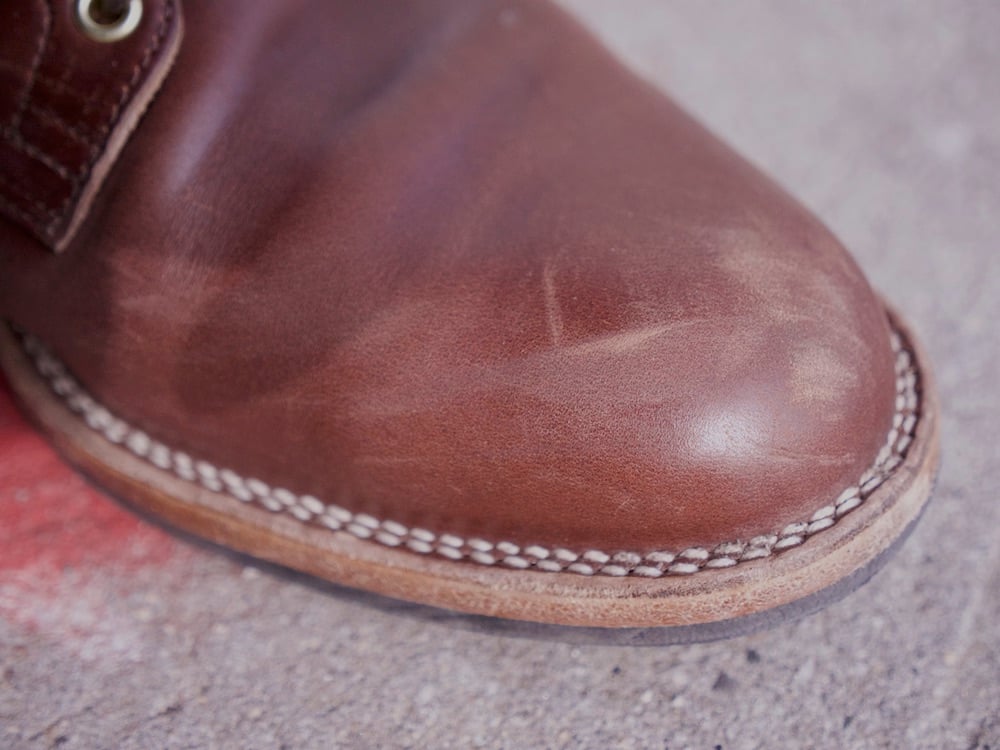 Then there's a leather midsole, then a cork midsole, and a hard leather insole with a leather heel seat for some extra support. (It's very unusual to have that many layers in a sole.) The heavyweight insole comes from Spain and when you combine all of that with a steel shank you've got an ultra sturdy, ultra heavy shoe that feels absolutely indestructible.
Finally, it's worth mentioning the welt. Instead of a Goodyear welt, Viberg has elected to sew the upper directly into the sole around most of the vamp while the heel is attached with Swiss hobnails and glue. The stitchdown is probably as water resistant as a Goodyear welt but it's a little harder to resole and the upper is more likely to lose its shape.
[Related: Stitchdown vs Goodyear Welt]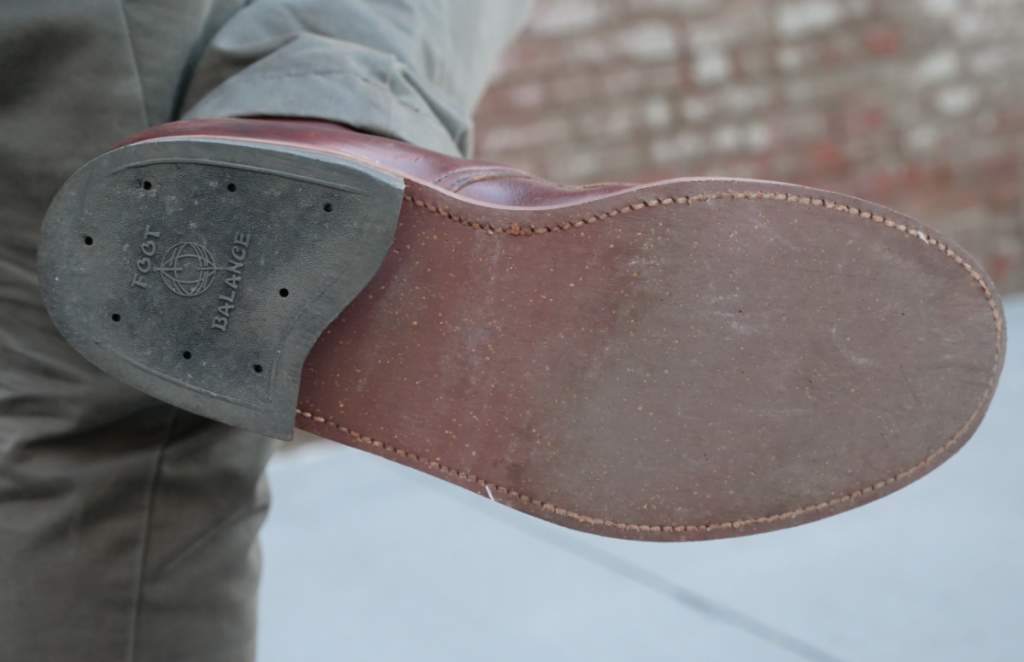 Alden
Neo cork outsole
Cork midsole
Leather insole
Rubber heel
270-degree Goodyear welt
There are three layers to the sole: a leather insole, a cork midsole, and the outside is made from flat neo-cork with a Vibram heel. The neo-cork is harder and more durable than stacked leather and provides slightly better grip. (It's often seen as a good compromise between leather and rubber soles.)
The welt, in contrast to Viberg, is a Goodyear welt. This means there's a layer between the sole and the upper, which means it's easy to resole once the outsole wears through or if you just don't like the sole it came with. (It's quite common for people to attach Commando soles to their Indys.)
While some will prefer the Goodyear welt, I do want to point out that as was the case with my pair, Alden often leaves a very large gap between the heel and the upper, which affects the water resistance. (Not something Indiana Jones would be happy with, I imagine.)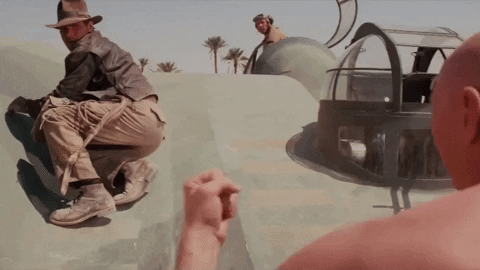 In summary, the Viberg has more heel support while the Alden has more arch support. The weight comes down to preference — the Alden is a lot easier to walk around in and while it sometimes feels like the Vibergs are walking you, you do feel more supported and powerful when walking around in these.
Fit & Sizing
Viberg
2030 last
Better heel support
Super heavy
Order a half size down
This shoe is made on the 2030 last, which Viberg confirmed to me is an E width. "D" is the "normal" width, followed by E, EE, and EEE as the widest.
Please note that when the video version of this article was filmed, the Service Boot was only available in E widths, something I took issue with. They're now available in D, E, and EE.
The Viberg was also much harder to wear in; as mentioned above, there were blisters galore. It's hard to consider that a downside, though, since most guys expect that with high quality boots.
[Related: How to Pick a Last for Your Viberg Service Boot]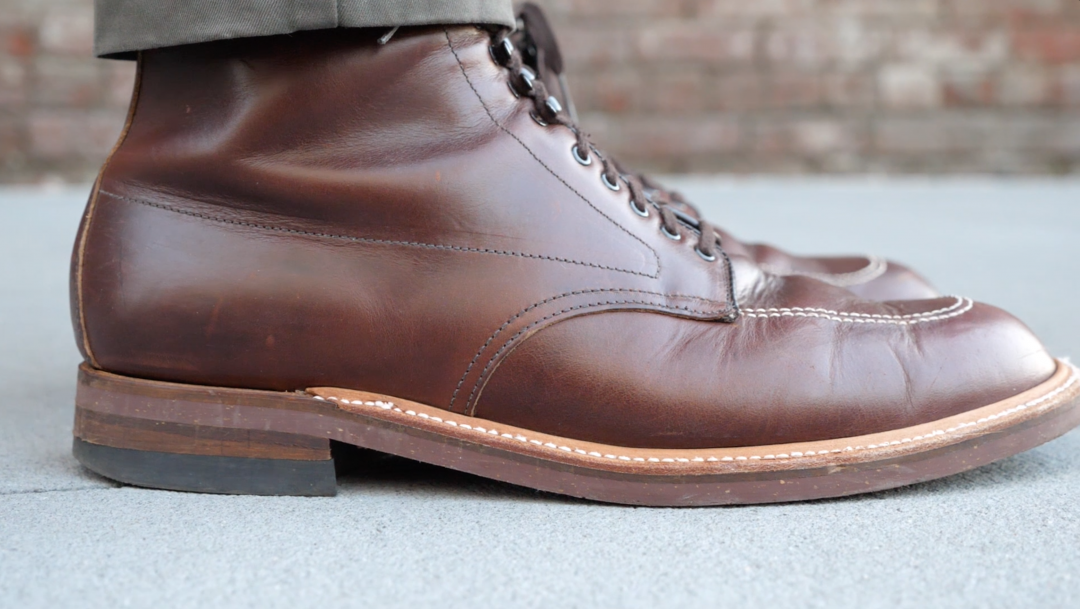 Alden
Trubalance last is pretty roomy
Combination last (heel is narrow)
Better arch support
All widths available
Roughly true to size
The Alden is also pretty roomy. Made on the Trubalance last, Alden's approach is extra unusual in that it's made on a combination last: the width is D, but the heel is a B.
Honestly, I didn't notice much of a difference besides a pretty roomy toe box — the heel didn't feel tight, in other words — but Alden wins out on the fit in my opinion. The arch support is better, there's no break in, it's more snug around the heel, and Alden provides every width available for the Indy: B, C, D, E, EE, and EEE.
Cost
Viberg
$695, if you're including $25 shipping.
[Shop the Viberg Service boot here!]
Alden
Usually between $560 and $580 as is, and shipping is usually free.
[Shop the Alden Indy boot here!]
Viberg Vs Alden: Who Wins?
So which is the better boot? While they're both made from Chromexcel, there are so many differences that it's almost like comparing apples and oranges.
These are the Cliffnotes:
Viberg
Better grip
Better heel support,
Heavier
More versatile and classic
Alden
Cheaper
Better arch support
Better fit
More fashionable and eye-catching
Which boot is better is really up to you. I can't deny that versatility and formality — some of Viberg's strongest suits — often win out. But while they're both very expensive boots, I have to say I was more satisfied with what Alden had to offer me.
[Related: My list of The Best Boots for Men]