This post may contain
affiliate links
that at no additional cost to you, I may earn a small commission from.
The name "Viberg" has become synonymous with expensive footwear, and the most commonly asked question is, are Vibergs worth it?
There are several factors to consider against price when determining the value-for-money: heritage/history, quality of materials, construction and finishing methods, quality control, etc. While the average Viberg buyer is likely adding to a pre-existing collection of stitched footwear, not everyone knows what goes into a pair of those coveted Service Boots. This article will attempt to walk through the ins and outs of why Vibergs are priced the way they are, and whether or not they may be worth it to you.
This is a long read, so here are the contents for you to click ahead to if you desire.
The History of Viberg

To get a sense of what the buzz is all about, let's take a look at what Vibergs actually are. When people in the stitched-boot community say "Vibergs" (or "'Bergs") they are most often referring to the stitchdown Service Boot, typically in something like Horween Chromexcel and built on the 2030 last… don't worry, we'll get into what everything means a bit later. With that said, Viberg represents a lot more than the aforementioned qualities.
Viberg started out as, and remains today, a family business operating out of Canada. Their first boot was called the Service Boot, and was a standard industrial-type pattern, designed for farmers in 1931. Over the years, their expertise grew, and the offerings at Viberg gradually shifted to rugged and reliable boots for loggers and other service professionals. They are a staple in the true work-boot world, and enjoy a strong reputation today as one of the PNW greats. (But you won't find their dedicated work line at Viberg.com; instead they're sold at Workboot.com.).
The Viberg Service Boot

The year 2008 saw Viberg revisit the original Service Boot, employing nail-down construction on the 310 last. This was effectively a modified version of a traditional last featuring a prominently sprung bump-toe, and is still an option for the old-school diehards out there. By late 2010, Viberg had gone through several iterations of a reimagined Service Boot, and ultimately released a version built on the now-iconic 2030 last. The 2030 last got rid of the bump toe, drastically toned down the spring, and tapered to a svelte almond after the forefoot. Viberg put them together with unstructured toe boxes using double-row stitchdown construction, which is a complicated way to make a shoe slightly more waterproof than a welted one — but it sure does look cool.
At the time, they were the only ones doing this type of construction on anything one could call "sleek"—the Viberg Service Boot is the OG in that regard. It should be noted that Service Boots can be had in any number of configurations today, featuring cap-toes, perforated cap-toes, semi-structured toes, and so on. The pattern can be built on several other lasts that have been developed since then, but the 2030 remains their most popular.
[SHOP THE VIBERG SERVICE BOOT HERE]
How Expensive Are Vibergs?

Now, there wouldn't be apparent hoopla surrounding these boots if they were just an easy commodity.
To get into a pair of Viberg Service Boots, you're looking at around 700USD, give or take.
This is roughly the price of most of their boots with some exceptions, like those with exotic uppers. If you're eyeing up that pair in rare shell cordovan, you're well into four-digit territory. This is not a small sum for sure, but value-for-money is an inherently subjective and relative proposition. The cost for a pair of Vibergs is insane for most, aspirational for many, reasonable for some, and affordable for few.
Why Are Vibergs So Expensive?

So the real question is: what are you getting when you click the confirm button on the checkout page, and how will they stack up against competitors? In some regards, you don't get much more for paying double. In others, the upcharge may be entirely justifiable to you.


Viberg's Leather
Non-exotic upper options are all excellent, but largely overlap with much cheaper alternatives. For example, Horween Chromexcel is one of the most popular choices for a Service Boot upper, but while it's popular on Vibergs this same leather can also be found on a pair of Thursday Captains at $199.
But the upper leathers really are great, and are sourced from a variety of excellent tanneries around the globe. A few notable examples: Horween is well-represented with leathers like Chromexcel, Dublin, Latigo, Waxed Flesh, Roughout, shell cordovan, and horsebutt makeups. The C. F. Stead tannery can be seen in various forms, including the more interesting Kudu tannages. Seidel is trusted for oiled leathers, which make for gnarly roughout options; and Shinki is a favorite amongst fans for their veg-tan horsebutt, and shell hides.
On top of that, Viberg is fairly adventurous when it comes to selection (or accommodating its relatively few distributors) regarding hides for uppers. From Norwegian reindeer to American bison to Canadian moose to Italian deer… you get the idea.
But there's got to be more to it than that. And there is.
Looking beyond options for uppers and outsoles, you start to see more of the picture.
[Related: The 10 Best Tanneries on Earth]

Viberg's Lasting
Lasting is the process by which an artisan stretches and secures the upper over a foot form ( the "last") to create the desired shape for the boot or shoe. This is one of the most important steps to building high quality footwear, and any errors here carry forward to the final article: if you've ever seen crooked backstays or uneven toe-caps, those issues are likely attributable to some kind of lasting error.
Lasting by hand typically yields the most symmetrical and evenly stretched uppers, but takes significantly longer than if aided by hydraulic machines. Machine lasting is much more efficient, but consistency is a bit harder to achieve from pair to pair. Viberg does some lasting by hand, some by machine, and the results are more than acceptable. Specifically, Viberg stitchdown construction is partially hand-lasted, and their Goodyear-welt construction is lasted by machine.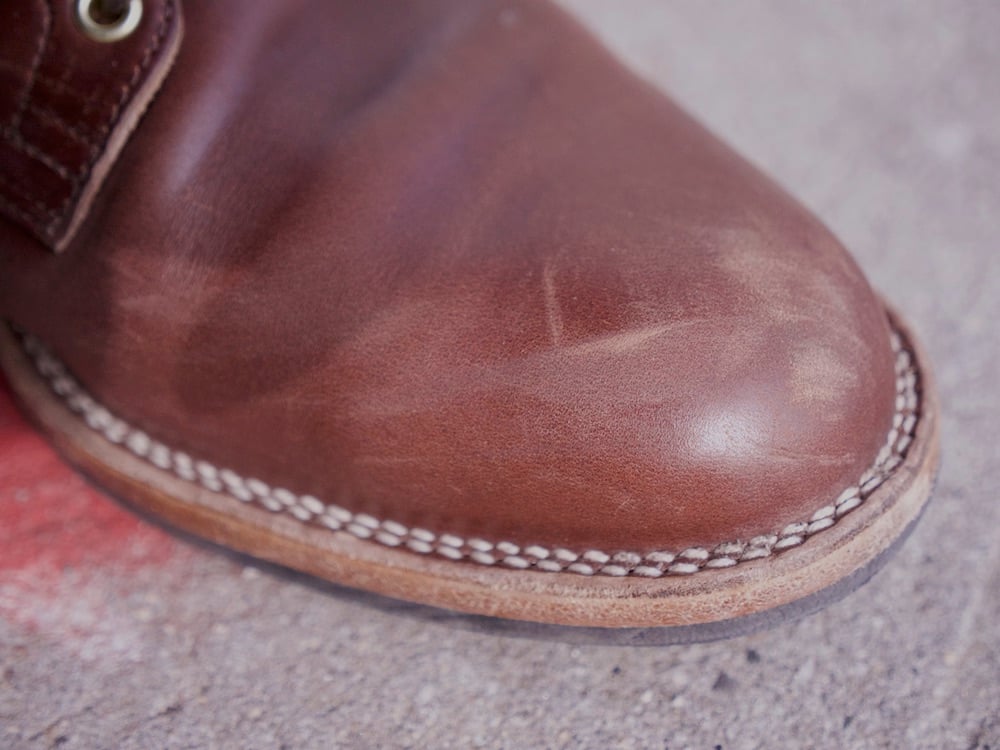 Stitchdown Construction
Diving a bit deeper into the construction, stitchdown variants are hand-lasted on the sides, have approximately a 180-degree stitched upper turnout, and a 270-degree rapid outsole stitch. This essentially means that there is stitching going all the way around the boot except for the heel, à la the Red Wing Iron Ranger or classic Alden Indy. This method creates a visual illusion of dramatically tapering out from the heel, while functionally trimming away any excess weight and bulk that would accompany a welt going the full 360-degrees along the heel.
Where the stitchdown comes into play, however, is in the upper turnout that covers roughly the front half of the boot. The process literally involves turning the leather out over the midsole before stitching it down. This is, theoretically, a highly water-resistant construction method, and many find the resultant double-row of stitching across half the shoe to be one of the most distinctive visual elements of a Viberg Service Boot. Double-row stitchdown construction itself requires that the craftsperson possess a certain level of expertise to properly implement, and a mistake when laying down those rows of stitching through the upper almost certainly means starting over from scratch on that shoe. Double-row stitchdown is an unforgiving process, and generally results in higher price tags being affixed to the finished articles.

Goodyear Welts
Goodyear-welting ("GYW") was recently added to Viberg's in-house capabilities and can now be seen employed on Service Boots in the wild alongside their stitchdown brethren. Viberg does not appear to be phasing out the signature double-row stitchdown construction any time soon, but their relatively new GYW process is noteworthy. While building boots using the GYW method is not rare among lower-tiered alternatives (like double-row stitchdown tends to be), developing and adding such an operation to an existing business entails a significant investment. On top of that, there are several levels to GYW construction, and Viberg shows the hallmarks of very good welting. For example, instead of using a fabric or canvas strip to attach the welt to the shoe, they channel the leather insole itself and directly stitch on the welt. Additionally, welt joins are thoughtfully finished and top-stitching is generally precise, clean, and consistent.
[Related: Goodyear welt vs Stitchdown – Which is best for you?]

Materials
Regardless of construction method, Viberg celebrates the use of traditional and natural materials throughout. Beefy natural thread is used for midsole stitching as opposed to thinner synthetic alternatives, thick slabs of vegetable-tanned leather are used for insoles and midsoles in place of foam or poron, and traditional brass tacks are used internally throughout. The heel counters and stacks are also entirely leather. Viberg even recently started using hardwood in place of steel for shanks, as they claim no functional detriment to foregoing a chunk of metal under the footbed. A fair number of manufacturers choose against steel shanks, and many of the other coveted PNW makers (such as Nick's and White's) actually use built-up stacks of leather in place of shanks at all.
While the longevity of Viberg's new wooden shanks are yet to be tested, this feature should be a strong draw for the naturalist, or the frequent flyer. Of course, if the wooden shank proves to be less than ideal for a given buyer, any reputable cobbler should have no problem replacing it with a steel unit upon resole.

Quality Control
Back to the outside of the boots, quality control is good, and tolerances are tight, but they're not perfect. Finishing is excellent relative to the PNW peers who are also excellent, albeit positioned ever so slightly lower in the marketplace ladder than Viberg. All visible stitching is generally tidy and placed at a respectably dense SPI. The sole edges have hand-beveling that gradually deepens as it approaches different parts of the waist, and all sanding is smooth and clean. Leather clicking is very good, especially when it comes to hides that tend not to have the tightest grain structure, such as Horween Chromexcel cowhide. Occasionally, you will come across a pair with slightly asymmetrical toe-cap placement, or uneven shaft height. Perhaps some stitching on the facings may be slightly frayed. But from what I've seen, these occurrences are far and few between, and Viberg has always appeared eager to address the issue.
It's a Small Company
A Viberg purchase also goes to support a family business with in-house Canadian manufacturing, paying fair wages for ethical work. Though Viberg has enjoyed a rapid growth in popularity among casual-boot enthusiasts since 2008, production has remained moderately low, and Viberg seems more interested in expanding their capabilities than their production numbers. A side effect of this, other than Viberg's well-deserved reputation for using interesting leather, is that each pair of Viberg footwear comes with a certain level of exclusivity. Feel free to decide whether that's material to the value here, but it's worth mentioning.


Are Vibergs Worth The Money?
With everything laid out there, the question still looms over all our heads, which is whether these damn things are worth the money.
Objectively?
From a purely utilitarian perspective, it is difficult to justify a purchase of Viberg Service Boots at around 700USD, which is well past the point of diminishing returns when it comes to quality. (I determine that line by whatever Grant Stone is charging for their stuff).
If viewing Service Boots through the lens of objective quality alone, the price-tag starts to make more sense. Viberg gives you great materials with world-renowned leathers and top notch components. Construction is expectedly great, employing sophisticated in-house operations for stitchdown and GYW builds that require hand-work and high levels of attention to detail. They also pull from a deep well of rugged boot-making heritage and carry that history in their back pockets. Clicking and finishing are fair for the price, which is to say you will generally see nice, tight grain throughout the uppers. Quality control issues are rare and seemingly minor, and Viberg is happy to correct issues when they do inevitably arise.
So far so good, but when it comes to longevity, stitchdown boots do take a hit in value. Resoling is a more precarious procedure for stitchdown boots, as previously mentioned. If the cobbler is not careful in reusing the same stitch holes, or after one resole too many, the vamps will need to be trimmed. The result is usually either a boot that comes back fitting much smaller, or a boot that needs to be converted to GYW construction in order to reuse the now-trimmed vamps. The boots will need to be re-lasted, effectively turning a resole into a rebuild with at least an extra hundred dollars in price. All this adds to the cost down the road. If this makes you nervous, you could go with a GYW Viberg makeup from the get-go, but don't expect a discount for foregoing that iconic double row.
Alternatively, if you want perfection, check out the likes of Onderhoud, Kreosote, Ostmo, Flame Panda, White Kloud, and Role Club. These are all much smaller outfits with more meticulous care given to construction and finishing, often doing as much of the build as possible by hand and offering custom lasting for truly bespoke fits. While China's Flame Panda is about on par with Viberg's pricing, the rest are closer to or over $1,000 for boots similar to Viberg's.
Subjectively?
The subjective realm is where you would probably find yourself swinging one way or the other when it comes to Vibergs.
Starting with fit and comfort, every person has two individual feet. They are not the same as each other, nor are they the same as anyone else's. Scour the internet and you will find countless debates over proper sizing on Service Boots for the various lasts, with some claiming the best fit on the planet and others throwing their hands up in the air before listing their boots on Grailed or the 'Bay. All I'll say is to do your research on sizing before pulling the trigger.
Assuming you find that one of Viberg's lasts work for you (chances are good that at least one of them will), comfort is not really a question. The thickness of the insole and midsole is such that pretty much any wearer will eventually feel like they are walking on custom orthotics. You do feel the extra leather though, as Vibergs are heavy compared to something like a boot from Alden. The tank-like quality that comes from the extra weight is generally also favored by owners, and is almost a curiosity that something so aesthetically efficient and svelte can feel so substantial on-foot.
Then there's what I'll call the hype factor. As of the time of this writing, the Viberg 2030 last is a true icon, and the 2030 Service Boot practically a trademark. The double-row stitchdown work-boot-gone-sleek look was thought of as strange and clunky when first introduced. Now, a casual stroll through Instagram turns up dozens of makers and brands trying their hands at a similar aesthetic.
The consensus is that they just look good. The interplay between the double-row of stitching with the refined pattern/last results in the Viberg Service Boot being distinctively handsome, if not the most rugged thing out there. For that reason, they grab the attention of fellow boot lovers and the general public alike. At the end of the day, people who know, know. And even those that don't, tend to like what they see.
I think a big part of the reason why Vibergs are so beloved, even at these prices, has to do with the psychology of having a "grail". By this I mean, an aspirational goal that is at the edge of what one could justify (and maybe even a smidge beyond that at times). If 700USD for a pair of shoes is an impulse buy for you, this next bit probably won't apply. But for most people out there, pulling the trigger on boots like these is preceded by a methodical process of researching, justifying, and internalizing the purchase. This creates something of an emotional journey where we build up hype in our minds, regardless of any preconceived notions about the brand or maker.
The thing is, Viberg Service Boots don't often let buyers down upon unboxing. The self-hype is justified as we run our fingers over the stitching, sniffing the leather. From there, Vibergs do age well due to the amount of natural materials used as well as picky clicking for upper leathers. They get more comfortable as they break in. And an oft-overlooked feature, boots built on Viberg lasts look great from top-down. Every time you look down, your purchase is affirmed in one way or another.
Wrapping Up
So the takeaway here is that Viberg boots can be worth it for you, but it depends on who you are. If you're looking for the most inexpensive way to have boots on your feet, don't look at Vibergs. If, however, you want a boot that rides the line between great and special, Viberg just might be worth every penny to you. They are objectively worth their asking price when looking at materials and processes, but they aren't perfect, and satisfaction levels will ultimately depend on your degree of scrutiny when looking over the boots. That they are made by well-trained craftspeople in an ethically sound environment may help bring the price into rational territory.
If, after loads of research (and after reading this entire article), you still find yourself yearning for a pair of Vibergs as opposed to simply including them in a cross-shopping list, you should go for it. Viberg, with its iterations of the Service Boot, landed on magical combinations of sleek lasts and attentive builds, and these things are still distinctive even among competitors in the market today. As far as I'm concerned, 'Bergs may not be the best bang-for-buck out there, but the pricing does make sense… yeah, they're worth it.
Images via Viberg.com and @vibergboot on Instagram