Founded all the way back in 1883 — way before the mutton-chopped comic book character — Wolverine has a long history that includes a stint developing pigskin gloves for the U.S. Navy during World War 2. The company launched their iconic 1000 Mile boot in the 1910s after developing an unusual method of processing shell horsehide into soft and pliable leather, and while today the boot is made from full grain cowhide, its status as an icon of American footwear endures.
Endure might be the most appropriate sentiment for these boots. As the name suggests and Wolverine outright states on their site, the boot is meant to give you a thousand miles of wear. Does the craftsmanship really hold up?
[Love the look? Find the best price on Amazon or at Wolverine.com.]
Wolverine 1000 Mile First Impressions
Straight out of the box, these are some good looking, classic all-rounder boots: not too boxy, not too sleek; not too formal, not too casual; not too outdoorsy or too indoorsy.
It's a middle ground that I think would make them a solid first pair of nice boots, which appears to be the target market. As a boot that falls squarely in the "beginner buyer" price range of $200 to $400, it seems to be aimed at ticking as many boxes as possible and in my opinion it makes for some shoes that aren't particularly exciting, but they undoubtedly look good.
The shaft has "Wolverine 100 mile" etched into it — a nice touch — and the leather is a waxy-looking Chromexcel from Horween. The leather is about two millimeters thick and it's clear they're built for durability: there's triple stitching all along the vamp, there's a classic Goodyear welt, and there's a Vibram heel that can take a beating, although the rest of the sole is leather and I can tell that they won't do particularly well on slippery surfaces. There's also no lining on the inside of the boot, further emphasizing their "no frills workhorse" aesthetic.
While they're often billed as workboots, I can't see these working all that well in heavy duty environments but as a casual boot, I think these could last years.
Note that there are quality control issues: several threads were loose where the vamp attaches to the toebox and at the top of the shaft near the handy speed hooks. There was also a deep scratch on the sole.
Wolverine 1000 Mile Leather
Full grain, Chromexcel leather
Rich color depth
Top finish scratches easily
The 1000 Mile comes in seemingly endless varieties: rough out, chukka, wingtip, cap-toe, chelsea, and more. You can even customize your own pair and make it a patchwork of different leathers, colors, and threads. Here I'm sticking to the basic, original, brown, Chromexcel 1000 Mile.
Let's talk a little more about Chromexcel.
One of the flagship leathers from the beloved Horween Leather Company in Chicago, Chromexcel has a modern-sounding name but has a long history, having been used in engine seals on tanks during World War 2. It's made with "a combination tanned leather that undergoes at least 89 separate processes taking 28 working days."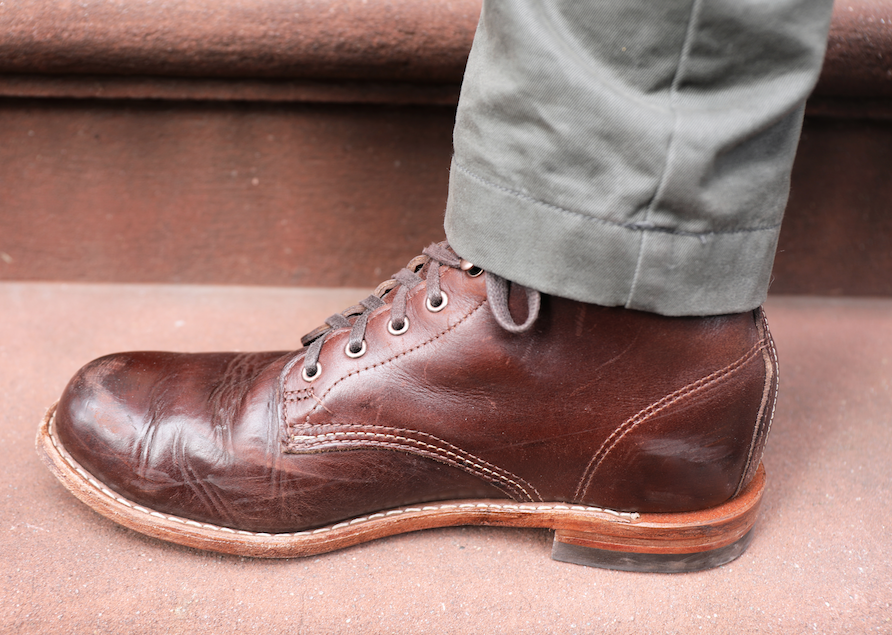 The tanning process imbues the leather with oils, greases, and waxes — including beef tallow and beeswax — and it's finished with neatsfoot oil, which is rendered and purified from the shin bones of cattle. (Fun fact: "neat" is an old English word for cattle.) All of these oils make for a pretty shiny boot although I should point out that this boot isn't as shiny as other Chromexcel boots I've seen like the Allen Edmonds Higgin's Mill.
Chromexcel is a full grain leather, which will be good news for most people. Full grain is generally considered the highest quality leather and while it's not quite as smooth or as uniform in color as top grain leather, with which it is often compared, it's more durable and it ages better. Older full grain leather is great for developing the nice, rich patina that's coveted by boot lovers.
The good thing about Chromexcel is that it's durable, oily, and it ages well. However, the top finish isn't all that durable and it's pretty vulnerable to scratches. Now, a good conditioning can leave Chromexcel looking great, just keep in mind that if you're really wedded to that Chromexcel lustre you'll need to condition these pretty regularly.
[Related: My list of The Best Boots]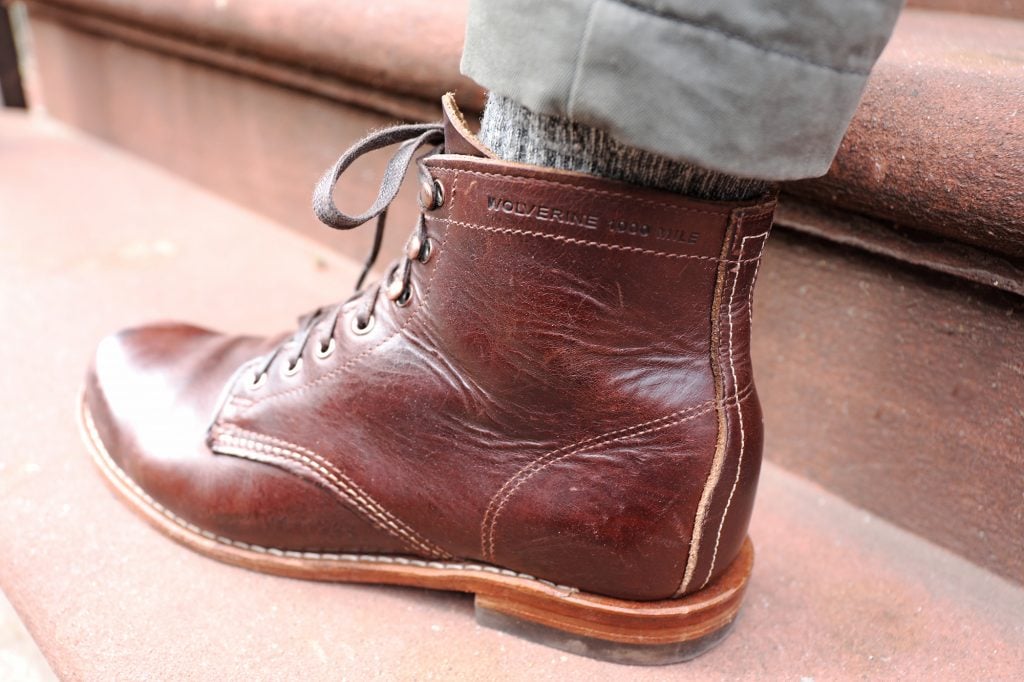 Wolverine 1000 Mile Leather Care
Horween suggests neatsfoot oil or Venetian Shoe Cream
Wolverine recommends leather conditioner made from pine pitch and mink oil
Wolverine's leather dressing is available for more heavy duty wear
While waxes are involved in the process of creating Chromexcel, it's considered an unwaxed leather so you should steer clear of waxed polishes. A greasy leather cream could be best for conditioning but if you want to hear it from the horse's mouth, Wolverine has a nice instructional video in which their VP of Product Development takes you through the ins and outs of caring for the boots.
He recommends cleaning the leather and the sole with a damp cloth, then to brush it to get rid of excess dirt, and to use their own leather conditioner that's made from a combination of pine pitch and mink oil.
Wolverine also offers a leather dressing that's a little more heavy duty for people who might be extra concerned about water resistance. The dressing adds beeswax to the pine pitch and mink and you can just run it along the edges of the boot.
I called up Wolverine for more advice on leather care and they told me that if you're wearing these boots every day, they should be conditioned every two or three weeks. I'm sure for a lot of people these are their sole pair of boots and they get worn every day during colder months, but it's actually a better idea to wear them every other day at most so that they can air out. I also prefer to condition Chromexcel every few months to minimize the chances of losing the top finish — check out my full guide to Chromexcel care here.
This is the sole when it was fresh out of the box.
Wolverine 1000 Mile Sole
Three layers: leather sole, cork midsole, leather insole
Vibram heel provides extra grip
No shank
270-degree Goodyear welt
The sole isn't so great. Wolverine are dedicated to keeping a classic-looking, butyl-treated leather sole to their boots which looks nice, but has little traction. I've skidded more than once during a New York blizzard in these shoes, and although the traction will improve the longer you wear them and the more beat up the sole gets, I was very unimpressed with the slippage. The leather sole is also not particularly durable and will start picking up scratches and dents pretty quickly.
To their credit, there's a Vibram heel to help minimize these issues, which is a smart move. Many customers also pick up a Vibram half sole that's pretty easy for you or your cobbler to attach.
The sole itself is three layers: leather, cork, leather. The cork and the insole slowly mold to your foot over time to improve comfort and arch support, but the arch support isn't great and it's worth pointing out there's no shank, steel or otherwise, to help with this aspect.
Wolverine 1000 Mile Fit and Sizing
Sizes run large, order a half size down
Widths available in D and EEE
Pretty easy to break in
They definitely run big, meaning you should order a smaller size than you normally wear. I'm a pretty frustrating size 11.75 and while my Converse All Stars are a 12, my Iron Rangers are an 11. After calling up Wolverine's customer service and asking them about the fit, I decided to go with a size 11. It fit like a glove.
Particularly since a lot of guys don't really know their precise shoe size, I'd recommend trying them on in-store if at all possible and if not, heading to a shoe store anyway to get your foot measured in a Brannock device and if at all possible, try the 1000 Mile on in a store. This won't be as hard to do as it can be with more expensive brands, since the 1000 Mile is one of the most popular brands in the United States.
The boots also come in two different widths: D for "normal" feet and EEE for extra wide. Those Es actually stand for triple extra wide — after D, width goes E, EE, and EEE — so we're talking pretty wide feet here, as wide as shoe makers make 'em.
[Related: Best 10 Boots for Wide Feet]
Wolverine 1000 Mile Break In
The leather on these boots is pretty thick at two millimeters, but even though that's about as thick as an Iron Ranger, I found them much, much easier to break in. Iron Rangers need several days of wear before they stop being painful to walk in but the 1000 Mile boots are fine to march in straight out of the box. It's a tiny bit stiff in that you can tell the leather is new, but I wouldn't describe these as needing any break in period. Being as it's made from leather, the sole was also easy to walk in and didn't feel stiff — one bonus of a relatively weak sole.
Wolverine 1000 Mile Price
They are $385 on the Wolverine's website, but you can usually find them cheaper on Amazon at anywhere between $360 and $320.
[Shop these boots on Amazon or at Wolverine.com.]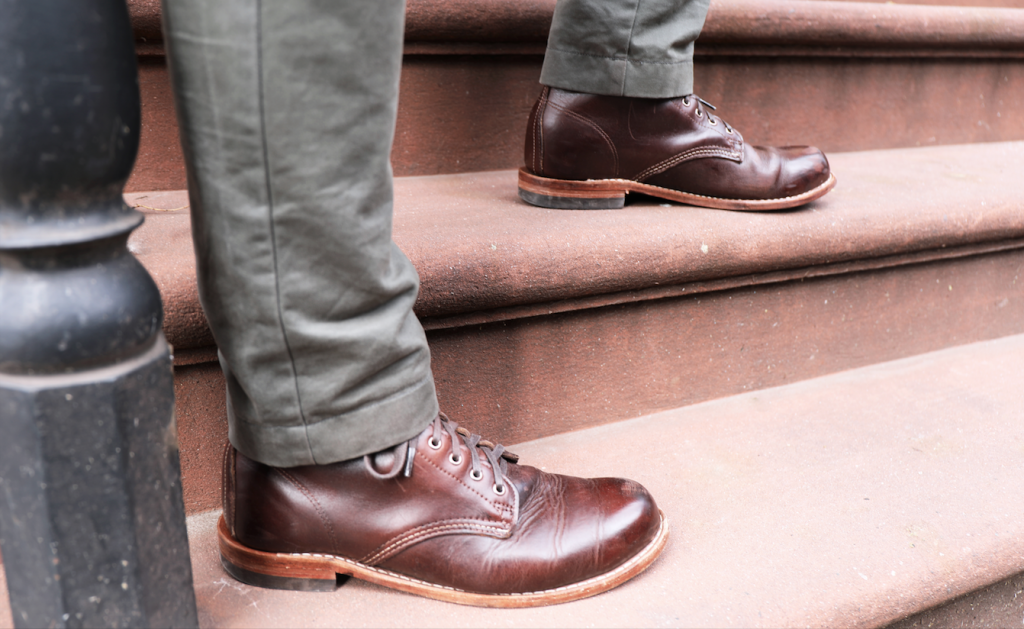 Wolverine 1000 Mile: To Buy or Not to Buy?
So you've got about $350 to spend on a pair of boots that you can wear with a t-shirt, at a bar, or at work. Do you go with the 1000 Mile?
The quality control issues with loose threads and scratches were annoying, but ultimately inconsequential. Living and working in the boot? It's a decent buy. It's perfectly acceptable. The 1000 Miles are classic and versatile, and they work comfortably in bars, on long walks, in cities and in suburbs. As workboots, the slippery leather sole is hard to look past (though it does make them easy to break in).
The leather is nice and thick and it's a boot that will definitely last years, particularly with the easy to resole Goodyear welt at its sole. It's comfortable, it's equal parts dressy and casual, and, well, it's an all-rounder. It's not electrifying, but it's a damn fine piece of footwear. Think of it as a solid B.
[Sold on these bad boys? Shop Wolverine 1000 Mile boots right here, for less.]
The following two tabs change content below.
Nick English
By day: Manhattan-based journalist with reporting experience on four continents, published in Vice, Men's Health, Popular Science, and a bunch of other places.By night: ravenous consumer of anything and everything related to high end men's boots.Stridewise is where I nurture a maniacal obsession with footwear and share my findings. Say hey:
[email protected]
.
Latest posts by Nick English (see all)