For those coming from YouTube, the discount code is just beneath the video↓
Joshua Bingaman had a storied history in footwear before launching Helm. His career had included managing (then selling) a chain of footwear stores and by the time he started this Austin-based outfit, he had racked up twenty years in the footwear industry. Helm sold their first pair of shoes in 2009 back when, fun fact, they were based in Istanbul, Turkey but Bingaman eventually got sick of the customs and logistics of operating out of Turkey and he moved the operation to Austin, Texas.
A lot of people talk about Helm at the same time as the New England footwear company Rancourt, and that's because Mike Rancourt helped Bingaman with the design and construction of some of the earlier shoes when they came to America. Helm sometimes contracts with their factory but it's not the only place where their shoes are made — there's one in Arkansas that I know of — and of course the two are separate companies.
Their Muller boot is the first boot they designed when they came to America and it might be fair to say that the Teak color is their signature boot. Is it worth a buy? Let's dive in.
For a 15% discount off ANY Helm boots, click here and use the code STRIDEWISE at checkout!
Helm Muller Boot First Glance
Chromexcel® leather
Lightweight
Blake rapid stitch
Leather sole
Low profile
Besides the vibrant sunset color, the first thing I noticed when I took this shoe out of the box was how lightweight it is. There are a few reasons for this: it's got a Blake rapid stitch, the shank is made of fiberglass, and it's just a really minimalist shoe. It's not overbuilt with a zillion layers in the sole like a Viberg, it's a simple, lean, clean blucher that's a welcome change from the clunkier workboots I've been wearing lately.
Besides the toe cap, the main distinguishing features are the antique brass eyelets and perhaps Helm's most famous characteristic, the white strip running along the midsole. It's made from a composite rubber and while a lot of people hate it, I think it looks very cool and it really makes the boot pop.
Above all, it's versatile. There are not many shoes that I feel can be worn with t-shirts or with khakis but I think these boots do pass that test, particularly given this flat, low profile leather sole and the pretty low profile heel. The shaft is also under 6 inches, all of which makes for a boot that's more subtle than a lot of its contemporaries.
When I spoke to the company's founder, he was happy to state that these aren't meant to be workboots and that they're not trying to be Red Wing, they're trying to be an American made fashion brand with more of a focus on style than workhorseyness.
Helm Muller Boot Leather
Chromexcel leather from Horween
Combination vegetable and chrome tanned
2mm thick
Also available in black and brown
This shoe is made from an eye catching golden orange Chromexcel® leather. This is an enormously popular leather that's used in boots as cheap as Thorogood's Dodgeville and as expensive as Viberg and Alden — it's a combination tanned leather that manages to combine the rustic feel of vegetable tanned leather with the lustre of chrome tanned.
Easily the most popular leather in high end American boots, Chromexcel is made over 28 working days with beef tallow and beeswax and marine oil and a zillion other ingredients at the Horween Leather Company in Chicago. The end result is a leather that's famous for its rich depth of color, although the top finish is a little vulnerable to scratches. Interestingly, it was also used on engine seals in tanks back in World War 2.
Helm uses leather that's 2 millimeters thick and the shoe is also available in your more traditional brown and black Chromexcel. Some of their other boots are made with natural and olive varieties but for now, the Muller is only available in teak, black, and brown.
[Read more: How do you take care of Chromexcel leather?]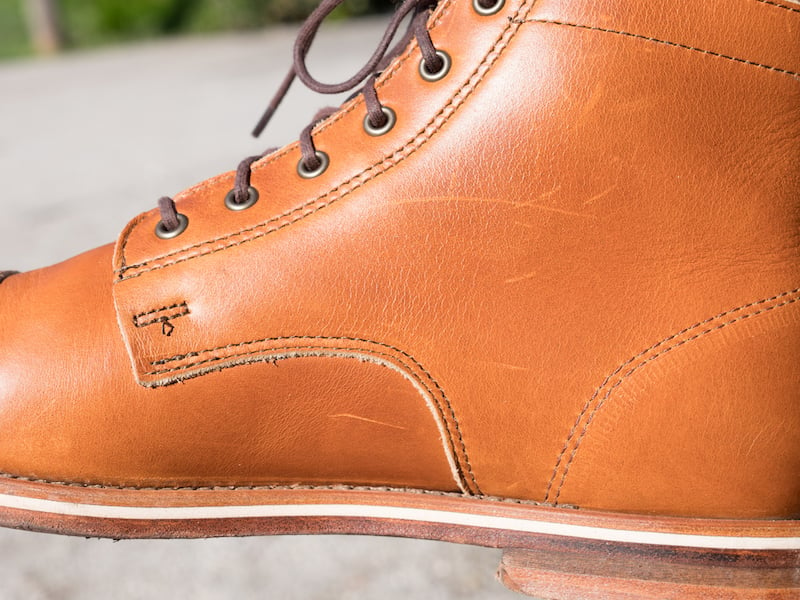 Helm Muller Boot Leather Care
Otter Wax's Leather Salve for conditioning and shining
Otter Wax's Boot Wax for more heavy duty wear
Huberd's Shoe Oil for softer leather
BlackRock's Leather N'Rich for extra shine
How do you take care of this leather? The Horween Leather Company themselves suggest cleaning the leather with a wet rag, letting it dry, then applying Venetian Shoe Cream all over before buffing it with a good horsehair brush and letting it dry out of the sun.
If you ask Helm, they've got a bunch of other suggestions as well if you want some more precision conditioning.
Their favorite product for general conditioning is the shea butter- and carnauba wax-based Otter Wax's Leather Salve.
If you like a shinier shoe they suggest Otter Wax's Leather Oil or Blackrock's Leather 'n' Rich.
Prefer leather to be as soft as possible? Huberd's Shoe Oil.
Want them to be as water resistant as possible? Otter Wax's Boot Wax is what they like, though if that's a priority you've really got to read my killer guide to waterproofing nice boots.
Helm Muller Boot Sole
Oil-tanned leather outsole
White rubber midsole
High density plastic shank
Foamy insole
Blake rapid stitch
This particular boot of Helm's has an oil-tanned leather outsole. Now leather soles have plenty of upsides: they're relatively soft and flexible, they've got good groundfeel, they've got a nice sleek profile.
But personally, I'm not a big fan of leather soles. They wear through pretty quickly — as you can see above they get very scratched and beaten up and while that somewhat improves the grip, they still slip a little. In Helm's defense, they do state this isn't an especially outdoorsy boot and it's not marketed as such, plus it adds to the versatility in that the leather sole makes it easier to dress up.
The good news is that if you like this boot but you want a grippier sole they've also got the Zind, which looks exactly the same as the Muller but without the toecap, and plenty of other boots with different rubber soles. You can check out the other shoes available here.
After the leather outsole there's the very sharp white strip, made from a composite rubber that gives it a little more cushion in its step, and then there's a leather insole. There's also a high density plastic shank in there and on the insole, a piece of a thin, foam-like substance (Bingaman called it "carpet foam") that runs from the heel to halfway down the vamp. That also adds a little bounce to your step, so coupled with the rubber midsole the shoe has decent shock absorption for something that's so lightweight.
Now, the welt here is a Blake rapid stitch so the upper is sewn directly into the sole. That means it's not super water resistant but an upside is the Blake stitch is that it's lighter and more flexible than a Goodyear welt, which has another layer between the upper and the sole that they're both attached to.
People usually contrast Blake and Goodyear by saying the Blake is harder to resole, but Helm told me they can resole any of their shoes and any good cobbler should be able to as well. If you like, Helm will do it for you for a hundred bucks and you can pick from any of the soles they offer, which is a nice touch if you want to Frankenstein your boot.
Lastly, an interesting aspect is that every boot has a quote etched into the insole at the heel and Helm changes which quote they use every season. Mine has a quote from the abstract painter Agnes Martin, "Your path is at your feet whether you realize it or not."
[Read my comparison of Blake, Goodyear, and other soles here!]
Helm Muller Boot Fit & Sizing
Fits true to size
Widths available in D and EE
Snug fit
Potential for heel abrasion during break in
Right now the shoes run from 6 to 16 and while they stop doing half sizes after 11.5, I happen to be an 11.5, so that worked out well for me. Widths are available in D and EE, so if you have a particularly narrow foot you're out of luck here.
As for the fit, these shoes fit true to size and I found them pretty snug. That's not a bad thing, in fact it's a welcome change after my recent experiences with wide, blocky boots like the Truman and it definitely enhances their versatiliy. I'm just saying that I don't love wearing thick socks with the Mullers as they hew pretty close to my foot.
These aren't the hardest boots on Earth to break in but I did experience some abrasion on my heel and toe and after a couple of weeks of semi-regular wear, I still don't love being on my feet in these all day. They're not exactly uncomfortable, I was just a little surprised with how slowly they've conformed to the shape of my foot.
Helm Muller Boot Price
This can change at any time but right now these shoes are $350 (the price has changed since I published the video). That's about as expensive as a pair of Red Wings, which are bulkier boots, but that's not the product Helm is going for: they want a stylish boot that's lightweight yet resoleable.
That's what you've got here, but in addition, you can get a 15 percent discount on any of their boots with the code STRIDEWISE using this link
! Lucky you!
The Verdict
Pros
Super versatile
Lightweight
Made in USA
Minimalist design
Cons
Not that water resistant
Not everyone loves the white strip in the sole
Leather sole gets beat up easily
Kind of lengthy break in
All in all, I'm a fan of this boot. It's really eye catching, I love the white strip in the sole, and it's super versatile. It's not the most outdoorsy boot on Earth and it took a while to break in, but I get so many compliments on these that I'm more than happy to bring them out in formal and informal situations alike.
The following two tabs change content below.
Nick English
By day: Manhattan-based journalist with reporting experience on four continents, published in Vice, Men's Health, Popular Science, and a bunch of other places.By night: ravenous consumer of anything and everything related to high end men's boots.Stridewise is where I nurture a maniacal obsession with footwear and share my findings. Say hey:
[email protected]
.
Latest posts by Nick English (see all)