The boot journey involves a lot of time, effort and most importantly, capital. We can spin off how these boots are investments but really, how often do we get our return back? That's why looking for a second hand pair of boots could be a great idea for you. Here, we'll be discussing five ways to spot a good deal on second hand boots with these tips!
1. Know Your Limit
Price is the biggest factor in investing in a secondhand pair of boots; it's just more affordable than retail. This is why you should know your limit on price. You need a cut off point for the amount of money spent; you don't want to get caught in the fire of an auction war.
I know from personal experience, as I've had a few brushes with buyer's remorse. This "know your limit" advice also doesn't just apply to thyself, but to the market. You need to scout multiple websites to gauge your target's price. This'll help you in knowing what said model goes for.
Finally, don't worry if "the one" gets sold off. There's a lot more opportunity in the big world of the internet!
[Interested in the best places for buying second hand boots? Check out these 11 tips to save money on boots!]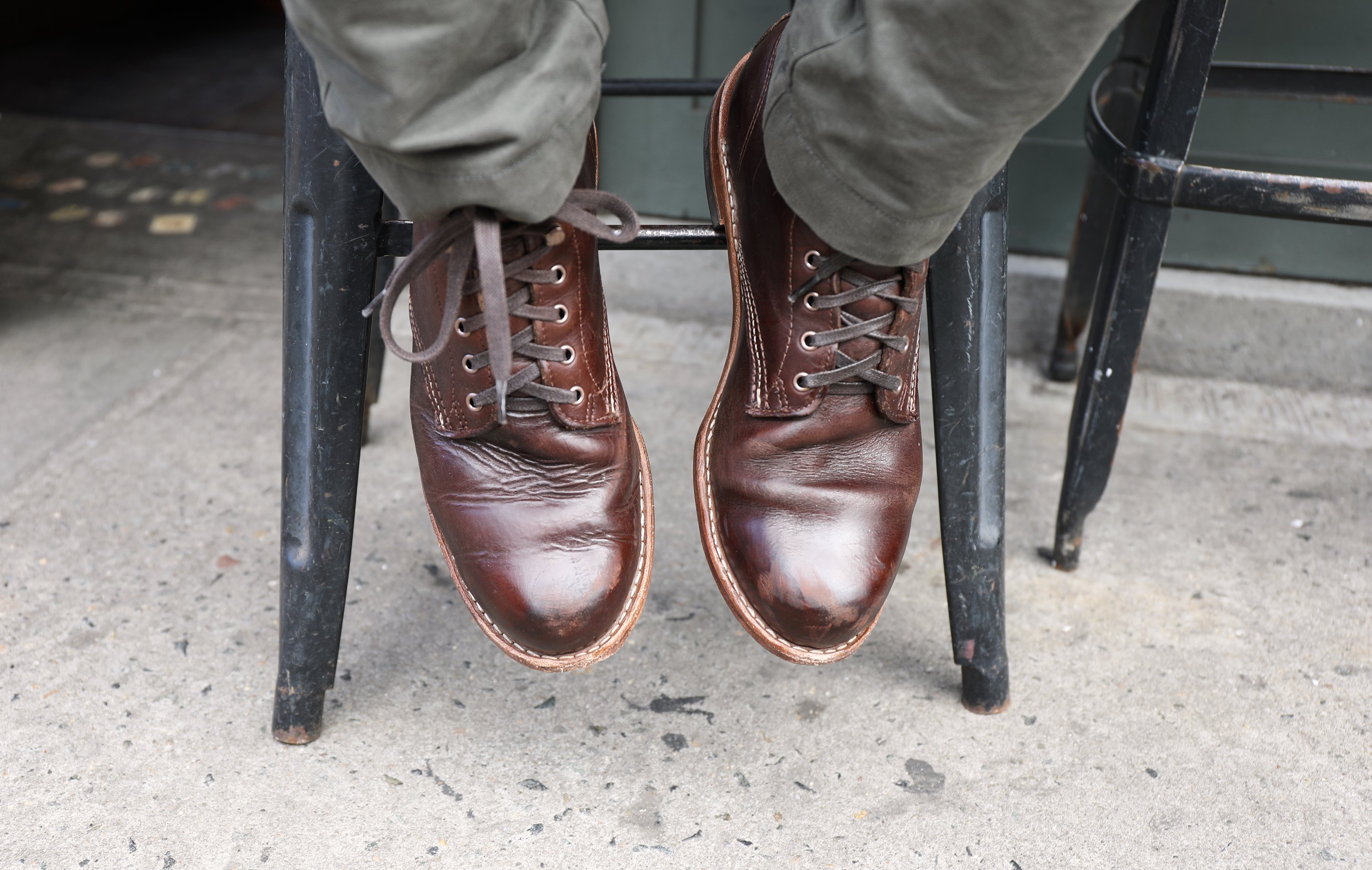 2. Your Nikes are Not Your True Size
Something that'll scare many of us is getting a pair of boots online is finding the right size. Especially in the world of boots, you're gonna find that the size of your sneakers or even dress shoes rarely correlate with your boot size.
Of course, sizing also depends brand to brand, but generally, many heritage brands tell you to go down at least a half size from your Brannock size. Now once again, this is about doing your research; Red Wing Iron Rangers may fit differently from their Moc Toe. Heck, I've met guys who have sized down a whole size and even a whole size and a half from their usual.
Now, that usually comes from miseducation from fit. The best way to know "if the boot fits" is to measure your foot using a brannock device. This'll give you an accurate gauge for what size your foot is in length and width. Something that I've done in the past is walk into a shoe store, act interested, and get myself measured. Look, it's not mean if it's a big chain store.
[Related: The Ultimate Guide to How Boots Should Fit]
3. Make Sure the Uppers are Good
Okay, so you've found a pair of great looking boots, right spec, color and size. What's the condition of the uppers? The uppers can tell a lot about the previous owner(s) and how they treated your prospective purchase.
You might think the biggest red flag is a dirty upper (caked up dirt, mud and all) , but that's usually pretty easy to combat. Make sure there is no exaggerated creasing, as that can be a sign of low quality leather or of the wearer not using shoe trees, which affects the shoe's longevity.
Especially with older boots, another thing to be mindful of is to ensure there's no cracking or tearing on the leather. This is a sign of miscare of the boots due to little or no conditioning. Once the leather starts cracking there really is not much of a return to normalcy. Gouges, small tears and hairline cracks may be restorable but it will NOT look the same. These cracks and tears, as it happens, usually form in creases, so remember to look out for them!
Finally, you may want to make sure they have their original color. As boots age they will darken, a look that may be favorable to some, and I can see that. It's really cool to see a nice, worn boot. However, to get the best bang for buck, perhaps something that you can wear and tear will be more satisfactory than one that is pre-worn. The choice is yours, just make sure the price reflects the age of the boot!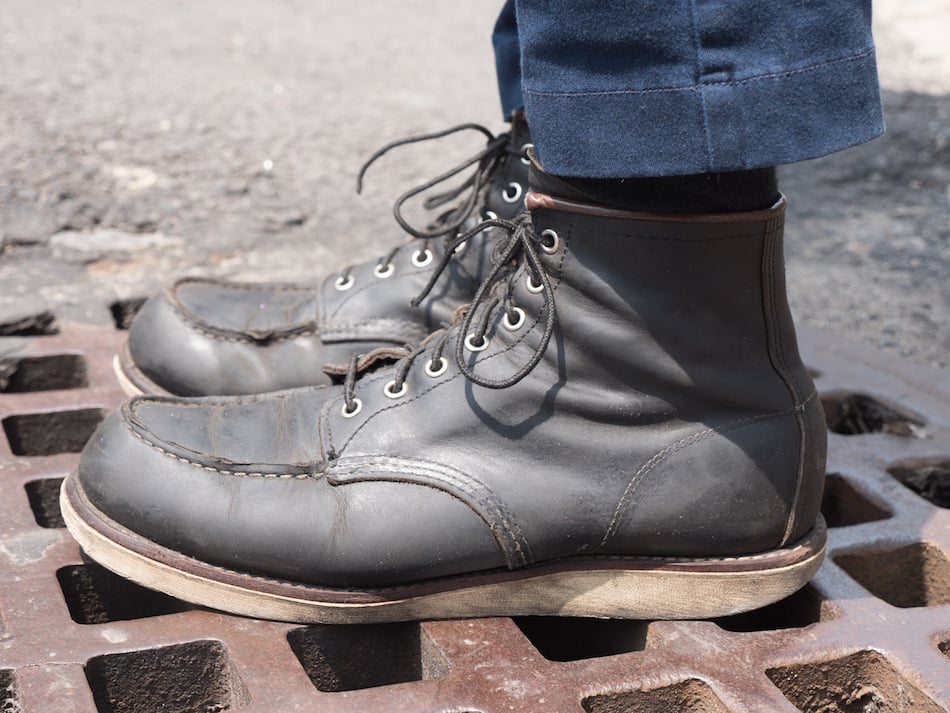 4. Nothing But Soles & Heels
I believe one of the best ways to check the condition of the shoes is to check out the outsoles and heels. Firstly, make sure they're original soles; if they've been resoled, chances are they've been worn a little too much. While a resoled pair of Alden Indys (check out the review here!) may look intriguing, keep in mind that this boot may not be comfortable anymore because it has been pre-molded to the previous owner's foot (more on that later though).
On any stitched construction (except boots with channeled insoles), you're gonna find that there are stitches out the outsole. When they're brand new, they won't be frayed or broken in any way. The goal, if you're looking for boots as pristine as possible, is to look for as little sole wear as possible within your price range; there's plenty of good options in all budget ranges!
If the asking price is pretty close to the retail price, there should be little to moderate broken stitching, no big scuffs and if you're able to check out the boot in person, make sure the sole is still firm to the touch. You can test this by basically pressing into the ball of the foot area on the boot (the widest part of the boot. Finally, assessing the sole is easier when it's leather as it's an easily scratchable surface; rubber is a little harder to identify if worn out.
Another giveaway are the heels, one of the first parts to wear out on a boot. Some people can wear out heels like crazy (see above). If the heels look very worn and it looks like the back of the heel has eroded away, you should know that you might need to pay for a resole in the near future and that this should factor into how much you're willing to pay.
Of course, the best thing to always do is ask the vendor; especially if shoes is their specialty. They should be able to say the state the heels are in; sometimes the heels can get so worn that they can go through the heel block, which is pricer to replace.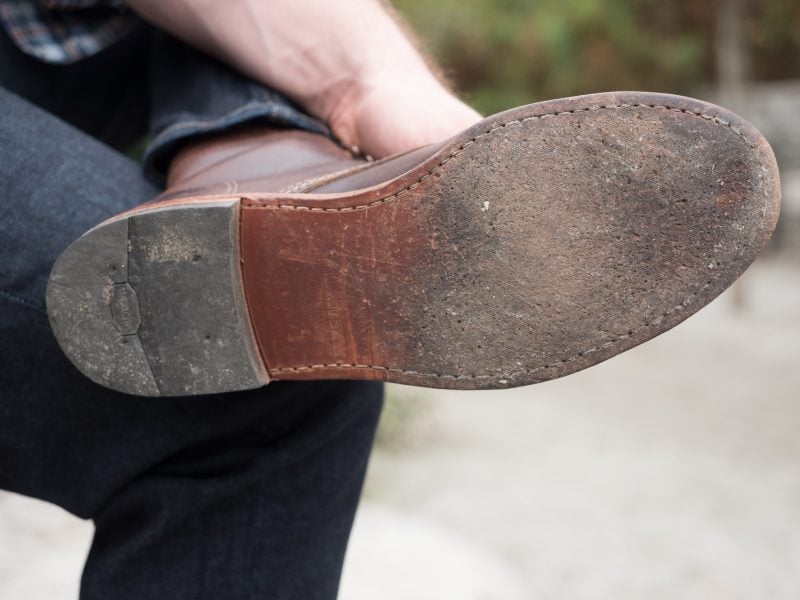 5. Try to Check Out the Insole
The absolute best way to know if a boot is worth your time is to check out the insole. In the world of boots, you're going to find many variations of insole but there are basically three kinds to know: a leather insole, fiberboard insole and poron/cushion insole.
The leather insole is usually of higher quality and can mold to your foot for better long term comfort solution. I say this because if you encounter footwear with a deep foot impression, it's not worth paying a lot of money for them. I mentioned earlier this isn't comfortable; trust me, I've had the experience myself. The likelihood of the previous owner's foot fitting your foot perfectly is virtually zero.
If you still like the boots, a way to combat this is usually with a thin insole! If you'd like to solve the problem entirely, some cobblers can replace the insole — but the few that can cost a lot of money.
An insole with little to no foot impression is best and the best way to tell is in person, to literally feel the impression. Online, however, my best advice is to avoid anything that just generally looks beat and has a dark impression on the inside.
The same rules apply to fiberboard insoles, however, you have to be wary of cracking. The best way to check for cracking on a fiberboard insole is to get up there and feel the cracks. Dried up fiberboard feels almost wood-like, real stiff and accompanied by; you guessed it, cracks! Good fiberboard actually doesn't feel like leather but rather has a dense cardboard feel.
Although cracking does happen to leather insoles, it is more common on fiberboard due to its flexible but much thinner and weaker structure. The idea with fiberboard is a cheaper alternative to a leather insoles that provides a quicker break-in at the cost of some longevity. Fiberboard is more common among boots retailing below five hundred dollars.
Finally there's the poron/cushion insole; this is a much more recent development and extensive, long-term aging has not really been reviewed in the world or boots. The usual construction is a thin fiberboard and the layers of cushion/poron above. Based on my experiences and others, this material generally doesn't mold to your foot but does provide a cloudy, sneaker-like feeling initially. In the long run however, the material may flatten or crumble as wear and tear take over. The best way to shop for this kind of an insole is to be sure they are as new as possible and still have that bouncy cushion feeling on the insole.
[Related: What Are EVA Insoles?]
Wrapping Up
The second hand market of boots is a really enticing field that can be extremely rewarding. There's always someone trying to offload a pair of Alden Indys for half price somewhere. The thing is, we have to be sure what to look out for; for the used market is like the Wild West, full of snake oil salesmen. This guide provides at minimum a look out for key factors when buying second hand boots.
The following two tabs change content below.
I'm a native South Texan attending TAMIU, a part of the Texas A&M system! Currently a freelance journalist trying to form a trail into more professional matters. I'm by no means a good writer, but sometimes these guys hire me so I guess I'm not half bad? I focus on menswear, but I'm just a little bit of a nerd of the history of everything.Check out
my Etsy shop
where I make leather goods! In addition to that, I have
a Youtube channel
where I talk about all things heritage menswear and budget. Yes, quality menswear can be affordable!
Latest posts by David Garcia (see all)