Red Wing is probably the best known heritage boot company on Earth. Wearing in a pair of their Iron Rangers is practically a rite of passage for anybody with a passing interest in Goodyear welted footwear and the company's 875 moc toes have been seen on celebrities as diverse as Ryan Gosling and Drake.
They deserve their reputation as robust, hard wearing, and handsome, but as the years have passed at Stridewise, we've learned a few facts about America's favorite boot company that some might find surprising. In addition to our own research we roped in Michael Batson, who owns North Star Leather Company and orders thousands of square feet of Red Wing leather every year, to help us take a closer look.
[Shop Red Wing Heritage boots here]
1. Some Red Wings Are Made Overseas
Personally, I see no problem with making boots overseas, but it is important for customers to know their products. This is an area of the company's marketing that's a little murky: many of the boots are made in the USA, so "made in the USA" appears in big writing in some areas of their site, but it's not the case for all of their footwear.
Batson says,
Only the Heritage line is made in the United States. Their work boot lines and other brands they make (Irish Setter Boots, Vasque, and Worx) are made outside the USA in Asia, primarily China, Korea, and Vietnam.
Red Wing does disclose this information on their product pages, but it's hidden in the collapsible "Materials Used" section. Head to the "technical specifications" section of their workboot pages, click "Materials Used," and you'll see where it's made. Do so with their King Toe boots, for example, and you'll see they're made in Cambodia.
That said, not all of the Red Wing Work Boots are made overseas; you can filter your results on the left hand side of the page showing all their boots, and find a couple dozen models that are made in the USA, though at the time of writing, none of them are available. Thanks to reader Timmy O'Brien for pointing this out!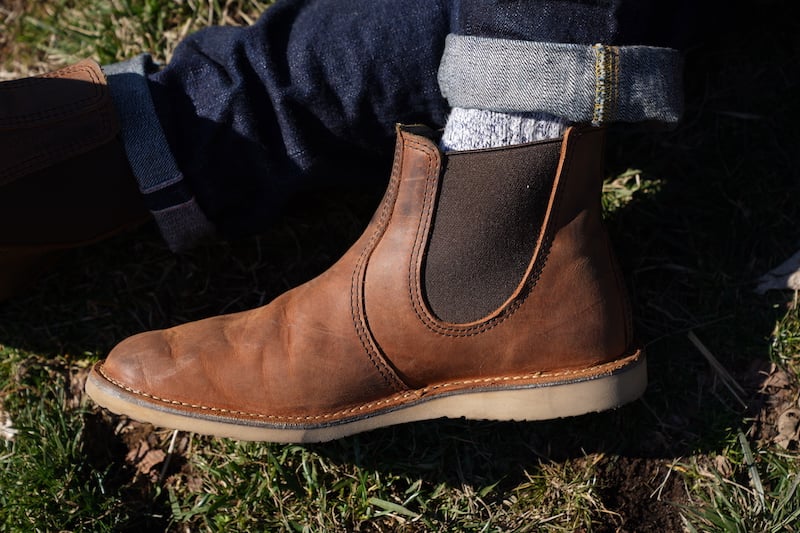 2. The "Rough & Tough" Leathers are Nubuck
There are a few marketing terms that are unique to Red Wing, like the term "Rough & Tough" for a line of particularly oily, durable, full grain leathers. Sure, who doesn't want tough leather?
And as it turns out, it's nubuck. The same kind of leather used in Timberland boots. Well, close: it's oiled nubuck.
"Not all of Red Wing's most popular leathers are full grain," says Batson. "Both the 'Rough and Tough' and "Yuma" leathers are oiled nubuck."
The difference between leather and nubuck is that while both are made from the durable outer shell of a hide, nubuck has been buffed to produce a more velvety texture. Nubuck that hasn't been oiled can be a little nappy, like suede, but it's much tougher.
"This doesn't make them lesser quality," Batson points out. "It's more about look and feel. Red Wing says that their corrected grain — that's nubuck — leathers are just as durable as their other leathers."
[Related: The Ultimate Guide to Nubuck vs Suede]
3. None of Red Wing's Leather Uppers Are Vegetable Tanned
We've written before about veg tanned leathers vs. chrome tanned leathers, but as a refresher: veg tanned leathers are typically more expensive and take more time to produce than chrome tanned, so you tend to find veg tanned leathers in more expensive or high-end boots. It's developed the old fashioned way, with bark and tannins and "natural" ingredients that produce a tough leather that ages beautifully. Chrome tanning is a lot faster and while it makes leather that's plenty tough, it's more pliable and easier to dye.
Red Wing does not sell vegetable tanned leather boots, something that may appall boot traditionalists. No, Red Wing's leather is oil tanned, meaning it's chrome tanned and then tanned with oils — typically white mineral oil, to be exact. The oil helps boost the moisture and the water resistance.
That said, some of the insoles are veg tanned and they do sell veg tanned accessories, like some of their belts. But that leather doesn't come from Red Wing; it's from Hermann Oak, a tannery in St. Louis, Missouri.
[Related: Veg Tanned vs Chrome Tanned Leather – Which Is Best?]
4. Red Wing Has Their Own Tannery
All the leathers used for Red Wing's uppers are created in a tannery that Red Wing bought in 1986: SB Foot Tannery, a facility in Minnesota that has also partnered with the US military for generations, supplying leather for soldiers' boots since World War I in addition to making leather for upholstery.
"SB Foot had historically provided the leather for their boots so it was a logical move," says Batson.
Very few boot companies own their own tannery and this provides Red Wing with tremendous advantages with regards to quality control.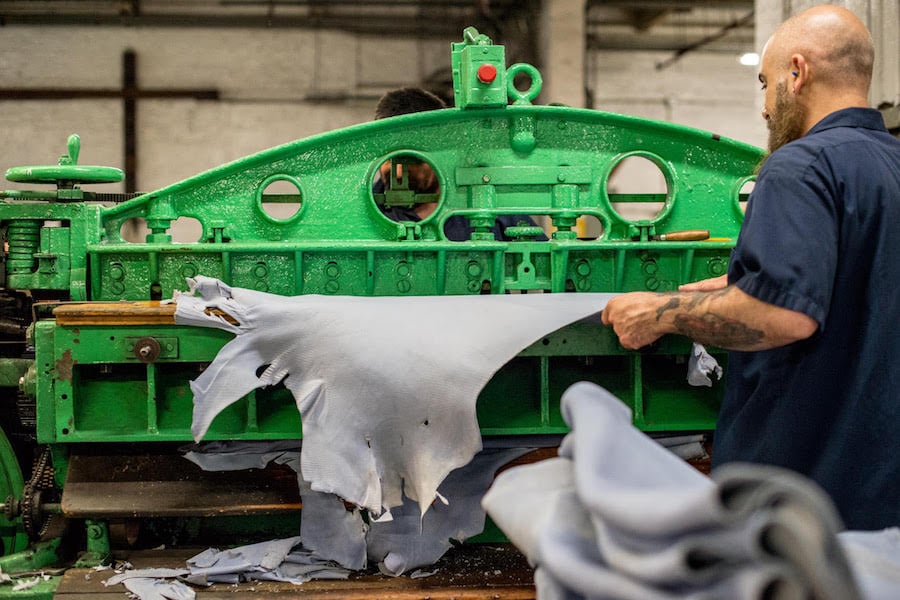 5. But Red Wing's Tannery Receives Their Hides Already Tanned
Interestingly, though, SB Foot's leather isn't tanned from a raw state.
"They get hides in the 'wet blue' state, which is a pre-tanning process that lets them avoid some of the more messy aspects of the process," says Batson.
"Wet blue" leather is an intermediate part of the production process: first the hides are tanned in chromium sulfites that turn them into a blue, semifinished leather that's much stretchier than the finished product. That's what SB Foot gets.
Then the leather's waxed, oiled, shaved, lubricated, and/or dyed. So all of those steps happen at SB Foot, but the chrome tanning itself is not. This is probably good news to locals, given that part of the process produces a lot of bright blue liquid waste that's terrible for the environment.
[Related: The 5 Best Leather Tanneries on Earth]
Conclusion
You may not have known these facts about America's favorite heritage boot maker, but none of it means the boots are low quality. (OK, maybe unless you thought they were vegetable tanned. Arguably.) Red Wing makes stellar boots that hold up well and age beautifully, and we hope they'll stay on the boot scene for centuries to come.
Know any other surprising tidbits about Red Wing? Let me know in the comments below.
The following two tabs change content below.
Karl Wasson
Karl is an IT product manager living in South East Asia who gets a kick out of durability and dependability. He believes form and function are not mutually exclusive. When he's not working, he's searching for the best bespoke menswear in South East Asia and beyond.
Latest posts by Karl Wasson (see all)