This post may contain
affiliate links
that at no additional cost to you, I may earn a small commission from.
Shell Cordovan. A classic and timeless menswear staple.
Coveted for its beautiful sheen and durability, this horse-based material — it's usually considered leather, but we'll discuss why some folks don't put it in that category — has a massive cult following and commands a high price tag. Though it is often associated with formality, Shell Cordovan has surprisingly strong roots in heritage menswear as well.
In this article we'll explore the story of Shell: what makes this material so desirable, and where you can buy it. You can jump ahead with these links:
The Best Shell Cordovan Boots
As mentioned earlier, Shell Cordovan boots have had their place in heritage menswear since the early 1900. The contrast in texture between rugged selvedge denim and smooth-as-glass Cordovan, remains a classic look even today. Below you'll find the best companies who currently sell Shell Cordovan Boots.
Bear in mind that due to the rarity of the material, some manufacturers offer their boots made-to-order, so be prepared to possibly wait for your order.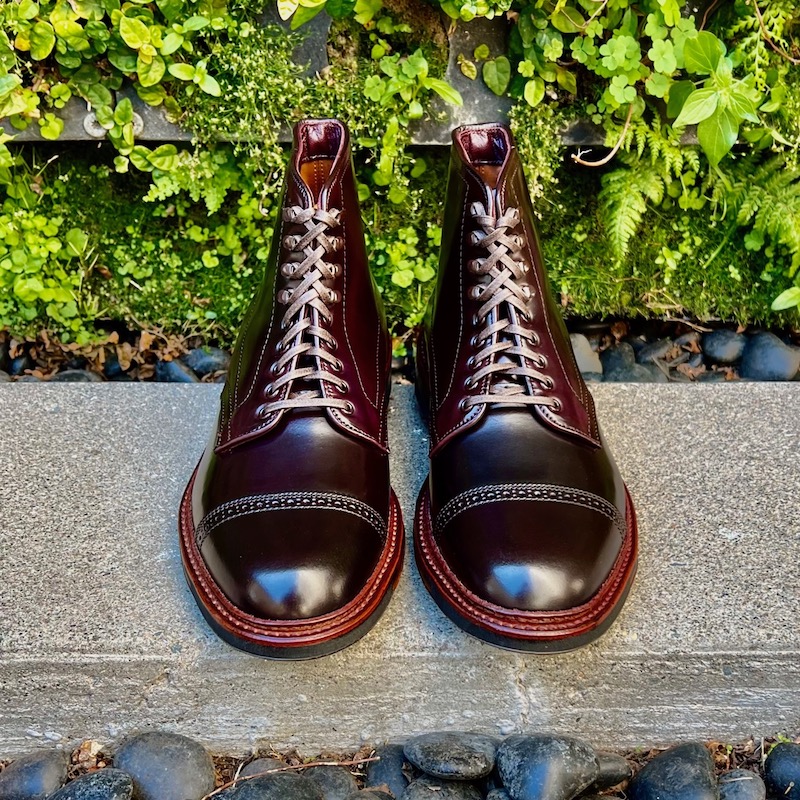 Best Cordovan Boot: Alden
This spot comes down to the best price to quality ratio. This is determined by comparing the price of the competitors as well as their manufacturing and quality control standards. Although not the cheapest, a few extra dollars can get you something quite special from Alden.
Although not the cheapest, a few extra dollars can get you something quite special from Alden.
Alden Cordovan Boot Highlights
Cost: $750-850 (depending on style and vendor)
A New England based manufacturer producing footwear since 1884, Alden crafts a wide variety of boot (and shoe) styles in Shell Cordovan.
They have a massive cult following – and for good reason! It is rumored that Alden has first-choice over the best Shell Cordovan hides from Horween before other footwear manufacturers. Because Alden works with a number of private vendors, there are new special makeups and limited runs every season.
Who should buy Alden
People who care about maximizing cost-per-use. The materials and craftsmanship is comparable to more expensive brands.
Folks who want something that can be considered rare. Some runs may only get as few as 12 pairs.
Who should not buy Alden
Those who get bored of black and color #8 shell. Alden almost exclusively uses these two colors. Although they make Shell Cordovan Boots from rarer colors, these runs are incredibly tough to preorder due to insane demand.
If you can afford to shell out a few more bucks Alden will certainly give you your money's worth. Between the variety of lasts and style options, there's something for everyone.
[SHOP ALDEN'S CORDOVAN BOOTS HERE]
When I think of elegance in heritage footwear, I think of high-end formality. Sleek lines and clean features, Carmina takes the cake for the most formal Cordovan Boots. With delicate lasting and durable construction, they are our pick for the best dressy Cordovan boots.
Carmina's Cordovan Highlights
Cost: $890-990 (depending on style)
Beautiful, handcrafted footwear made in Spain for generations. Although they are technically the youngest company on this list, the family has generations of experience making footwear on the Spanish island of Mallorca dating back to 1866.
Their shoes and boots have a slightly more elegant lasts, while still maintaining a classic and timeless appearance.
We were fortunate enough to visit Carmina in Spain to explore their collection — they answered all the questions you might have in this video.
Who should buy Carmina
Those looking for a formal dress boot. Carmina appears to be one of the only manufacturers to offer balmoral boots.
Folks who enjoy a more sleek European profile.
Who should not buy Carmina
People who need a wider or more narrow boot size. Unfortunately, Carmina only produces their boots in a standard medium width, though several lasts are available.
There is certainly a price bump for Carmina, but it's justified by the unique and quality product that they offer.
[SHOP CARMINA'S CORDOVAN COLLECTION HERE]
Most Affordable Shell Cordovan Boot: Allen Edmonds
This spot purely comes down to one thing: who sells the least expensive boot?
Not only does Allen Edmonds take this prize for its standard MSRP, but they appear to be the only company on this list to put their Shell Cordovan on sale; lowering their price even more!
Allen Edmonds Cordovan Highlights
Cost: $725 (and lower on sale)
Crafting shoes in Port Washington, Wisconsin since 1922. Although Allen Edmonds does not necessarily focus on boots, they currently offer 3 different boot styles in Shell Cordovan (Captoe, Plaintoe, Wingtip).
What's notable is the offering of "Chili" Shell Cordovan. Allen Edmonds Shell Cordovan boots run for $725, however they often go on sale making them the most affordable option.
Who should buy Allen Edmonds Cordovan
Anyone who wants to spend the least amount possible on Shell Cordovan Boots
Those who fall in love with AE's unique Chili Shell Cordovan option
Who should not buy Allen Edmonds Cordovan
People who care about the finer details. Still a well-made boot, however Allen Edmonds currently has the weakest quality control on this list.
Without a doubt, AE is the company to choose if you need to save a few extra dollars in your pocket after your big purchase. Heck, you might have saved enough for a matching Shell Cordovan belt!
[SHOP ALLEN EDMONDS' CORDOVAN COLLECTION HERE]
Best British Cordovan Boot: Crockett & Jones
This category boils down to the fine details. How is the stitch density? How clean is the welt? Are the uppers even and symmetrical?
Yes, allowances must be made for a hand-made product. But Crockett & Jones wins this prize thanks to the generational experience of their craftspeople.
Crockett & Jones Cordovan Highlights
Cost: $1170
Based in Northampton, England, C&J is tied for the oldest company on this list. They've been crafting footwear since 1879!
Arguably one of the best British-made shoes outside the realm of bespoke footwear, thanks to their eye for detail and commitment to classic English style. C&J currently offer several shoes but just one Shell Cordovan captoe boot (in brown or whisky shell) for $1170.
Who should buy Crockett & Jones
Those who appreciate clean construction details above all else.
Folks who enjoy British stylings.
Who should not buy Crockett & Jones
People who want variety. C&J currently offers a single Shell Cordovan captoe boot (in brown or whisky shell).
Those watching their pocketbook.
The construction quality of C&J is inarguably impressive, but the cost-per-use begins to diminish as the price goes up. Certainly a company appreciated by the footwear enthusiast.
Most Eye-Catching Cordovan: Heinrich Dinkelacker
The winner of this category goes to the most unique and distinct Shell Cordovan Boot on this list. Few can argue, Heinrich Dinkelacker is the star of this contest.
Heinrich Dinkelacker's Cordovan Highlights
Cost: $1225-1355 (depending on style)
Also founded in 1879! HD is a German shoemaker with a flair for walking the line between classic and chic. They currently offer three different wingtip boots, but without a doubt the star of the show is their Buda Full-Brogue C. What really makes these stand out is the contrasting stitching and their iconic "braided welt". The price may also stand out at $1355, but the craftsmanship to command such a price is hard to argue with.
Who should buy Heinrich Dinkelacker
Folks who want their boots to be noticed. The beautiful construction details are very eye-catching.
Those who want something uncommon. Due to its higher price and lack of presence in the US-market, you are unlikely to see many others wearing these boots.
Who should not buy Heinrich Dinkelacker
People who do not like wingtips. Unfortunately this is the only Cordovan Boot style HD currently offers.
Again, those watching their pocketbook. This is the most expensive boot on the list!
As with C&J, I feel that the Shell Cordovan Boot from Heinrich Dinkelacker is something that only a footwear enthusiast would really appreciate. You're not buying this boot because it's from some famous brand. Rather, you're probably buying these boots because of the fine and unique construction details.
Best Custom Shell Cordovan: Rancourt & Co.
Although not the only manufacturer to offer custom options for their boots, Rancourt & Co takes this spot thanks to their Made-to-fit Trial program.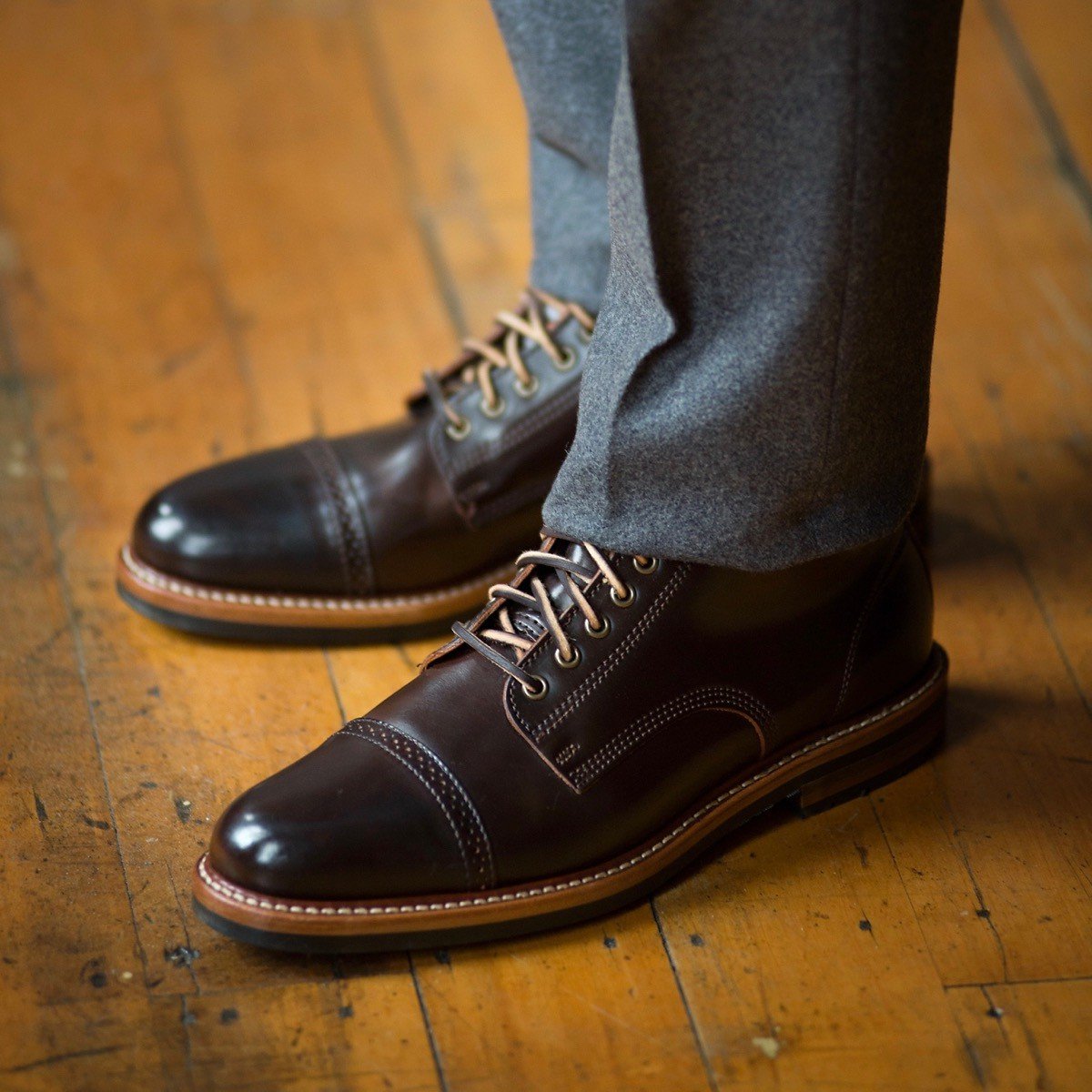 Rancourt & Co. Made-to-Order Cordovan Highlights
Cost: $750-780 (depending on style)
A wonderful family-owned business based in Lewiston, Maine. They opened their doors in 1967 producing moccasins but have since branched out to manufacture dress shoes, boots, slippers (even sneakers!).
Rancourt currently offers 2 Shell Cordovan boot styles on stock – a wingtip and perforated captoe priced at $780 and $750 respectively. However for another $850 you can customize your own plain-toe or moc-toe Shell Cordovan Boots.
As mentioned their Made-to-fit program is what makes the process stress-free! For $50, the company will send you 2 pairs of trial shoes to confirm the size on your custom order. You can then put that $50 down as a deposit on your order.
Who should buy Rancourt & Co
Those who want a hassle-free custom experience.
People who enjoy supporting family-owned businesses.
Who should not buy Rancourt & Co
Folks who prefer Goodyear welted boots. These boots are blake-stitched, making them more flexible but less water-resistant.
Rancourt & Co offers a wonderful product at a fantastic value. Although not the most elegant boot on this list, R&C certainly has undeniable charm.
Toughest Shell Cordovan Boots: Viberg
Arguably, Viberg makes one of the sturdiest boots on the list. Blue collar workers in a variety of industries swear by the durability of this heritage brand.
Viberg's Cordovan Highlights
Perhaps the best was saved for last? Viberg is often considered the "top of the mountain" for many heritage boot enthusiasts. This Canadian company has produced quality work boots since 1931.
They're known for producing unique makeups using a variety of quality leathers. Their boots also feature their trademark Stitchdown construction. Unsurprisingly, Viberg's following is as strong as Alden. Special makeups will often go out of stock soon after release. Viberg currently offers here.
Who should buy Viberg Cordovan
Those who want a boot that will outlive them.
People who enjoy a more rugged aesthetic.
Who should not buy Viberg
Folks who want options. Although Viberg will do limited runs for Shell Cordovan boots in other styles and colors, their standard offerings are limited.
The durability of Viberg is well known. Although more expensive than other options, Viberg is an excellent choice if you plan to be especially rough on your boots.
[Shop Viberg's Cordovan collection here]
Shell Cordovan Wallets (and other Accessories)
In any case if a pair of Shell Cordovan boots is too large of a commitment, then perhaps consider getting your feet wet with a Shell Cordovan accessory first.
Cordovan develops a gorgeous patina; it's no wonder it also makes for an excellent material for everyday carry such as wallets, watch straps and key fobs. Not only that, but a matching shell belt for your shell shoes is a very sharp look.
Though most of the previously mentioned companies also offer Shell Cordovan wallets and belts, here are a few other companies to check out as well:
Ashland Leather's Cordovan
A wonderful leather shop based in Chicago, Illinois. A small but dedicated team of craftsmen who focus on producing a variety of elegant minimalist wallets. They also make most other Shell Cordovan accessories as well! This team stands behind the quality of their product, made evident by the lifetime guarantee on their products.
[Check out our Ashland Leather wallet review]
Craft & Lore Cordovan
A North Idaho based workshop of three bearded fellas who've been crafting an excellent heritage product since 2014. In terms of their Shell Cordovan wallets, what's unique is that they reverse the Shell, making for a more rugged and casual appearance. They also offer a notebook, watch strap and keychain in Shell.
DaLuca Straps
A very cool San Diego based company. Daluca opened their doors in 2009. What's especially notable is that they offer one-of-a-kind watch straps made from a variety of vintage leathers. Not only that, they offer customizable Shell Cordovan watch straps in 21 different colors.
[Related: The Best Leather for Watch Straps]
Vintage Florsheim Shell Cordovan
Like many other modern brands, vintage Florsheim also used Shell Cordovan sourced from Horween Tannery. That said, there is debate amongst enthusiasts over which color was used for Florsheim's "Brown" Shell Cordovan shoes. Some say it was Color #8, though others say it was Color #4 with a factory dye or finish applied during manufacturing. I believe these could both be true!
From personal experience, it appears that many pairs of vintage Shell Cordovan Florsheim shoes crafted prior to the 70s have a closer resemblance to Color #4 (once you strip the shoe of its finish). Additionally, Florsheim Shell Cordovan dating from the 70s to 2000s appear to use Color #8.
I theorize that sometime during the 60s, Florsheim changed which color they used in their manufacturing due to the exploding popularity of Color #8 at the time.
[Related: A Beginner's Guide to Vintage Florsheim]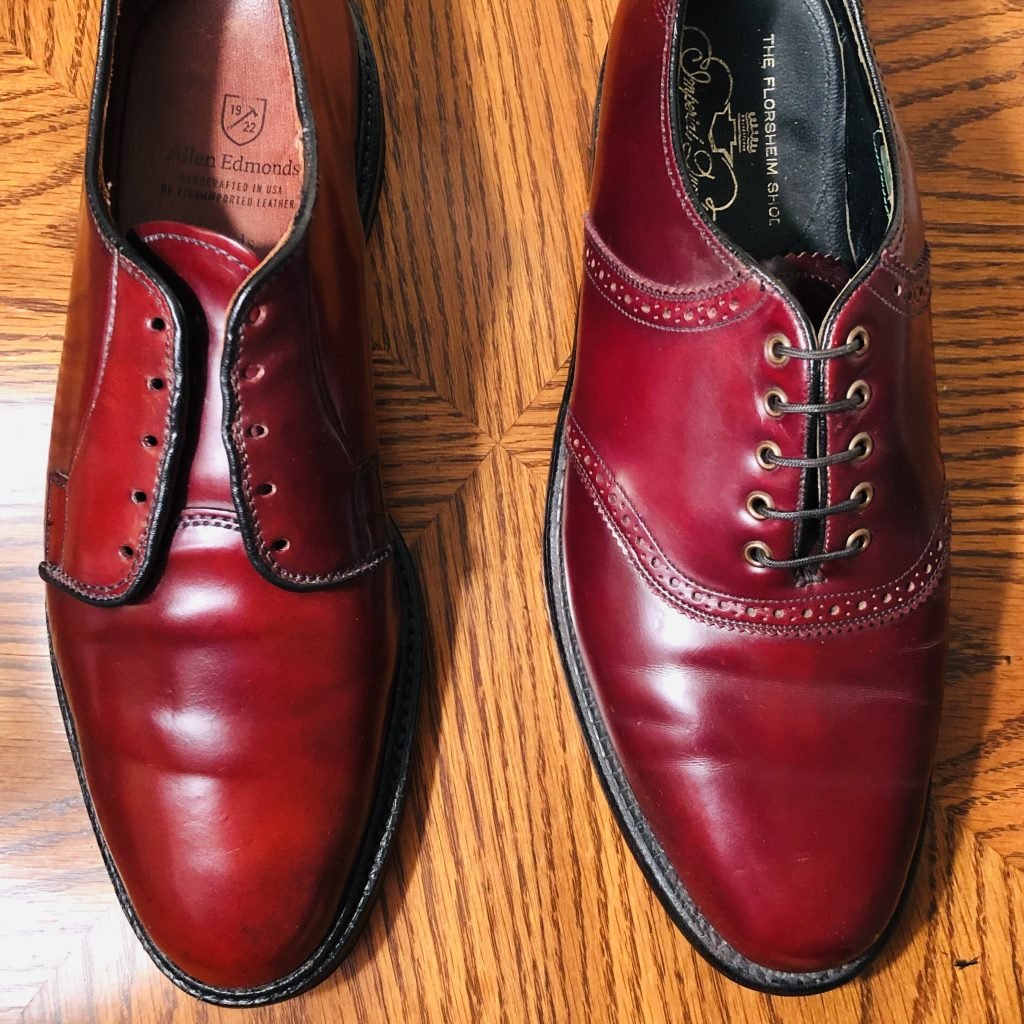 How to Identify Shell Cordovan Shoes
When many people think of "Cordovan" leather, they'll often imagine any leather with dark burgundy and brown tones. Maybe it's oxblood calfskin, maybe it's corrected grain or "polished cobbler" leather – but it's not necessarily Shell Cordovan.
Though experience is the best teacher, here are a few things to look for when identifying Shell Cordovan shoes:
Does Cordovan Leather Crease?
One of the tell-tail traits of Shell Cordovan is that it does not crease like your typical calfskin. Look very carefully. If you spot microcreases on the vamp (or other flex-points) then you've got a dud. If the leather rolls and ripples though, you know you have the real deal.
Confirm the Sku Number
One of the easiest methods to determine if you have Shell is to locate and lookup the Sku number on ShellCordovanModels.com. Although not a complete archive (especially when you consider custom Shell Cordovan), it's an expansive list that covers a majority of modern and vintage shoe manufacturers. It's a great starting point, but does not necessarily confirm authenticity.
The History of Shell Cordovan
Though Shell Cordovan has been a classic menswear staple for over a century, the history of Shell Cordovan dates back as early as the 7th century! This was the first recorded use of horse leather in Spain by the Visigoths and Moors.
Jump forward to the Spanish city of Córdoba (the namesake of Cordovan) in the 16th and 17th century. Here, we find skilled leather artisans creating beautiful works of art out of Shell Cordovan: trunks, tapestries, shields and armor. Eventually, the Spanish Royalty would make efforts to spread the influence of Shell Cordovan throughout Europe and the rest of the world.
Thanks to its durability and longevity, Shell Cordovan became a prime material used for leather razor strops around the 18th century. For those unfamiliar, a razor strop is a strip of leather used to sharpen blades. Considering that most people need to shave, there was a huge market for razor strops. However when Gillette introduced the safety razor in the early 1900s, the demand for Shell Cordovan (and Shell Cordovan razor strops) tanked.
This forced Shell Cordovan tanneries to reevaluate their product. At the time, Shell Cordovan was far too stiff and thick, so artisans began to process the leather so that it was thinner and easier to work with. This was the start of Shell Cordovan footwear! Manufacturers saw the durability of the material and found it perfectly suited for Shell Cordovan work boots.
And thanks to its sheen, gorgeous patina, and reluctance to wrinkle with age, Shell Cordovan eventually found its way into white collar menswear and dress shoes. One of the earliest recorded instances of this is from a pair of Florsheim Shell Cordovan shoes found dating back to the 1910s!
[Related: The 10 Best Dress Boots]
As the demand for Shell Cordovan went up and the number of leather tanneries closed, the price (and demand) of Shell Cordovan rose as well.
This is where we are now. But one of those classic tanneries still operates today, and is even considered the birthplace of modern Shell Cordovan.
[Related: Is Shell Cordovan Actually Leather?]
Horween Shell Cordovan
The King of Leather. Horween Leather Company has produced some of the highest quality leathers since 1905. Based in Chicago, this heritage tannery has provided leather to some of the best footwear manufacturers over the past century.
Not only famous for their oily Chromexcel leather, Horween produces a majority of the world's supply of Shell Cordovan as well. Their most classic and popular colors are Black and Color #8 – brown and burgundy tones, often described as a shade of "eggplant". Most other colors are produced in small batches and are often considered rarer.
As mentioned, some people don't consider Shell Cordovan to be leather. Rather, it's a durable membrane found on the horse's hindquarters or rump. At Horween, it's ultimately a 6-month tanning process taking nearly 100 steps, using techniques and machinery used since the Industrial Revolution.
The end result is a beautiful material with unique properties.
If properly maintained, Shell Cordovan shoes can easily outlive their owner.
Shell Cordovan is considered incredibly water-resistant due to the closed-pore structure of the material. This makes it an especially excellent material for wet-weather footwear. More than anything though, it is famous for its durability. If properly maintained, Shell Cordovan shoes can easily outlive their owner.
Additionally, Shell Cordovan does not crease like your typical calfskin. Instead, you'll find Cordovan will ripple or roll. More notes on this later.
[Related: Top Grain vs Full Grain: An Interview With Horween]
Is Shell Cordovan Worth It?
Despite the sticker shock, I'd argue that a pair of Shell Cordovan shoes has a place in everyone's wardrobe. Without a doubt Shell Cordovan is a luxury, but it can be easier to justify when you consider the cost-per-use. It will last longer than you do, it won't crease, and the sheen is second to none.
The main thing to consider is that you choose a shoe style that best suits your lifestyle, so that you get maximum enjoyment out of your purchase. Take care of your investment and it will likely outlive you.
Walk with confidence, and thank you for reading!
[Related: My list of The Best Boots for Men]