If you've ever spent any time on a job site or working in a warehouse or shop setting you've undoubtedly seen, used or heard of CAT (Caterpillar Inc) heavy equipment. It might have been a forklift, backhoe, excavator, asphalt paver, and the list could go on, because they make pretty much anything you could need when it comes to heavy equipment — including boots to work in them.
Not everyone knows that CAT offers a full line of work boots and workwear that attempt to embody the same durability the brand has become known for in the heavy equipment world.
The purpose of this review is to find out if they succeeded.
Some of the things we'll cover in this review are: Are CAT Threshold boots good? Are CAT boots durable? How are CAT boots made and are they comfortable? We found that while they're not as durable as welted boots, they're great value for what you're paying. More in our summary below.
CAT Threshold Boot Pros and Cons
If you're in a hurry, here are the pros and cons of these boots.
Pros
Affordable
Lightweight for a steel toe boot
Runs wide
Good arch support
Toe and heel bumpers
Cons
Glued/cemented build is not the most durable; you're unlikely to get more than a year or two of hard wear
May run a little too wide for people with narrow feet
Not very waterproof; lasted two minutes in water before leaking
Steel toe can heat up or get chilly in extreme weather
How Were the Boots Reviewed?
I'd like to briefly share with you a little about myself and my work environment. By day I'm a sheet metal fabricator and welder. This means I'm always on my feet: sometimes I'm standing in front of a CNC brake all day and on others I'm balancing on one foot while using the other to operate a pedal for a tig welder. My boots are frequently exposed to various hazards such as sharp objects, sparks from welding, and various chemicals we use in the shop for things like soldering.
All right, enough about me! Let's talk about these boots!
CAT Threshold Boots Quick Specs
I know many of us don't have a lot of free time on our hands, so I've gone ahead and compiled a list of specs and features you can quickly look over to see if these boots will work for you.
| | |
| --- | --- |
| Safety Toe | Yes, Steel toe ASTM rated |
| Waterproof | Yes |
| Slip Resistant | Yes |
| Electrical hazard rated | Yes, open circuits up to 600v in dry conditions |
| Soft Toe | Yes, Soft toe option available |
| Wide width | Yes, Comes in wide widths |
| Boot Height | 6 inches |
| Country of Origin | Made in Bangladesh |
| Construction | Cemented/Glued |
| Colors | Brown or Black |
| Price | $109.95 ($104.95 without steel toe) |
How Are the CAT Thresholds Made?
This is my favorite part of every review I write. I'm a bit of a boot nerd, and I love to dig into how a boot is made because it can quickly become obvious if a boot is built to last or if it's overpriced junk. In this part of the review we'll take a look at the leather, boot construction and a few other things about this boot to see how well they are made.
1.1 Leather Quality
The leather quality is decent on the Threshold boots and what I would expect from a boot at this price point. It's very much a plain Jane, brown, nubuck leather and I'd say it looks to be around 2mm thick, which is on par with some of the other cheaper work boots I've reviewed.
CAT does note that the leather is made at a Leather Working Group (LWG) Gold-rated tannery. If you didn't know, LWG certified tanneries use more sustainable and environmentally friendly processes when they make leather. When leather is very cheap, it's fair to assume that it's from a tannery that isn't exactly industry leading with its environmental practices, so I like that CAT made sure to include this information.
1.2 Outsole
The outsole is a combination of rubber and of what CAT calls their ERGO midsole, which they tout as being 30% lighter and more shock absorbing than an EVA midsole.
As far as the rubber part of the outsole goes, it seems durable so far and is shaped more like a hiking boot than a more traditional work boot with a taller heel or wedge sole. It does have a slight heel, but if your employer requires a boot with a defined heel, I'm not so sure the heel on the Thresholds will meet that definition. It's probably best to check with your employer before purchasing if you've got heel requirements
1.3 Cemented or Welted?
These boots are not welted or able to be resoled. They are cemented construction which is generally considered the least durable construction for work boots. However, cemented is more flexible and lightweight than welted boots, it's more common on waterproof boots, and it's to be expected on a work boot as inexpensive as the Thresholds.
But after two weeks of wear in a shop setting, I already have a bit of delamination at the toe of the left boot (below).
1.4 Lace to Toe Design
Why lace to toe? A lace to toe design allows for a more secure fit around the ball of the foot and adds more structure to the toe box, which helps prevent you from over flexing your toes. Given the generous toe box space these boots have, which we'll discuss in a bit, it's easy to see why they chose a lace to toe design.
1.5 Toe and Heel Bumpers
They do have rubber heel and toe bumpers that are sewn around the toe box and heel area. These are very helpful at extending the life of the leather and in all honesty, the outsole will probably fall off before the upper gets trashed to the point you can't wear the boots anymore.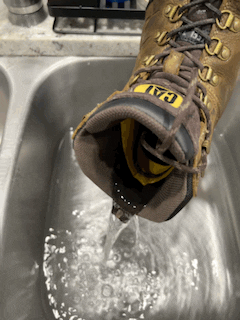 1.6 Waterproof Liner
CAT doesn't really get into any specifics about the waterproofing tech the boots have, other than to say that the seams of the waterproof liner have been sealed to ensure your feet stay dry. I'm sure it's probably similar to the Hawx Legion or Timberland Boondocks I recently reviewed.
When I decided to put the waterproof liner to the test. I filled my sink with water and placed the boots inside. Unfortunately they began to fill with water within 2 minutes and were completely soaked through. While waterproof liners aren't fool proof, I would expect them to stay dry longer than two minutes. The fact it failed so quickly is a little disappointing.
Is the CAT Threshold Comfortable?
They are very comfortable. Honestly, I was really surprised that they were so comfortable. I'm on my feet all day, so comfort is key for me.
Below, I'll talk about a few things that stood out to me in terms of comfort.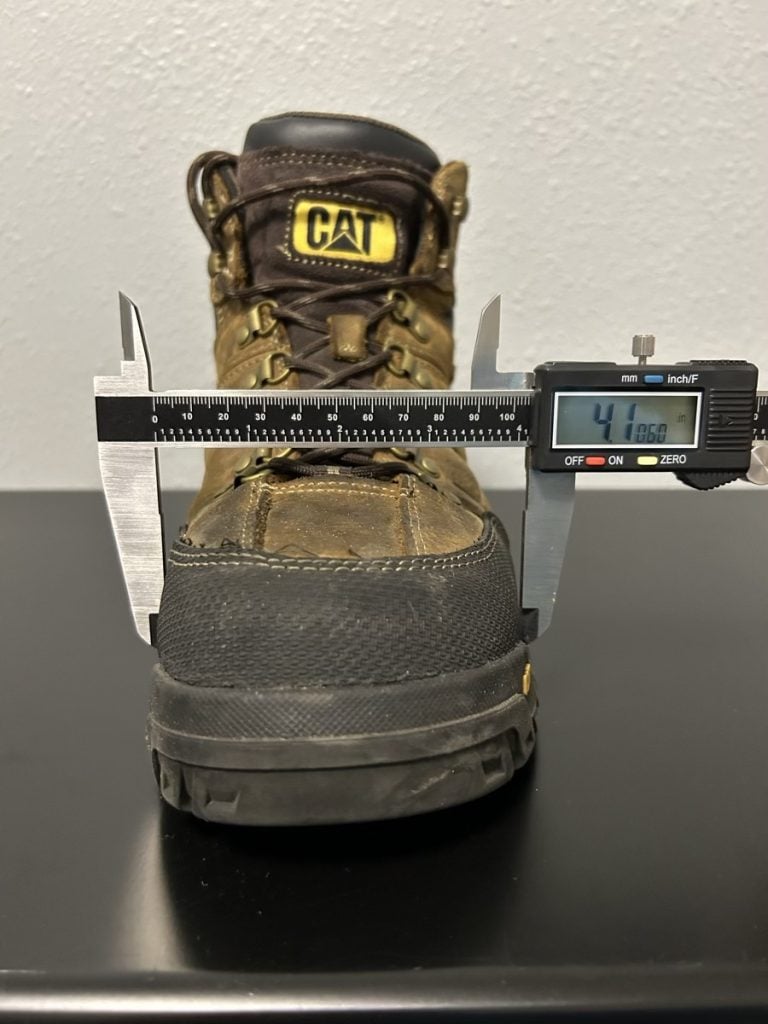 2.1 Toe Box
Coming in at a generous 4.1 inches, the toe box gives plenty of wiggle room. Not only is it roomy, but CAT used a more anatomically shaped safety toe cap compared to many of their competitors, which means I didn't feel the toe cap rubbing against the side of my big toes at all. I would like to note that CAT does offer the Threshold in a soft toe configuration too, which can be selected from the same product page as my steel toe version.
2.2 Insole
The insoles are pretty comfortable as well. The removable insole is a foam polyurethane insole that has small holes throughout it, which I suspect is there to help circulate air and help prevent your feet from sweating. The non removable insole looks like it could be either EVA or Poron. Either way, regardless of what both the removable and non removable insoles are made from, the combination of two makes for a very comfortable boot.
2.3 Arch Support
Arch support is fairly good and my moderately high arches haven't had an issue with the Thresholds so far. Normally I like to use the heel to toe drop measurement as a reference to help show the amount of arch support one could expect from a particular boot. However, with the outsole design it makes the boots seem pretty flat but rest assured these boots have fairly good arch support. The removable insole also has some arch support built into it as well.
2.4 Boot Weight
Coming in at 2lbs 1.3oz, the CAT Threshold is on the lighter for a steel toe work boot. It's also fairly well balanced and doesn't feel like all the weight is in the front of the boots unlike other steel toe boots I've worn.
2.5 CAT Threshold Sizing, Fit, and Break In
As far as fit goes, they run true to size. You should be fine ordering your Brannock size in them. Width wise, however, they run wide. Some might even say they feel a bit sloppy, but I don't personally mind because it keeps me from being able to feel the safety toe, and the lace to toe design allows me to lace up tight enough to keep my feet from sliding around. Note that the shoes are available in extra wide widths.
There is absolutely no break in period for the CAT Threshold boots. CAT designed them to be comfortable right out of the box so you can wear them to work on day one without issue.

CAT Threshold Boot Safety Features
In this part of the review we'll briefly cover a few of the safety features that many employers who are sticklers for safety regulations require.
3.1 Steel Toe
The Cat Threshold comes with an ASTM compliant steel safety toe. While some guys prefer them to non-metal composite toes, it's worth noting that steel toe boots tend to make your feet cold if you live and work in colder environments and they heat up in hot environments. You can always purchase the non-steel toe version of these boots if you prefer.
3.2 Shock Resistance
CAT states that the Threshold protects from up to 600 volts on an open circuit in dry conditions.
3.3 Slip Resistance
The CAT Thresholds are rated for slip resistance as well. If you work in wet, muddy or icy conditions you may want to consider these boots.
CAT Threshold Boot Price
$109.95
$5 cheaper for soft toe
The CAT Threshold is a very affordable boot coming in at the price of $109.95 for the steel toe and $104.95 for soft toe.
Amazon prices fluctuate a ton, but at the time of writing this article, the CAT Threshold was on sale at Amazon for $85.32.
Who should buy the Cat Threshold?
People looking for cheap boots
People who prefer the feel of hiking boots or sneakers
People with wide feet
People who are required to have a steel toe boot
People who need boots that are ASTM rated for electrical hazards
Who Shouldn't Buy the Cat Threshold?
People who prefer a more traditional boot build: these look and feel closer to sneakers
People who work in very hot or very cold environments may not like the steel toe's temperature absorption
People who want very durable boots, these probably won't manage two years of hard wear
People who need waterproof footwear, these leaked after a few minutes
People with narrow feet
Final Thoughts
In closing, I can honestly say that I like this budget friendly boot. It has some obvious shortcomings in terms of build quality but for what it is, I really liked it and found it to be a comfortable boot to wear all day. Obviously, it's no Pacific Northwest boot or even a Red Wing or Thorogood but for what it is, it's good enough. You probably won't make it two years in them with heavy use, but the value is still so solid that I'm comfortable recommending the CAT Threshold boots.
Frequently Asked Questions
Does the CAT Threshold have a steel toe?
Yes, the CAT Threshold has an ASTM Compliant Steel Toe (ASTM F2413-18), but there's also a soft toe version that's $5 cheaper.
Where is the CAT Threshold boot made?
The CAT Threshold is made in Bangladesh.
Is the CAT Threshold waterproof?
Yes, the CAT Threshold's construction has sealed seams and a liner that leaves it fully waterproof — we filled the boot with water just to test.
Is the CAT Threshold rated for electrical hazards?
Yes. The CAT Threshold's Electrical Hazard Protection is rated to protect against open circuits up to 600 volts in dry conditions (ASTM F2892-18)