Is Nicks Urban Logger Boot the ultimate combination of work boot and city boot?
The ideal footwear for, say, an urban environment and something you'd wear, say, logging?
That's the goal of this striking piece of art by the hallowed American institution of bootery, Nicks Handmade Boots.
After more than four years of running a boot review website and YouTube channel, Nick is finally doing Nicks and I've gotten around to reviewing one of the most iconic American boot brands in existence. Nicks is a massive institution in Pacific Northwest boots, a region famed for producing some of the heaviest, meatiest boots you're ever going to find. Since receiving them two months ago, I've worn my Urban Loggers for at least an hour of walking every day plus a trip to Nova Scotia — and as you can see, they've barely aged at all.
Nonetheless, I think I've put in enough time to give you a fair review so you know what you can expect with this model: everything about the leather, sole, construction, and how to know if these very particular boots are right for your individual needs.
Because boots like these deserve some serious thought.
[SHOP NICKS URBAN LOGGER HERE]
Background: Nicks Urban Logger
Nicks (no apostrophe) is synonymous with the Pacific Northwest and the hardy boot-wearing folk who have worked in the region for generations. Manly badass men and women wear Nicks, which is famous for making fireproof boots for firefighters, extra tall boots for linemen, spiky boots for loggers, and more footwear for the most rugged environs.
But of course, a brand with as much heritage, craftsmanship, and toughness as Nicks also makes footwear for the weekend.
When customers approached them to say, "Look, I love these 12-inch tall boots for my day job but do you have anything that's a bit less overbuilt for after hours, " they got boots like the Americana, the Robert, and the Falcon.
Those are their casual city boots.
That's not what the Urban Logger is.
The Urban Logger is their flagship hybrid boot, one that you should be able to wear for work and wear under your jeans when you head into town.
In fact, Nicks says it
takes the best features of our serious work boots (lug sole, logger heel, brass hardware) and combines them with the heritage look of the Robert.
Does it succeed?
[Related: See another hybrid boot from Nicks' biggest competitor: White's 350 Cruiser]
Melding the definitely-for-work construction and outsole and the definitely-for-casual-wear upper and height seems to say to boot guys, "Alright, you say you wear boots because they're tough and have been worn for generations as workwear, and you insist you don't wear them as a fashion accessory. Well, put your money where your mouth is."
Now, here I should be straight with you: I'm not a lumberjack. I wear boots because I think they look cool, age well, last forever, are really supportive, and require a lot of skill to make. I wear boots for a ton of reasons, but none of them are chopping down trees. I guess I'd say I'm the typical city guy who's thinking about trying something more rugged and purpose built — although I'd say the Urban Logger is better suited for working guys looking to try something more city-friendly. (More on that later.)
Like all Nicks boots, the Urban Loggers are extremely customizable. You can pick your toe shape, eyelets and hooks, toe cap style, edge color, and a suite of other elements. Guys love the individuality you get with your Nicks boots.
[Related: The Best American Made Boot Brands]
Nicks Urban Logger Boot Leather
~3mm thick leather
Mine are the 1964 Tan Roughout
Fantastic leather, stuffed with waxes and oils
Relatively easy break-in for such heavy-duty materials
There is a lot of cow in this boot, both in the upper and the sole.
Let's start with the upper: this is 7 to 8 ounces, meaning 2.8 to 3.2 millimeters. That's very thick. Your average Red Wing's leather is about 2.1 millimeters and they're considered quite by the average guy. Dress shoe leathers, which most men are used to, are usually 1 to 1.5 millimeters. So you're looking at a leather that's three times thicker than a dress shoe and 50 percent thicker than most common boot brands.
This particular leather is a newer one called the 1964 Tan Roughout. Nicks has a whole video on how they came up with the 1964 line, which I inserted below: basically, they copped the boots of someone who worked for Nicks in the 1970s and tried to replicate them. (They call it the 1964 because that's when Nicks was founded.)
It took them two years to recreate this leather, which they found extremely attractive because of the unusual balance of suppleness and durability. The 1964 line (which comes in brown and tan) is pumped with lots of waxes and oils to make it long-lasting but also soft. A bonus of all these oils is an easier break-in, which I'm happy to report I experienced.
[Related: The 10 Best Leather Tanneries on Earth]
Nicks Urban Logger Construction
Made with very high-quality materials
Rugged, luggy Vibram soles
Great quality-control, nearly perfect
Then there's the rest of the boot!
The Urban Logger has a thick vegetable tanned leather midsole that's 9 iron, or 4.8 millimeters thick. It also comes with a leather shank for stability — which breaks in better than steel — an intense Vibram V-100 lug sole, Nicks' legendary dramatic arch, and a very tall logger heel that I clocked at a little over 2 inches. The quality control is superb, with nice stitch density,
The Vibram V100 is the company's original sole, a solid rubber lug sole that was originally designed for tough outdoor activities like mountaineering and logging.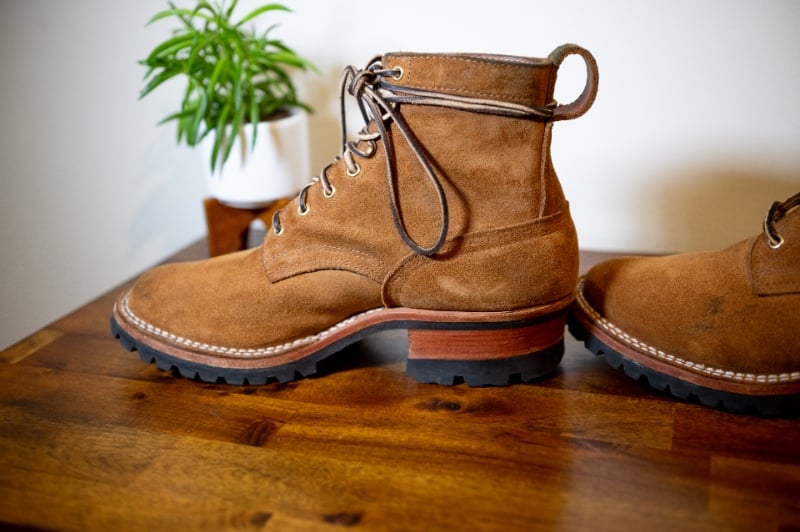 Nicks Urban Logger Fit & Comfort
Fits the same as my other Goodyear welted boots
11 widths available
Tall heel affects comfort
Unusually heavy
A lot is made about Nicks' sizing, and new customers may be overwhelmed by the requests to make a series of foot measurements on a piece of paper that should then be mailed to their Washington headquarters.
But I just got my usual boot size and it was fine.
My true size is 11.7 and I'm a size 11D in Red Wing, Wolverine, Grant Stone, and most boot companies. After emailing them measurements of my ball, instep, heel, ankle, length, and width… I was told to go with an 11D.
A big bonus is they come in every width you can possibly imagine, from AA to FFFF, widths I did not know boots could be bought in. No matter how hard a time you've had in the past trying to find the right fit, you'll find one at Nicks.
No matter how hard a time you've had in the past trying to find the right fit, you'll find one at Nicks.
Comfort-wise: as much as I was fearing a brutal break-in, this 1964 leather didn't have one at all. Nicks are known for their tough break ins, though, so if you're going with a different leather it'd be wise to expect some blisters.
But even with my pretty-soft-from-the-get-go leather, these feel dramatically different to my other boots for two reasons: the height and the weight.
The reason that some work boots have such a high heel is functional: it helps you maintain purchase on ladder rungs, dig your shovel into the ground, better control a motorcycle, and so on. Walking around Manhattan in these two-inch heels, though, feels unwieldy. They're loud as all hell indoors, and as a six-foot dude I don't need the extra height — I can't help but feel like I'm teetering.
That's not to say the height and weight are problems: The boot arrives and wears as it's described. My point is that if there's absolutely no work in your future, consider one of the aforementioned casual boots instead of this hybrid.
[Check Out: Wolverine 1000 Mile Vs. Thursday Captain Boot; Which Boot Is Better?]
Pros
Extremely well built boot
Handmade in Spokane, Washington
American owned company
Eye catching as a casual boot
Thick leather upper will last decades
Rebuildable; may be your lifetime boots
Cons
Overbuilt for city boys
Unwieldy ordering process; expect ~5 months' wait
Pricey at $559 – $800
[SHOP NICKS URBAN LOGGER HERE]
The Takeaway
They're casual but they're not to be taken lightly, if you understand what I'm trying to say here. You will stand out in a city in a way you don't with other, more subtle heritage boots.
If what you want is something you can work hard in but has an upper that doesn't look too out of place under jeans at a bar then yes, these are great boots for you. If you want a boot that can go anywhere from, the street to the field to chores to a motorbike, then they're a terrific product.
The height and weight aren't problems: The boot arrives and wears as it's described. But if there's absolutely no work in your future, consider one of their casual boots instead of this hybrid.
I encourage you to really think about what these are for before you make this $559 purchase, which is the minimum cost. (It's more for extras: if you get, for instance, vegetable tanned leather with gunmetal eyelets, a 4-row toecap, and honey Vibram soles, you'll pay almost 800 bucks.)
You also have to wait 4 to 6 months for them to be made, so these aren't for the impatient man or the penny pincher. You need to really, really want this boot, and not just any Nicks boot. Pick the right tool for the job.
Want a second opinion? I saw a guy on Reddit say,
These are stupidly overbuilt for my lifestyle. F*ck, I never leave the house during covid. I'm wearing these on carpet. What the hell do I need these for? But I love them. They weigh at least 47 times as much as Viberg service boots.
Now, u/BuckeyeSouth loved his boots and to be clear, I like them too. It's impossible not to appreciate the craftsmanship and materials.
After a third opinion? Actual working man and YouTuber Carl Murawski thinks they're the best boots on Earth, a completely understandable position given his lifestyle:
But if you actually aren't going to do work in these boots and you don't need two extra inches of height, the Urban Logger might feel a bit like cosplay.
Truthfully, as a guy who likes boots for all the reasons you can like a boot except for doing work — it's embarrassing to say, but let's be real — I'm wearing and reviewing these as a guy who leans more in the style direction and as such, wearing them almost feels like stolen valor. It can feel a bit like playing dress-up when you're a city boy, but if you're a country dude, I say get them.
If not, the Falcon or the Americana from Nicks are probably more for you.
With that said, these boots really will handle anything and everything you can possibly throw at them and this leather is great for avoiding or limiting the famous break-in. If you work on your feet and need super tough footwear that also work casually, these will get you where you need to go.
Nicks 'construction and quality is worth having for anyone who wants durable, lovingly crafted footwear. Any boot you get from them will last decades. It doesn't have to be this one, but if the Urban Logger speaks to you, answer the call.
The following two tabs change content below.
Nick English
By day: Manhattan-based journalist with reporting experience on four continents, published in Vice, Men's Health, Popular Science, and a bunch of other places.By night: ravenous consumer of anything and everything related to high end men's boots.Stridewise is where I nurture a maniacal obsession with footwear and share my findings. Say hey:
[email protected]
.
Latest posts by Nick English (see all)