Pretty much everyone knows who Timberland is because of their iconic yellow nubuck boots which were popularized by the New York rap scene in the 1990s.
But does Timberland actually make a good work boot? That's exactly what we aim to find out in this review. We've taken the biggest, baddest and beefiest work boot they make, The Boondock, and put it to the test in real world working conditions.
Is the Timberland Boondock Worth It?
Got somewhere to be? Here are my pros and cons after weeks of work in these boots.
Pros
Roomy safety toe
30-day, money back, comfort guarantee
ASTM Compliant for safety toe, electrical shock, and blood borne pathogens
Pass through speed hooks for more lacing options
Affordable price ($199.99)
Very comfortable insole
Wide width available
No break in period
No Break In!
Cons
Waterproofing doesn't hold up when exposed to water for several hours, but they lasted a good two.
How Were the Boondocks Tested and In What Environment?
First let me tell you a little about myself. I don't just write boot reviews for websites. By day I do welding and metal fabrication work in a sheet metal shop. Yes, I actually do work in my work boots!
Besides being on my feet for 10 to 12 hours a day, the work boots I review are exposed to various hazards like sparks from welding, grinding, cutting, sharp objects, and various chemicals that will ruin leather.
Timberland Pro Boondocks: The Quick Specs.
Look, I know many of us in the trades are short on time so I compiled a list of all the important info that you need to know about the Timberland Pro Boondock boots if you don't have time to read the whole review.
| | |
| --- | --- |
| Safety Toe | Yes, Composite. |
| EH Rated | Yes |
| Slip Resistant Yes | Yes |
| Shank | Yes, Composite |
| Waterproof | Yes |
| Blood Borne Pathogen Resistant | Yes |
| Construction | 270° Goodyear Welt with Cemented Heel |
| Resolable | No |
| Height | 6 inches |
| Defined Heel | Yes |
| Country of Origin | Made in Bangladesh |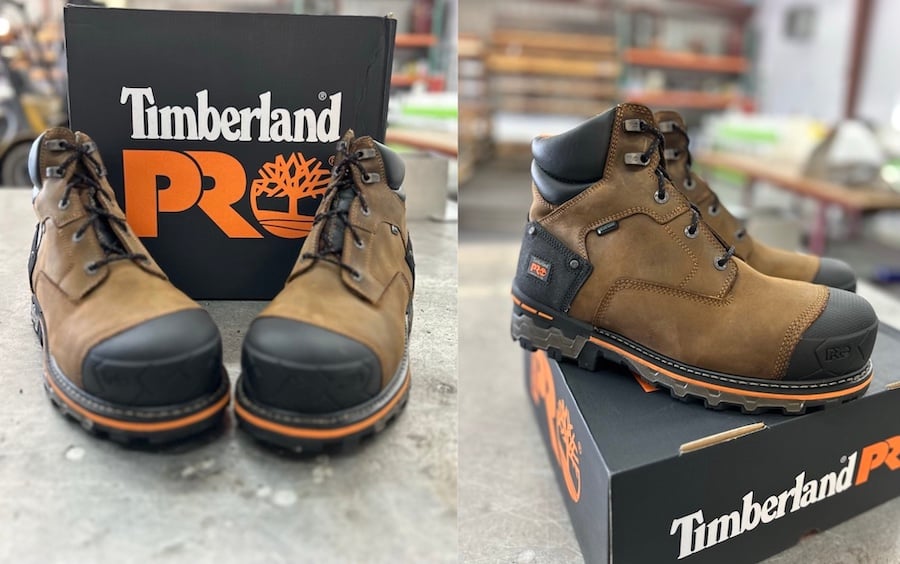 How Are the Timberland Pro Boondocks Made?|Are they Durable?
The first thing I like to look at when reviewing a boot is how it's made and what materials it's made from. My reasoning for it is, if the boot isn't built to take a beating then there isn't really any point of discussing anything else about it. Let's find out if the Boondocks are really built like a tank or if they just look that way!
The Leather
Timberland calls this their "Ever-Guard" leather, which they describe as an highly abrasion resistant leather that enhances durability in rugged job site conditions.
While I can't check the leather thickness without ripping the boots apart because of the waterproof liner, I can say that it does appear to be a quality leather based on my experience. It's a very soft and oily chrome tanned leather that comes in a distressed brown color.
The Outsole
Thermoplastic polyurethane (TPU) outsole is extremely sturdy and grippy
Polurethane midsole for extra shock absorption
The outsole surprised me a bit. Based on the looks of it, I thought it was another EVA and rubber midsole/outsole combo. It's actually a polyurethane (PU) midsole and a TPU (Thermoplastic polyurethane) outsole combo like the outsole on the RockRooster Chelsea boots I recently reviewed.
The PU midsole provides excellent shock absorption while the TPU provides a strong and durable outsole layer that can handle the toughest environments. Timberland touts the outsole as their "All Weather" outsole: it's oil and slip resistant and provides excellent traction on wet and icy surfaces.
Timberland Boondock Pro Construction: Cemented or Welted?
3/4 of the boots is Goodyear welted; the heel is cemented
This combines a Goodyear welt's durability with a cemented boot's flexibility
Are they welted, or are they made with cemented construction like many of the Boondock's competitors? The answer is both. The Timberland Pro Boondock has a 270° Goodyear welt and a cemented heel.
This design captures the best of both worlds. Cement construction boots are known to be highly flexible but not as durable as a Goodyear welted boots. Goodyear welted boots on the other hand are very durable but tend to be very rigid and stiff.
By cementing the heel and only welting the boots ¾ of the way around, Timberland created a flexible yet durable boot that sits right in the middle ground of being highly durable but also highly flexible.
Along with the 270° good year welt, the outsole is also stitched to the welt around the toe box area. This helps prevent the outsole from delaminating (splitting apart) at the front of the toes.
But Can You Resole the Timberland Pro Boondock Bboots?
The short answer is no. While I have no doubt there are crafty cobblers out there that can resole these, it's unlikely that it would function as well afterwards, plus they almost certainly couldn't find the same outsole.
In all honesty, work boots priced at $200 and less are throw away boots. Being able to resole and rebuild your boots is great but it's not always cost effective. Over a three year period it's cheaper to buy a new pair of Timberland Pros once a year versus spending $600+ on some Nick's boots after shipping and taxes. (Not to mention you'll probably have to pay for at least one or two resoles on the Nicks during that three year period.)
Is the Timberland Pro Boondock True To Size?
They are definitely true to size. I measure at size 11.5 on a Brannock device and size 11.5 on the Boondocks fit perfectly. They definitely run wide and are perfect for people like me that like to wear thicker wool socks like the Darn Tough Steely socks with their work boots.
I strongly recommend getting your feet measured on a Brannock at a shoe store. It will seriously make finding your correct size in different boot brands much easier.
No Break In!
How Much Does The Timberland Pro Boondock Cost?
Pricing wise, the Boondocks come in at a very affordable $199.99. They are at the upper end of the price range for boots in this category, but they remain under $200, they're usually cheaper on Amazon, and I feel they out perform other boots at this price point.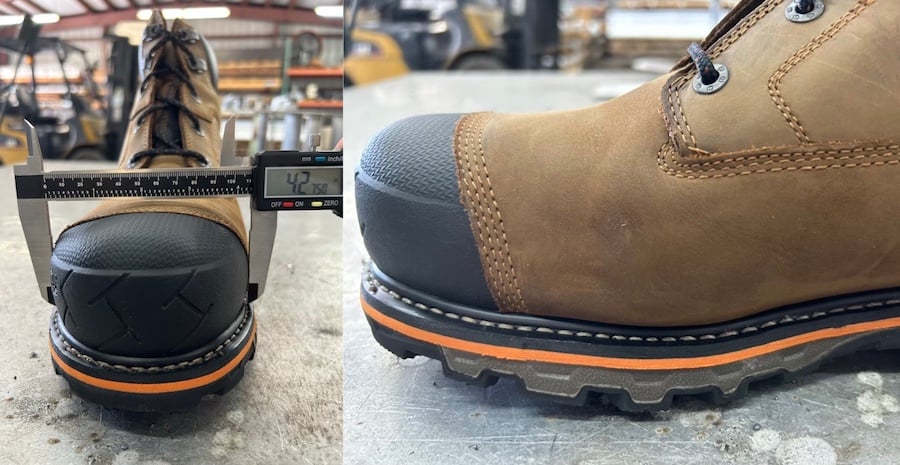 Rubber Toe Cap
Across the toe box, Timberland added a large rubber molding around the toes. This adds a significant amount of durability to the boots, especially for those of you who really blow out the leather in front of your boots quickly. Whether you you spend a lot of time on your knees scraping your toes around on the ground or if you're like me and use your safety toe boots to kick things into place, the Boondock's rubber toe guard has you covered.
Did I mention that Timberland touts the rubber toe guard as being as thick as a standard boot outsole? That's a lot of rubber to wear through!
Reinforced Heel
At the back of the boot you'll find an extra layer of black material stitched to the heel. This is an external heel cup that is designed to add rigidity to the heel and support your ankles while making lateral movements in order to minimize your chances of rolling an ankle.
Waterproof Liner
The Boondock's waterproof liner features Timberland's ReBOTL technology, which means it is made from at least 50% recycled plastics. So if environmental friendliness is something that you care about, Boondocks are helping in that regard.
Not only is it waterproof but it is also breathable, moisture wicking (no sweaty feet), and has been treated with an anti-microbial treatment for odor control.
Since I'm not exposed to the standing water and puddles in the shop, I decided to put the Boondocks to the test by filling my sink with water and letting them sit in the water for a bit. Unfortunately, they didn't stay dry. It wasn't immediate, and they stayed dry for a good hour, but when I came back at around the 2-hour mark the water had defeated the waterproofing and gotten inside the boot.
If you need to stay dry walking in the rain or in an occasional water hazard on the job, you should be fine. If you are going to be working in ankle deep water for a good portion of your day, you should probably opt for something like a Muck boot or similar rubber work boots meant for standing in water all day.
Are the Timberland Pro Boondocks Comfortable?
This is typically the second most asked question when it comes to work boots after asking if a boot is durable or not. Below we'll cover what you need to know about how comfortable these boots are!
No Break In!
Toe Box Space Width
If you're worried about the safety toe making your toes feel cramped or your big toe rubbing on the side of the safety toe, fret not! The Timberland Pro Boondock has my favorite type of safety toe shape: the kind you can't feel!
I can honestly say that it is wide enough to allow for a natural toe splay without any rubbing of my big toe on the side of the safety toe. I ordered a D width and the toe box measures just a hair over 4.25 inches wide. I can only imagine how much wider the wide size is!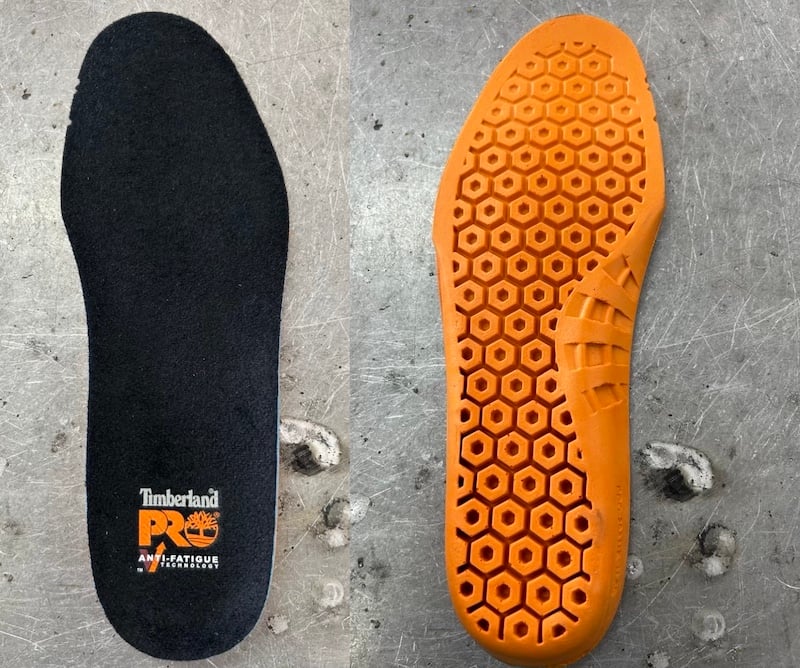 Removable Insole
The removable insole, also a ReBOTL product, offers exceptional comfort and shock absorption. It's an anti-fatigue foam insole that has what Timberland refers to as dynamic arch support, meaning that it will adapt to different foot shapes and arch profiles for maximum comfort.
The bottom line is: They are extremely comfortable. So much so that I've read online that many people are putting the Timberland insoles inside of their Thorogood boots!
[Further reading: The 12 Best Insoles for Work Boots]
Arch support
Arch support is pretty good. With a heel to toe drop of about 1 inch combined with the insole, I'd say they should provide plenty of arch support for most people. Plus, the arch is reinforced by a non-metallic composite shank. The shank is also helpful at distributing your weight and easing foot fatigue from being on your feet all day.
Boot Weight
Coming in at 2lbs, 7oz the Timberland Pro Boondock is on the heavy side, but they're so well balanced that I barely notice the weight of the boots compared to other boots that weigh a similar amount. The boot is very well balanced, has an airy insole, and is smartly engineered to keep the weight from being a hindrance.
Timberland Pro Boondock Break in Period
There is absolutely no break in period with these boots. Timberland designed them to hit the job site right out of the box.
Timberland Pro Safety Features
This is the last thing most of us are concerned with but it's a necessary evil that needs to be covered so you will know if the Boondocks will meet your employer's or job site's safety standards… assuming you actually follow them.
But I will say that the Boondocks have one unique safety feature that could come in handy should you find yourself in the midst of a zombie apocalypse.
Safety Toe
ASTM compliant composite safety toe
The Timberland Pro Boondock has a composite safety toe which meets ASTM standards for impact and compression resistance. Honestly, this is the only thing you'll probably get called on at most job sites, so it's probably not a bad idea to have a pair of safety toe boots in your truck just in case. And yes, I speak from experience because I've been kicked off a site for wearing soft toe boots.
Electrical Hazards
They do meet ASTM standards for electrical resistance so these are great if you're an electrician.
Slip Resistance
I'm not aware of anyone getting kicked off a job site for their boots not being slip resistant, but it never hurts to have boots that are slip resistant — and the the Boondocks do provide it.
The outsole is also non-marking, and I have heard of people that had to have boots that wouldn't scuff or leave marks on the floor where they were working. So the Boondocks have you covered there too.
Blood Borne Pathogen Resistant
This is one I've never heard of before, but they are compliant with ASTM F1671-07 standards for Blood Borne Pathogen resistance.
Earlier, I joked about it coming in handy in the case of a zombie apocalypse. In reality, being compliant with these ASTM F1671-07 standards is probably most beneficial to first responders and sanitation workers. The main purpose for being F1671-07 compliant is for resistance from viral penetration of Hepatitis B and HIV. So if your job has you exposed to blood or bodily fluids regularly you may want to consider the Timberland Pro Boondock.
30-Day Comfort Guarantee
Timberland offers a 30-day money back guarantee if for any reason you believe the boots are not as comfortable as your current work boots. The only catch is that you need your original receipt, and this guarantee is only available to US and Canadian customers.
No Break In!
The Bottom Line
Out of the three heavy duty work boots I've reviewed this year (Hawx Legion, Brunt Perkins, and Boondock) I really think the Timberland Pro Boondock shines above the rest as an affordable boot that's built like a tank. I honestly don't think you'll feel like you made the wrong purchase if you buy a pair.
The following two tabs change content below.
Adam is a sheet metal fabricator and welder who also moonlights as a boot reviewer. After years of wearing cheap boots and shoes that killed his feet, Adam decided he wanted the best work boot he could find. This led him to scouring the internet but little did he know, his deep dive into the world of boots would ignite a passion for writing about and reviewing boots.
Latest posts by Adam Rich (see all)