With so much choice out there, you should really love the clothes you wear. Clark's Bushacre 3 is a chukka that's a leveled up version of Clarks better known Desert Boot: a thicker outsole and shock absorbing insole make for an experience that's both more sturdy and comfortable.
They are undoubtedly comfy at first, owing almost entirely to what might be the thickest Ortholite (shock absorbing foam) insole ever fitted to footwear. The leather is a typical Clark's heavy pull-up beeswax leather, but they've ditched the classic crepe outsole for a rubber replacement that's sturdier, albeit not as cloud-soft as the original.
In short: it's a more rugged way to wear your desert boots.
Clarks Bushacre 3 Pros and Cons
Got somewhere to be? Here are the pros and cons of the Clarks Bushacre 3 so you know if it's right for you.
Pro
Comfort out of the box. I can't say enough how thick the Ortholite midsole is. These feel like a pair of slippers immediately out of the box.
Quality leather. Not super high end, but it is full grain and has a nice two-tone effect from the oils and waxes. These are an instant patina machine so if you want an aged look without having to put in months of effort, these are great.
Great value. I bought these for $70 USD and on Amazon they often dip below $60, depending on the leather and the size.
Cons
Not Crazy Durable. At $55-$100 these boots aren't meant to last for decades. Technically, the stitchdown construction could be resoled, but for the cost it would make more sense to replace rather than repair. The glue on the stitchdown flange will also likely separate if you abuse them too much.
Modern Materials. While they are great right out of the box, some customers prefer slabs of leather instead of foam. The soft feeling of the shock absorbing Ortholite isn't a favorite of traditionalists, but again, these aren't $300 boots.
Not Breathable: These things are toasty, especially for an unlined boot — likely because of the thick insole, heavily waxed leather, and the toe stiffener. Not a huge problem if you are going to wear them in the cooler weather, but something to keep in mind if you value the breathability of leather soles.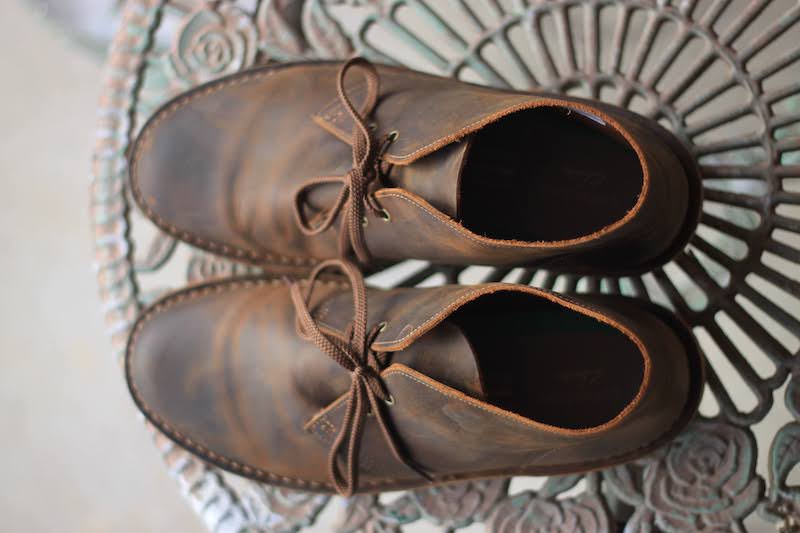 Clarks Bushacre 3: The Style
This low-top boot is called a "chukka"
Two pairs of eyelets
Range of leathers available
The Bushacre is a classic Chukka boot styling with two rows of eyelets and wide opening. The last is very round and roomy in the toe box. The generous last and the stitchdown construction allow for lots of wiggle room. I have seen these in wide widths however, unless you are a true EE/F width I would stick with a Medium/D width.
The waxy pull-up leather does provide some nice light and dark contrasts when you start moving around. If you are searching for a more consistent, less rugged look, I would steer clear of the full grain leathers and stick with one of the suede options. Remember there are a ton of leathers here: from orange to green, smooth leather to waxed suede and even a wool version.
Are Clarks Bushacre 3s Comfortable?
If you like a soft sneaker-feeling, yes
If you prefer rigid support of traditional boots, probably not
There is no secret with this boot that comfort is key. The box and tags are adorned with branding for the "Extreme Comfort System" and even the midsole has been rebranded as the "Comfort Chassis." If you're used to pricy Goodyear welted boots constructed with layer after layer of vegetable tanned leather, you might find the foam unstable underfoot.
Between the soft rubber and the thick Ortholite midsole, there is little support and ground contact. The good news is that there is a shank for some extra stability — that's a hard piece of material in the insole — but don't expect the sturdy feeling of a boot thrice the price.
[Related: How to Wear Chukka Boots]
Clarks Bushacre 3 vs Desert Boots
The Bushacre 3:
Has a harder sole
Has a shank
Costs less
Has a wider toebox
The most significant difference is the sole: the Bushacre 3 has a hard, vulcanized rubber sole while the Clarks Desert Boot has a cushier crepe rubber sole.
The Bushacre 3 has a full Ortholite insole and rubber midsole, whereas the desert boots have a half length leather sock liner over a small foam pad for the insole, and a thin rubber midsole on top of the crepe outsole.
The Bushacre 3 also has a shank, while the Desert Boot doesn't. All of these factors mean that if you're spending all day in them, the Desert Boot will probably be more uncomfortable, especially for heavier guys or guys or those who struggle with the kind of foot pain that well made boots help remedy.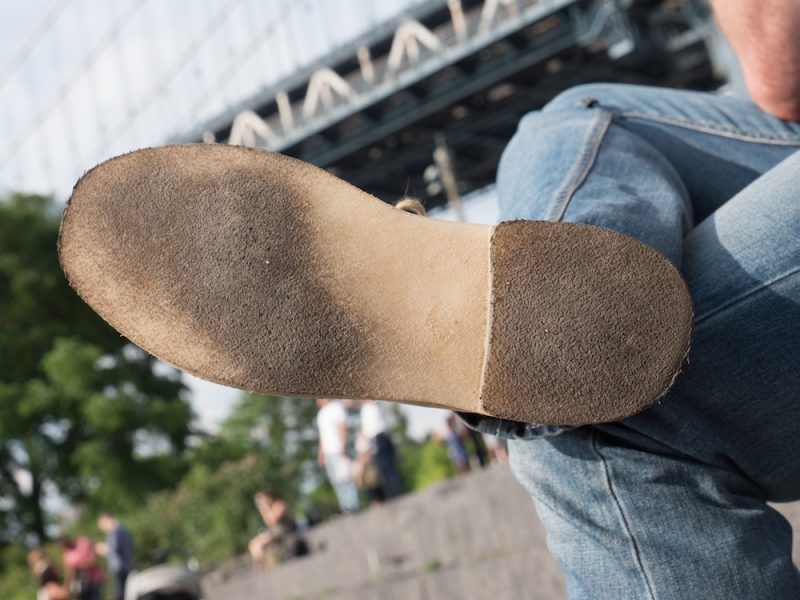 The crepe outsole on the Desert boots, while perfectly at home in the Bazaars of Cairo, does take a beating on pavement. They get dirty very quickly and tend to break down quickly on pavement and concrete. The rubber outsole on the Bushacres will likely outlast the crepe of the Desert boots.
Oddly, despite the cheaper construction, the Desert Boots are more expensive. This is probably because Clarks still sells them on Clarks.com, whereas the Bushacre 3s are only sold on thirty party sites like Amazon and DSW, perhaps giving Clarks less control over the price.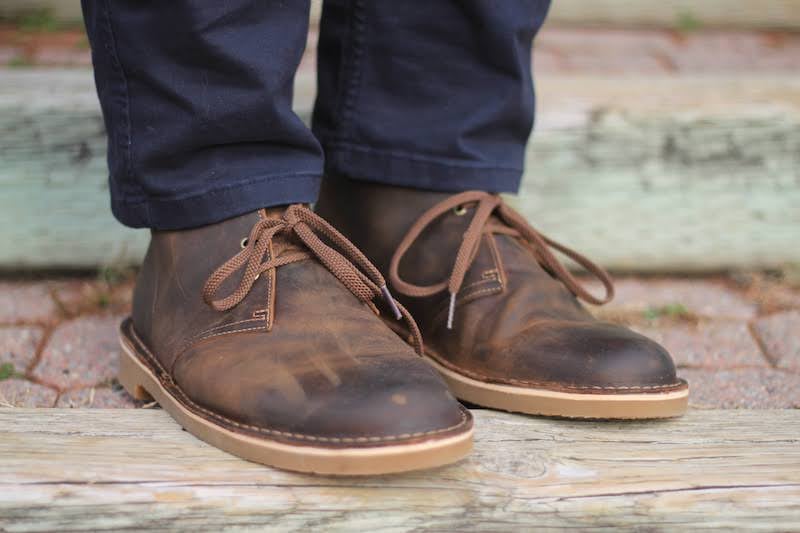 Clarks Bushacre 3 Sizing
Size down ½ size from your true size
Likely a whole size from your sneaker size
I went down ½ size for the Bushacre 3s, due to their wide toe box. If you have an especially wide foot you might need to go true to size. The good news is that it's a pretty democratic last: while not everyone likes such a wide toebox, it means our wide-footed friends can be more confident with the fit.
Clarks Bushacre 3 Construction and Leather
Water resistant "stitchdown" construction
These boots feature a 360-degree stitchdown construction with rubber midsole, rubber outsole, and shock absorbing Ortholite insole.
[Learn more: The 10 Best Desert Boots On the Market]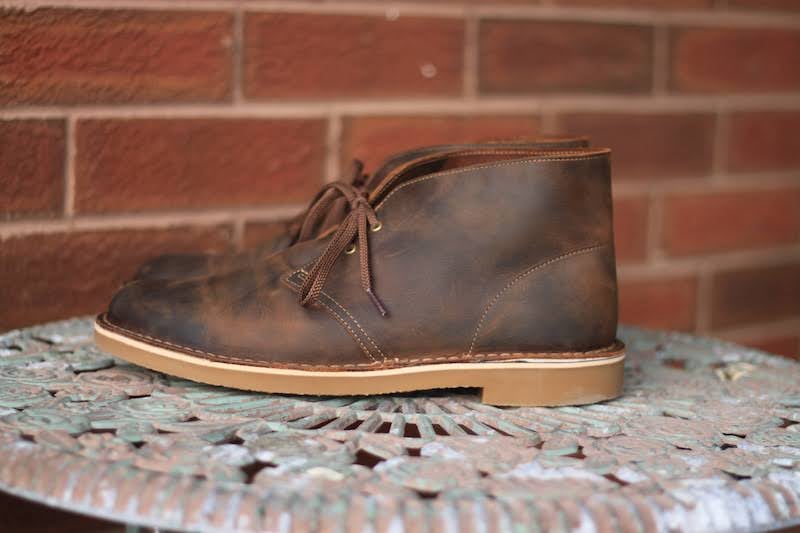 Clarks Bushacre 3 Price
These are very inexpensive boots. With most stitched decent leather footwear coming in at over twice the price, there's very little risk involved with picking up these boots.
Is the Clarks Bushacre 3 Worth It?
If you're tired of breaking in monstrous boots for a living and need something comfy to wear, these just might be for you. They are comfortable — so comfy that they've printed "Extreme Comfort" right on the insoles so you don't forget.
It's important to know what you're getting for the price. As a boot under $100, they're not really worth the investment it'd take to resole them. The leather isn't as thick as expensive boots. The sole isn't as thick. There's less leather in the construction.
But they're not priced like those boots! These are great alternatives to sneakers and if you want something comfortable, lightweight, and classier than athletic shoes, they're a handsome and cost effective option.