There is a new minimalist white sneaker in town.
Well. new-ish. Oliver Cabell launched in 2018 with the goal of making shoes that are more "honest" than the bigger brands. Their whole schtick is that most brands don't tell you how much their markups are, but they painstakingly list every item in their production process: packaging, cutting and manufacturing, duties, the lot.
With their most popular shoe, the Low 1, they are squarely taking aim at the kings of the minimalist white sneakers, namely Common Projects and Koio. I've been wearing these shoes for a few weeks and I'm going to compare them with the Common Projects Achilles Low so you can know the answer to one of the most common questions asked about the brand: which sneaker is better?
Further Reading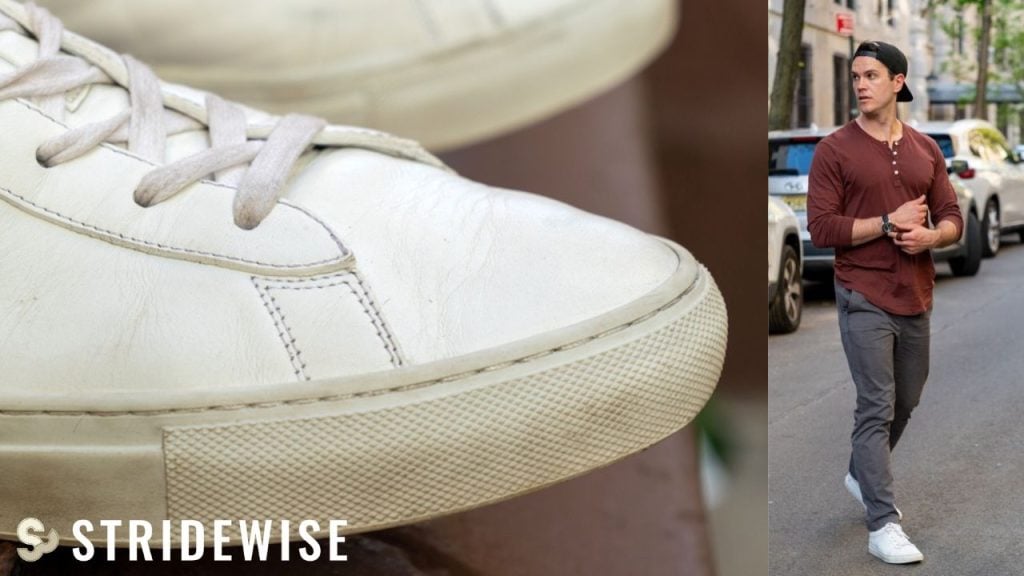 [SHOP THE OLIVER CABELL LOW 1 HERE]
Oliver Cabell vs Common Projects
Main Differences
Slightly different leather
OC has an extra set of eyelets
OC has more room around the toes
CP feels softer underfoot
OC is over $200 cheaper
Main Similarities
Minimalist, low profile design
Handmade in La Marche, Italy
Margom outsole
Stitched construction
Common Projects more or less started the gold rush for this sort of very sleek, clean aesthetic – you can check out my original Common Projects review here.
Most of this review is going to look at the Low 1, but first, here's my comparison of the two brands.
Price
The biggest difference is that the Achilles Low runs $400 to $450 for a pair. The Low 1 is $188. Let's be honest, everything else is borderline nitpicking when they look this similar.
Aesthetic
Virtually identical, with the main difference being that the Low 1 has an extra pair of eyelets. You can also see that the eyelet panel runs a little more smoothly down to the sole on the Achilles and its tongue is a tad thicker and softer. Otherwise, they're incredibly similar, down to the stitched construction and the low, sleek profile.
Leather
Both use very soft, full grain leather. Oliver Cabell uses calfskin while Common Projects used Napa leather. There's not a lot of information on Common Projects' leather and the company is notoriously unresponsive to inquiries, but Napa leather — so named because it was developed in Napa Valley, California — is remarkably soft, and it's just a tiny bit softer feeling than the Low 1.
Both are chrome tanned — vegetable tanned leather is never this soft, and it's practically never used on sneakers. Both are also fully lined with leather, making for a more luxurious feeling than your standard pair of Chuck Taylors.
[Related: Learn the differences between vegetable tanned and chrome tanned leather]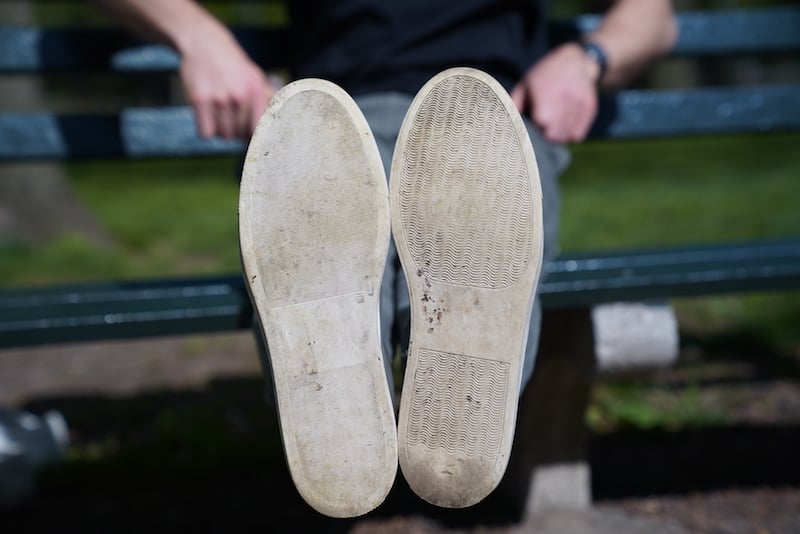 Sole
The sole is exactly the same: it's a Margom outsole, well known for its product consistency and durability, that's been both stitched and glued to the upper.
The stitch construction is worth emphasizing here. It doesn't mean the sneakers can be resoled, rather it means you're less likely to get holes on stress points (like the toe break) and it's friendlier on the leather, meaning it makes it easier for the leather to stretch and mold to your foot as you wear them.
The leather covered footbeds are a little different: while Oliver Cabell uses a proprietary combination of foam and rubber that compresses just 5 percent over time, Common Projects' footbed feels thicker and softer. It does compress over time, but that means the footbed feels a little more like it's shaped around your own foot.
I prefer the footbed on Common Projects, but Oliver Cabell's is perfectly fine.
Fit
To the naked eye the shoes look pretty similar, but the Achilles Low is famously long and lean, which makes the fit a bit too narrow for a lot of users — it's probably the most common complaint I hear about the shoe.
This is an important area where the Low 1 comes out ahead: it has more room in the toebox. It's nowhere near bulbous, but the last isn't as skinny, so it's easier on a wider variety of foot shapes. That's not to say it's going to fit EE width feet, rather that people with regular D width feet are less likely to feel their toes pinch. The fit is just better on Oliver Cabell.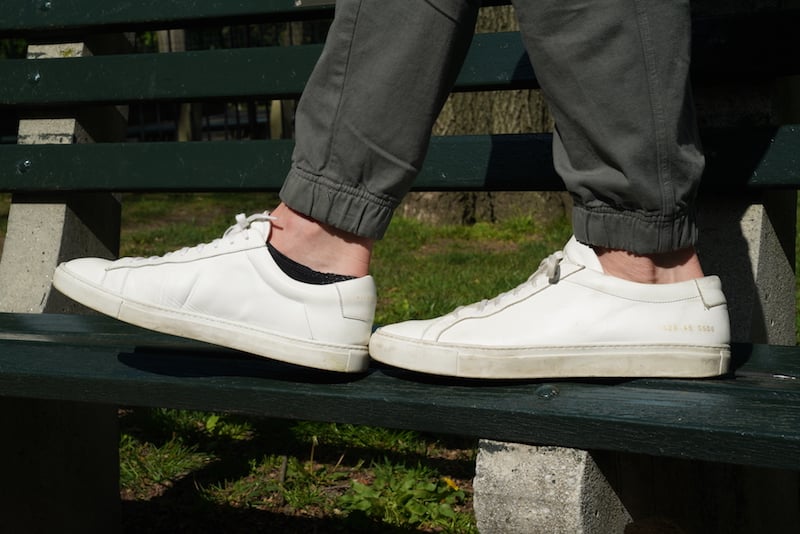 Common Projects vs Oliver Cabell: Which Is Better?
If the two sneakers were the exact same price, I might lean in the direction of Common Projects because the footbed's a little softer. But if I'm making recommendations to the average shopper, I'd go with Oliver Cabell: the Achilles Low is ludicrously overpriced and the Low 1 offers the same look, versatility, durability, comfort — they're even made in the same damn region of Italy — for well under half the price.
It's a no brainer that the Low 1 is a better buy.
[Shop the Low 1 here. Or get Common Projects here. Or disagree with me in the comments!]
Oliver Cabell Low 1 Sneaker Review
That's it for my comparison of the two shoes. If you want a super deep dive on Common Projects, you can take a look at my complete review. From here on out, I'll be reviewing all the geeky, nitty gritty stuff about the Low 1.
You already have a good idea of the aesthetic: lean, clean, minimalist, and supremely versatile. These shoes can be worn with board shorts and a tank top or with smart chinos and a button down.
So let's take a look at how the leather is made, then I'll move on to how to take care of the leather, the construction, the sole, fit, and a full list of pros and cons.
Oliver Cabell Low 1 Leather
Chrome tanned calfskin
1.3mm thick
Softer than cowhide
Tanned in La Marche, Italy
This is calfskin, which Oliver Cabell uses primarily due to its softness, fine grain, and durability. Calfskin actually has a bit more tensile strength than cowhide, and the finer grain basically means it's less rigid and it looks a bit less like skin than leather from grown up cows. It's smoother, softer, and more buttery, making it much better suited for sneakers.
The softness is also attributable to the fact that it's chrome tanned, which produces softer leather than vegetable tanned leather. (Practically all sneaker leather is chrome tanned except for one or two exceptions, like Hender Scheme.)
This leather is about 1.3 millimeters thick (three ounces), it's full grain — which here really just means it's made from the outside of the animal's skin — and Oliver Cabell tells me they researched over 70 tanneries before landing on a 66-year-old one in Italy's La Marche region.
The actual name of the tannery is a secret (just in case you wanted to steal their leather secrets) but it has won a bunch of awards for ethical and environmental production; they work with a lot of small, local farms so they can track their hides, and Oliver Cabell worked with them for about a year to develop this particular leather.
[Related: The 5 Best Tanneries on Earth]
Oliver Cabell Low 1 Leather Care
Wipe with damp cloth
Spot clean regularly
White shoe cream for covering scuffs
Use shoe trees between wears
For taking care of this leather, you want to regularly use a damp cloth to wipe away surface marks and occasionally spot clean it. (I use a spot cleaner from Cobbler's Choice.)
When you want to have more of a deep clean, Oliver Cabell has their own shoe cleaner that you apply that to a wet shoe brush and scrub to a foam. That's after you've removed the laces, by the way, after which they recommend you soak in detergent, put in a garment bag, and then put in a hot white wash. Can you just put them in the washing machine with everything else? Yeah, probably. Maybe just spray the dirty bits with a stain remover, though.
After a while your shoes will probably get some scuffs and lose whiteness here and there. When that happens, you can use a white shoe cream: Kelly's Shoe Cream is a cheap option but Oliver Cabell also sells their own if you prefer to follow the manufacturers' instructions.
And while we're talking care: make sure you put cedar shoe trees in these between wears and let them rest a day between each wear if you can. That might sound like overkill for a sneaker, but these are leather shoes and shoe trees will help to maintain their shape and extend their lifespan by soaking up your foot funk.
[Related: 3 Reasons You Need Cedar Shoe Trees]
Oliver Cabell Low 1 Sole
Substantial Margom outsole
Footbed made from foam and recycled rubber
Footbed has just 5% compression over time
Nails securing midsole materials
Cupsole used instead of vulcanized rubber
Outsole stitched to upper, confers durability
Let's start with the outsole: this is a Margom sole, a very famous sole for sneakers that the brand initially resisted going with, writing on Reddit:
But they caved; there's simply so much demand for Margom soles among the sneaker elite that it seemed a prudent move for them.
Margom is just really beloved for their quality and product consistency. It's pretty resistant to splitting and abrasion, using a Shore 70A rubber durometer rating. That's obviously PR-babble but as someone who has worn Margom soles for a while, the sole feels really solid: relatively heavy for a sneaker sole, though I'd use the word substantial. They're an entity on your sneaker, but not in a bad way.
This product uses a cup sole, so named because it kind of cups the upper. Here's an image for reference:
That shape gives them room to put the removable footbed, which is covered in leather and made from a proprietary combination of foam and recycled rubber. They compress less than 5% over time, and they have an open-cell technology to allow ~95% breathability. Underneath the footbed you can also see the nails smashed into the sole, which are used to further secure the midsole materials.
Cupsoles are a pricier form of sneaker construction when compared to a vulcanized rubber sole (like you get on Chuck Taylors). You don't often see vulcanized rubber on leather sneakers because it's usually attached with heat, which can mess with the leather.
The upper and sole are stitched and glued together, which is very cool. This does not mean you can resole it, unfortunately — the leather probably wouldn't make it through the process, and after all, we're talking about a sneaker, not a boot. The big upside of the stitching is that it's friendlier on the leather than heat gluing, it lets the leather stretch and mold to your foot a bit as you wear them in. plus it means you don't get holes at the toe break, like every one of my cemented sneakers do.
The stitching is good, not perfect. You can see in some of these pictures that there's an occasional tuft of thread that isn't flush against the shoe, the stitch density isn't 100 percent perfect — meaning some stitches are a hair longer than others — but this is really the kind of stuff you only see if you're trying to find problems. If they cost a thousand dollars I can see someone legitimately complaining about it, but for sneakers of this quality and price point, I'm not whining.
Oliver Cabell Low 1 Fit & Sizing
If between sizes, order half size up
More room around toes than with Common Projects
Suede keeps heel from slipping
Sole is hard and sturdy, not super squishy
Good shock absorption
My true size on a Brannock device is an 11.5, I ordered up half a size, and the 12 fit me just fine.
As I mentioned earlier this is not quite as narrow narrow narrow as Common Projects or other imitators, so ordering them isn't such a scary experience. It actually fits the foot, something many would not say about the Achilles.
The suede on the heel keeps your foot from slipping , the footbed is relatively soft (admittedly not quite as soft as the Achilles, but it does the job and absorbs shock well). The outsole is more hard and stable than squishy (it's no Allbirds) but the shoe absorbs shock well while leaving the foot feeling protected.
It's a comfy shoe.
Oliver Cabell Low 1 Price
Back when they were made in Spain, these shoes were $248 now they're $188.
What's neat is how transparent they are. On their site, they tell you the cost of all the materials and the duties and so on:
All these numbers add up to the shoe costing them $82.69, and I have no complaints about a hundred dollars profit. (Not when you remember how many thousands of percent companies like Nike make in profit.)
More importantly, when Oliver Cabell is stacked up against other shoes in this category, like Common Projects and Koio — made in Italy, stitched construction, Margom sole, Italian leather, and so on — this is about the best value minimalist white sneaker I've seen.
[SHOP THE OLIVER CABELL LOW 1 HERE]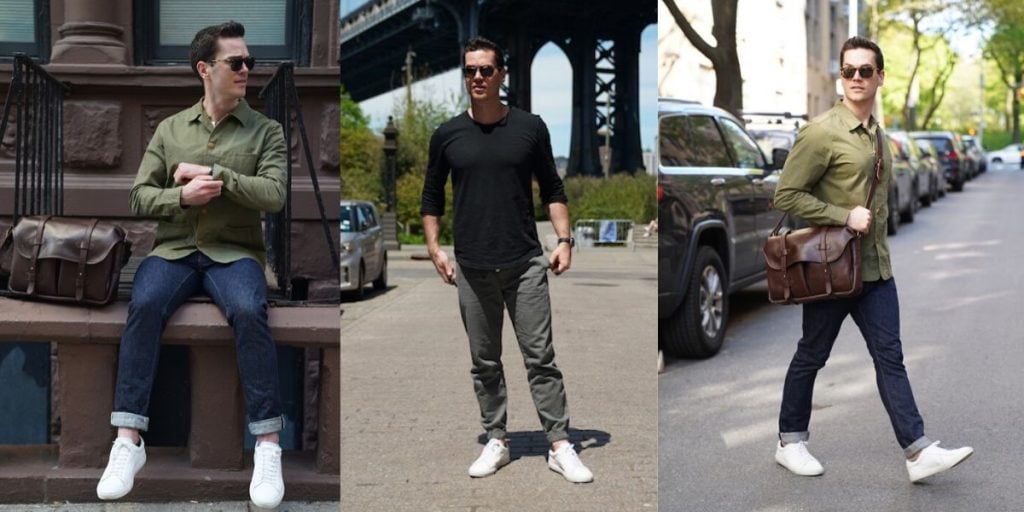 Oliver Cabell Low 1 Pros and Cons
Here's the takeaway.
Pros
Great value
Versatile, stylish look
Durable stitch construction
Sturdy outsole
Democratic fit
Cons
Not everyone is OK with calfskin leather
Minor, entirely forgivable QC issues with stitching
Not quite as soft underfoot as Common Projects
I think this is the best minimalist white sneaker I've seen. It's sleeker than Greats, not as uncomfortably sleek as Common Projects, and it's cheaper than every other Margom soled, Italian made sneaker you can find. It's incredibly versatile, cool as hell, and built to last.
A lot of companies will price gouge you for this type of quality, claiming that the stitch construction and the country of origin mean you just have to be OK with paying over three hundred bucks. Oliver Cabell's honest pricing model has me hooked, and I'd happily recommend these as a Common Projects alternative, or just as a solid white sneaker.
The following two tabs change content below.
Nick English
By day: Manhattan-based journalist with reporting experience on four continents, published in Vice, Men's Health, Popular Science, and a bunch of other places.By night: ravenous consumer of anything and everything related to high end men's boots.Stridewise is where I nurture a maniacal obsession with footwear and share my findings. Say hey:
[email protected]
.
Latest posts by Nick English (see all)