I was never planning on reviewing this bag, I just needed something to help me regularly carry a dozen boots across town at once. But I quickly fell in love with Filson's Large Duffle Bag and it's become my go-to bag for any long trip, accompanying me thus far to Florida, Oregon, Utah, Idaho, Tennessee, and West Virginia.
It's gigantic and it's cool — that's the whole review in a nutshell, actually — and I absolutely can't wait to see how this monster ages as I haul it across the globe for the next few decades.
Here's a review of their Large Rugged Twill Duffle.
[SHOP THIS FILSON DUFFLE BAG HERE]

The Takeaway
In a rush? Here are the bullet points:
Who should buy the large Filson duffle
Men who want a bag that'll last a lifetime; the warranty will fix or replace anything in the unlikely event that the bag takes damage.
Anyone who likes a simple, rugged, timeless aesthetic that stands out from the standard nylon fare.
Guys who need a bag with want a 75-liter capacity to sustain them for weeks or months on the road.
Folks who appreciate a good patina; few things age as nicely as thick twill.
People who are low on space and want luggage that rolls up and stores more easily than a structured suitcase.
Anyone who values American made goods.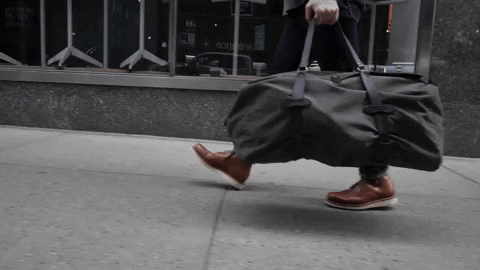 Who shouldn't buy the large Filson duffle
Guys who just don't want to spend 425 bucks on a feature-free bag, even if it does last a lifetime.
People who like interior pockets for organizing their stuff; there are no special features with this bag.
Folks who don't hit the gym much might not be the perfect customer for this bag; it's for carrying a lot of stuff in one hand (no wheels), so you need a little core stability and grip strength.
Guys who really like organizing their gear; with the unstructured design and relatively narrow opening, you can't build columns of well arranged, folded clothes in this like you can with a suitcase.
Anyone who prefers modern features like backpack straps, wheels, and/or lighter, more water-resistant nylon. This is a traditional duffle.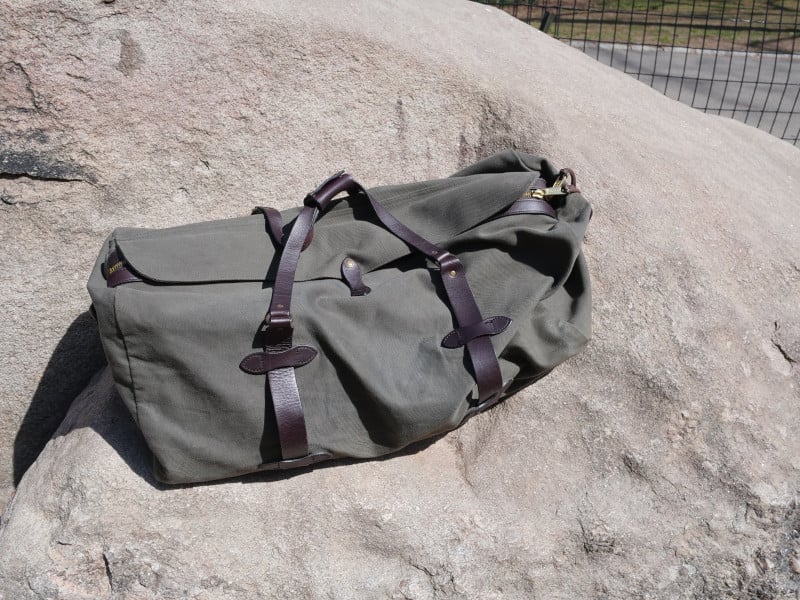 About Filson
For those unfamiliar with the brand, Filson was founded in 1897 to outfit gold prospectors heading to the Alaskan wilderness, and these days the Seattle-based company makes can't-fail apparel and gear for men who dig for gold in the 19th century or, as in my case, who like to pretend that they could go digging for gold in the 19th century at any minute.
Today they're known for heritage style, durable construction, old fashioned materials, a very generous lifetime warranty, and kind of absurd prices. I encourage you to check out my review of Filson's thousand-dollar briefcase for a more thorough exploration of their pricing but in short: Filson's products cost too much, but they're still fantastic. You never like paying for them, but you're always glad you own them.
[Related: Why Filson's Mackinaw Cruiser Is the Best Wool Coat of All Time]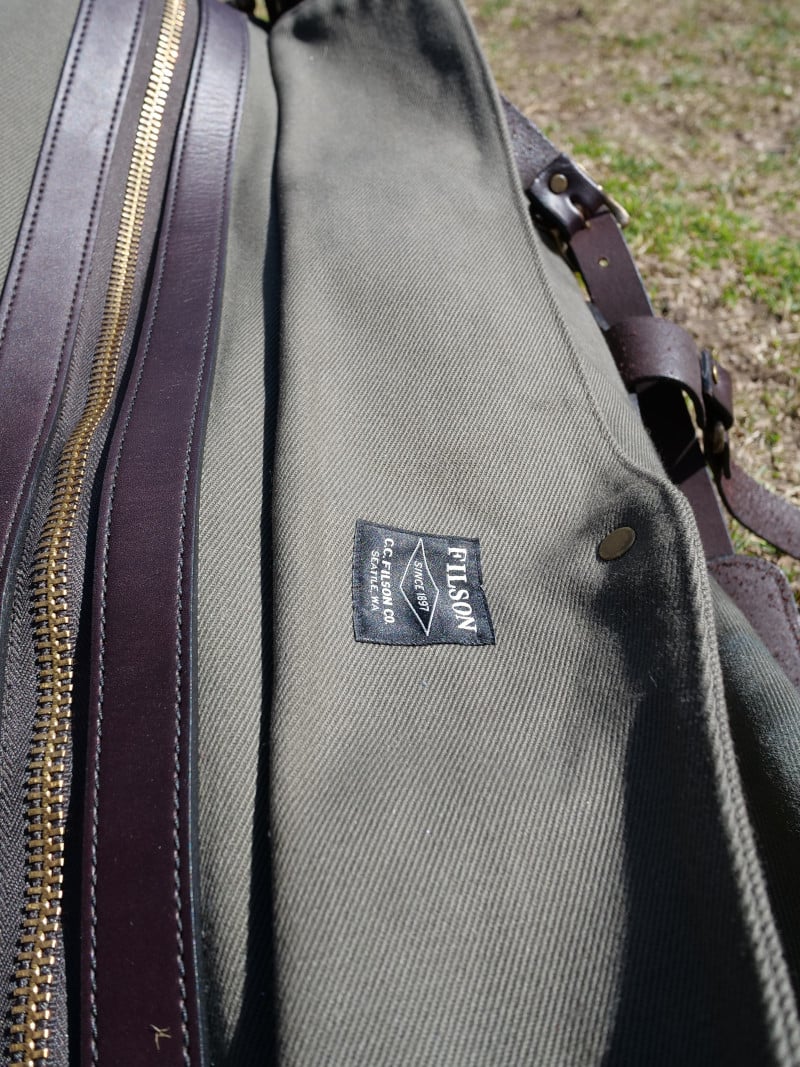 Filson's Rugged Twill
Tear resistant, and abrasion resistant
Thick; about 21 ounces
Relatively water resistant
Ages beautifully
Made in England
If you get a Filson bag, it's typically canvas or twill. While you'd call this a low-tech material, they will last the rest of your life and look cooler with each passing day.
Filson's twill, made by England's British Millerain, is made from 2-ply and 3-ply yarns woven in a 2×2 twill pattern. In a 2×2 twill, the weft (horizontal) yarns alternate crossing over and under two warp (vertical) yarns. Each successive row of weft yarns is offset by one warp yarn, which creates a pronounced diagonal line in the weave.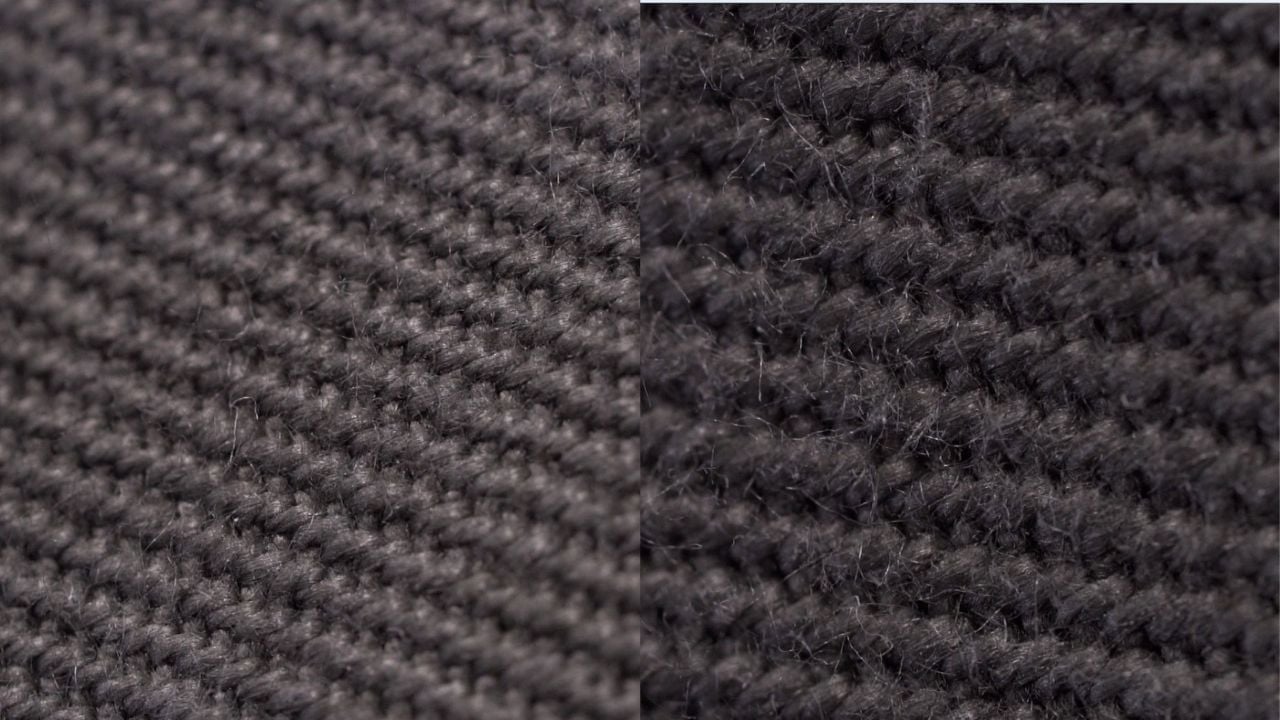 Filson's Rugged Twill vs. Tin Cloth
The duffle is 100% twill, whereas many of the company's other bags (like my Journeyman backpack) are made of Tin Cloth, their name for waxed canvas. Both canvas and twill are kinds of really densely woven, tear-resistant cotton. Canvas is smoother and plainer to look at, while twill is woven into more complex, textured structures.
Filson's Tin Cloth is 14 ounces per square yard, but the Rugged Twill… well, it depends on the product. Their famous Rugged Twill briefcase, for example, is a smaller and lighter bag, so you want a lighter and more flexible twill. This duffle bag, however, uses their beefiest material: it's 20 to 22 ounces per square yard.
In other words, it's far thicker and burlier than their Tin Cloth. It's Filson's toughest bag.
[Related: Filson Backpack Comparison: Journeyman vs Dryden]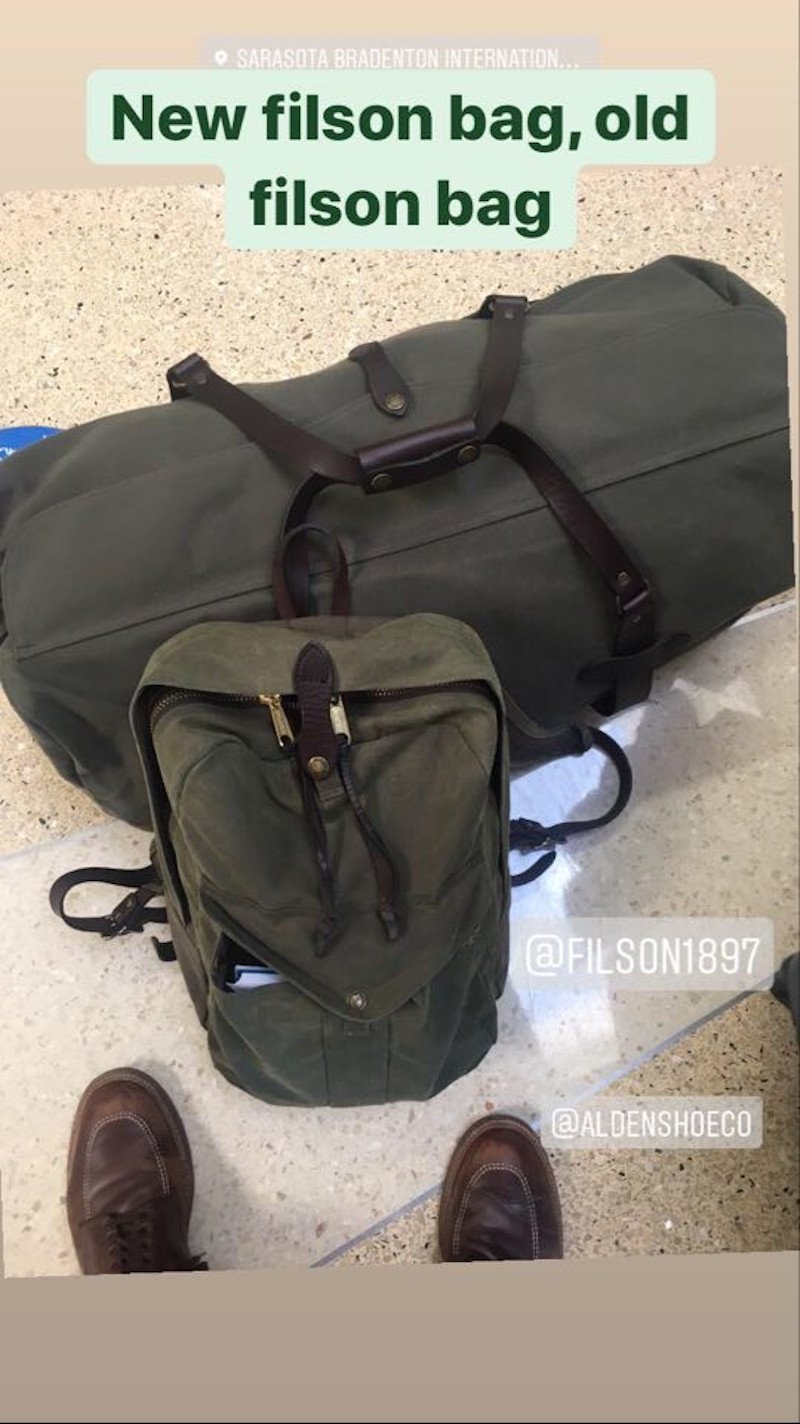 Is Rugged Twill Waxed?
There is indeed wax on the twill.
With something like Tin Cloth, Filson soaks it in a solution and impregnates the fabric with wax to increase its water resistance. This practice, so the legend goes say, first came about when sailors began waxing their sails to help them catch more wind.
I used to think the twill wasn't waxed, but it is — just differently. It's still paraffin wax (like on the Tin Cloth), but it's a more superficial application that's called an aqueous wax finish.
It doesn't provide a whole lot of water resistance to the product, but to be clear, it's already so thick that it's already very water resistant. Instead, the wax they add to the Rugged Twill is to help with the patina. It turns out that the slight permutations in color that you get in old Filson twill is because of the wax. If it were unwaxed, it wouldn't change color, but a bag waxed in this fashion will get lighter where the wax wears away.
And this fabric ages beautifully. Old Filson bags are so prized that a lot of people sell their old ones for a nice profit.
If you want a waxier twill, you could buy some of Filson's Oil Finish wax, but it'll darken and stiffen the fabric, plus you'll rub wax off on your clothes when it's banging against your leg. It's not recommended; the twill is already plenty water resistant. I've carried it in rain and left it in wet Pittsburgh carparks without problems.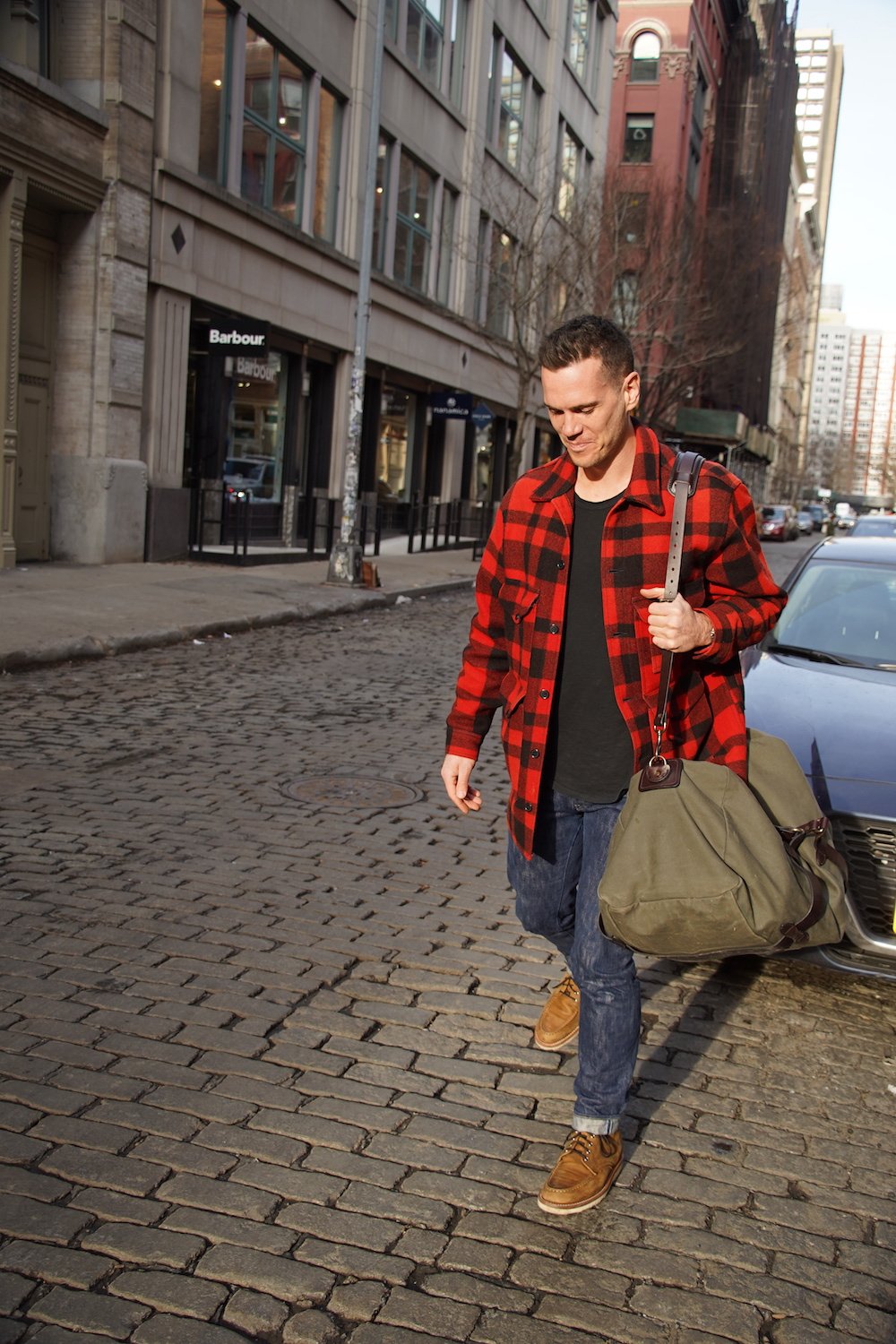 Fison's Duffle Bag Details
Vegetable tanned leather accents
30″L x 13″W x 14″H
75-liter capacity
No external pockets, no zippered internal pockets
There aren't many details, here — it's basically a big sack. You're not paying for bells and whistles, you're paying for the durability and the simplicity.
Filson's Bridle Leather
The most interesting detail is the leather. They use a bridle leather from Wickett and Craig, a beloved American tannery based in Pennsylvania that only makes vegetable tanned leather. That's the way all leather was made until the mid-19th century, when we came up with chrome tanning, and it makes complete sense that Filson would use this old fashioned-yet-ultra-durable material on their old-fashioned-yet-ultra-durable bag.
Filson's Duffle Bag Features
There are no exterior pockets or decoration besides the rings that attach to the shoulder strap, if you decide to use it. Personally, I don't use the shoulder strap for three reasons: it's quite thin, I usually have a backpack (so I can't use the shoulder strap at the same time), and I prefer to carry the bag in one hand to train my lateral strength a little. (My physical therapist instructed me to carry more heavy things in one hand, don't judge.) Instead, I clip together the two carry handles, which wrap entirely around the bag to provide great carry support.
Otherwise, the only feature worth noting is that there are two large pockets on either side of the interior's length, but they're more like big open flaps than pockets. They don't close, and I've never had much confidence that anything I put in there will stay in there.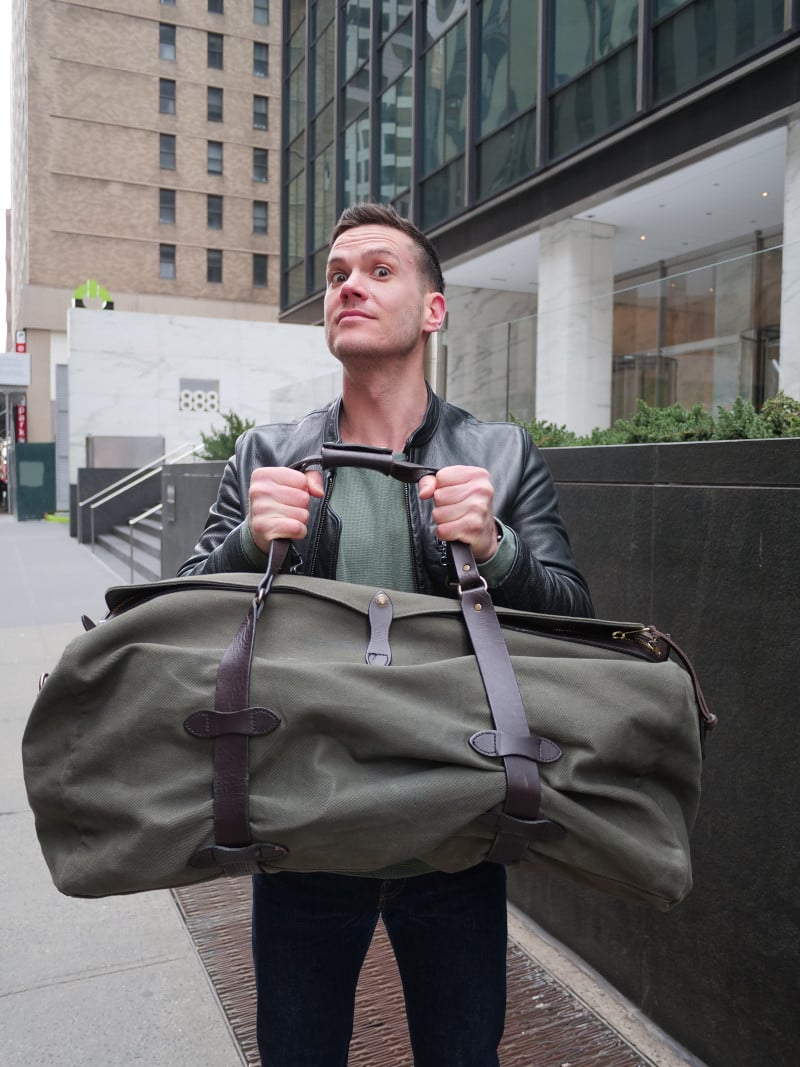 Filson Large Duffle Bag Price
And it costs $425.
I already made it clear in the introduction of this review that Filson is overpriced, but I just love this bag. It's big enough for my needs — I couldn't find any competitors with this much volume — its guaranteed for life, it's made in America, it looks great, and it'll only get better with age.
[SHOP THIS FILSON DUFFLE BAG HERE]
Pros & Cons
Pros
The fabric is abrasion resistant, decently water resistant, made of all natural materials, it ages well, and looks cool.
It's made in USA.
Filson has a fantastic lifetime warranty, not some "estimated lifetime of the product" warranty.
It's a large 75 liters, but it's still easy to store.
This bag is unbelievably tough and abrasion resistant. It's decently water resistant. The materials are really high quality. It'll age well. It looks incredibly cool. It's made with all natural materials. It's made in the USA. And the company will fix or replace anything that happens to this bag for the rest of your life.
Plus, it's huge. I've lived out of this bag for a full month, just looping a padlock through the zippers before checking it in at the airport. And even though it's my biggest bag, it takes up the least amount of space because it's easy to flatten and roll it. As a New Yorker, something that's easy to store is a must.
Cons
This bag is heavy, weighing at 5 pounds.
There are no special features like a laptop bag or the ability to turn it into a backpack.
It's not as water-resistant as modern nylon, and it's not waterproof.
Hard to pack neatly.
Many people say that the weight of a thick cotton bag is the main drawback, which is fair. There are no zippered pockets anywhere (I wouldn't say no to one for my passport on the inside). And as a duffle bag, it's not as easy to neatly arrange your possessions as it is with a suitcase; the unstructured design and relatively narrow opening makes it way harder to build columns of folded clothes than it is with a rigid suitcase.
The Takeaway
I won't pretend the best thing about this bag isn't that it's cool. It looks cool now, and it'll look cool in a hundred years. It has a timeless, masculine design that will always get you compliments. It's also durable and roomy, and those are the reasons I bought it. Is it lacking technical features? Yes. Is it overpriced? Yes.
Does it do everything I want it to and look great while it's at it? Yes.
I love it and I get excited to use it every time I travel.
The following two tabs change content below.
Nick English
By day: Manhattan-based journalist with reporting experience on four continents, published in Vice, Men's Health, Popular Science, and a bunch of other places.By night: ravenous consumer of anything and everything related to high end men's boots.Stridewise is where I nurture a maniacal obsession with footwear and share my findings. Say hey:
[email protected]
.
Latest posts by Nick English (see all)