Saddle soap is the go-to product for cleaning leather. But people get a bit nervous about using saddle soap on their nice leather boots, especially if it's a pair of boots that you really, really like. Why? Saddle soap has a reputation for being at best unnecessary and at worst damaging. But what if you have well-used, stained, and dirty boots?
I recently ran into this exact problem, so I wanted to dispel some of the myths around saddle soap, provide some context around why people get so nervous about using it, and some downsides of using saddle soap. Finally, I want to show you exactly how to use saddle soap so that you get a nice clean boot without causing damage.
What Is Saddle Soap?
As the name implies, saddle soap was marketed primarily for cleaning horse saddles. Horse saddles are made of thick, well-oiled, and well-waxed pieces of leather. Saddles are made this way to protect them from the harsh elements and general wear-and-tear of riding.
Saddles also get really dirty, so they need a powerful soap to clean them properly. Saddle soap is an astringent, meaning it shrinks or constricts body tissues, so it's very good at pulling stains, dirt, wax, and oil out of leather. That's how it cleans.
But for our boots, we typically want that oil and wax to stay where it is! This is the conundrum that using saddle soap presents for cleaning boots. We want to clean the leather without stripping all the beneficial oil and wax out of the animal hide. This makes sense given that one big difference between a saddle and a pair of boots is the thickness of the leather. Saddle leather is more forgiving than those much thinner pieces of leather that we have in our boots.
What's Saddle Soap Made Of?
Ingredients are usually proprietary
Typically contains an astringent, a fat, and wax
Saddle soap is a proprietary cleaner. Often, It's not really possible to know 100% what's in most of the stuff. All saddle soap likely contains some sort of astringent for removing dirt and stains, a fat or oil like tallow or neatsfoot oil, and some wax such as beeswax or paraffin wax. All soap is basically just a fatty acid like tallow and a strong base like lye.
Some brands do say what's in their saddle soap. For example, Fiebing's white saddle soap — the product they recommend for shoes and boots, although they specify that the yellow version above is fine for boots as well — lists all of its ingredients:

It has water. There's tallow animal fat for moisturizing. There's tricyclic monocarboxylic acid, also known as gum rosin, which is commonly found in soap. There's also sodium hydroxide, also known as lye or caustic soda, which is found in nearly all soap. Lastly, there's sodium carbonate for filler, paraffin wax, and borax tackifier which is used in adhesives and adds a gummy tackiness to the product.
So the astringent chemical that may cause damage to our boots is lye or caustic soda. You may have seen lye in movies where it's favored by serial killers and mobsters for disposing of bodies. If it can break down a movie body, it can break down our leather boots. So, we want to use it sparingly, and we want to make sure that we've removed all of the saddle soap from our boots during the cleaning process.
Traditionally, saddle soap was sold as an all-in-one cleaner that removes dirt and stains while putting some wax and fat back into the leather, but in reality, saddle soap doesn't put nearly enough oil and wax back into the leather, so we'll need to condition our boots after cleaning.
A lot of companies still market saddle soap as an easy way to clean your boots, but we recommend that you view it as a product that's going to strip away a lot of good oils and waxes.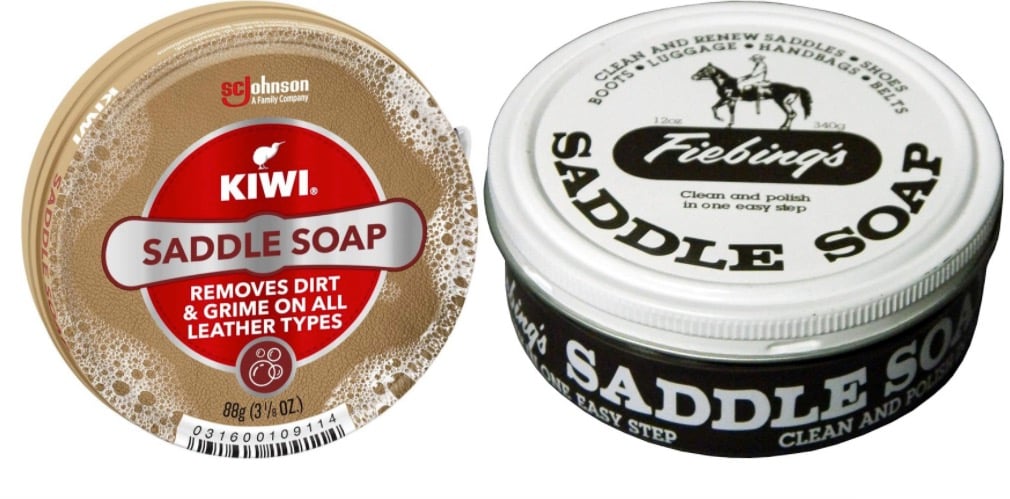 What Are Some Different Types of Saddle Soap?
Practically everyone seems to have decided that Kiwi or Fiebing's make the best saddle soap. Personally, I use Fiebing's. I've used it and I trust it.
But, saddle soap isn't an overly complicated product. It's basically just soap with some wax and has a bit more fat in it. So, other brands like Kiwi should work fine. Kiwi is owned by SC Johnson, who list all of the ingredients in their products as well.
What Types of Leather Should Be Cleaned with Saddle Soap?
As mentioned before, and I don't want to belabor the point, but I also don't want you to ruin your boots: saddle soap is best for oily, waxy leathers. These include veg-tanned leathers, Horween's Chromexcel, Red Wing's oil tanned leathers, and pull-up leathers.
Also, you don't need to clean your boots with saddle soap for the sake of it. As obvious as it sounds, saddle soap is a last resort, big guns cleaner — only bring it out when you want to clean dirty, stained leather.
[Related: The 9 Best Leathers for Boots]
What Types of Leather Shouldn't Be Cleaned With Saddle Soap?
Never use saddle soap with suede or rough-out leather. You don't need to use saddle soap for a Shell Cordovan, as there's just so much wax and oil in the closely packed fibers that all you need to do is add a bit of conditioner to it. (The dirt has a tough time working into a pair of shell cordovan shoes.) You also don't want to use saddle soap on treated leathers like Thursday's Rugged & Resilient leather.

What Are the Benefits of Saddle Soap?
So, this is pretty obvious, but the benefit of saddle soap is that it's really good at getting the stains out of leather and lightening the color of the leather. If your boots have a lot of dark spots, salt stains, or strange discoloring, then a good once-over with some saddle soap will bring back the uniform appearance and may help lighten the color as you've removed some of the oil and wax that darkens the leather.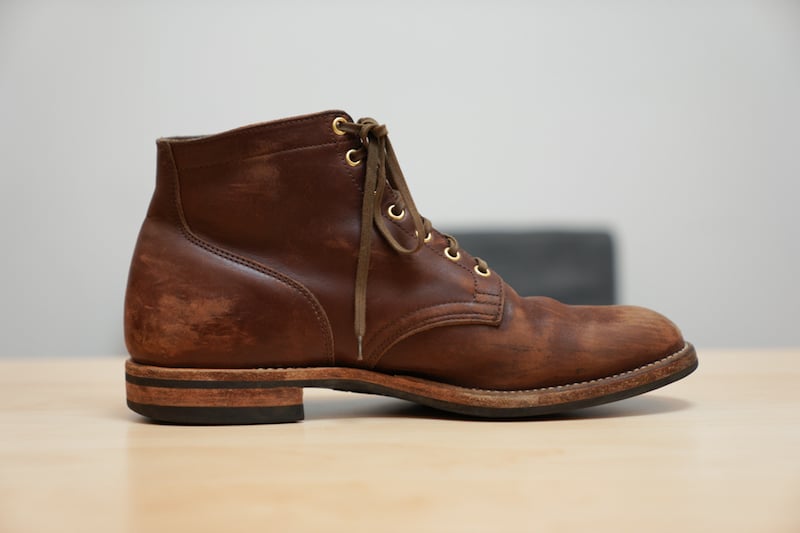 What Are the Downsides of Saddle Soap?
People worry about using saddle soap because it can dry out your leather and take out all the protective oils and waxes. If you're going to use saddle soap, you should use it as sparingly as you can while still getting the dirt out. Some people have a "more is better approach," and they saturate their entire boot with the soap all the way through to the flesh side. This pulls out as much of the oil out as it can — perhaps not a bad idea if you're trying to discolor the leather, but putting a light coat of saddle soap on top to remove some of that surface-level dirt is really all we need to do.
How to Use Saddle Soap
Here's what you need:
A clean horsehair brush
Some water
A dry paper towel or microfibre cloth
A wet sponge or paper towel
Your saddle soap
And here are the steps to follow.
1. First, prep your boots by giving them a good brush with a clean horsehair brush.
Make sure the brush is clean and doesn't have any pigments leftover from any previous use. Take a moment to run your fingers over it and feel for any leftover polish or residue from any other products. You don't want to accidentally dye your brown boots black.
Remove your laces, and make sure to get the brush into the folds in and around the tongue. Get all of the dust, dirt, and gunk off the boots. You might start to see a lot of scuffs and smaller marks disappearing as the oil and wax heat up and move around in the leather.
2. Dip the brush in water, then vigorously rub the brush on the surface of the soap while it's in the tin to create a lather.
Make sure that you don't have any blobs or chunks of soap on the brush. If you see chunks, then dip the brush back into the water and rub the brush until they're gone.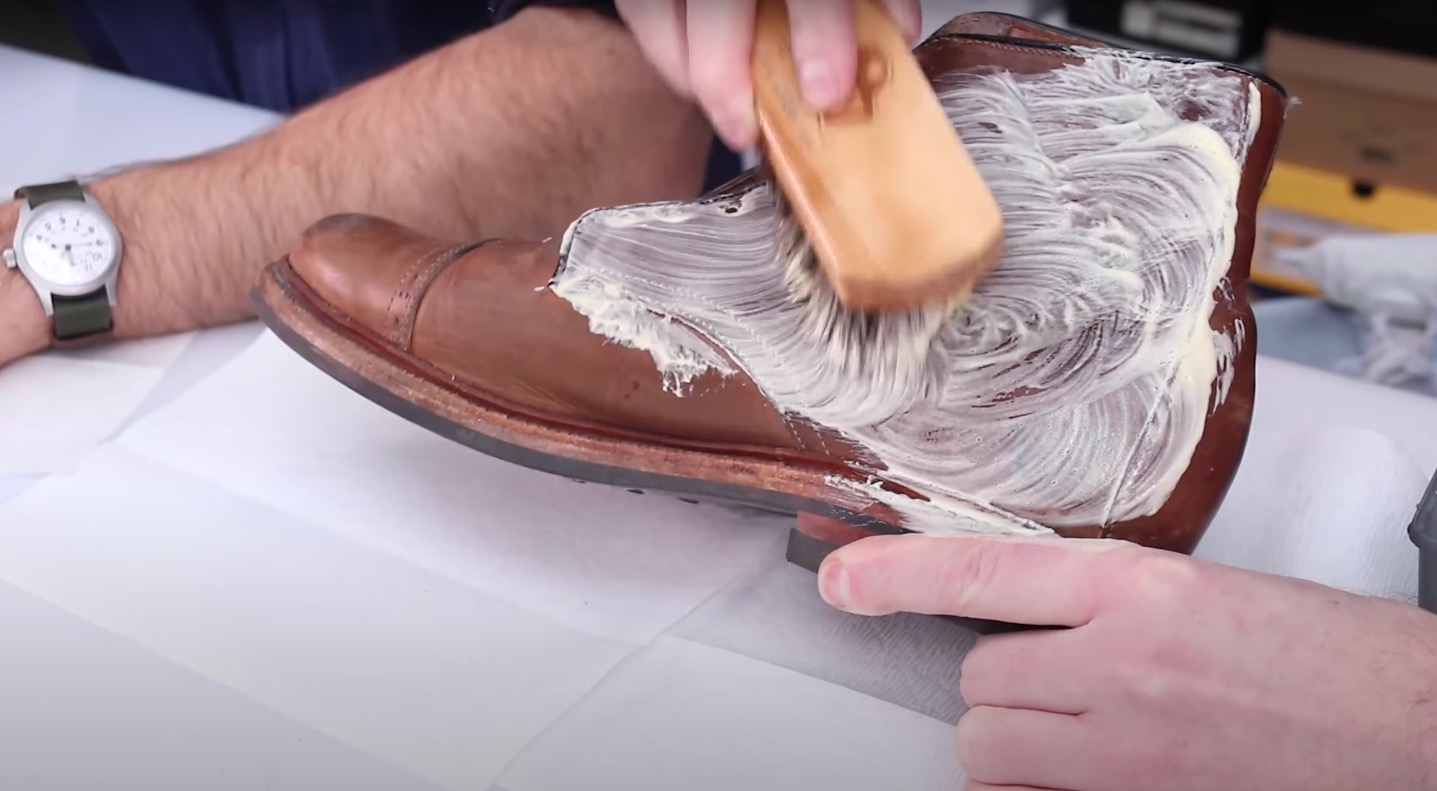 3. Start cleaning
Once you have a nice even lather, pick one panel of leather to start cleaning. Scrub for 5-10 seconds. Press lightly and move the brush quickly in small circular motions scrubbing the leather evenly. It's important to go panel by panel, because we don't want the saddle soap to absorb too deeply into the leather.
4. Remove the saddle soap as much as possible
Grab that dry paper towel or micro-fiber cloth and remove as much of the saddle soap as possible from that first (and only) panel you've been cleaning — we don't want to penetrate too deeply. We use saddle soap to clean any stains or marks from the surface of the boots. Any residue or film leftover will dry out the leather.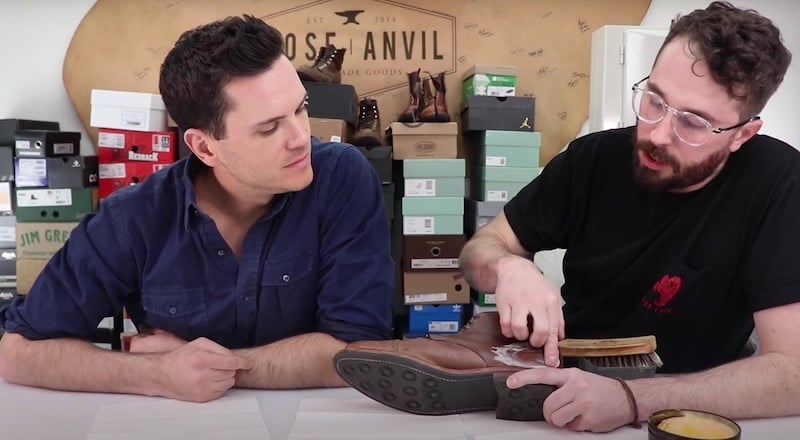 5. Reapply a small amount to any discolored patches
After you've removed the saddle soap from the first panel, check for any discoloring from stubborn stains. If you see a particularly dark stain, clean that spot a bit more. You can rub the saddle soap deeper into the leather where you have a hard-to-clean stain. The more you work the soap into the leather, the more gunk that causes the stains will be pulled out. For tough stains, use the back of your fingernail to push the saddle soap deeper into the stain.
Once you've cleaned the bad stains, give the panel a quick once over with the well-lathered brush to even out the color.
6. Wipe all of the saddle soap off the boot.
Take a wet paper towel, cloth, or sponge and try and wipe off all the saddle soap. Take extra care to get into the stitching and folds, so that the soap doesn't build up there.
7. Repeat that process of each panel of the boot.
8. Let the boot dry overnight.
9. Condition the leather the next day.
This is an important step for adding oil and fat back into the boot.
[Related: The 5 Best Conditioners for Leather Boots]

Wrapping Up
It's understandable why people are nervous about using saddle soap. For some leathers like roughout and suede, it's the wrong pick. Even on the right leathers, if you let it soak in too much, or apply too much, or don't remove it properly, you can damage your boots.
But, it is darn good at removing stains and dirt when used correctly. If you use it sparingly, remove it completely, and condition your boots well after cleaning, saddle soap will effectively clean your boot better than anything.