I knew that some brands continued to make military spec WWII-era Boondocker boots and I have always been curious about them, but part of the charm of Boondockers was that they were affordable. In the 70s they came from the local Army & Navy surplus stores where I spent many a Saturday afternoon.
The modern iterations are often impressively accurate and over $200, such as SMW's USMC Boondocker Boots. This is why I was delighted to get my hands on The Golden Fox 6" Boondocker Boots in Brown. At $139 retail, they are a very attractive option, but are they a high value representation of a legendary boot or a cheap knock off?
Let's find out.
Is the Golden Fox Boondocker Worth It?
Got somewhere to be? Here's the long and short of this remarkable boot so that you can decide if it's right for you.
Pros
Tremendous value
Excellent materials and attention to detail
Classic styling
Extremely comfortable
No loose threads or obvious errors in construction
Cons
Plastic welt; very hard to resole
Small pull tabs
Crepe sole isn't very durable
Made in China (despite calling themselves "An American Boots Collection")
The History of the Boondocker
WWII led to many innovations in the American military, not least of which were the combat boots.
The Pershing Boot, or trench boot, of WWI was replaced with a more pragmatic and comfortable boot. First the M-42 was released and this featured a cap toe, also known as the Service Shoe. This had a two-piece stitched sole and was often worn with a canvas gaiter, which is a strap over the boot and around the leg to offer protection from branches and thorns, and to keep mud and snow from entering the top of the boot.
The M-42's replacement, the M-43, lost the cap toe and acquired some height with the addition of a double buckling gaiter. These were used by all branches of the service. (Paratroopers eventually acquired their own boots that were much higher.)
So many of the M-43 boots were made and they were so popular that they became commonly available in military surplus stores as well as popular shoe brands adopting the style.
The service boot style remains popular because it is the perfect refinement of a functional practical boot assuming a pleasing form. Plus the 6" height is perfect for fitting with most pants.
If Harrison Ford didn't need orthopedic shoes, Indiana Jones would probably be wearing these.
Golden Fox Boondocker: The Style
Low profile
Smooth leather
6-inch height
Plain toe
To modern eyes these are toned-down, military-style, 6" boots that have a vintage air and look amazing with everything from khakis to jeans. You can basically wear these anytime you would wear moc toes. They definitely have more of a rough and rugged look, certainly suitable for casual adventures.
These boots are also slightly bulbous in the toe. I wouldn't say that they are full-on clown shoes, but these don't have the tapered toe so common in boots with similar profiles today, like the Thursday President.
That is part of the charm and the look.
I consider these casual boots and would not recommend them for work, hiking, or rough wear. They are heavy duty enough, but in that I-bought-some-boots-from-Eddie-Bauer way. Sure they look tough, but I wouldn't bet my life or safety on them. They are based on military specifications, but I wouldn't expect them to handle an enlistment.
Trips around town, grocery shopping, museums, date nights, Indiana Jones Cosplay? All good.
[Further reading: The Best Boots for Under $200]
Golden Fox Boondocker Materials
Full grain leather
Best known for the oily Crazy Horse colorway
Crepe rubber outsole
These are constructed of a full-grain leather and have a nice tannic scent out of the box. They use Crazy Horse leather that is well oiled and waxed. The wax bonds with the fibers and so you can easily hide scuffs and scratches by just rubbing them, handy.
Crazy Horse leather was originally used in saddlery and is renowned for its toughness and durability. It is a full grain cowhide and so perfect for this style of boot and a value at this price point.
The outsole of these is crepe rubber and is slip resistant and oil resistant. While not as durable as higher end rubbers, it is very flexible and felt broken in from the moment I stepped into them. It feels very grippy walking over a variety of surfaces. It also provided a bit of bounce and cushioning, adding to the overall comfort.
I do wonder about the durability of the outsoles. I have worn crepe soles off of boots in a season. However, They are attached with a full Goodyear welt held on with bold stitching. The use of a plastic welt over the typical vegetable tanned leather means it'll be pretty hard to resole, though you might manage one resole if you want to swap the crepe out for something tougher. (Although at this price point, you may ask yourself if a resole is worth it.)
The insole insert, although not pretty, is very supportive and very comfortable. It has quite a pronounced bump for arch support that may not be suitable for all feet, but felt rather nice and supportive on mine. It comes out easy enough and you can certainly swap it out for something else once it wears out.
The eyelets are well finished and have no sharp edges. Around the eyelets on the inside is tough pigskin to reinforce them and this extends to around the collar. I appreciate this attention to detail and the strengthening at the wear points.
These boots are a bit of a project in putting on. I find that I need to loosen the laces or unlace them down to the 4th eyelets before putting my feet in. Once I l get my foot in there, the comically tiny pull tab is no help. These are not boots that you grab when rushing out the door in a hurry.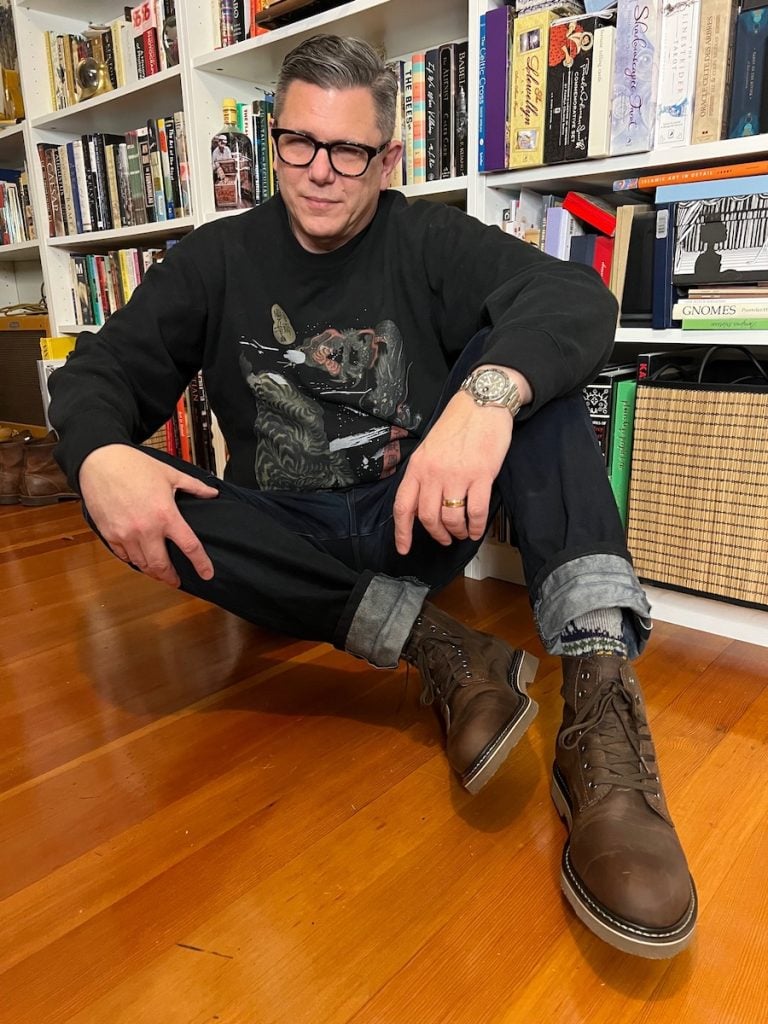 Golden Fox Boondocker Care
These boots are incredibly easy to take care of. Brush them frequently to keep dirt from wearing away at the leather and seams. Also, keep them oiled and conditioned and they will last a very long time. Consider applying some conditioner, like Cobbler's Choice, once or twice a year.
[Learn more: The 5 Best Leather Conditioners for Boots]
Golden Fox Boondocker Sizing and Fit
Size down 0.5 sizes
Go true to size if you have wider feet
These boots run a touch big, but they are not particularly wide, so if you have wider feet as I do, you may want to go longer to make up for the narrowness. I did find that they loosened up nicely and shrunk down where I needed them to except at the toe box, but that may be because there is a tremendous amount of room there.
The inside of this boot is incredibly comfortable and I was amazed how they seemed to loosen up with my first few steps in them. Nothing pinched or grated against my feet. My foot also felt very secure and supported in them, which is reassuring. I never felt as if I was wearing bargain boots.
Now, I did wrestle with the tongue a bit, taking pains to get it in just the right spot to protect the top of my foot from the laces. I did find myself fiddling with it as the days progressed. It would have been better if they were connected at the sides, but I imagine this is authentic to the original design.
Golden Fox Boondocker Price
This is a jaw dropping price for a Goodyear welted boot, but it's clear how the price was reached: they have a plastic welt, a crepe rubber sole, and they're made in China. Still, they're very comfortable and the leather is solid, so there are plenty of reasons to go with this boot.
The Takeaway
These boots are no cheap knock off. They are an affordable iteration of a classic design that uses excellent materials and excellent craftsmanship.
They are made in China, and I only mention this because they call themselves "An American Boots Collection," and that may sound misleading. Also, the country of origin is important to many people, especially when discussing a classic boot with WWII roots. However, in terms of craftsmanship, there is no reason to demean China. That country produces excellent products with excellent specs and finish. At $139, I would be absolutely amazed if they weren't made in China.
These are high quality boots at an entry level price. They are a third of the price of most Heritage Red Wings, but at full retail, if you stretch a bit farther, they are knocking on Thursday Boot territory, so keep in mind that Thursdays are significantly higher quality and easier to resole for $60 more.
If you are looking for the classic military inspired shoe, but you don't want to put out the $240 for the USMC Boondocker Boots, then this is a solid option for you. These are also perfect as a second pair of boots or a lower tier boot when you don't want to mess up your nicer ones.
One of the strengths of these boots over many other brands at this price point is how easy these were to break in and how extremely comfortable they felt while wearing them.
Considering that you get a solid boot with classic styling that is extremely comfortable for $139, it is very hard to go wrong.