I've been following Truman Boot Company from day one, when they were just getting started in Pennsylvania.
Over the course of time, they became known not just for their rugged look but for their unusual leathers, maybe even leathers the boot community wasn't ready for yet: Ramblers, kudus, moose, Mohawk, beaver fur, and the list goes on.
Many of us in the Goodyear welt community were far too dazzled by the staples like Chromexcel, Shell Cordovan, suedes, calfskins, nubucks, and other commonly used leathers to even realize what else could be out there — what else could be done with leather. But as time went on, things got interesting and Truman started to run leathers many of us had never known were possible!
Finding Your Leather Journey
With Truman's evolution into really outlandishly cool leathers, so too have I evolved as a collector, and I've come to some interesting realizations: I've found that there is a graceful path you can follow to best maximize your experience with different leathers.
To optimize this progression, you would ideally start with basics and progress into increasingly more complex territory. Like wine tasting, you start with lightest and brightest white wines and you gradually progress into the richer fuller bolder red wines.
This is where Truman Boots has excelled in my opinion. Yes, the Chromexcel and the Waxed Flesh that they run are staples and probably the best starter leathers for anyone looking to get hooked on top quality Goodyear welted boots. But as I'll explain, articles like the Rambler and the Mohawk leathers from the Charles F. Stead Tannery are a much more intricate leathers (both of which belong to the same tannage class). Rambler is the top shelf, most succulent complex red wine of leathers, and is therefore maybe better for the more experienced and advanced collector to maximize appreciation levels.
[Related: The 7 Best Tanneries on Earth]
Truman's Rambler Leather
According to the Charles F. Stead Tannery, Rambler is a shrunken fiber suede, typically ranging in thickness between 1.2 and 2.2 mm.
Shrinking the Leather
Some of the coolest boot leathers turn out to be shrunken, which include the newer boots in shrunken bison from Law Tanning. When a leather is shrunken it produces a tighter grain, meaning it's stronger, more waterproof, and more durable. Think of when you make the mistake of shrinking your wool sweater in the dryer. Not only does it shrink, but the fibers in the wool get constricted and interwoven producing a smaller sweater by appearance. However what you wouldn't necessarily know (because the sweater no longer fits) is that the wool has become vastly stronger, thicker, and retains heat far more effectively than before it shrunk! (This is why Filson's famous Mackinaw wool jacket uses boiled, shrunken wool.)
The Rambler hide is shrunken by roughly 30 percent, which results in a condensed grain structure and increased water resistance. Shrinking also increases the leather's strength and reduces the amount of creasing that will take place, particularly on the vamp area.
[Related: The Right Way to Waterproof Nice Boots]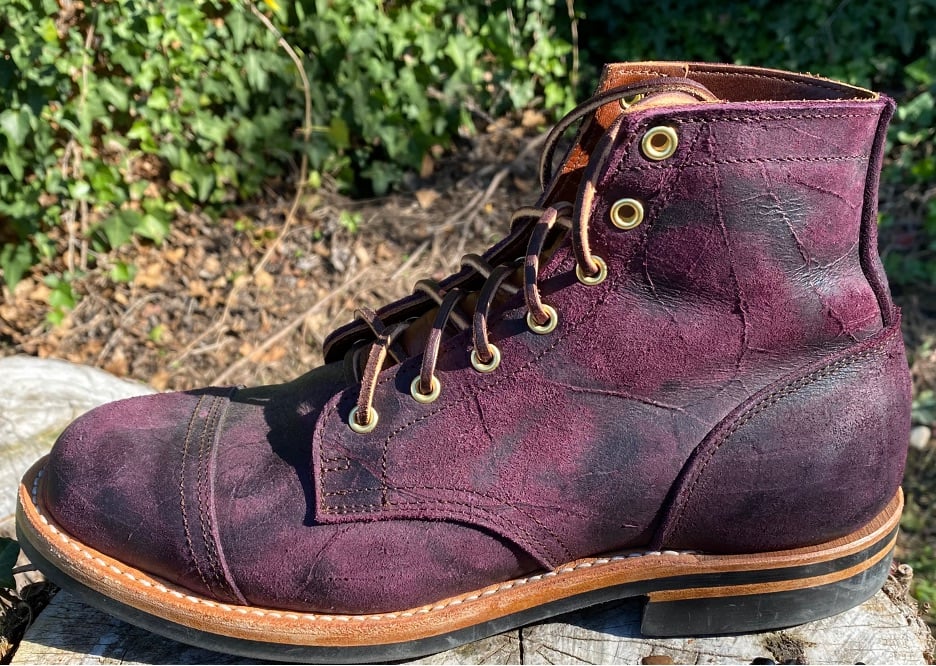 According to Truman Boot Co,
Rambler leather is an exercise in embracing the natural markings of the hide; when the fibers shrink, veining appear slightly raised on the surface, making each pair of boots one of a kind.
Rambler Leather's Waxes
Adding to the water resistance of the leather is the application of waxes. According to Stead,
This leather, finished on the flesh-side, includes an antique contrast applied by hand, beneath a blend of natural waxes for a unique natural 'marbled' aesthetic. The antique colours are blended to compliment the base dying for an authentic rugged leather with depth of colour and texture.
Charles F. Stead has been producing Rambler for a shocking 35 years., but Truman is one of the very few bootmakers who use Rambler, and I personally hadn't seen it prior to 2015, when Truman first ran Coach Rambler. Though I wasn't ready for Rambler initially, after a couple years of experience and maturing, I am a huge fan of it now!
Pictures do not always translate to the audience everything that Rambler is. There is so much happening with it, it's almost like you want to put it under a microscope to fully analyze it on the atomic level!
[Read more from the author: Why I Fell Head Over Heels In Love With Men's Boots]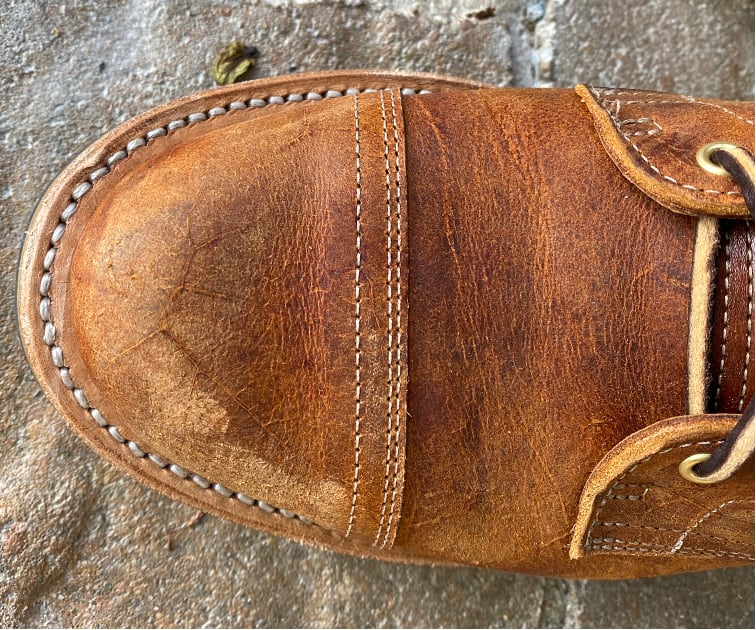 Rambler Leather Colors
First off, it's difficult to assign a color to Coach Rambler specifically, because there is so much variation in the tonality and the marbling really makes it difficult to assess uniformly.
There are high and low tones, some areas are more orange and yellow, others become more red and even hues of purple can be seen. Not to mention the physical texture of Rambler is incredible to witness because there are so many abrasions, scarring, and veining to be seen. It is a perfectionist's nightmare, but a rugged boot lover's dream come true.
But the Rambler doesn't stop with just Coach. There are many other colors, many I'm sure I haven't seen yet. Black Burgundy Rambler combines hues of black and purple. Despite being a mostly purple boot, it is the manliest iteration of a purple boot you could possibly imagine. Imagine purple boots that had been through a war zone, but they just happen to look that way fresh out of the box.
Squirrel Rambler is another favorite, as it is a bright vibrant sky blue with all the same unique characteristics of Rambler, but in a very fun color that is a blast to wear with dark blue and black denim.
Stone Rambler became an unexpected favorite of mine. The color is exactly what you'd expect: the color of stones, with hues of dark grey, dark chocolate browns, tan, and even hints of black. It's basically everything you would ever want in a boot.
Rambler Color Variation
The other aspect that is so utterly fantastic about Rambler is the fact that it would be impossible to create two pairs that were even close to matching one another.
Due to the intense variations in the hide and from batch to batch, literally each pair of boots produced in this leather is yours and yours alone, one of a kind. One of the greatest joys in owning Rambler boots is comparing mine against photos of other pairs! They are the same boot by name only, as the character varies wildly. This is what makes boots and leathers so much fun: the novelty, the unpredictability, the constant unexpected surprise waiting around the corner.
Truman's Mohawk Leather
But the ramble doesn't end there. There is another line of leathers that Stead runs and it's called Mohawk.
According to the CF Stead Tannery, Mohawk
makes a feature of the natural textures and break (when flexed) of the flesh-side of the hide. Finished with a natural blend of waxes, the tight fibre structure offers an authentic, rugged leather with bags of natural character.
I personally own two pairs of Mohawk: Moss Waxy Mohawk and Gobi (I assume named after the Gobi desert) Mohawk. By my amateur eye, I find it very difficult to see the difference between Mohawk and Rambler, as they belong to the same tannage class.
I asked representatives from the Stead Tannery if they could provide any insight as to the differences between the two, and here is what they had to say:
They are similar articles, but the Mohawk is available as a waterproof tannage and also has a different wax to the Rambler. The other difference is that the Rambler has an "antique" finish under the wax – helps to regularise the rough-out effect.
Wrapping Up
In closing, I would say that the world of leather is so exciting and is constantly producing surprises that keep me, as a collector, completely and utterly captivated and enthralled.
Tanneries like Stead, Horween, Law Tanning, and others across the world are working to produce edgier, more beautiful, more interesting, complex, visually striking leathers that keep collectors like me on edge to see what they'll create next. That's part of the fun and the journey of appreciating fine leathers: the possibilities are endless, and I'm sure this time next year there will be a whole new slew of leathers out there that will continue to draw our attention well into the future.
The following two tabs change content below.
Style blogger, boot collector, leather fiend.
Latest posts by Dale Basista (see all)